Pumpkin Ice Cream Drumsticks with Chocolate and Candied Pecans
Inspired by the childhood classic, these ice cream drumsticks are filled with homemade pumpkin ice cream, dipped in dark chocolate, and topped with candied pecans!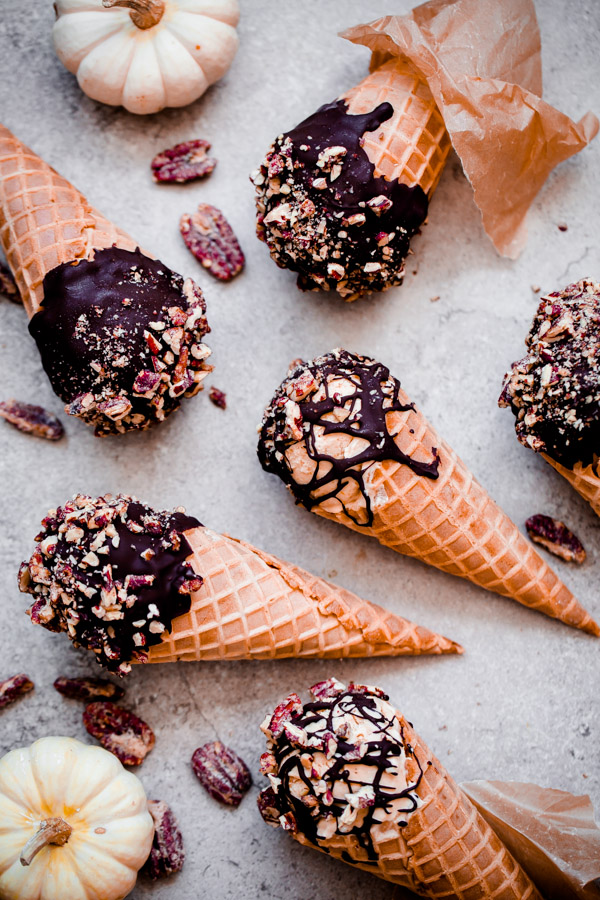 Remember when we made homemade pumpkin puree? Today we're using it for these Pumpkin Ice Cream Drumsticks with Chocolate and Candied Pecans.
The idea for these pumpkin ice cream drumsticks slowly came to me over the past two weeks and I almost jumped with joy! It felt like a very small, but noteworthy victory. I practically ran to the grocery store to grab the ingredients.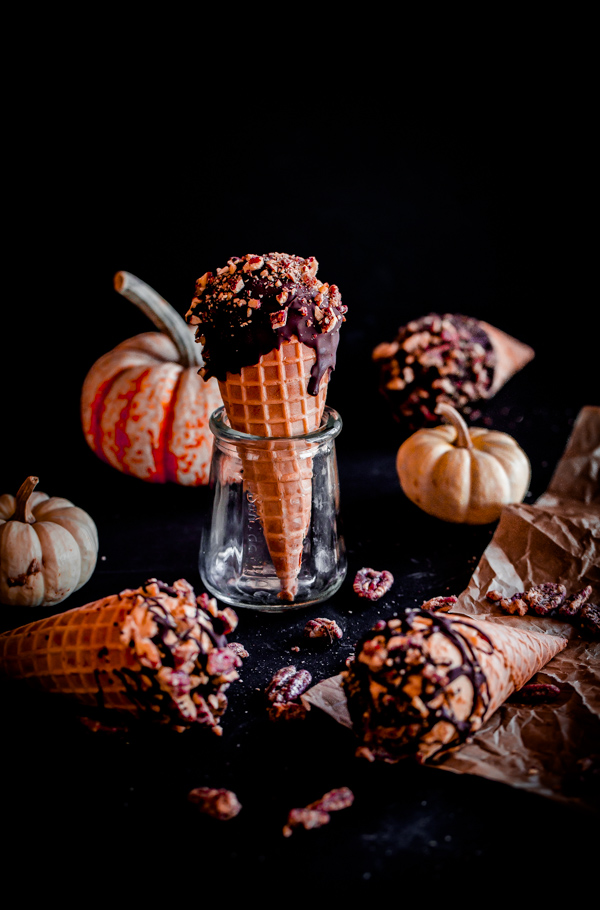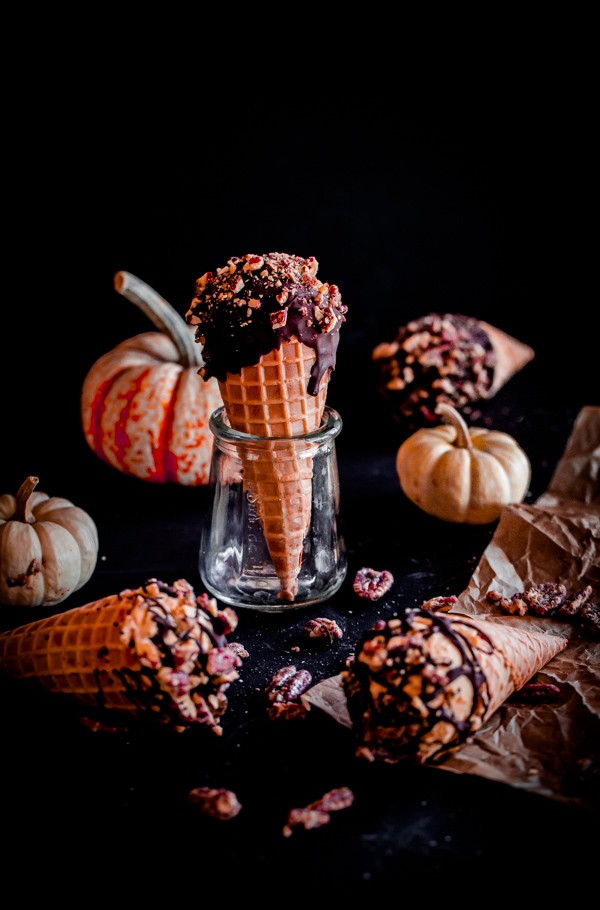 These homemade drumsticks are filled with a homemade pumpkin ice cream, dipped in a dark chocolate shell, and sprinkled with candied pecan bits.
If the name gives you any hints, they were inspired by classic Nestlé® ice cream drumsticks.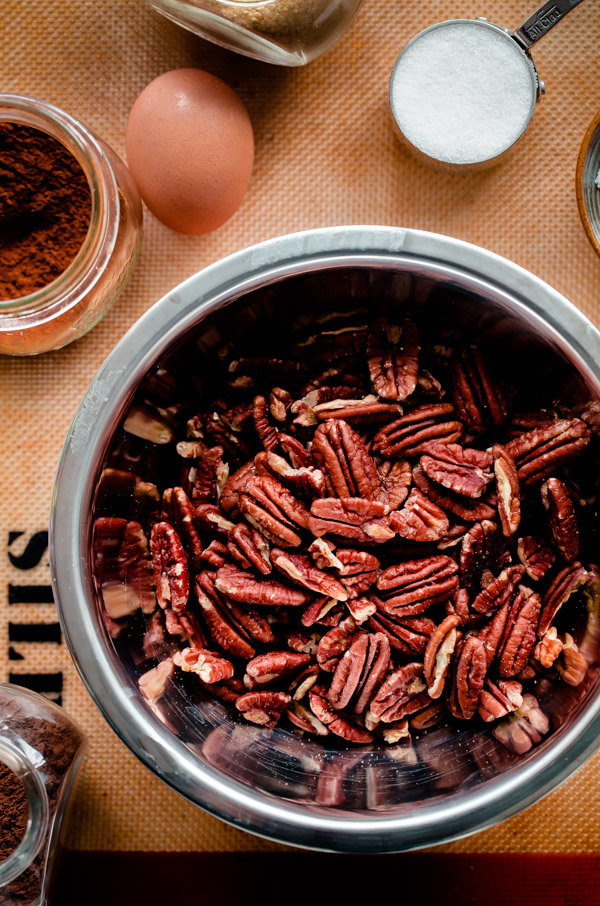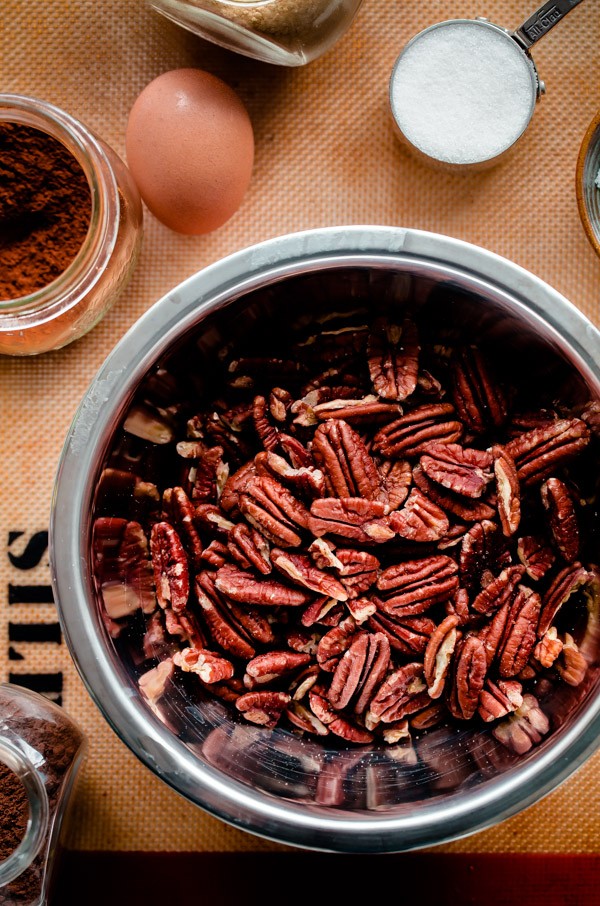 So, let's start with the most integral part of today's dessert: the roasted pumpkin ice cream! My version below was slightly adapted from the cookbook Jeni's Splendid Ice Creams at Home.
If you've ever splurged on a pint of store-bought Jeni's ice cream or visited one of the stores, you know that Jeni makes some of the best ice creams out there.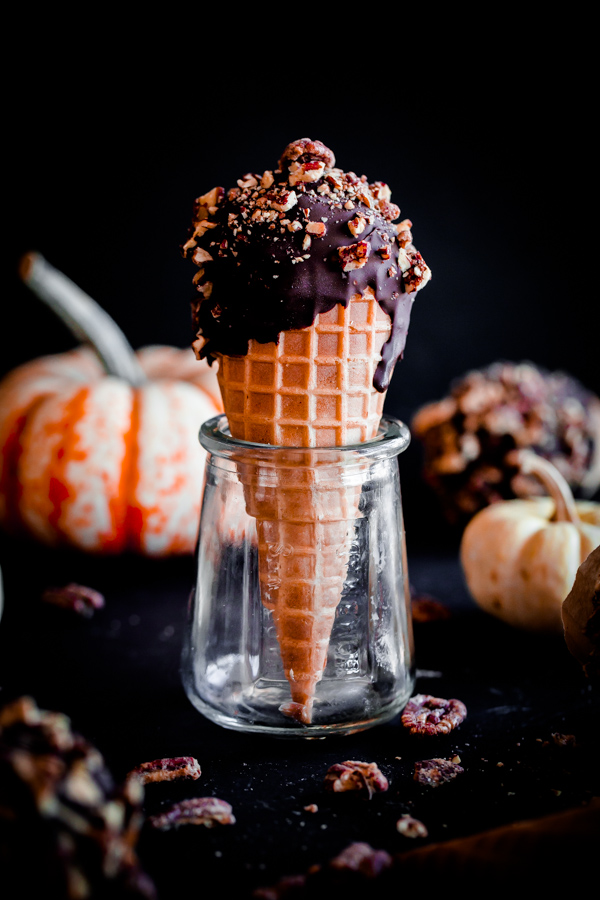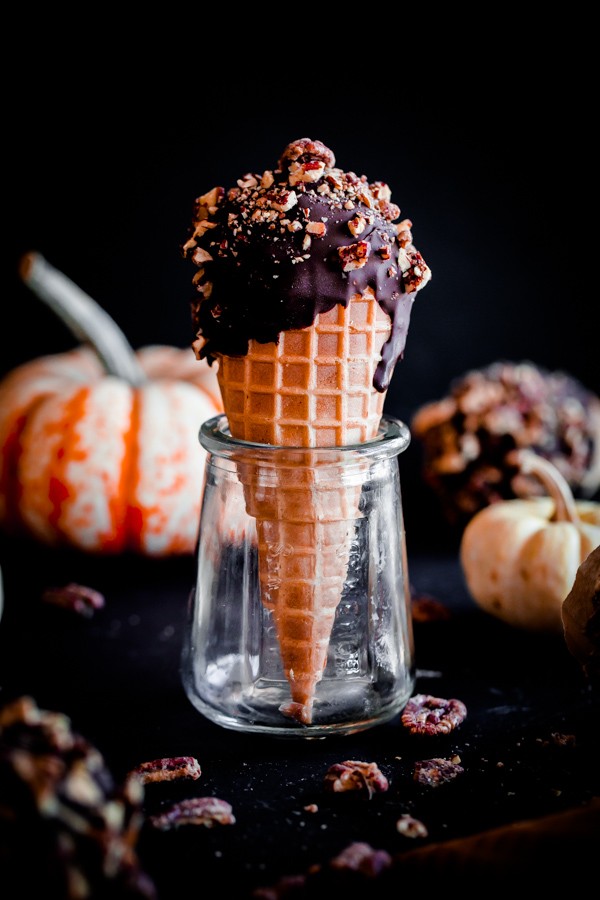 The original ice cream recipe called for five-spice powder, but I adapted the spice varieties so that the ice cream has a more classic pumpkin pie flavor.
This pumpkin ice cream is infused with whole cinnamon sticks, allspice, clove, ginger, cardamom, and dried bay leaf.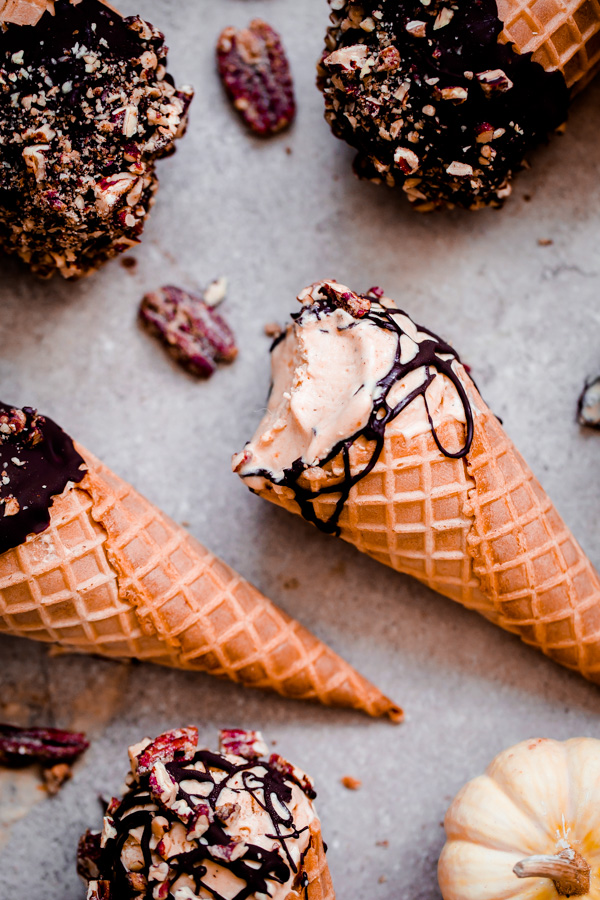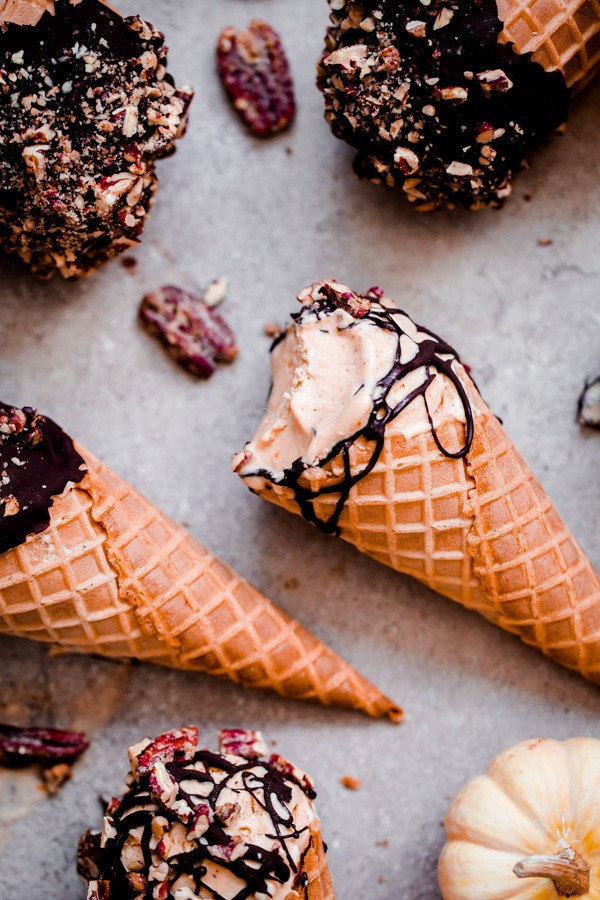 Next up! The candied pecans! Yes, we're going to the trouble of making candied pecans, but feel free to substitute store-bought candied pecans or toasted pecan pieces.
The recipe below makes extra for snacking purposes (you could also bag up the extras and give them to a friend over the holidays!).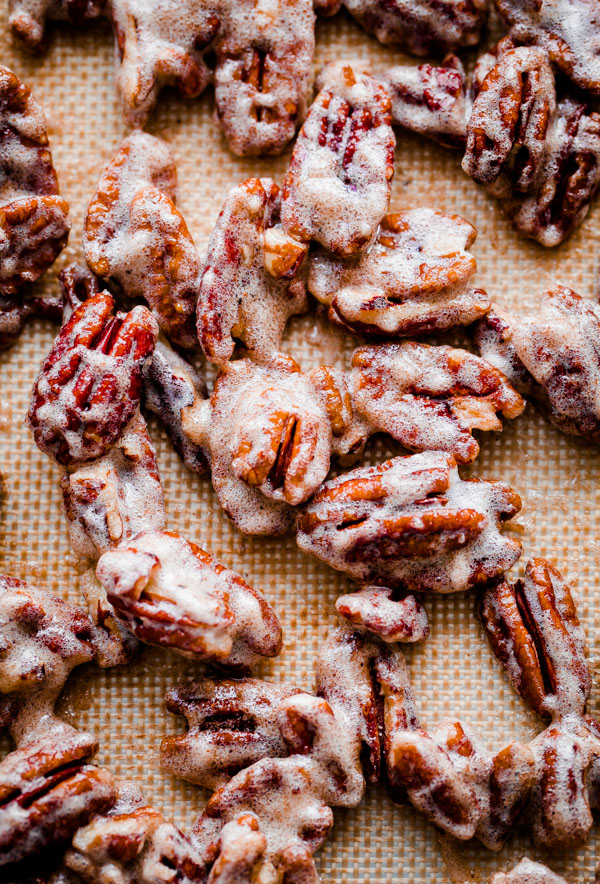 Lastly, let's discuss the dark chocolate shell coating. It is essentially a homemade version of a 'magic shell' achieved by melting semisweet chocolate and coconut oil together. Do not substitute with chocolate chips, as they will not work properly for this recipe.
The coconut oil has the dual effect of thinning down the chocolate and providing saturated fat, which solidifies and hardens when it comes into contact with the frozen ice cream.
B sure to sprinkle the chocolate immediately with the chopped candied pecans! You can either dip the ice cream entirely in dark chocolate, or you can use a spoon and do a fun, drizzled cob-web like pattern.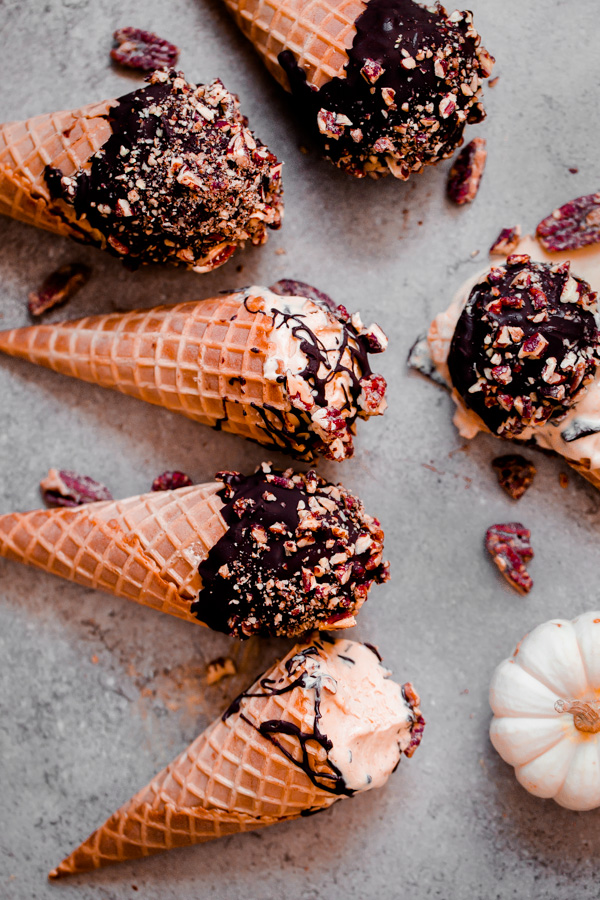 Lastly, I recommend using store-bought waffle cones for this recipe. If you are feeling incredibly ambitious (and own a homemade waffle cone maker), you can absolutely make them from scratch.
If you love the idea of making these, but don't feel like making everything from scratch, here are a few time-saving tips:
use store-bought pumpkin ice cream in lieu of homemade
substitute homemade candied pecans with chopped, toasted pecans or roasted and salted pumpkin seeds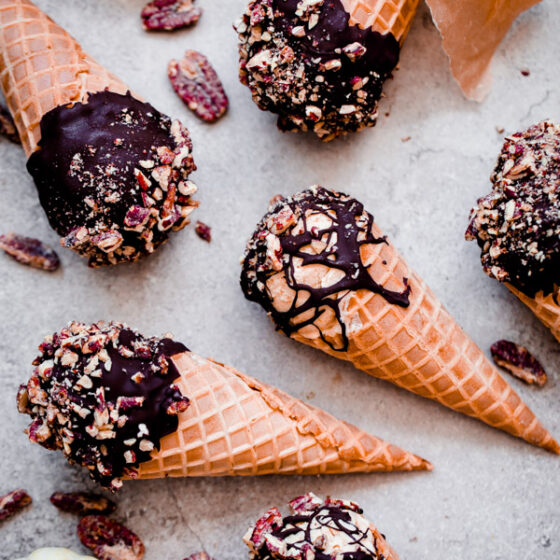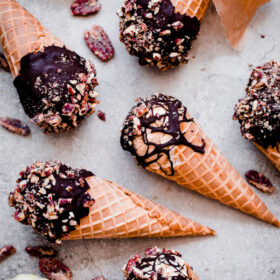 Pumpkin Ice Cream Drumsticks with Chocolate and Candied Pecans
Homemade ice cream drumsticks are filled with pumpkin ice cream, dipped in dark chocolate, and topped with candied pecans! 
Ingredients
Spiced Pumpkin Ice Cream (Makes 1 Pint)
1 tablespoon + 1 teaspoon cornstarch
2 cups (480 mL) whole milk divided
1½ ounces (3 tablespoons) cream cheese softened
¼ teaspoon kosher salt
¾ cup canned pumpkin puree
¼ cup (85g) honey
1¼ cups (300 mL) heavy cream
⅔ cup (155g) packed dark brown sugar
1 dried bay leaf
1 cinnamon stick
2 pinches ground cardamom
2 pinches ground cloves
1 pinch ground allspice
1 pinch ground ginger
Candied Pecans (Makes 2½ Cups):
¼ cup (50g) granulated sugar
½ teaspoon ground cinnamon
⅛ teaspoon ground allspice
⅛ teaspoon ground ginger
⅛ teaspoon kosher sea salt
1 large egg white
1 teaspoon water
2½ cups (300g) raw pecan halves
Chocolate Dip and Assembly: 
11 ounces semisweet chocolate finely chopped
2 tablespoons coconut oil melted
6-8 store-bought waffle cones
pumpkin ice cream see recipe above
candied pecans see recipe above
Instructions
Prepare the Pumpkin Ice Cream: In a small bowl, whisk together the cornstarch and 2 teaspoons of the whole milk until smooth and set aside. In a large mixing bowl, whisk together the softened cream cheese and salt. Add the pumpkin puree and honey and whisk until smooth.

Combine the remaining whole milk, heavy cream, brown sugar, bay leaf, cinnamon stick, and spices in a large saucepan (roughly 3 to 4 quarts in size). Place the milk mixture over medium-high heat and bring to a rolling boil for 3 to 4 minutes. Remove from the heat and slowly whisk in the cornstarch slurry. Bring the mixture back to a boil and cook for 1 to 2 minutes, or until it has thickened.

Slowly pour the hot milk mixture into the cream cheese-pumpkin mixture and whisk until smooth and well combined. Set the bowl over a large ice bath until cool, stirring every five minutes or so. Once the mixture is cold, churn in an ice cream maker according to your manufacturer's directions. Transfer ice cream to a container, cover the surface with parchment paper, and freeze for at least 4 to 6 hours, or until very firm.

Prepare the Candied Pecans: Preheat the oven to 250°F (120°C). Line a half sheet pan with a Silpat (silicone mat) or parchment paper. In a small bowl, whisk together the sugar, ground spices, and salt. Set aside. In a medium bowl, whisk the egg white until very frothy. Add the raw pecan halves to the egg whites and gently toss to coat. Add the sugar spice mixture and gently toss until the pecans are evenly coated. Spread the pecans out on the lined sheet pan until they are in a thin, even layer. Bake for 40 to 50 minutes, tossing every 15 minutes, until the pecans are dry to the touch and the sugar mixture has hardened. Place on pan on a rack to cool completely before storing in a Ziploc bag or airtight container.

Assemble the Drumsticks: Remove the ice cream from the freezer and allow to soften at room temperature slightly as you prepare the chocolate dip coating. Place the chopped chocolate and oil in a double-broiler and melt, stirring constantly with a rubber spatula, until the chocolate has melted completely and is smooth and shiny. Spoon about 2-3 teaspoons of melted chocolate into the bottom of each waffle cone. Set the cones upright (very small jars or glasses work well for this; alternatively, you can cut small "X"'s into the top of a cardboard egg crate to hold the waffle cones upright) and place the cones in the freezer for 10 minutes or so, until the chocolate has set.

Using a spoon, fill each waffle cone with softened pumpkin ice cream until the cones are completely full. Top each cone with a full scoop of ice cream, gently pressing the ice cream into the waffle cone (be gentle, as the waffle cones can crack if you are too aggressive).

Place the waffle cones back into the freezer for at least an hour, or until the ice cream is very hard. During this time, I like to keep the melted chocolate in the double-broiler (set above a pot of warm water), so that the chocolate stays completely melted.

Roughly chop a little over 1 cup of the candied pecans and place in a bowl for easy grabbing. Check and make sure the chocolate coating is still melted and lukewarm in temperature. Remove the waffle cones from the freezer and dip the filled cones, one at a time, in the melted, lukewarm chocolate until the ice cream is fully coated in a thin layer. Alternatively, use a spoon to create a rough cob-web like dipped effect.

Hold the cones upside-down to allow any excess chocolate to drizzle back into the bowl, then turn right side up. Immediately sprinkle the tops with chopped candied pecans.

Set the dipped waffle cones upright in a small mason jar (or back in the egg crate). Repeat with the remaining cones and place back in the freezer until the chocolate has completely set, roughly 10 to 15 minutes, before serving. Alternatively, you make these drumsticks ahead wrap them in parchment or wax paper for easy storage and grabbing.
Serving: 1serving, Calories: 792kcal, Carbohydrates: 83g, Protein: 17g, Fat: 48g, Saturated Fat: 19g, Polyunsaturated Fat: 26g, Cholesterol: 126mg, Sodium: 802mg, Fiber: 5g, Sugar: 39g
This post contains affiliate links, which means that I make a small commission off items you purchase at no additional cost to you. Please read my
privacy policy
for more information.