Homemade Candied Pecan Pumpkin Ice Cream Drumsticks
Inspired by the childhood classic, these homemade ice cream drumsticks are filled with roasted pumpkin ice cream, dipped in dark chocolate, and dusted with candied pecan bits!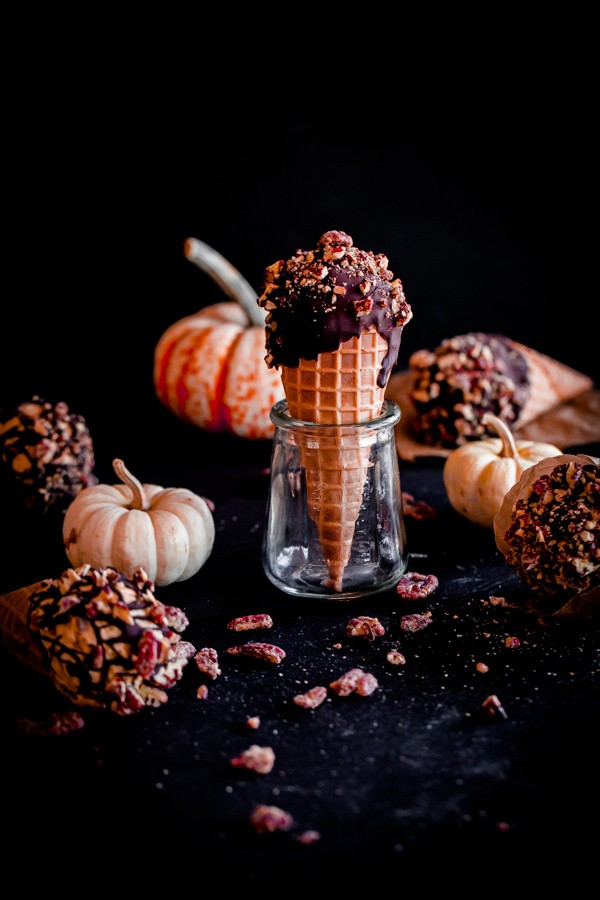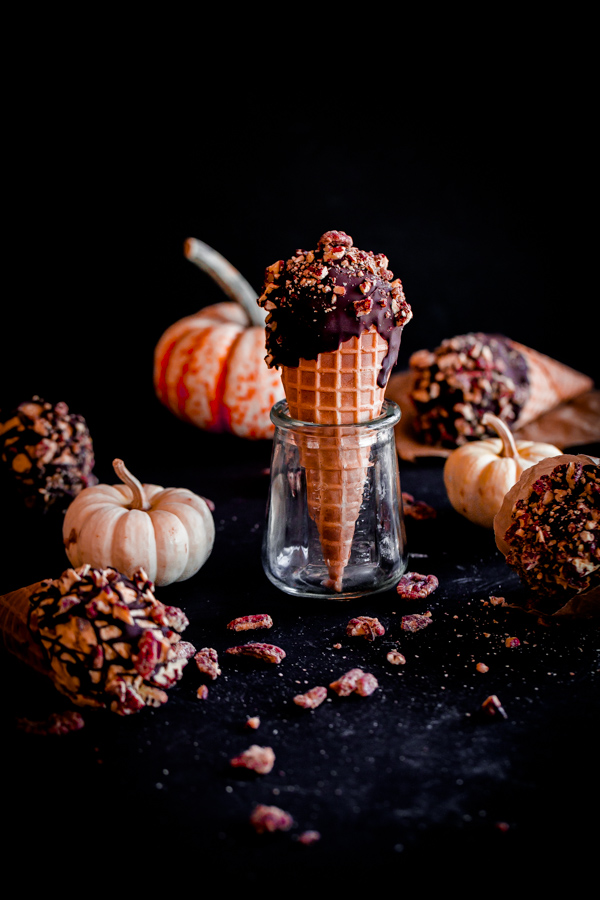 Remember that homemade roasted pumpkin puree that we made on Monday? Well, today we're going to use it for something very, very special! This is probably the hundredth time that I've stated this in writing, but I literally could not be more excited about today's frozen treat.
I've been in a bit of a creative rut these past few months, so when I was invited by Sara (Cake Over Steak) to partake in today's Virtual Pumpkin Party (70 other amazing food bloggers are participating!), it felt particularly…challenging.
A new pumpkin recipe? Is that even possible these days? Pumpkin is quite possibly the most exploited ingredient of all time (I'm talking to you, Trader Joe's) right now. I brainstormed for weeks and nothing. 
Nada!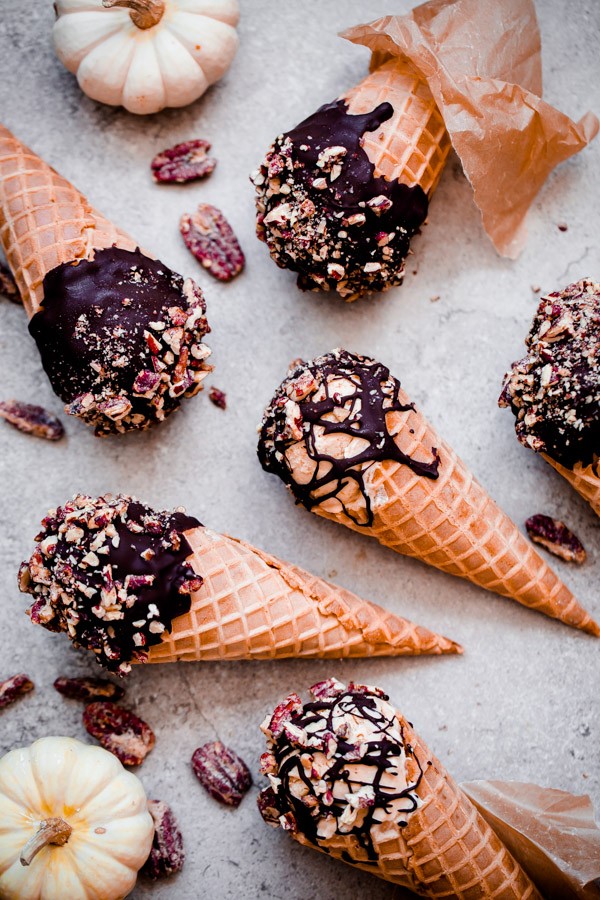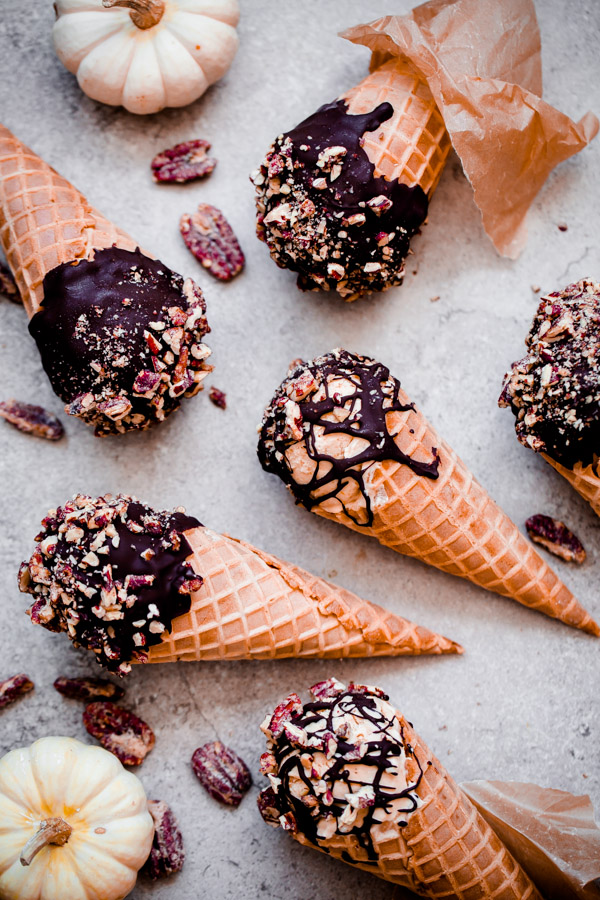 The idea for these pumpkin ice cream drumsticks slowly came to me over the past two weeks, and I almost jumped with joy! It felt like a very small, but noteworthy victory. I practically ran to the grocery store to grab the ingredients.
The recipe title is a bit long (apologies), but I couldn't stand the idea of leaving out a single element of this dessert. It just seemed wrong. The candied pecans are a must! A simple "pumpkin drumsticks" wasn't going to suffice either. Hence, homemade candied pecan pumpkin ice cream drumsticks.
Let's.Do.This.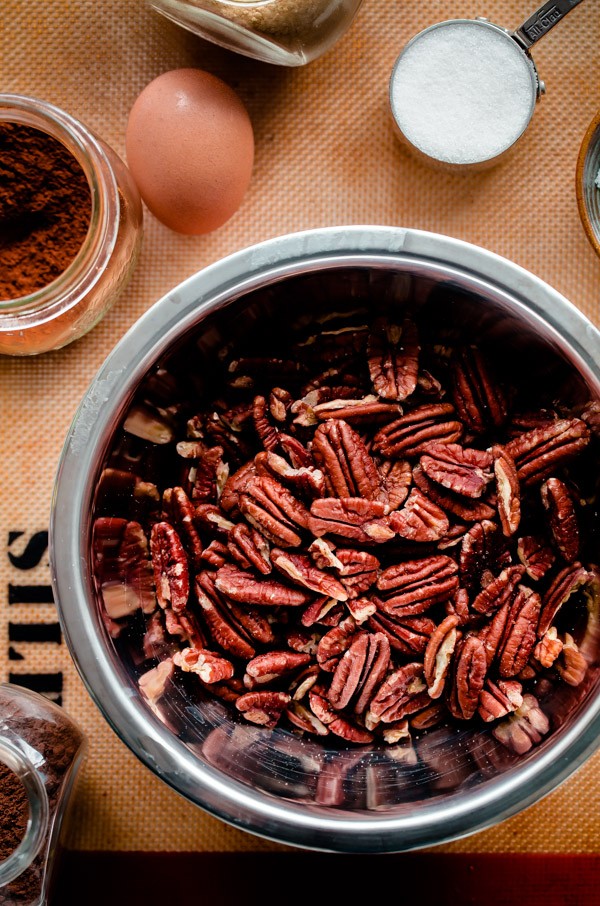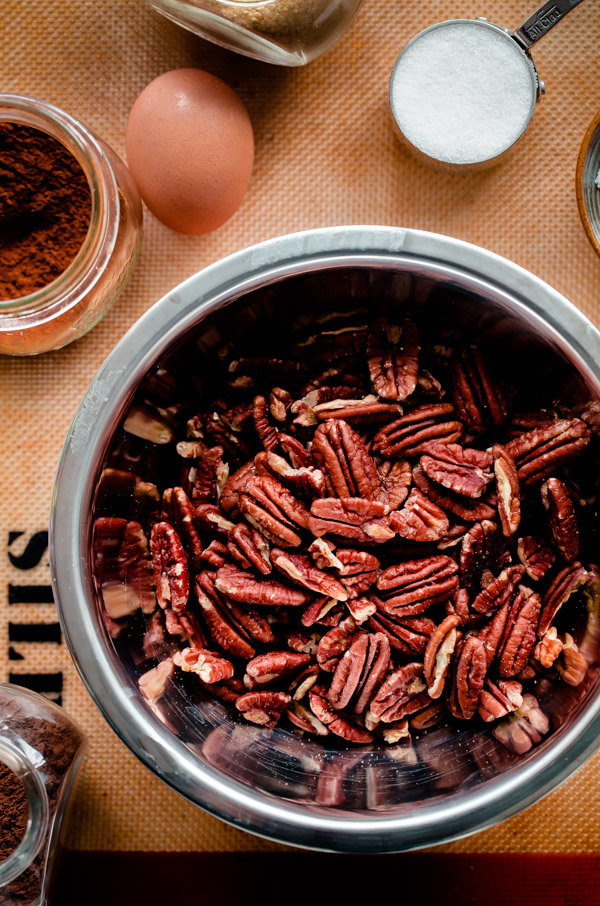 These homemade drumsticks are filled with roasted pumpkin ice cream, dipped in a dark chocolate shell, and sprinkled with homemade candied pecan bits. If the name gives you any hints, they were inspired by classic Nestlé® drumsticks.
Except totally fancied up–as I have a tendency to do! Add some of my Windy City hot dogs to the mix, and this blog is basically turning into a fancy ball park food blog. I'm not mad about it. Who says food can't be fun, whimsical, and a little bit fancy all at the same time?
P.S. If said company starts selling pumpkin drumsticks next fall, you saw them here first. Just sayin'.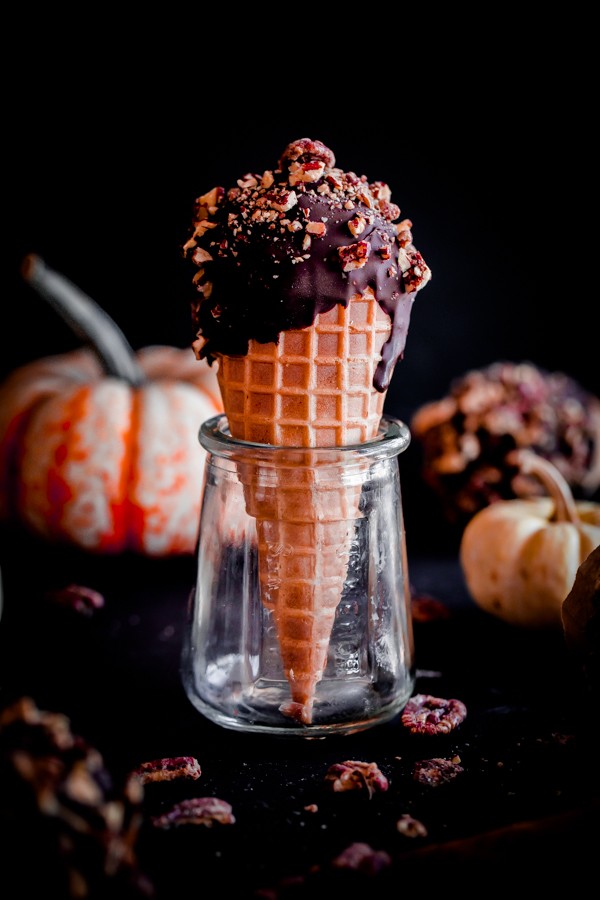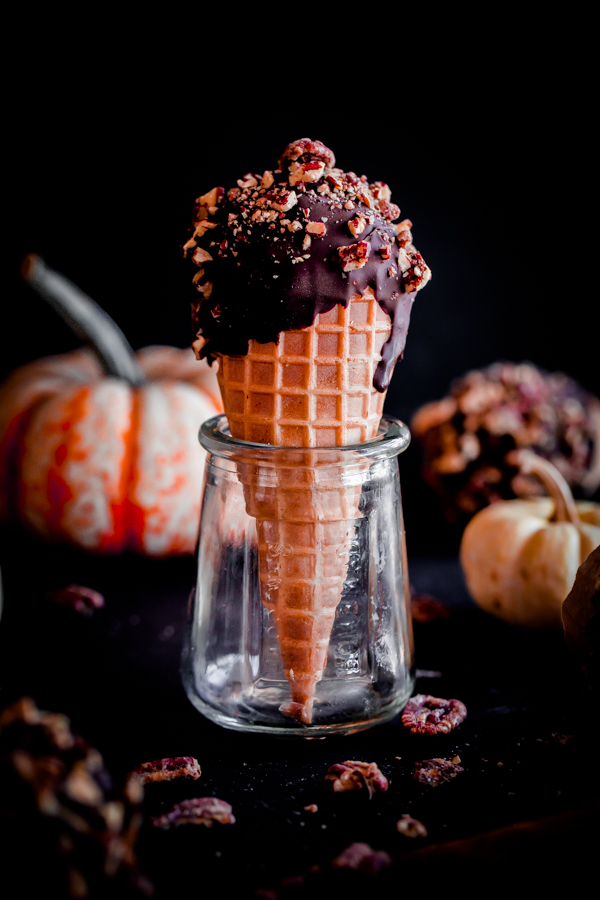 So, let's start with the most integral part of today's dessert: the roasted pumpkin ice cream! My version below was slightly adapted from Jeni's Splendid Ice Creams at Home. If you've ever splurged on a pint of store-bought Jeni's ice cream or visited one of the stores, you know that Jeni makes some of the best ice creams out there.
The original ice cream recipe called for five-spice powder, and I adapted it to have more a classic pumpkin pie flavor.
My version is infused with whole cinnamon sticks, allspice, clove, ginger, cardamom, and, as strange as this may sound, dried bay leaf (inspired by The Flavor Bible). It's pretty darn delicious in its own right, so regardless of whether you decide to make the drumsticks, I highly recommend making a batch of this ice cream.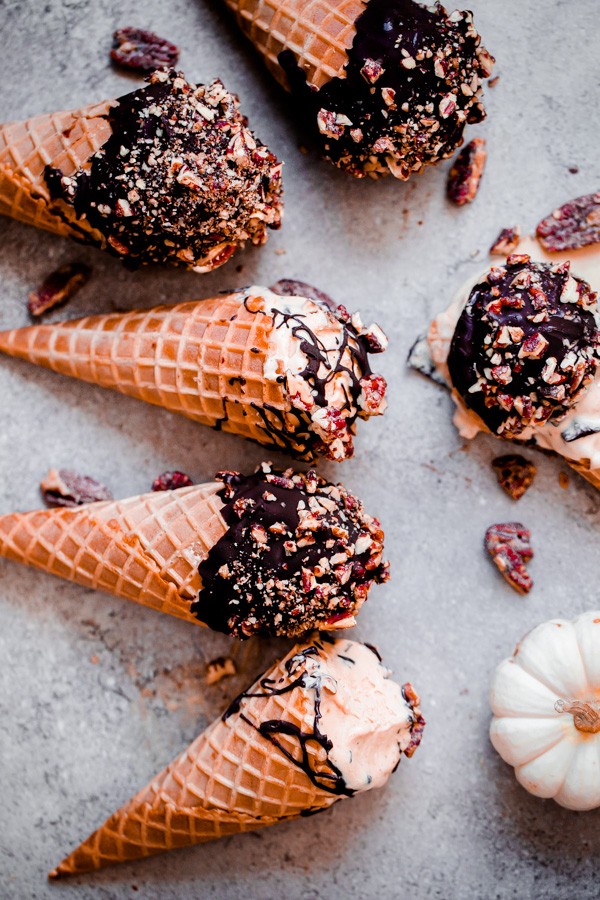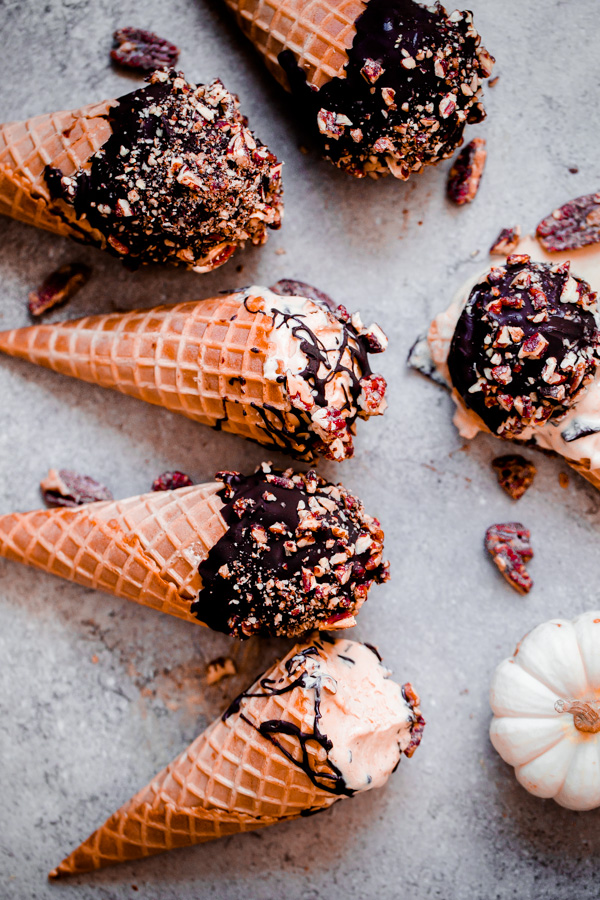 Next up! The candied pecans! Yes, we're going to the trouble of making candied pecans, but you can totally accomplish this as the ice cream base is firming up in the freezer. Or, you can make a batch several days in advance (along with the ice cream)!
The recipe below makes extra for snacking purposes (you could also bag up the extras and give them to a friend over the holidays!).
Warning: they are extremely addictive.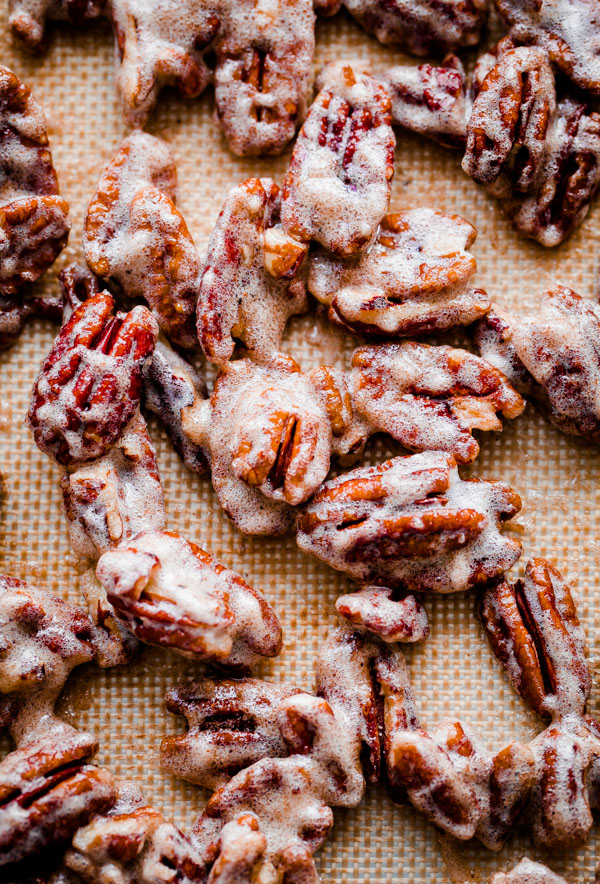 Lastly. The dark chocolate shell. It is essentially a homemade version of a 'magic shell' achieved by melting semi-sweet chocolate and coconut oil together. Do not substitute with chocolate chips, as they will not work properly.
The coconut oil has the dual effect of thinning down the chocolate (so you don't have an insanely thick shell that you can't bite into!), as well as providing saturated fat (which solidifies when it comes into contact with the frozen ice cream).
Once you dip the frozen ice cream cones into the chocolate, be sure to sprinkle the chocolate immediately with the chopped candied pecans! You can either dip the ice cream entirely in dark chocolate, or you can use a spoon and do a fun, drizzling (Halloween cob-web like) effect!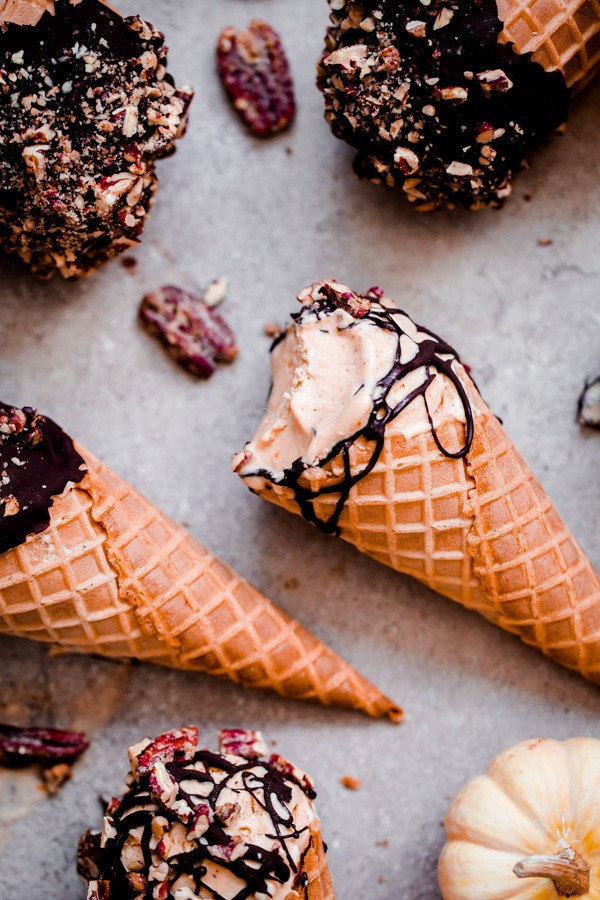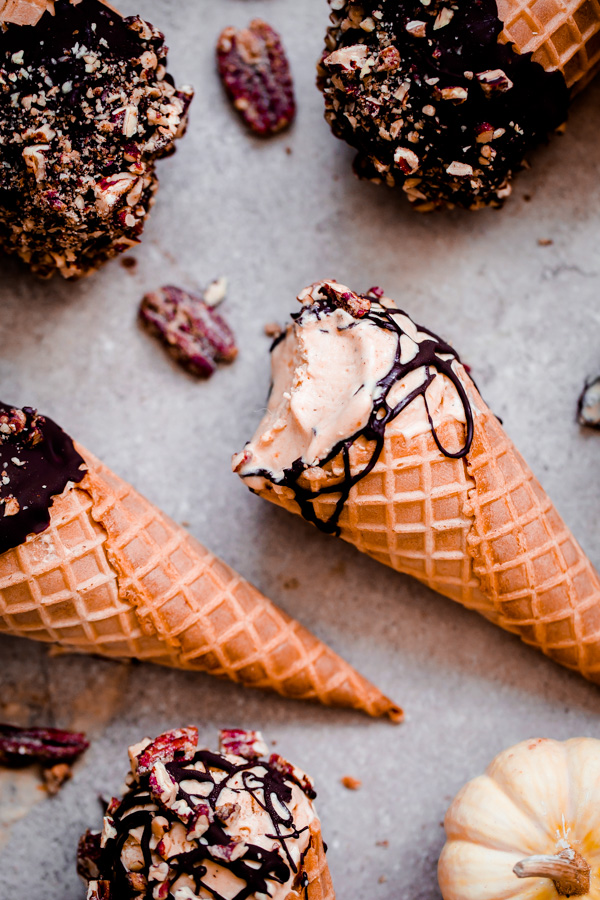 Lastly, I used store-bought waffle cones for this recipe. If you are feeling incredibly ambitious (and own a homemade waffle cone maker), you can absolutely make them from scratch–and I commend you for doing so.
If you love the idea of making these, but don't feel like making everything from scratch, here are a few time-saving tips: 
use store-bought pumpkin ice cream in lieu of homemade (Talenti makes a pumpkin pie ice cream!) ice cream.
substitute homemade candied pecans with chopped, toasted pecans or roasted and salted pumpkin seeds
or buy candied pecans from Trader Joe's!