Easy Champagne Mango Sorbet
This refreshing Champagne Mango Sorbet comes together with just simple syrup, pureed mango, and fresh lime juice and zest for brightness.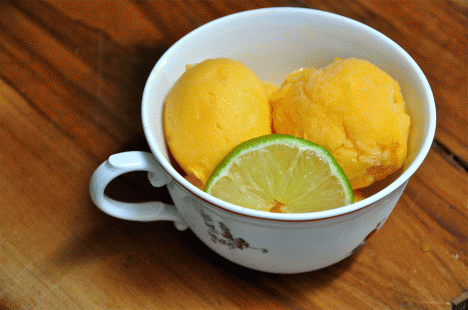 While I love homemade ice cream, homemade sorbet is even easier to make! Often times you can throw some variety of homemade sorbet together with basic items in your pantry and freezer. It really is that easy.
This Homemade Champagne Mango Sorbet is made with simple syrup and pureed champagne mangos. A hint of fresh lime juice and zest is added, which adds brightness and brings out the mango flavor even more.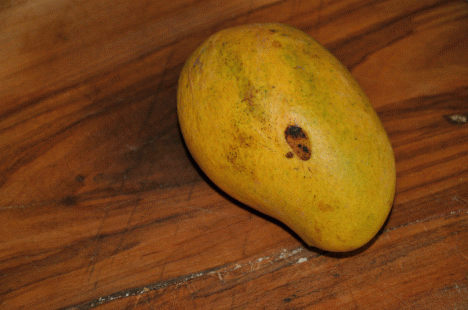 While I used fresh mangos, feel free to substitute frozen (thawed) fruit. I am partial to Champagne (otherwise known as ataulfo) mangos, because I often find they are superior in flavor and texture to regular mangos found at grocery stores.
This sorbet would be a great choice for a light dessert in the summer months. It is simple and refreshing. You could even add fresh fruit, such as raspberries, chopped strawberries, or blueberries toward the end of the freezing process for an add-in.
If needed, follow these directions for how to make ice cream without a machine.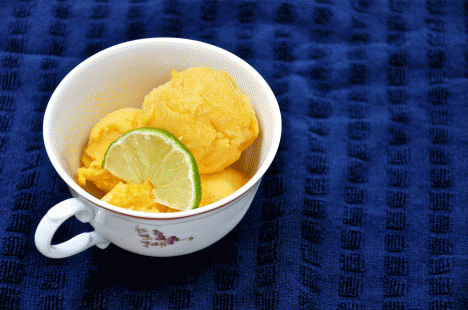 Tip: Trader Joes sells cheap bags of frozen champagne mango halves and regular mango chunks!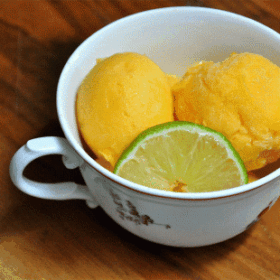 Homemade Champagne Mango Lime Sorbet
This refreshing homemade champagne mango sorbet comes together with just simple syrup, freshly pureed mango (or use frozen mango chunks!), and a hint of fresh lime juice and zest for brightness. A refreshing dessert for hot summer days!
Ingredients
Simple Syrup:
¾ cup (150g) granulated sugar
¾ cup (180 mL) water
Champagne Mango Sorbet:
1 cup (240 mL) simple syrup see recipe above
4 ripe Champagne (Ataulfo) mangos peeled and pits trimmed
2 teaspoons finely grated lime zest
2 tablespoons (30 mL) fresh lime juice
Instructions
Prepare Simple Syrup: Combine the sugar and water in a small saucepan and bring to a light boil. Reduce heat to low, simmering for 3 to 5 minutes until sugar has completely dissolved. Let cool completely before preparing the sorbet.

Prepare Sorbet Mixture: Meanwhile, pureé the mango flesh in a blender, food processor, or with an immersion blender. Transfer to a large bowl. Add 1 cup (240 mL) cooled simple syrup, lime juice, and lime zest. Whisk together until smooth and combined. Refrigerate to chill.

Freeze the chilled mango mixture in an ice-cream maker according to the manufacturer instructions. Transfer sorbet to an airtight freezer-safe container and allow to firm in freezer for an additional 4 to 6 hours before serving.
Serving: 1serving, Calories: 212kcal, Carbohydrates: 36g, Protein: 1g, Sodium: 6mg, Fiber: 1g, Sugar: 34g
This post contains affiliate links, which means that I make a small commission off items you purchase at no additional cost to you. Please read my
privacy policy
for more information.