Homemade Champagne Mango-Lime Sorbet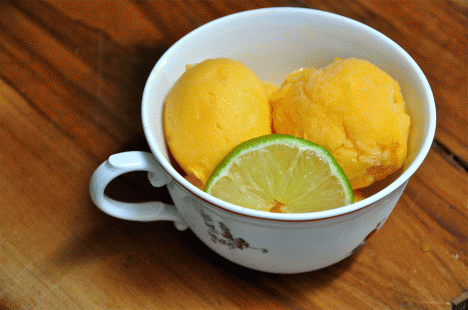 One great thing about living at home with parents as a recent graduate?  I get to test out the goods and use my mom's new Cuisinart Ice-Cream/Frozen Yogurt/Sorbet maker.  Move over store-bought ice cream…I may never go back.  Or at least, until I move out, that is.  Unfortunately, my first attempt at making something in the machine failed as a result of pure impatience (you need to let the freezer bowl  freeze completely, which takes around 6-22 hours!).  But the second time around was golden!  I bring you home-made mango lime sorbet. This recipe is so easy, I am almost ashamed to take credit for it.
I used fresh champagne mangos (my favorite!), but you could always use a different variety or even frozen!  Tip: Trader Joes sells cheap bags of frozen champagne mango halves and regular mango chunks!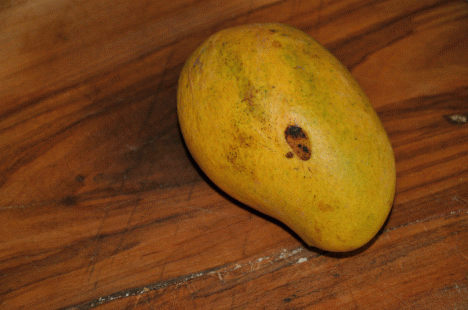 This sorbet would be a great choice for a light dessert in the summer–which is especially needed in a place like DC, where we've been experiencing a serious heat wave with temperatures over 100 degrees.  It's simple, refreshing, and low calorie.  You could also add fresh fruit, such as raspberries, chopped strawberries, or even blueberries toward the end of the freezing process for a pretty fruit add-in.  Enjoy!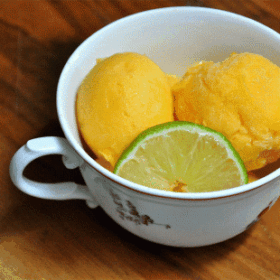 Homemade Champagne Mango Lime Sorbet
Ingredients:
4 mangos, pureed
1 cup simple syrup (3/4 cup sugar, 3/4 cup water)
2 tablespoons freshly squeezed lime juice
2 teaspoons freshly grated lime zest
Directions:
To make simple syrup, add sugar and water to saucepan and turn to medium heat until just boiled.
Turn down to low heat, simmering for 3-5 minutes until sugar is completely dissolved. Let cool.
Meanwhile, pureé mango (in blender, food processor, or using an immersion blender).
Mix all ingredients together and add to ice-cream maker. Follow machine instructions.
Transfer sorbet to airtight freezer-safe container and allow to firm in freezer for an additional 4-6 hours.
All images and text ©
.
If You  Don't Have a Machine!: Follow David Lebovitz's instructions, which you can find by clicking here.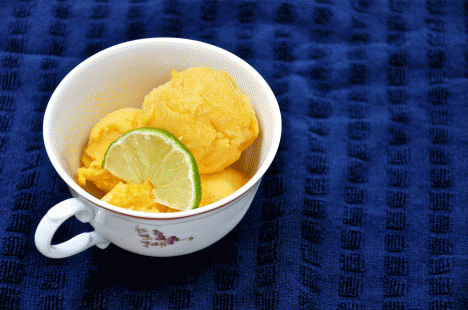 Any favorite homemade sorbet or ice cream flavors among readers?  Or, better yet, have a link to a blog post with them?  Leave a comment below with a link or email me, I'd love to hear all about 'em–and try them out myself.  Stay cool!