Upside-Down Berry Peach Skillet Cake
This post contains affiliate links.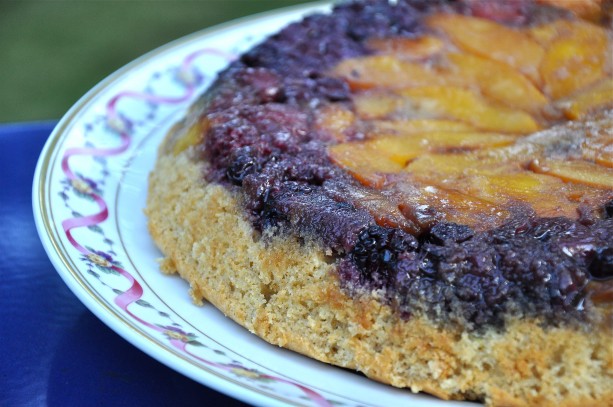 This upside-down berry peach skillet cake was originally adapted from a Cooking Light magazine recipe and is one of my favorite summer desserts.  Not only is it beautiful to look at, but it's healthy and easy to make. The entire cake is cooked in an iron cast skillet, just like classic cornbread recipes.
I know it doesn't look simple, but I swear it is.  It's the perfect dessert for company or even an everyday nice meal.  All in all, it probably takes a total of 20 minutes prep time, the rest is all done in the oven folks.  The combination of the spongy cake with cooked berry and peach mixture is delicious–especially with a scoop of vanilla ice cream!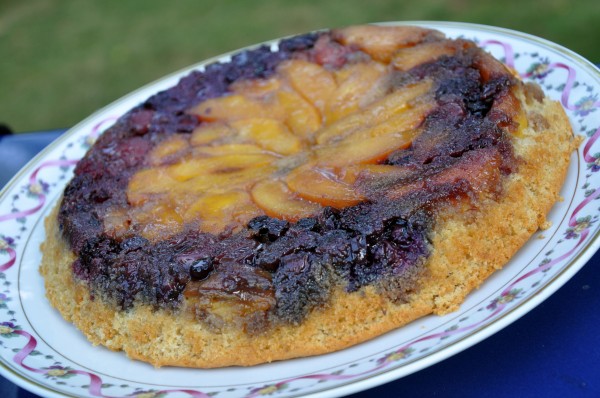 Essentially the baking process includes layering the fruit (any design you choose!) on the bottom of the skillet and adding the cake batter directly on top.  Pop it in the oven and you're done!  Be sure not to cut back on any of the butter for the bottom of the skillet, as this will ensure you will be able to flip it and have it come out cleanly.  A well-seasoned skillet (some people put aside a baking vs. savory one for this exact reason) helps too!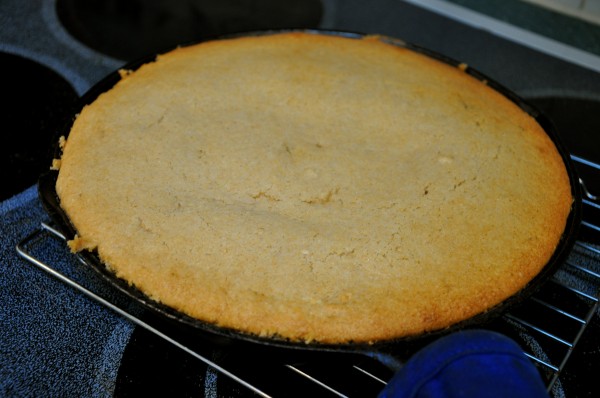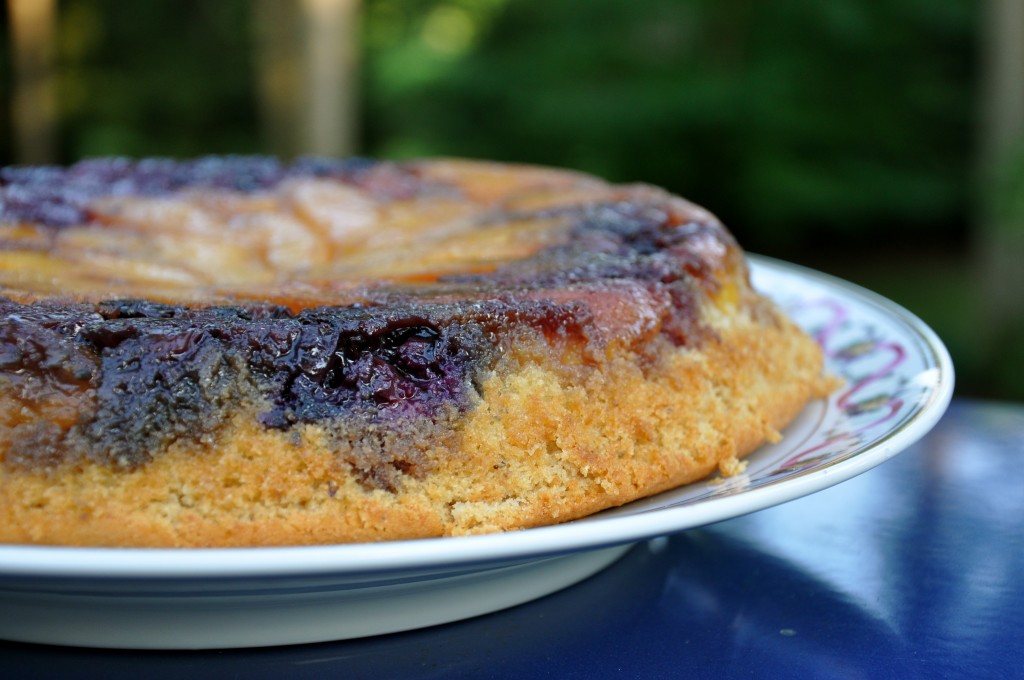 It is also fun to make because you don't know how the design will turn out or look until after you flip it over!  It reminds me of those fun art painting projects from kindergarten.  Anyone else remember those?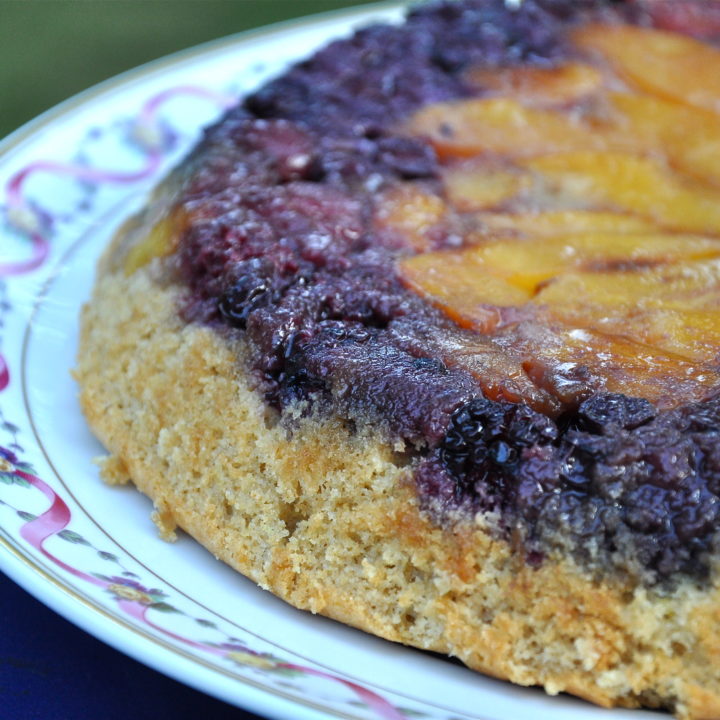 Upside Down Berry Peach Skillet Cake
Yield: 8-10 Servings
Prep Time: 20 minutes
Cook Time: 30 minutes
Additional Time: 10 minutes
Total Time: 1 hour
Ingredients
2 tablespoons butter, softened and divided
2 tablespoons canola oil
2 peaches (any other stone fruit would work!)
3/4 cup fresh berries (blueberries, blackberries, raspberries)
3/4 cup granulated sugar
2 teaspoons freshly grated lemon zest
2 teaspoons lemon juice
2 large egg whites
1 egg
1 1/3 cup whole wheat pastry flour
3/4 teaspoon baking powder
1/2 teaspoon baking soda
1/4 teaspoon salt
2/3 cup Kefir (or low-fat buttermilk)
Instructions
Preheat oven to 350 degrees Fahrenheit.
Melt 1 tablespoon butter into cast iron skillet over medium heat; sprinkle brown sugar evenly throughout the pan. Remove from heat.
Arrange fruit slices (however you wish!), one option is to arrange the peach in a circle in the center. Scatter the berries around the sides so that the bottom of the skillet is covered with a layer of fruit. Set aside.
Place remaining tablespoon butter, oil, and granulated sugar into a bowl; beat with mixer until well blended. Add rind, lemon juice, egg, and egg whites and beat well.
Combine flour, baking soda, baking powder, and salt in a separate bowl with a whisk (no sifting required).
Add flour mixture and Kefir (buttermilk) alternatively to the liquid mixture beginning and ending with flour until just mixed. The resulting batter should have a sticky, dough-like consistency.
Carefully spoon over cake mixture onto the top of the fruit in the skillet. Cook at 350 degrees for 30-35 minutes until wooden toothpick inserted in center comes out clean. Run thin knife along edge of skillet and let cool completely on rack (important!)
Removing from the Pan: Once cooled (slightly lukewarm is OK, if you're getting impatient), take a large round plate and place on the top of the skillet, carefully inverting it and turning it upside down. It should come straight out. If it doesn't, tap the skillet lightly and this should do the trick.
Notes
Adapted from Cooking Light.
Nutrition Information:
Yield: 10
Serving Size: 1
Amount Per Serving:
Calories: 299
Total Fat: 8g
Saturated Fat: 3g
Trans Fat: 0g
Unsaturated Fat: 4g
Cholesterol: 30mg
Sodium: 250mg
Carbohydrates: 51g
Fiber: 5g
Sugar: 21g
Protein: 8g
A Beautiful Plate provides nutritional information, but these figures should be considered estimates, as they are not calculated by a registered dietician.
This post contains some affiliate links, which means that I make a small commission off items you purchase at no additional cost to you. Please read my
disclosure policy
for more information.