Copycat DIY Cherry Pie Larabars

I'm a big lover of the all-natural, gluten-free, vegan Larabars.  They're a great snack before working out, can tide me over a couple of hours when I'm desperate, and don't have any of those funky ingredients that many other bars out there have.  In fact, their ingredient list usually consists of only 3-4 ingredients, with dried dates usually as the foremost ingredient.  In addition, they are filled with healthy fats, fiber, and a decent amount of protein.  My personal favorite flavors include:
Cherry Pie
Peanut Butter Cookie
Tropical Fruit tart (a healthier version of a Blondie)
Apple Pie
However, there are many others out there, including cinnamon roll!  Why oh why can't I find you in stores?  Enough of my woes…to make a long story short, I love Larabars, but do not always love the price.  While I can sometimes find them for less than a dollar, often times they're difficult to find for under $1.39/bar.  While this isn't a bad price considering they contain only whole and, usually, organic ingredients, it is not ideal.  And since most Larabars only contain three ingredients, many of which are already in my cupboard, I decided to make my own version to see if it passed the taste test.  I bring you: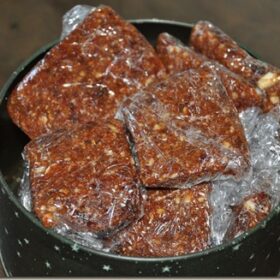 Homemade Cherry Pie Laurabars
Ingredients:
roughly 14-pitted dates (I used the Medjool variety)
3/4 cup dried unsweetened cherries (obviously more than amount pictured below)
1/3 cup raw almonds
Directions:
Pulse pitted dates in food processor until it forms a thick, sticky paste. Add dried cherries to the mix and repeat.
Add almonds, pulse several times–although avoid pulsing too much! Bigger bites of almonds are nice to have throughout the bars. It should form a sticky ball at this point.
Lay out sheet of parchment paper, and several pieces of plastic wrap to cover the individual bars when finished. Your hands will get very sticky when forming the bars–so this is a good idea to do before you remove the paste from the food processor. Remove paste from processor and spread out into desired thickness onto parchment paper. Place in refrigerator for 30 minutes (this will make them easy to cut). Cut into desired bar size/shape.
Place in an easy-to-grab container in the refrigerator. Store-bought Larabars have protective covering to prevent spoilage. However, your homemade versions will need to go in the fridge. Don't worry about it if you plan on consuming them the day-of. Enjoy!
All images and text ©
.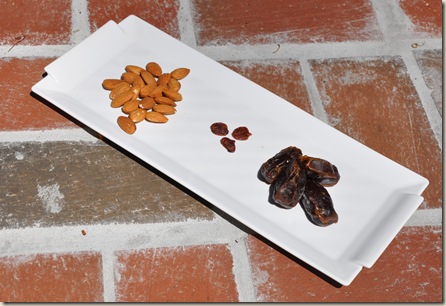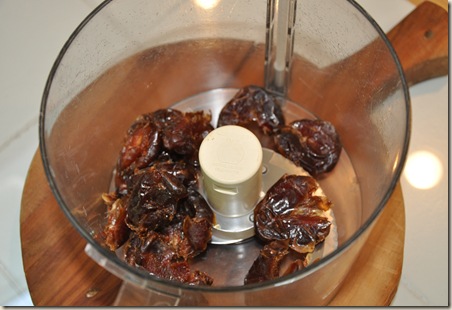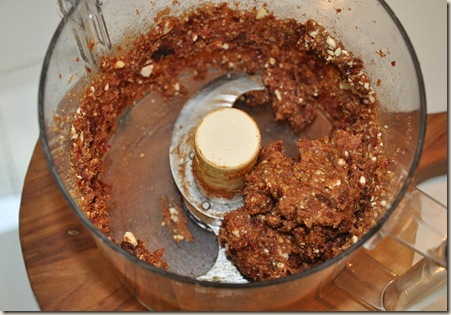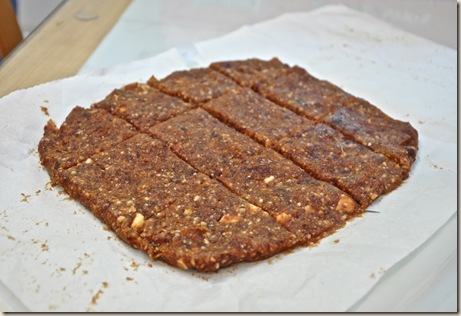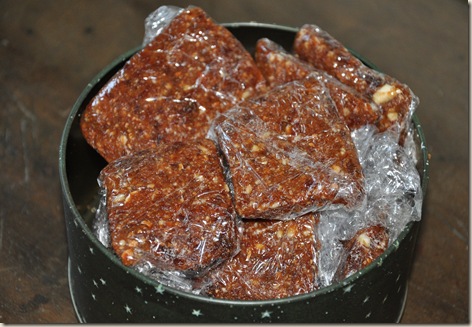 While a bit more sticky (due to the freshness of the ingredients), these homemade bars tasted uncanningly similar to the real deal Cherry Pie Larabars.  The recipe possibilities are also endless!  You could add spices, such as cinnamon or nutmeg, as well as tons of other combinations of dried fruits–dried apples, prunes, apricots, currants, and nuts–walnuts, peanuts, hazelnuts.
Of course, while I cannot say that I will never buy a real Larabar again, these were great and I can't help but be thrilled that I can make my personal version right at home, while also saving a few bucks at the same time.
What are your favorite snack bars?  Have you ever tried to make your own homemade version at home?  Was it a success?  I'd love to hear about it!