The Awesome Breakfast Burrito
I used to be one of those people that thought the combinations egg, avocado, and salsa just did not mesh with traditional breakfast fare.  I know…you're probably virtually screaming at me.  Why I used to feel that way, I have no clue.  In reality, silky, buttery avocado with egg, cheese, and fresh pico de gallo is just delicious.  In a burrito?  Even better.  I think the idea originated earlier this week when I grabbed a Amy's Breakfast Burrito as I was heading out the door for class…
Earlier this month, I had a similarly inspired breakfast in Los Angeles, where Mexican breakfast dishes are available everywhere.  With both, I couldn't help but think of my own improvements.  So the other day for lunch that is exactly what I created.  It did not disappoint.  In fact, I secretly wanted to make another.  I bring you the awesome breakfast burrito: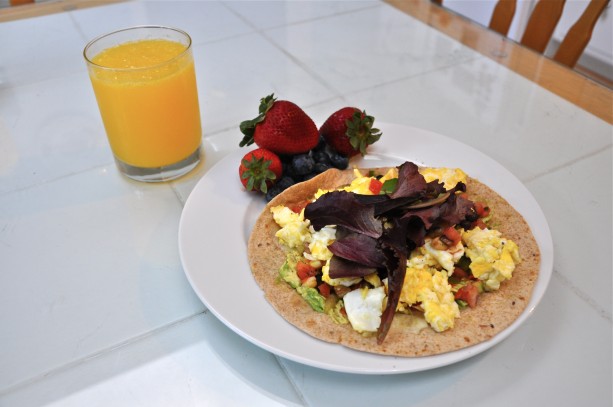 And now the cozy, wrapped-up burrito view…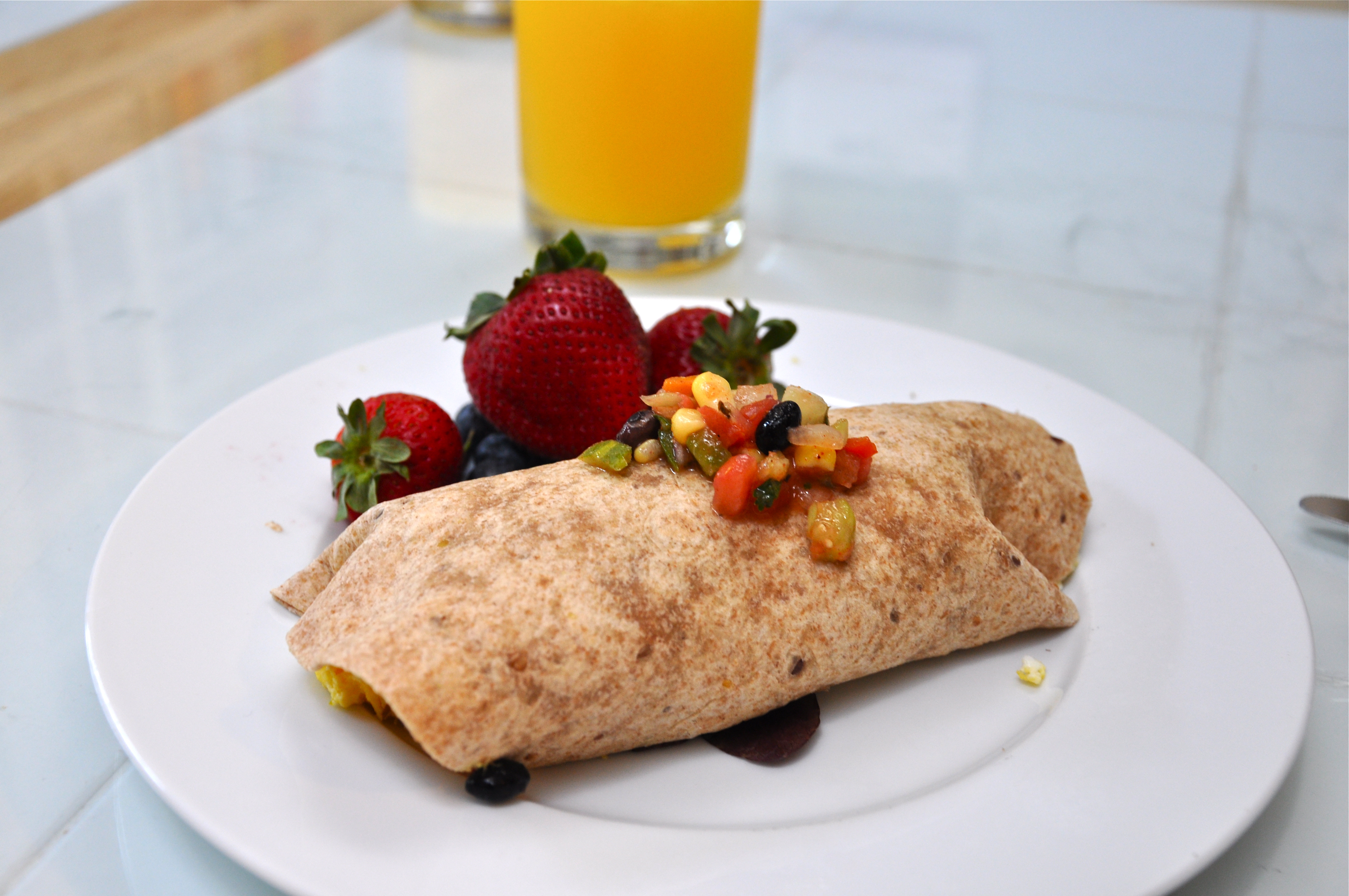 Ok, I don't mean to brag or anything, but does that look delicious or what?  I have to secretly admit that being a food stylist would be a pretty darn cool job, in my opinion at least.  The best part is that this really does not require any type of culinary skill–so no excuses people!  The possibilities are also endless, so feel free to be inspired and add additional "burrito innards."  While I call this a breakfast burrito, it is an all-purpose dish and can be enjoyed at both breakfast, lunch, and dinner. Enough of me talking, give the darn recipe!  Ok, here ya go: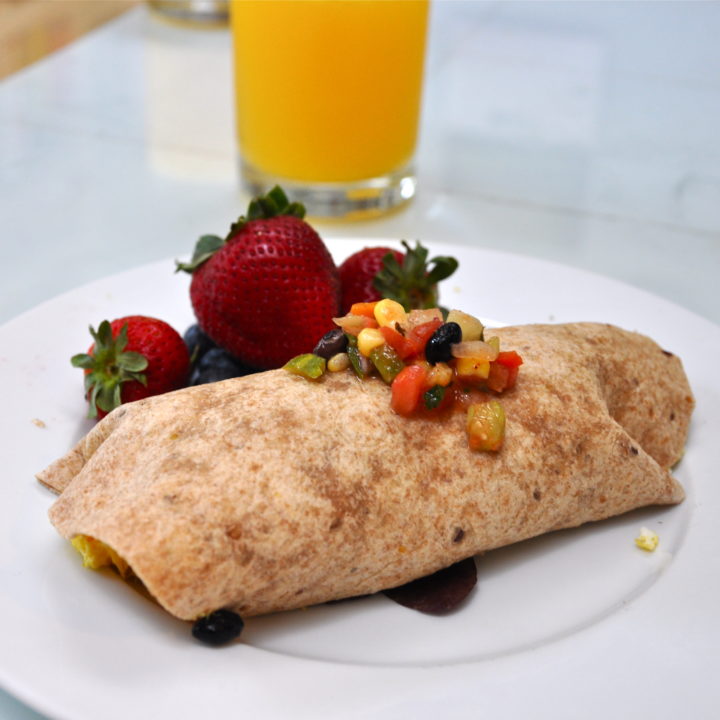 Awesome Breakfast Burrito
Yield: 1 Serving
Prep Time: 10 minutes
Cook Time: 10 minutes
Total Time: 20 minutes
Ingredients
100% whole-wheat wrap
1/4 avocado, chopped
1-1.5 ounces sharp white cheddar cheese, grated
3-4 tablespoons fresh pico-de-gallo (I used a black bean, corn, and tomato version from local store)
1 whole egg & 1 egg white
mixed baby greens
Instructions
Heat non-stick skillet over medium heat; slice and grate cheese over wrap and heat in skillet until lightly melted, remove. Evenly spread mashed avocado, followed by pico de gallo on the wrap.
Meanwhile, break egg and additional egg white into skillet and scramble–I call this "messy-scrambled" style and prefer non-beaten scrambled eggs, because you get a great mix of both white and yolk in every bite!
Add scrambled eggs to wrap, followed by mixed greens, and proceed to roll it up! Add fresh fruit on the side and garnish with more salsa.
Nutrition Information:
Yield: 1
Serving Size: 1
Amount Per Serving:
Calories: 654
Total Fat: 41g
Saturated Fat: 18g
Trans Fat: 1g
Unsaturated Fat: 18g
Cholesterol: 256mg
Sodium: 956mg
Carbohydrates: 39g
Fiber: 16g
Sugar: 4g
Protein: 37g
A Beautiful Plate provides nutritional information, but these figures should be considered estimates, as they are not calculated by a registered dietician.
Nutritional Information: Calories: 500 ; Fat: 25 grams; Fiber: 10 grams; Carbs: 36 grams; Protein: 25 grams
As you can see, it's also a well-balanced easy meal with a lot of healthy fats (avocado) and healthy cholesterol (egg), as well as lots of fiber and protein to keep you feeling full!  Definitely let me know if you decide to make this anytime soon, I'd love to hear your thoughts.
This post contains affiliate links, which means that I make a small commission off items you purchase at no additional cost to you. Please read my
privacy policy
for more information.