Homemade Spiced Almond Butter Chocolate Cups
Homemade almond butter chocolate cups made with spiced almond butter. An easy, fall twist on a classic chocolate peanut butter cup.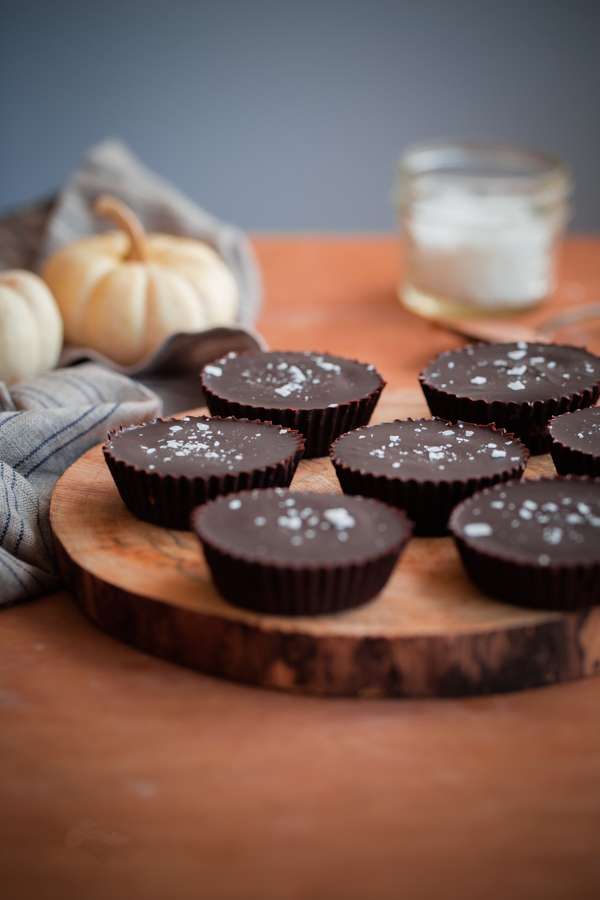 It's Friday! Let's celebrate by making a handful of these spiced almond butter chocolate cups, pouring ourselves a big, steaming mug of tea, and cozying up with a gorgeous, inspiring book.
One of my favorite bloggers, Adrianna of the blog, A Cozy Kitchen, just released her brand spanking new book The Year of Cozy last week! It is full of creative (and cozy!) recipes, simple crafts, and approachable ideas for bringing joy and happiness into your life in all sorts of ways. 125 of them to be exact!
The book is organized by season and by the categories "Make", "Live", "Do". One minute you're eyeing a recipe for a beautiful no-bake pumpkin chiffon pie and then flipping the page and learning how to make homemade Thanksgiving name tags. All of the categories are seemlessly intertwined together, which I love.
Let's just say that I pre-ordered this book on Amazon way back in July, because I was that freaking excited about it. Now that I have this book in my hands, I can say that I am even more enamored with it and the book has earned a permanent spot on my bedside table.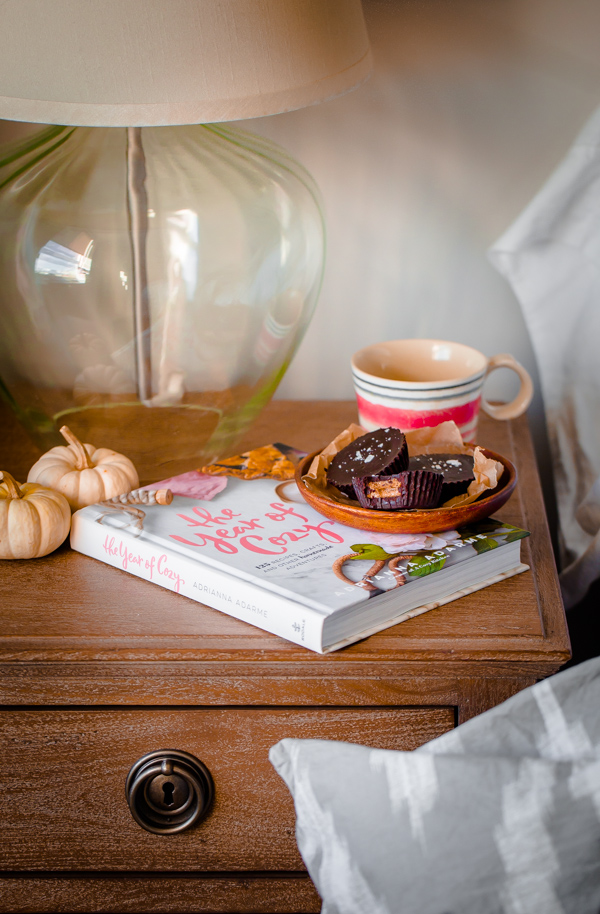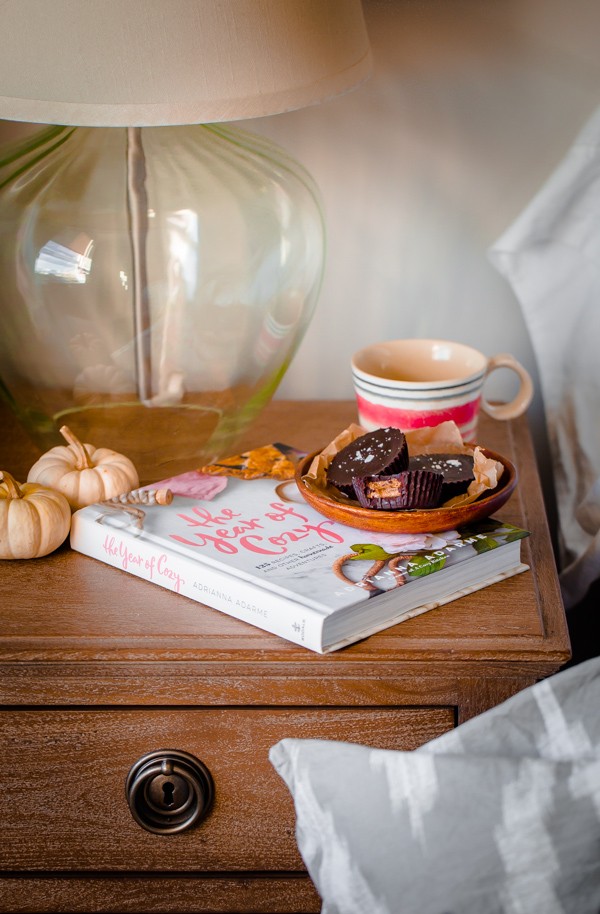 If you follow her blog, you know that Adrianna is the queen of cozy. She's also spunky and unabashedly real, which I love and admire.
Adrianna's writing, her recipes, and her general attitude towards life are, for lack of a better word, just cool. She'll share a recipe for a "Big Ass Doughnut" one day (with big ass homemade sprinkles!), tell you how to make things like homemade cream cheese and preserved Meyer lemons, and then share a post all about corgis (she has the cutest and cheekiest corgi named Amelia!) a few days later.
Adrianna is also a master at creating and sharing beautiful things without subsequently making you feel like you are failing at life –> THAT IS A SERIOUS ACCOMPLISHMENT! Very few people can pull that off in this world.
She is quite possibly the only human being on earth that makes me want to move to Los Angeles (mostly so that I could force her to hang out with me in real life). So, there's that too.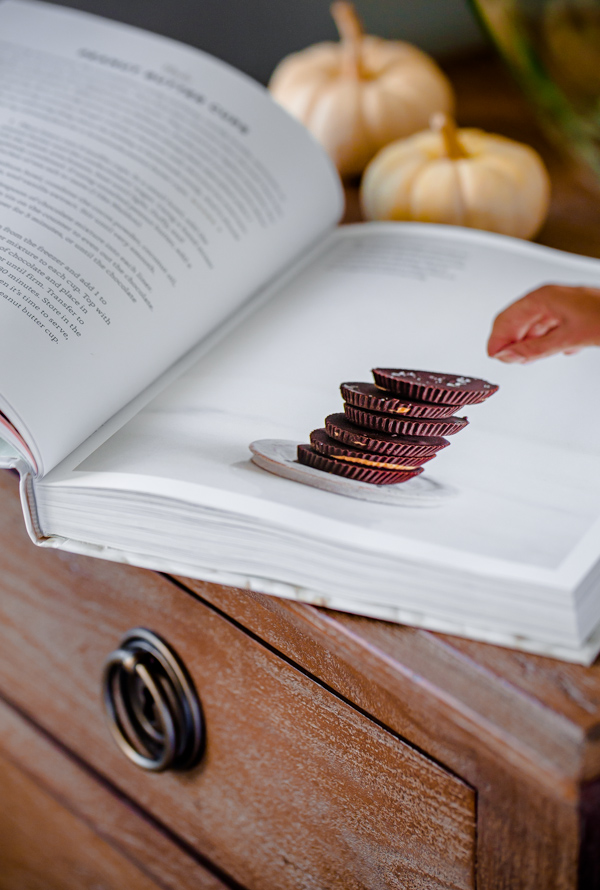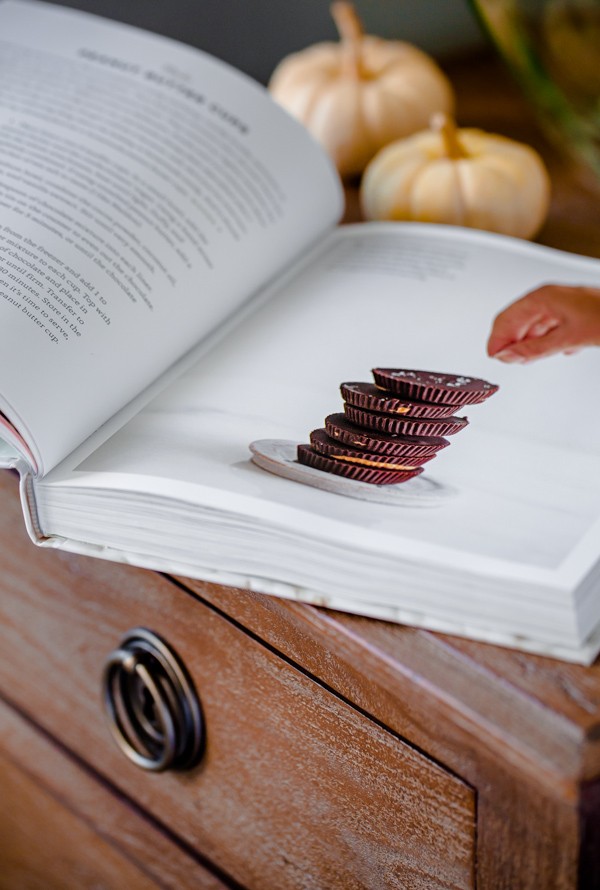 I'm going to be completely real. I love creating things. It makes me happy and is probably the biggest motivation behind this blog.
In theory, I've also always loved the idea of DIY stuff and making crafts (for whatever reason, I like to think that I'll be a big DIY person when I retire?), but I almost never have the patience for it as an adult.
Have I told you that I'm the most impatient person ever? Because I am.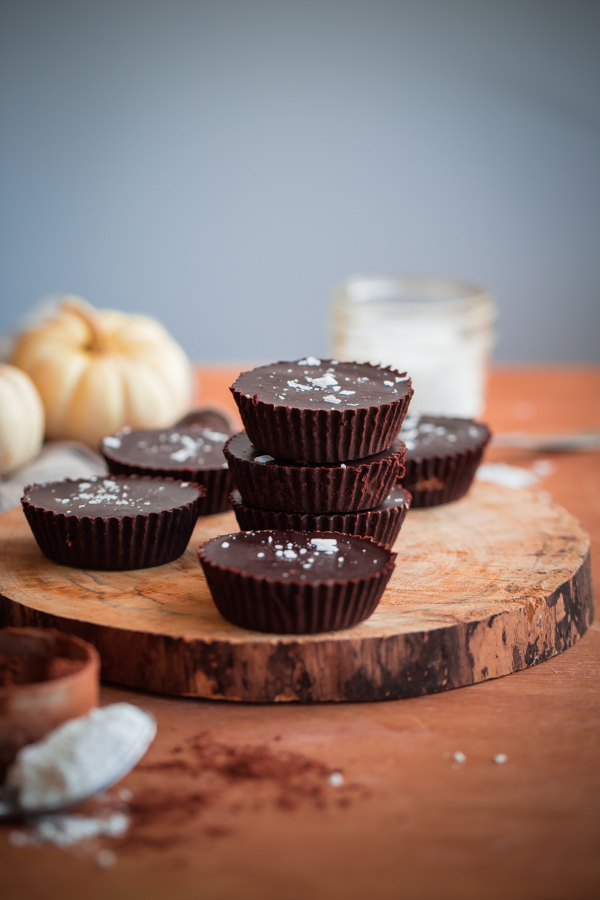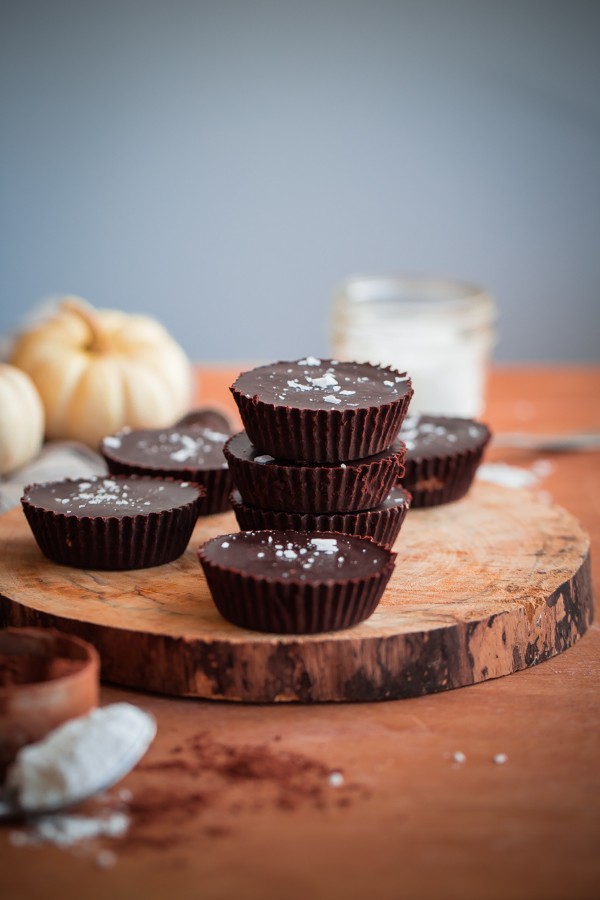 I'll get excited about an idea only to realize that I need like 3,000 tools and supplies to execute something, and I end up giving up halfway through. I'm not necessarily proud of this personality trait, but I'm human. [Thankfully, this personality trait does not apply to cooking, as evidenced by this blog.]
Let's just say that I've only had The Year of Cozy in my possession for a little over a week and there is already a homemade salt cellar (just one of the many DIY crafts in her book!) drying on my kitchen counter top as we speak.
I'm planning to make some textured drink coasters to go along with it this weekend. WHO AM I?!??!
I wish I could take credit for both of these things, but these seemingly small (yet huge!) accomplishments are a true testament to Adrianna's book.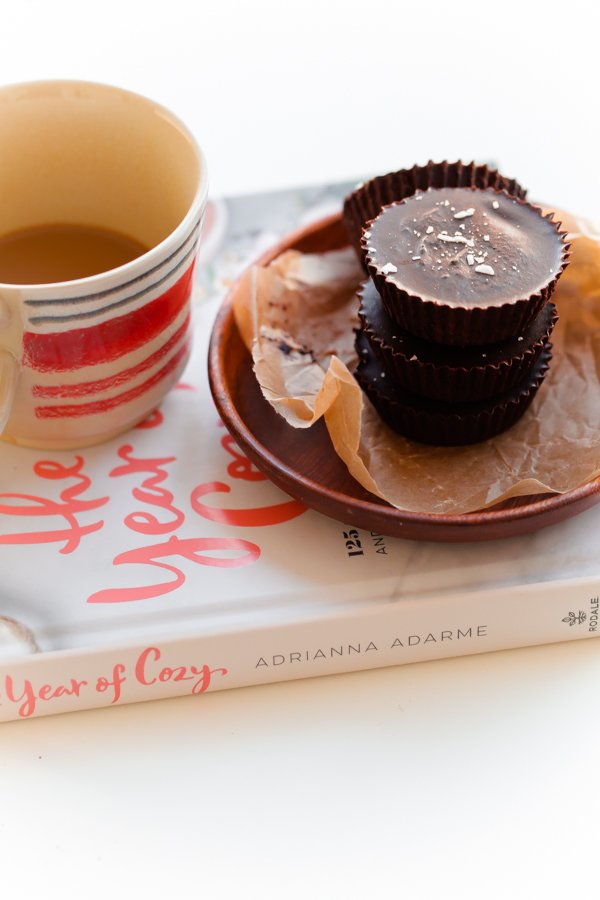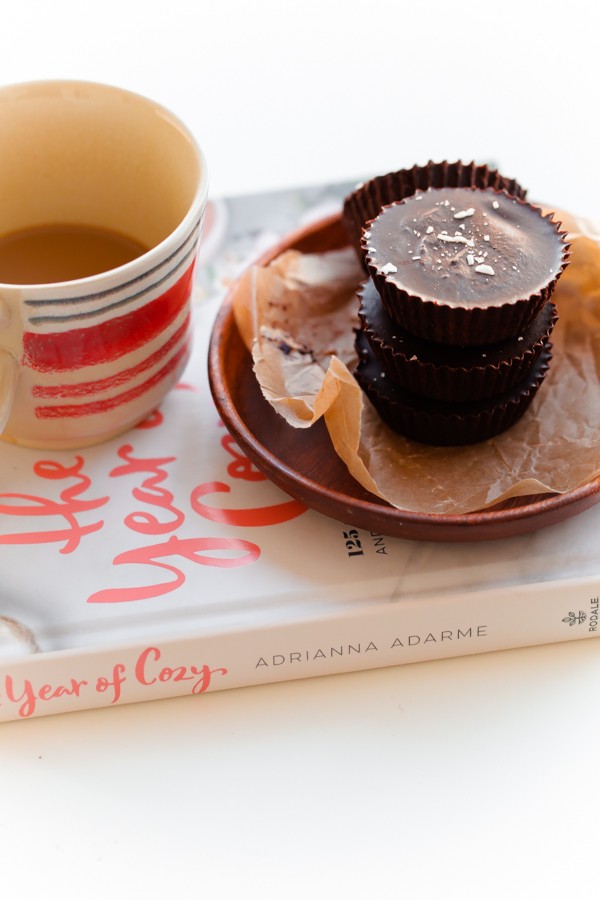 Other things I can't take credit for? Today's homemade chocolate cup recipe! Adrianna's original recipe from the book is for homemade peanut butter cups (total comfort food at this time of year!) and they couldn't be easier to make.
To give them my own little fall twist, I swapped out the peanut butter for creamy almond butter and added a few of my favorite fall spices (cinnamon, cardamom, and allspice). Is there anything cozier than cardamom and cinnamon? Nope.
These homemade spiced almond butter chocolate cups are a fun, adult twist on a classic, and would be really fun to serve for a Halloween party in the coming weeks. You could also wrap them up in cute cellophane packaging and give them to a friend, along with a copy of this book! I can't think of a better gift over the holiday season!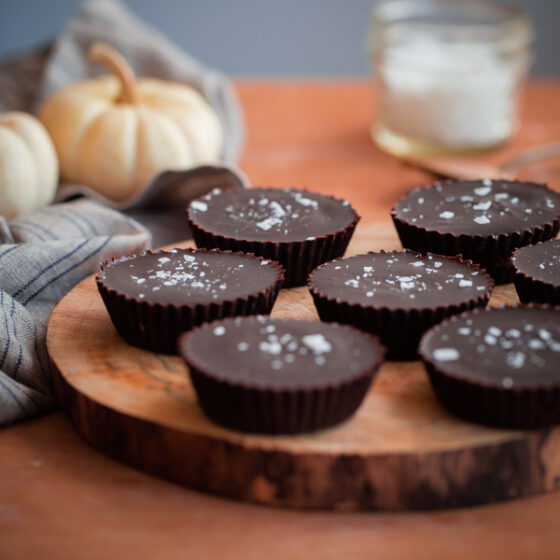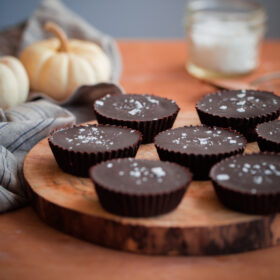 Homemade Spiced Almond Butter Chocolate Cups
Homemade almond butter chocolate cups made with spiced almond butter. An easy, fall twist on a classic chocolate peanut butter cup. 
Ingredients
½ cup (128 g) unsalted or salted creamy almond butter
2 tablespoons (16 g) confectioners' sugar
¼ teaspoon ground cinnamon
⅛ teaspoon ground allspice
pinch ground cardamom
1 cup natural cocoa powder
½ cup coconut oil melted and warm
⅓ cup (80 mL) pure maple syrup
1½ teaspoons pure vanilla extract
Instructions
Place paper liners into 9 cups in a 12-cup muffin tin. In a small bowl or stand mixer, combine the almond butter, cinnamon, allspice, cardamom, and confectioners' sugar. Using a whisk attachment, hand-held or stand mixer, beat until light, fluffy, and completely combined. If using unsalted almond butter, add a few pinches of salt.

In a medium bowl, combine the cocoa powder, coconut oil, maple syrup, and vanilla extra until very smooth. Spoon 1 tablespoon of chocolate mixture into each liner. Smack the muffin tin on the counter to even out the chocolate. Transfer to the freezer for 5 minutes, or until the chocolate is firm.

Remove the muffin tin from the freezer and add 1 to 2 teaspoons of the almond butter mixture to each cup. Top with 1 to 2 additional tablespoons of chocolate and place in the freezer for 5 to 10 minutes, or until firm. Transfer to the refrigerator to thaw for about 30 minutes. Store in the refrigerator until ready to serve. When it's time to serve, sprinkle a pinch of sea salt atop each almond butter cup.
Tips for Success:
Since this recipe contains no stabilizers for the chocolate, I recommend storing the almond butter cups in the refrigerator, as they can melt if kept at room temperature for too. 
Adapted and reprinted with permission from Adrianna Adarme's
The Year of Cozy
(Rodale, 2015)
Serving: 1serving, Calories: 194kcal, Carbohydrates: 15g, Protein: 2g, Fat: 14g, Saturated Fat: 10g, Polyunsaturated Fat: 2g, Sodium: 66mg, Fiber: 2g, Sugar: 9g
This post contains a few Amazon affiliate links. Thank you for supporting the blog!
This post contains affiliate links, which means that I make a small commission off items you purchase at no additional cost to you. Please read my
privacy policy
for more information.