Lemon Chia Whole Wheat Pancakes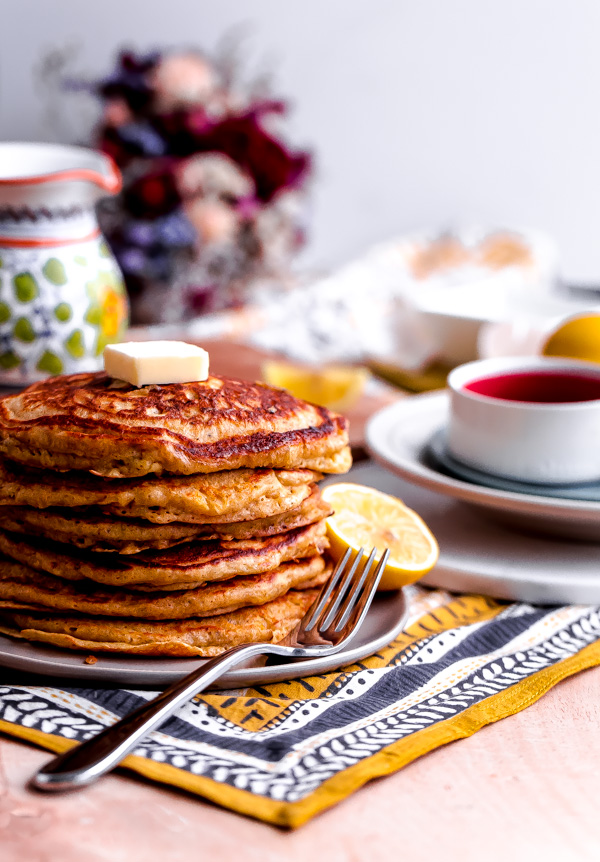 Pancakes! It's been a while since I shared a pancake recipe, and I've been dying to make one a bit on the healthier side (although these ones are pretty amazing, if you're looking for some ideas!).
My sisters and I loved buckwheat pancakes growing up, but since buckwheat flour is a bit trickier to come by (and I'm generally not a huge fan of the packaged options), I wanted to do something a bit different.
To make these whole wheat pancakes more fun, I decided to add chia seeds and lemon zest to the batter. A little bit of a play off of lemon poppy pancakes! I loved the texture.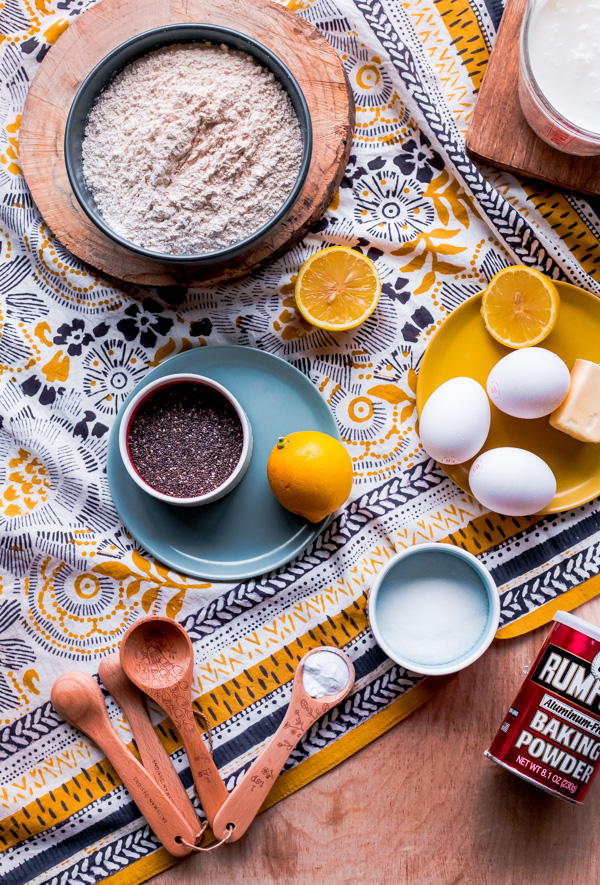 I love whole grain pancakes, but they can sometimes be dense and heavy. Since I've been indulging in traditional buttermilk pancakes for the past year or so, I've gotten extremely spoiled with super light and fluffy pancakes! I've come to expect them.
Solution? Attempt to make light and fluffy 100% whole grain pancakes. It's harder than it sounds! After experimenting a bit, and trying one of my favorite pancakes tricks (don't worry, I'll share!), I found the solution:
Whole wheat pastry flour and whipped egg whites!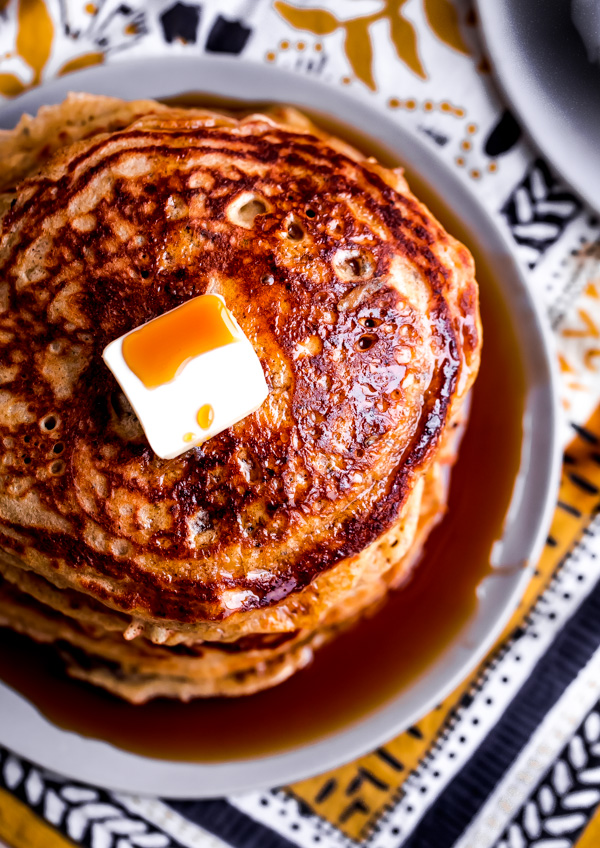 Whole wheat pastry flour is made with soft wheat berries, whereas traditional whole wheat flour is made with hard wheat berries. As a result, whole wheat pastry flour has a much lower protein and gluten level than traditional whole wheat flour.
This makes whole wheat pastry flour ideal for substitution in baking, and even more ideal for…you guessed it…pancakes! If you're not used to whole wheat flour in pancakes (it definitely has a much more hearty, earthier taste), you can certainly use a half and half blend, but these pancakes are far from dense!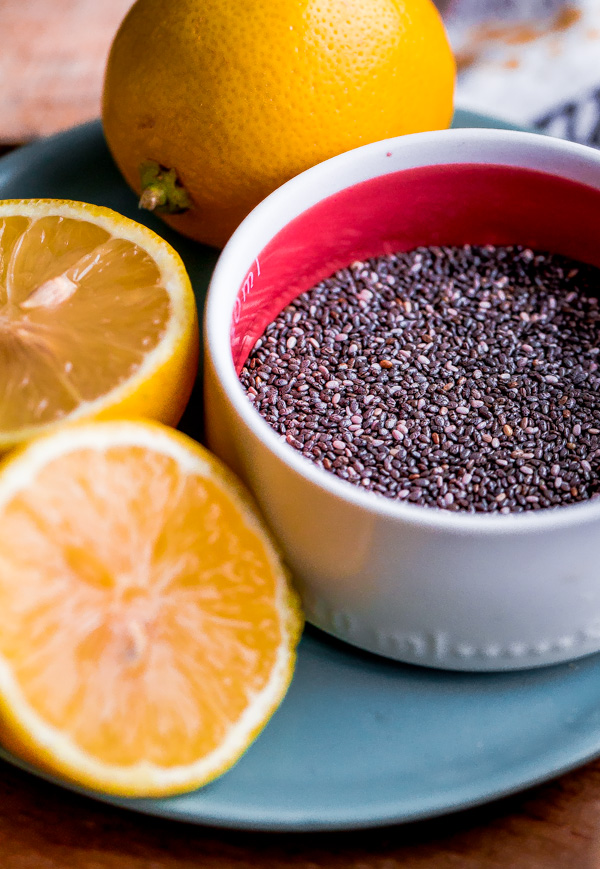 My next trick is to separate and whip the egg whites. This is my favorite trick for producing extra light, fluffy pancakes (remember these?!)–and as I've found, an even more essential step for 100% whole grain pancakes!
It takes a little bit more work, and you'll need to clean another bowl, but it is so, so worth it!
Your pancake life will forever be changed.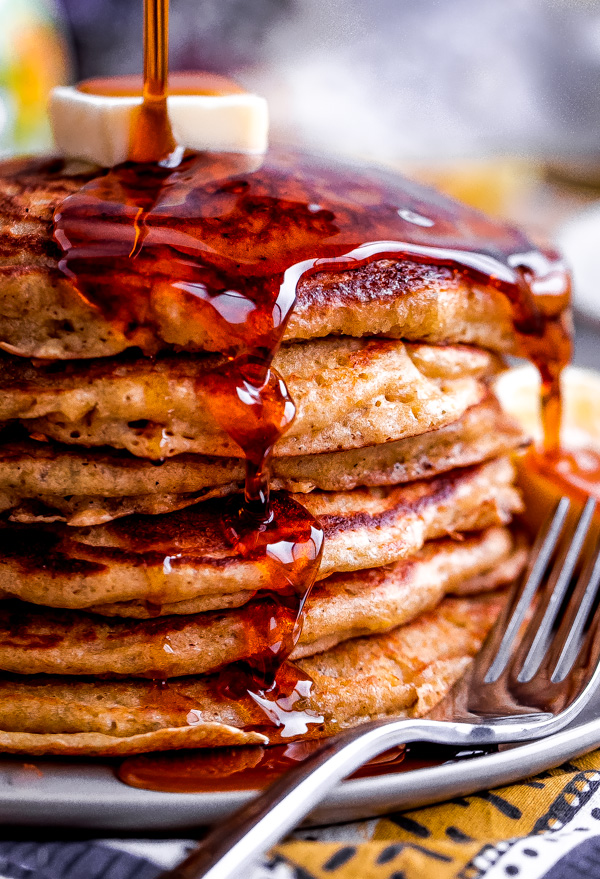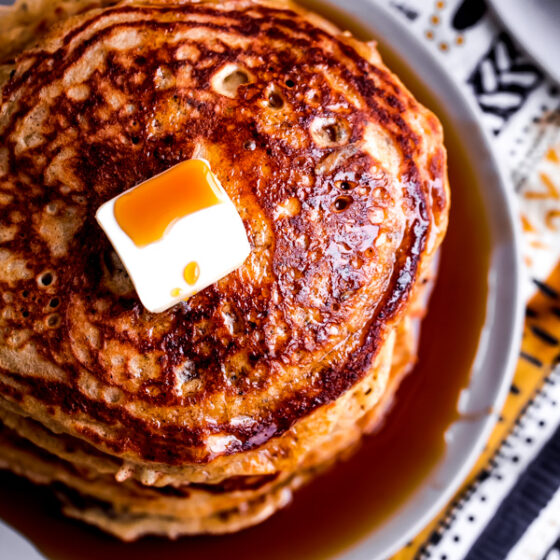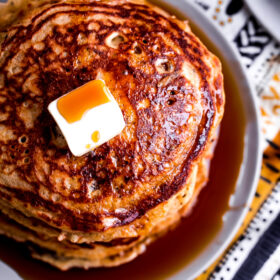 Lemon Chia Whole Wheat Pancakes
Lemon chia whole wheat pancakes made with whole wheat pastry flour and made extra light and fluffy through the addition of folded whipped egg whites.
Ingredients
2 cups (240 g) whole wheat pastry flour
3 tablespoons (36 g) granulated sugar
2 teaspoons baking powder
1 teaspoon baking soda
½ teaspoon Diamond Crystal kosher salt
zest ½ lemon
2 tablespoons chia seeds
2 cups (480 mL) buttermilk
3 large eggs yolks and whites separated
3 tablespoons (45 g) melted unsalted butter
warm maple syrup for serving
Instructions
In a large bowl, whisk together the flour, sugar, baking powder, baking soda, salt, lemon zest and chia seeds. Set aside.

In a medium bowl, whisk together the buttermilk, egg yolks, and melted butter. Using a hand mixer or stand mixer fitted with a whisk attachment, whisk the egg whites over low speed until foamy. Increase speed to medium-high and whisk until egg whites are stiff (peaks will hold) but still wet. Set aside.

Add the buttermilk mixture to the dry ingredients, and whisk until just combined. Using a spatula, gently fold the egg whites, in two separate additions.

Heat a tab of butter in large non-stick or cast iron skillet over medium heat. Once the butter begins to sizzle, gently add the batter to the pan (you can always a test coin-sized pancake to check whether the pan is ready).

Once bubbles begin to form on the top of the pancake, flip carefully and continue to cook on other side until brown–this step is easier if you keep pancakes no larger than 4 to 5 inches in diameter. Adjust heat if necessary. Top pancakes with butter and warm maple syrup, and serve immediately.
Tips for Success:
If you would prefer a slightly more indulgent option, feel free to use a 50/50 blend of flour: 50% whole wheat pastry flour (120 grams) and 50% all-purpose (120 grams)!
Serving: 1serving, Calories: 655kcal, Carbohydrates: 115g, Protein: 20g, Fat: 15g, Saturated Fat: 7g, Polyunsaturated Fat: 7g, Cholesterol: 149mg, Sodium: 799mg, Fiber: 10g, Sugar: 46g
This post contains affiliate links, which means that I make a small commission off items you purchase at no additional cost to you. Please read my
privacy policy
for more information.