Make Ahead Smoothie Cups (3 Recipes!)
These make ahead smoothie cups can be prepped and frozen in advance, allowing you to throw together healthy smoothies in seconds!
In the past, my approach to smoothie-making has been spontaneous at best. I never prepped a thing and whenever the urge for one struck, our countertop would quickly become littered with every last ingredient and container in my kitchen.
Mason jars (of chia and hemp seeds), a tub of baby spinach, containers of yogurt, assorted bags of frozen fruit, and various other ingredients. Organized chaos, if I could even call it that. Smoothies are simple (in theory), but my process left a lot to be desired. Enter make ahead smoothies.
Not just any make-ahead smoothies…make-ahead smoothie cups! Not only are these frozen smoothie cups incredibly fun to prepare, they make life so easy. You'll be able to mix and match your favorite flavors (three recipes included below!) and throw together nutritious smoothies in seconds. We could all use more of this during busy summer days.
The main concept? Smoothie ingredients are frozen, pre-portioned into mason jars (I personally love these glass Weck jars!) and stored in the freezer.
When you're ready to make a smoothie, you grab one of these smoothie cups out of the freezer, add your liquid and protein powder (the only last-minute items!) to a blender, pour in the frozen ingredients, blend, and return the smoothie back into the chilled jar for drinking.
Less mess, less stress! Bonus? You'll feel really put together in life…and kinda fancy.


I'm not the genius that came up with this concept. You can actually order pre-packaged smoothie cups and have them delivered to your door. I love the concept, but the price and waste (paper cups and plastic lids, not to mention packing material!) is astronomical.
So, I've been dying to recreate and share a homemade version of this concept with you and that's exactly what we're doing today!
To make these smoothies extra nutritious, I've teamed up with my friends at Bob's Red Mill and am using their new vanilla protein powder nutritional booster. Each serving offers 20 grams of plant-based protein (pea protein, to be specific!), 12 grams of dietary fiber, 250 mgs of Omega-3's, prebiotics, probiotics, and a healthy dose of iron and calcium.
The Omega-3's come in the form of chia seeds, which are sprinkled throughout the protein powder! Aka, one less ingredient to prep and account for. The protein powder bag is easily resealable, doesn't take up much space, and comes with a plastic scoop for measuring – super convenient!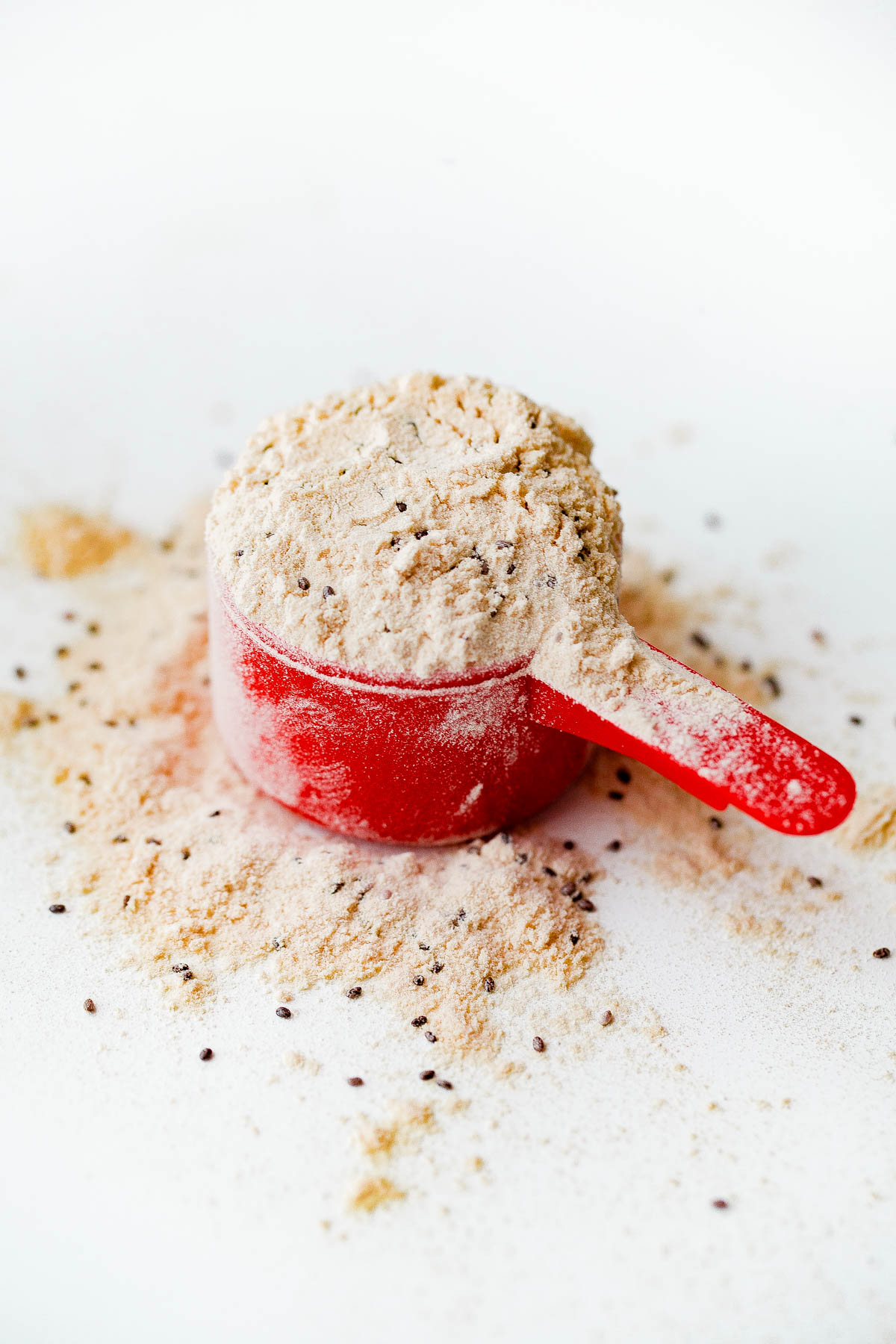 I haven't been a protein powder fan in the past and this is the only traditional protein powder that I have actually enjoyed drinking. Most traditional protein powders (even some of the so-called "good" ones!) are full of synthetic and artificial ingredients and sweeteners – and Bob's Red Mill protein powder is the exact opposite of that. The texture blends well in smoothies and it offers great vanilla flavor (and a hint of natural sweetness derived from monk fruit!).
While I don't add protein powder to every smoothie, I love the convenience and nutrition that Bob's Red Mill vanilla protein powder provides, especially when I'm looking to make a substantial smoothie that can hold me over for hours or serve as a meal unto itself! It allows me to create flavorful and filling smoothies without a ton of ingredients.
[Side Note: These make-ahead smoothie cups have been extremely helpful for Connor, especially in the wee hours of the morning when he barely has energy to grab coffee, let alone a nutrient-rich meal.]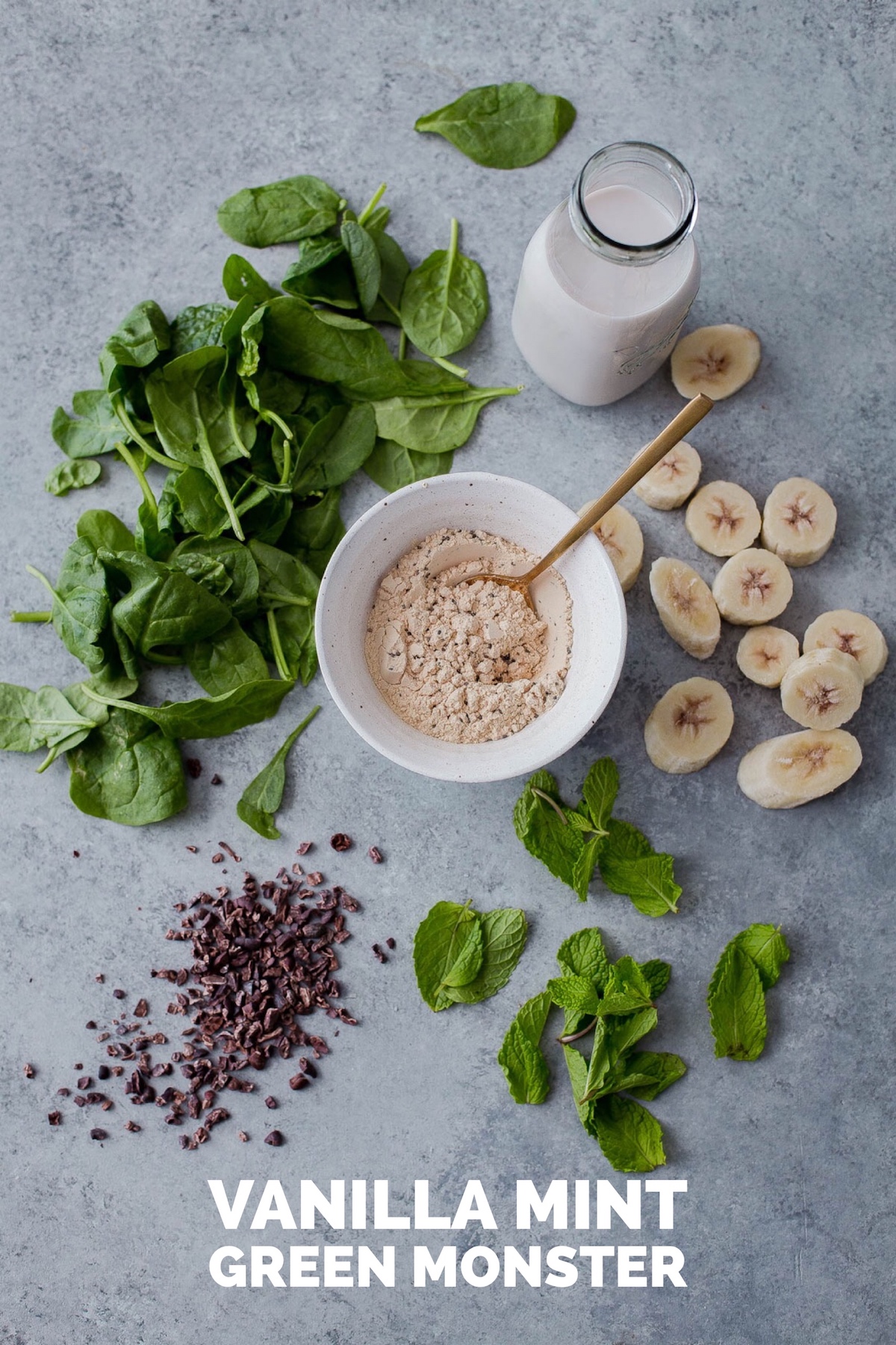 Today, we're making not one, but three make-ahead smoothie cups:
Vanilla Mint Green Monsters – frozen spinach, banana, fresh mint, and cocao nibs are combined with unsweetened almond milk and vanilla protein powder to make a refreshing, minty green smoothie (that reminds me of healthy interpretation of this vanilla mint ice cream!)
Cold Brew Banana Smoothies – frozen bananas, dates, almonds, and unsweetened flaked coconut are combined with cold brew coffee and vanilla protein powder to make a rich, chocolate-like breakfast smoothie (with a caffeine boost!)
Blueberry Kefir Smoothies – frozen blueberries, banana, hemp seeds, and spinach are combined with probiotic rich kefir and vanilla protein powder to produce a tangy and refreshing berry smoothie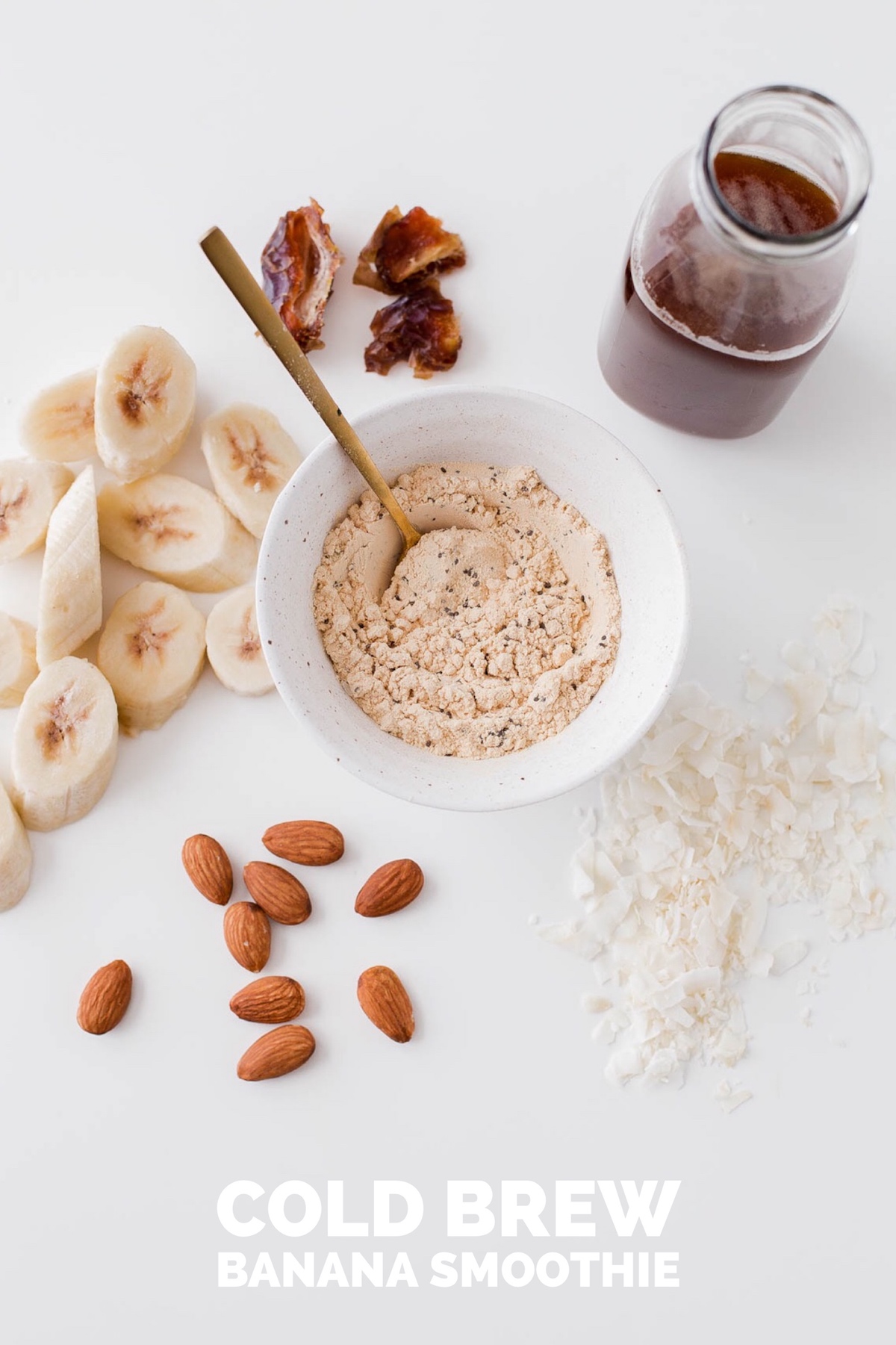 All of the smoothies use a slightly different liquid, but are proportioned to make an easily-blended smoothie once mixed with the frozen ingredients.
To avoid waste, I prefer to freeze the pre-portioned frozen ingredients for each smoothie in a quart size glass jars (they also double as a drinking vessel!).
If you don't have space in your freezer or don't own extra jars, resealable Ziploc bags will work too.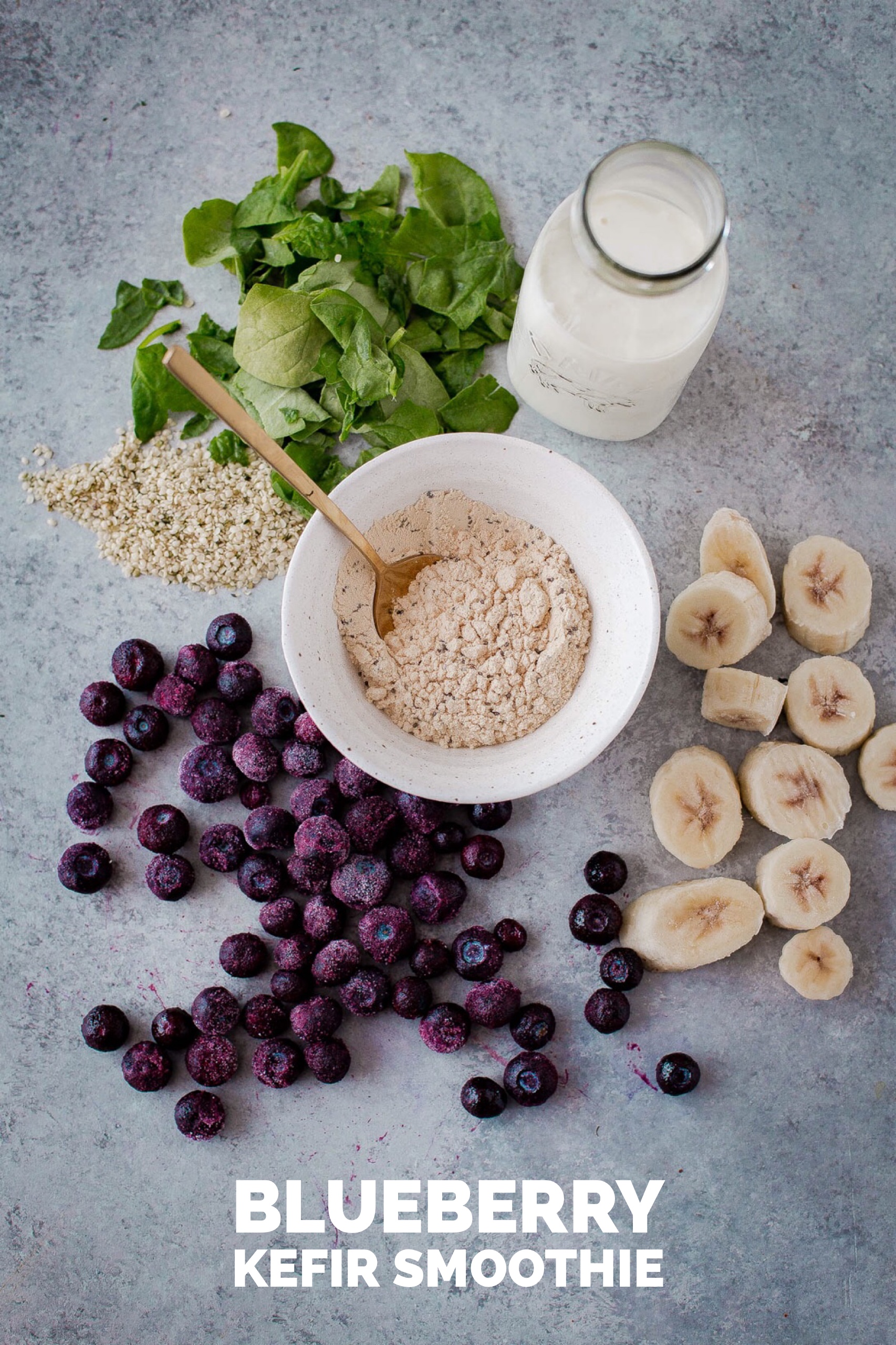 While it's tempting, do not pre-measure and portion out the protein powder for these – you want to add the protein powder at the last minute with the liquid to avoid it gaining moisture (and clumping) in the freezer. Avoid the mess, trust me.
Thank you Bob's Red Mill for sponsoring this post! Check out more delicious healthy recipes, snag coupons (you can save $3.00 on any nutritional booster protein powder here), and find stores near you at BobsRedMill.com!