Fresh Vanilla Mint Ice Cream
Fresh vanilla mint ice cream naturally flavored with torn mint leaves and whole vanilla beans!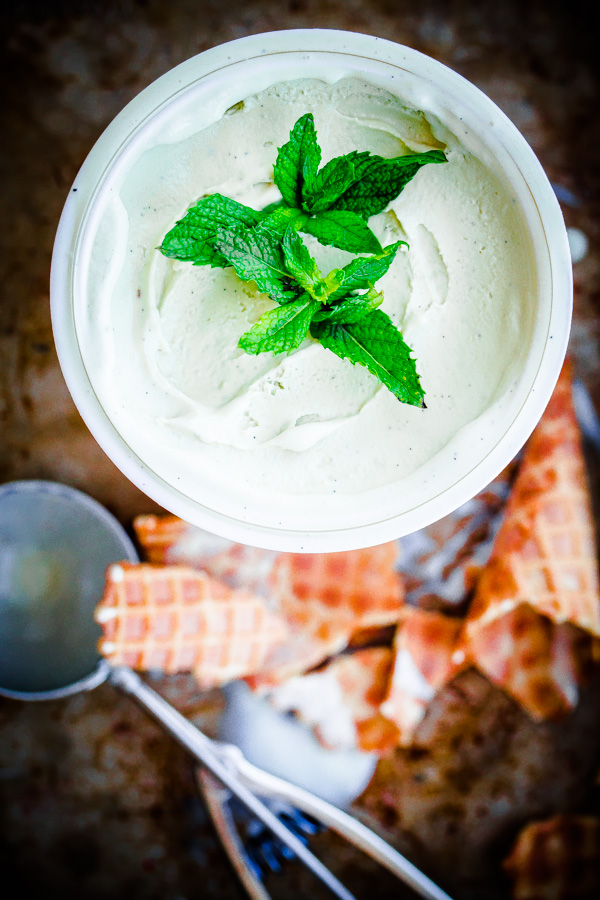 Double your pleasure, double your fun.
That's what you get when you infuse fresh mint leaves and whole vanilla beans into homemade ice cream. Vanilla mint ice cream. It's basically a two-for-one ice cream flavor. The loveliness of homemade vanilla bean ice cream combined with the freshest mint flavor.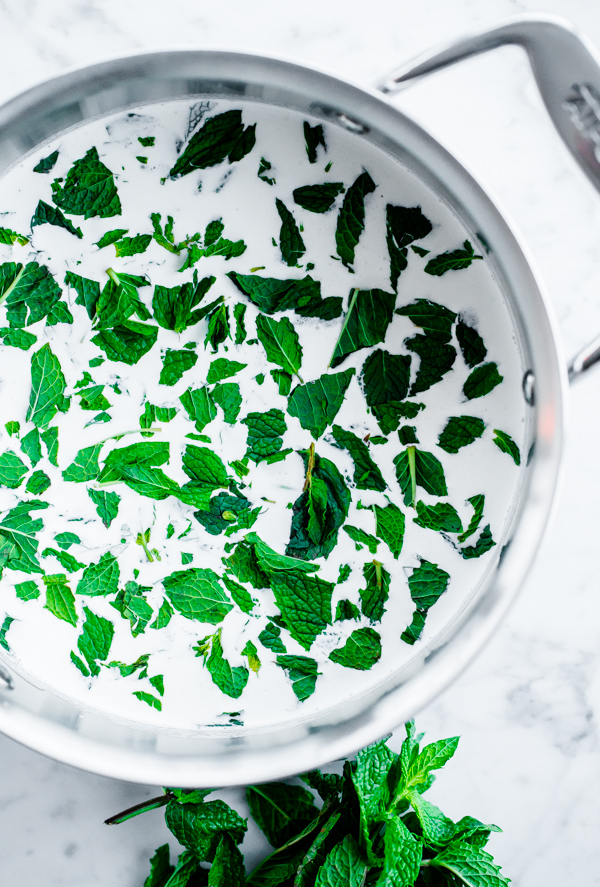 It should come as no surprise that I'm finally sharing a mint ice cream recipe on the blog! As much as I love a super creative ice cream flavor every now and then, mint (and a good mint chocolate chip) is probably my all-time favorite ice cream flavor.
I can't help it!
If I'm at an ice cream store, I always have a moment of anxiety when it comes to deciding which flavor to get. Eight times out of ten, I end up ordering mint because I get major FOMO and am worried that I'll miss out on getting the best mint ice cream that I've ever had.
Then it will inevitably not be the best mint ice cream I've ever had (because how often could that realistically happen?) and I'll wish I had gotten something more interesting. Life struggles.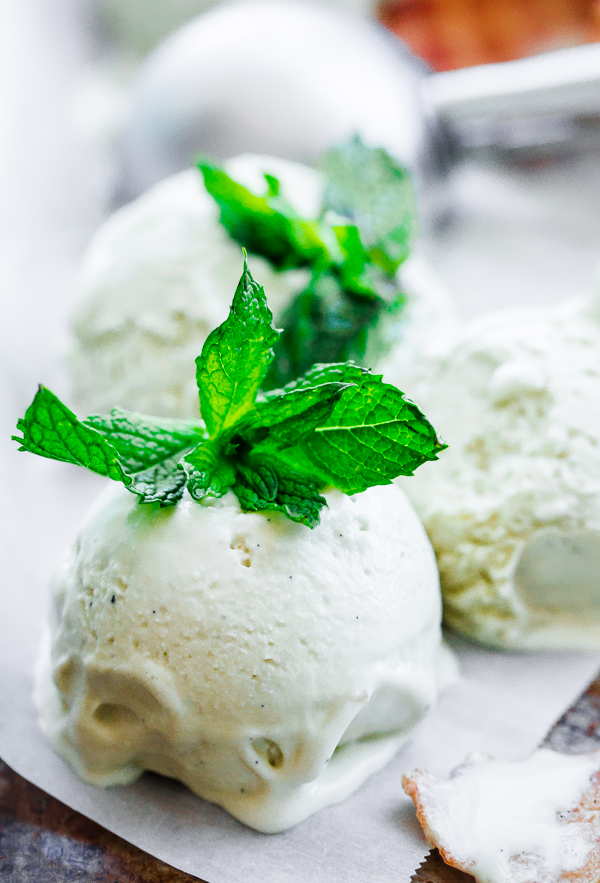 One of the best mint ice creams that I've ever had was at a place called Smitten in Berkeley, California last summer when I visiting my older sister.
It is actually one of those trendy places that makes your ice cream to order with liquid nitrogen. Either way, their mint ice cream was incredible, as it was made with fresh mint leaves and was almost mojito-esque (obviously without the alcohol of course) in mint strength. So, so minty!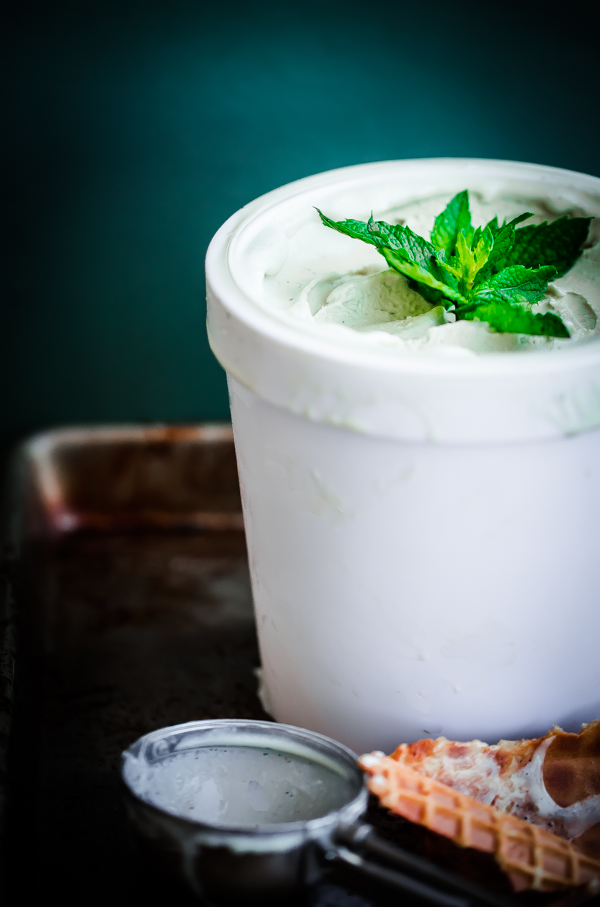 I vowed to try to recreate a similar type of ice cream using only fresh mint leaves–no natural extracts–and a year later, I finally got around to it. To twist it up a bit, I decided to infuse the ice cream base with the beans of a whole vanilla bean (again, no vanilla extract) too.
The fresh mint leaves give the ice cream an herbal mint flavor–a very different effect than traditional peppermint extract. The trick is to allow the fresh mint leaves, and all of their natural oils, to infuse themselves into warm milk and cream for at least an hour.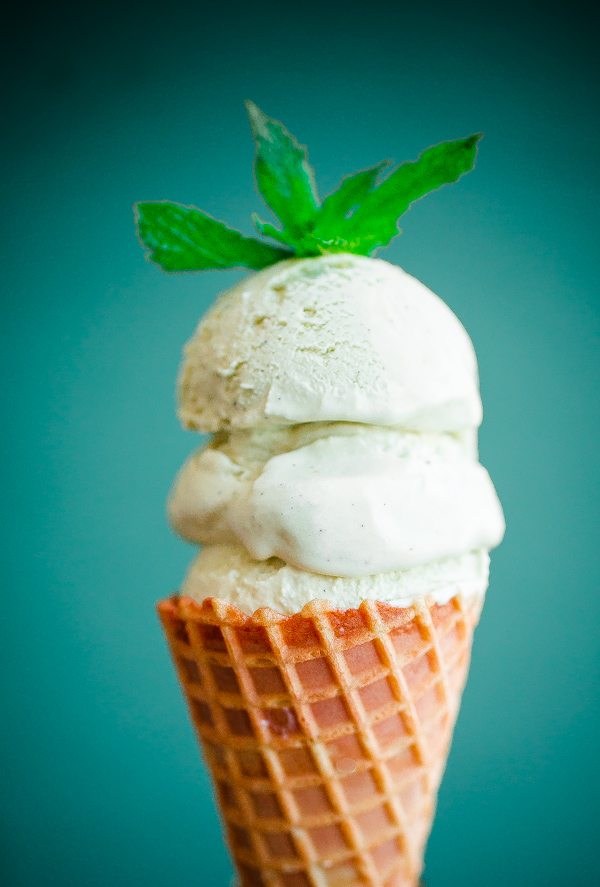 Oh, and you should absolutely use any leftover fresh mint you have from this recipe to make these drinks from the other day.
Cocktails and ice cream. I've got you covered.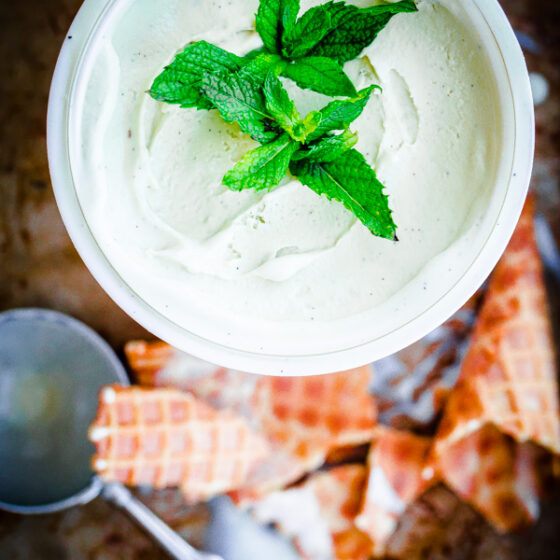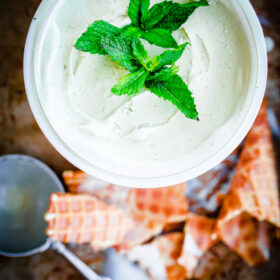 Fresh Vanilla Mint Ice Cream
This homemade vanilla mint ice cream is naturally flavored and infused with torn mint leaves and whole vanilla beans. A delicious, creamy, and refreshing treat for the summer months!
Ingredients
2 cups (460 mL) whole milk
1 cup (230 mL) heavy cream
1 ounce fresh mint leaves
5 large egg yolks
¾ cup (150 g) granulated sugar
1 whole Madagascar vanilla bean
Instructions
Combine the milk and heavy cream in a medium saucepan. Tear the mint leaves into small pieces (you want to release as much oil from the leaves as possible to infuse maximum flavor), and add to the milk and cream mixture. Place over medium-low heat and heat until just steaming. Remove from the heat, cover with a lid, and allow the fresh mint to infuse in the milk and cream mixture for at least one hour.

Strain the mint milk mixture through a fine-meshed sieve into a medium bowl. Press the mint leaves with the back of a wooden spoon to release as much oil as possible (the cream milk mixture might be light green in color, don't worry!). 

In a separate large mixing bowl, whisk together the egg yolks and sugar until smooth and pale yellow in color.

Transfer the strained milk mixture back into the same saucepan and heat over medium heat until just beginning to boil. Remove from the heat immediately. Temper the hot milk mixture into the egg yolks slowly, whisking continously with your other hand as you pour. Transfer the mixture back into the saucepan, and heat over low heat, stirring constantly, until the ice cream base has thickened considerably and coats the back of a wooden spoon.

Once the ice cream base is thick, pour it through a fine-meshed sieve into a large heat-proof bowl. Place the vanilla bean pod on a cutting board and slice it in half lengthwise with a pairing knife. Using the back of your knife, scrape the vanilla bean caviar and whisk it into the ice cream base. Add the scraped vanilla bean halves to the mixture as well. Set the bowl in an ice bath, stirring every 10 minutes or so, until the base has cooled. Place ice cream base in an airtight container and set in the refrigerator until it has completely chilled.

Remove the ice cream base from the fridge. Remove the scraped vanilla pod from the ice cream and discard. Churn the ice cream in an ice cream maker according to the manufacturer's instructions. Place the ice cream in an airtight container, cover the surface of the ice cream lightly with parchment paper or plastic wrap (I use this type of container, which works great!).

Freeze the ice cream for a minimum of 4 to 6 hours, or until firm enough to scoop.
Serving: 1serving, Calories: 352kcal, Carbohydrates: 31g, Protein: 10g, Fat: 22g, Saturated Fat: 12g, Polyunsaturated Fat: 8g, Trans Fat: 1g, Cholesterol: 239mg, Sodium: 108mg, Sugar: 30g
This post contains affiliate links, which means that I make a small commission off items you purchase at no additional cost to you. Please read my
privacy policy
for more information.