Fresh Vanilla Mint Ice Cream
Fresh vanilla mint ice cream naturally flavored with torn mint leaves and whole vanilla beans!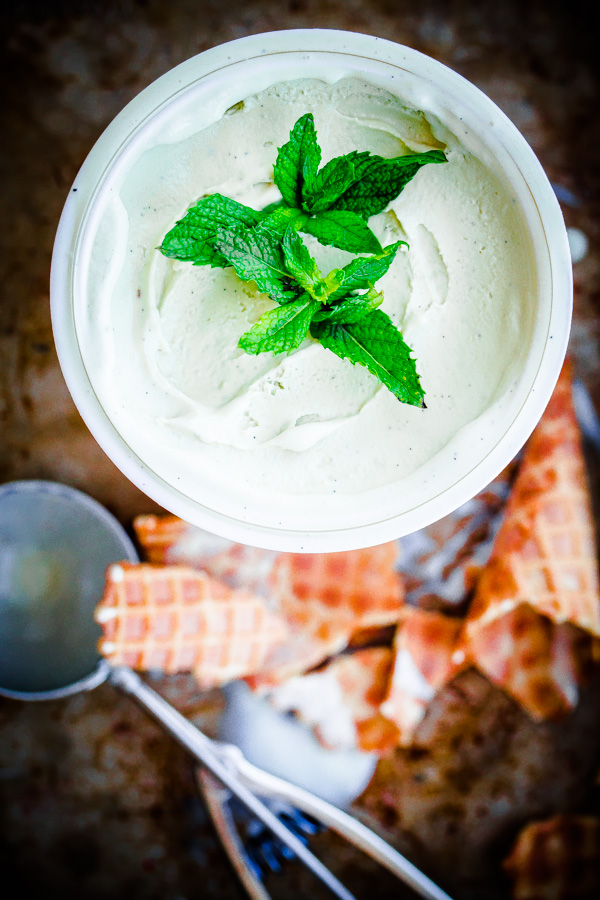 Double your pleasure, double your fun.
That's what you get when you infuse fresh mint leaves and whole vanilla beans into homemade ice cream. Vanilla mint ice cream. It's basically a two-for-one ice cream flavor. The loveliness of homemade vanilla bean ice cream combined with the freshest mint flavor.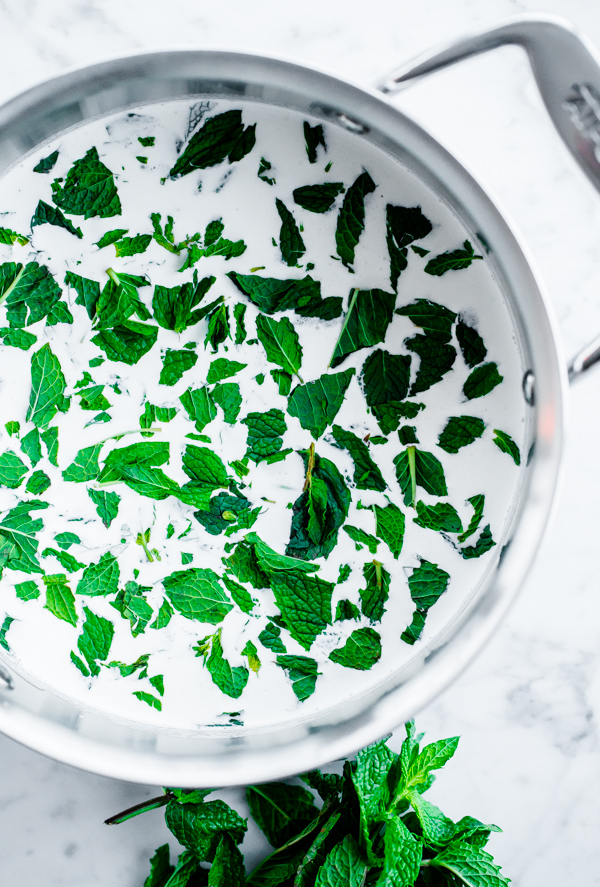 It should come as no surprise that I'm finally sharing a mint ice cream recipe on the blog! As much as I love a super creative ice cream flavor every now and then, mint (and a good mint chocolate chip) is probably my all-time favorite ice cream flavor.
I can't help it!
If I'm at an ice cream store, I always have a moment of anxiety when it comes to deciding which flavor to get. Eight times out of ten, I end up ordering mint because I get major FOMO and am worried that I'll miss out on getting the best mint ice cream that I've ever had.
Then it will inevitably not be the best mint ice cream I've ever had (because how often could that realistically happen?) and I'll wish I had gotten something more interesting. Life struggles.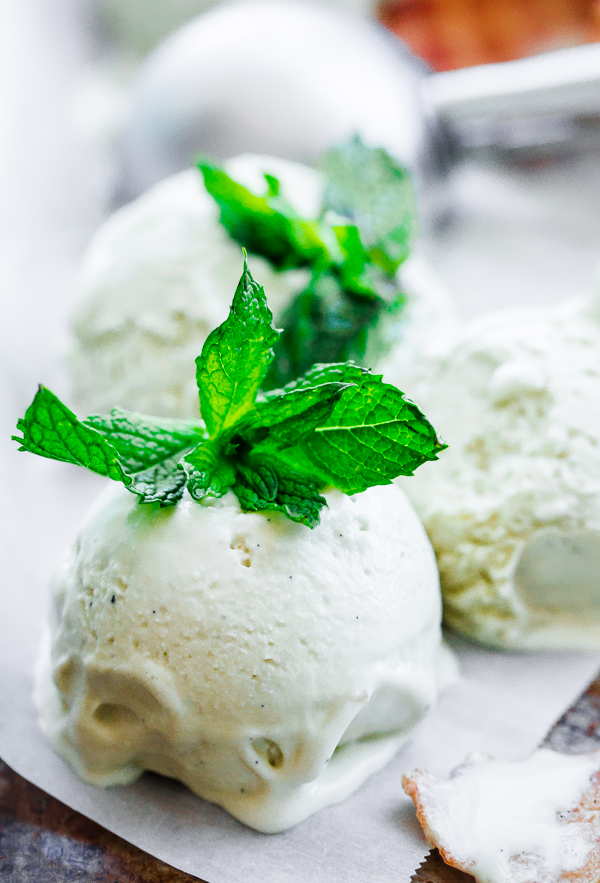 One of the best mint ice creams that I've ever had was at a place called Smitten in Berkeley, California last summer when I visiting my older sister.
It is actually one of those trendy places that makes your ice cream to order with liquid nitrogen. Either way, their mint ice cream was incredible, as it was made with fresh mint leaves and was almost mojito-esque (obviously without the alcohol of course) in mint strength. So, so minty!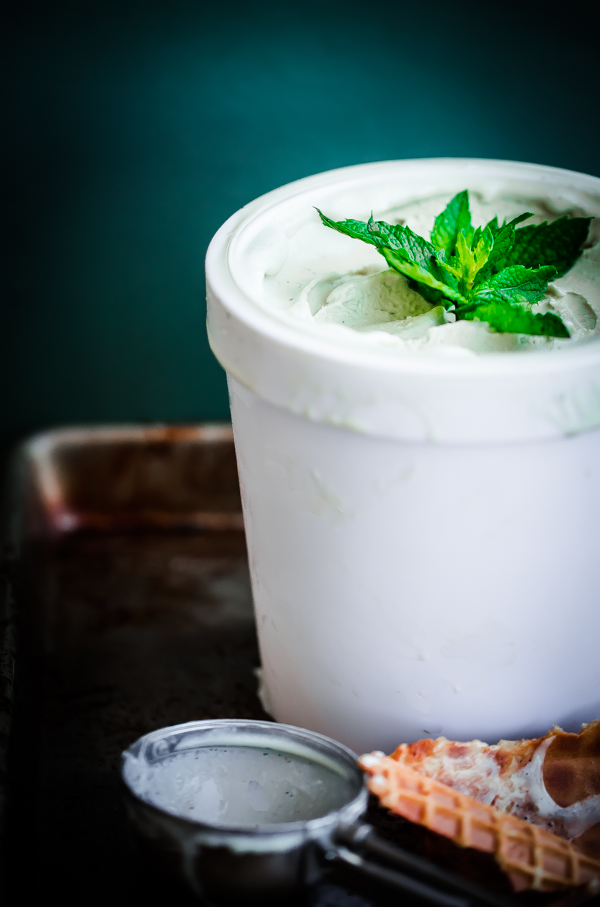 I vowed to try to recreate a similar type of ice cream using only fresh mint leaves–no natural extracts–and a year later, I finally got around to it. To twist it up a bit, I decided to infuse the ice cream base with the beans of a whole vanilla bean (again, no vanilla extract) too.
The fresh mint leaves give the ice cream an herbal mint flavor–a very different effect than traditional peppermint extract. The trick is to allow the fresh mint leaves, and all of their natural oils, to infuse themselves into warm milk and cream for at least an hour.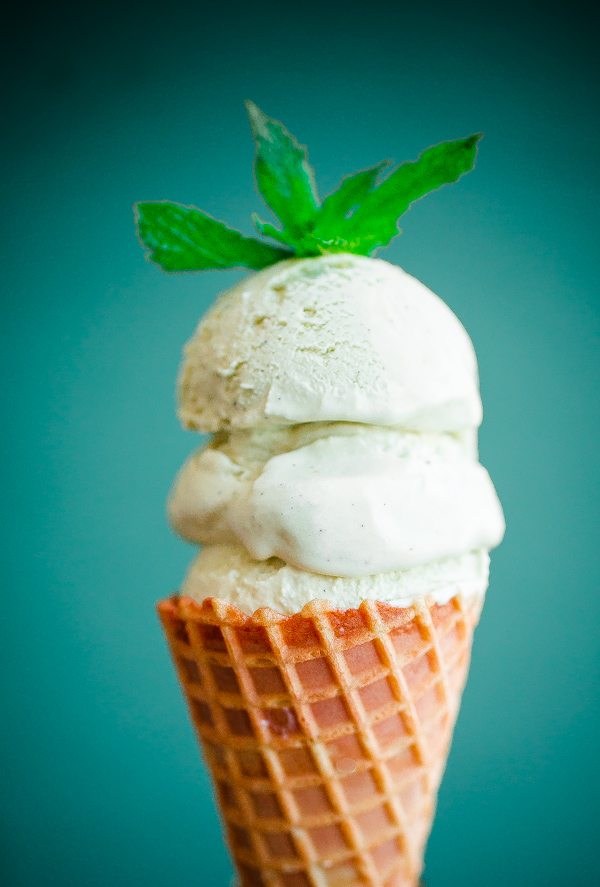 Oh, and you should absolutely use any leftover fresh mint you have from this recipe to make these drinks from the other day.
Cocktails and ice cream. I've got you covered.