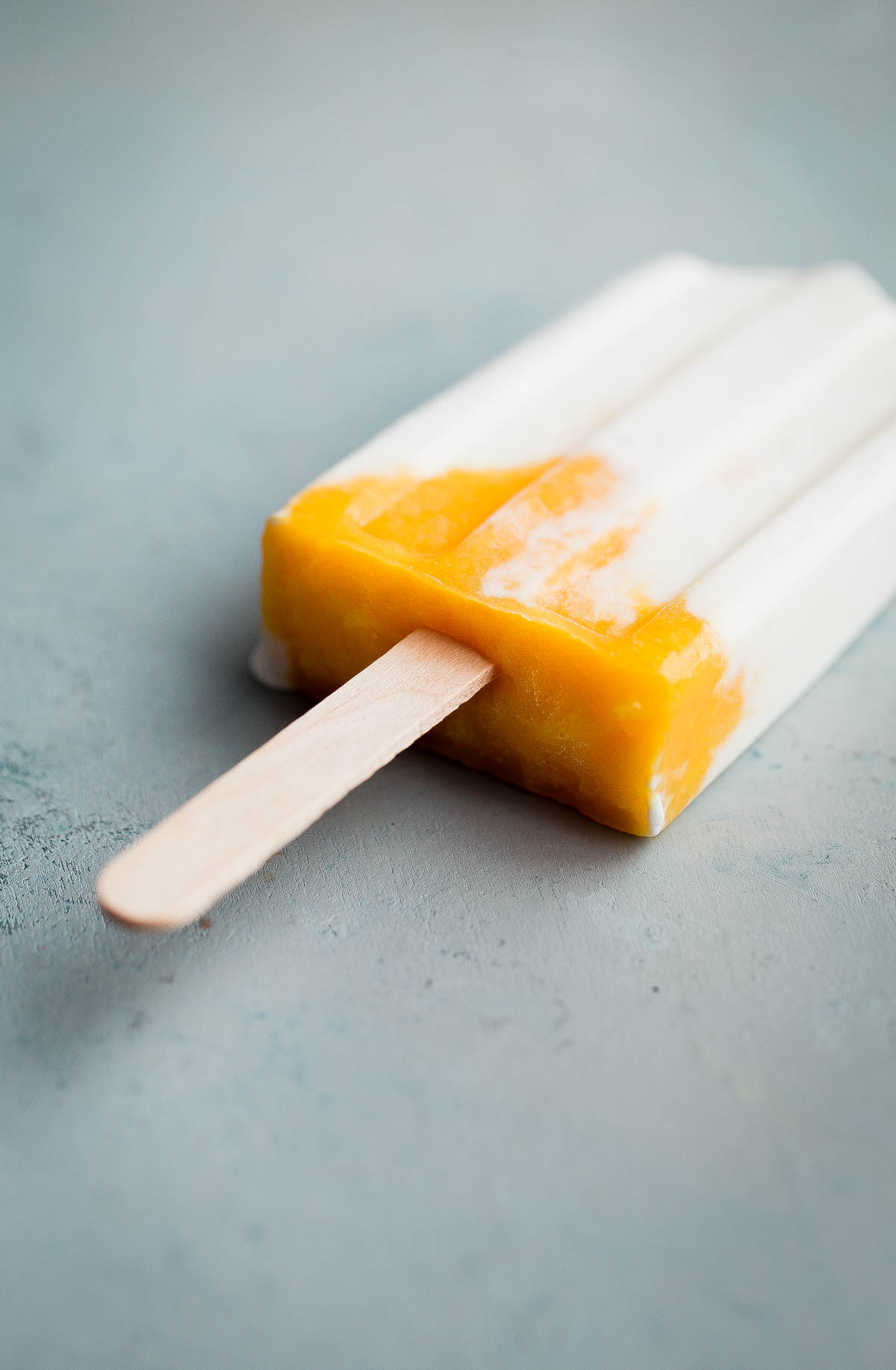 That's right. The long-awaited phenomenon known as Popsicle Week is here! I'm joining the party with these layered mango lassi popsicles. Don't they look refreshing?
I've been hinting at this event for a few weeks and the day has finally come. My friend Billy of Wit and Vinegar organized the annual internet extravaganza that is Popsicle Week back in 2014 and this is my first year participating.
It took me three years to order a popsicle mold (this is the one I used and recommend!) and it arrived in less than 48 hours. So, yeah.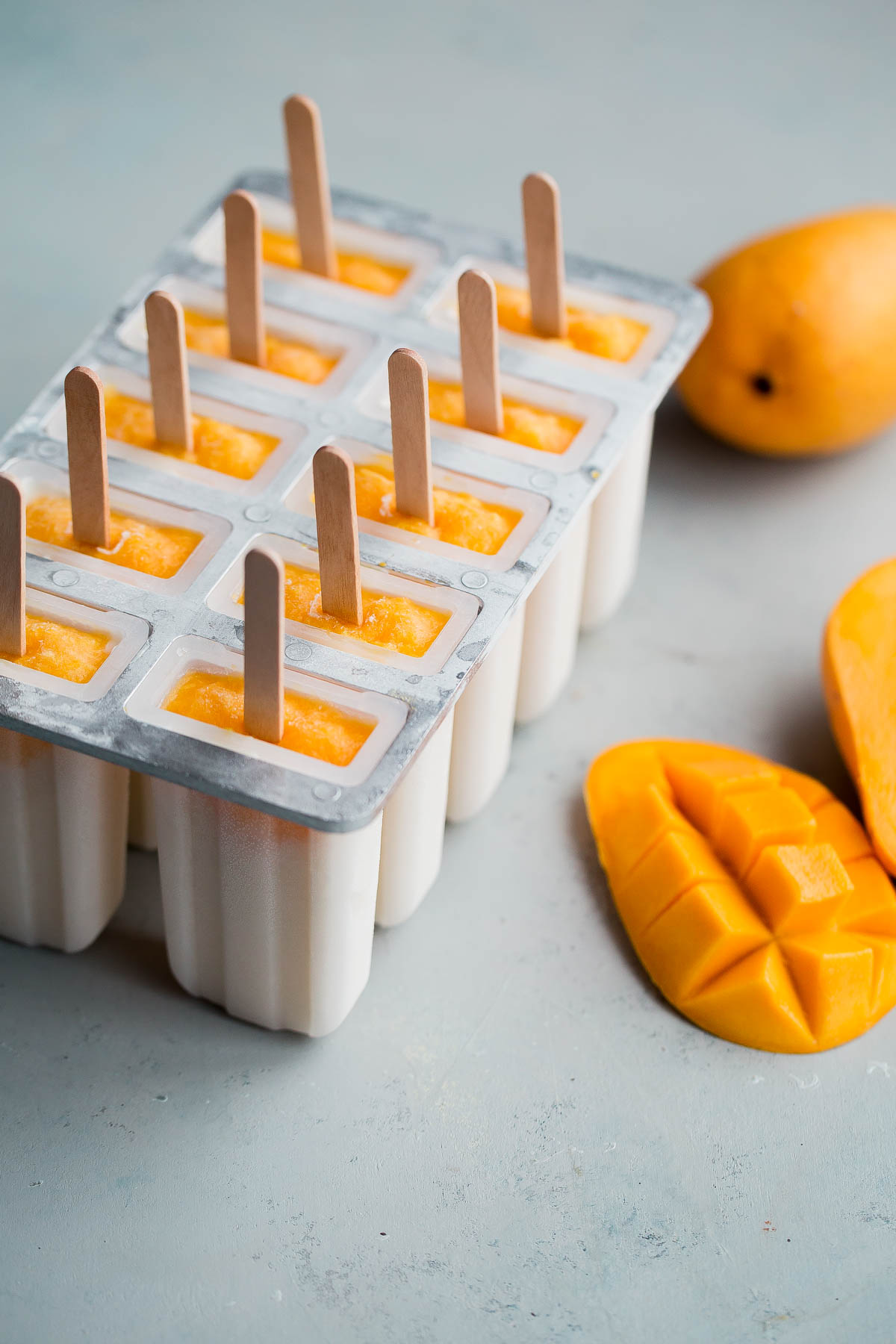 I spent a good couple of months brainstorming popsicle recipes and going back and forth between ideas. I'm going to be completely honest, I was very tempted to make something complicated. It was going to involve several different steps.
But ultimately, I kept coming back to this…it's a dang popsicle. Popsicles are, by definition, fun and low-maintenance. They're eaten on a stick for god's sake.
Let's face it, I'm (and therefore, you are!) much more likely to prepare homemade pops on a regular basis if the recipe is simple and can be prepared with minimal fuss and clean-up. These mango lassi popsicles are just that: straight-forward and made with real, good-for you ingredients.


I have always been a fan of fruit-based popsicles. Mango is one of my favorite fruits for ice cream, because it's tart, thick once pureed (aka. will produce a slightly less icy popsicle, particularly if you don't want to add additional sugar!), and holds up well to freezing.
I also knew that I wanted some sort of yogurt base to give it a bit of natural creaminess. Mango and yogurt? My mind immediately jumped to Indian mango lassis, a creamy drink made with fresh mango, milk, and yogurt.
The layered effect makes them more of a deconstructed mango lassi, but the name stuck.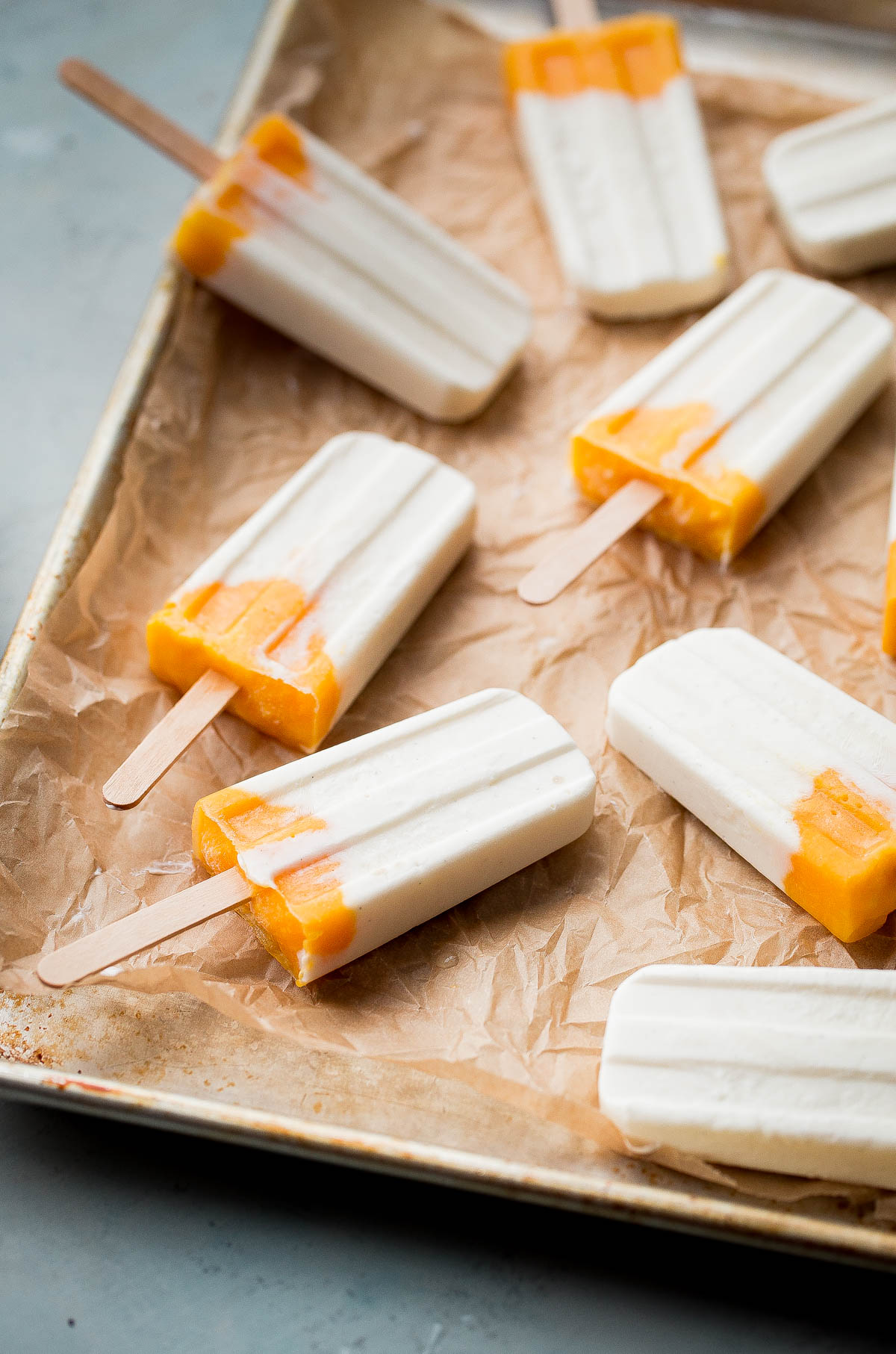 These mango lassi popsicles use a combination of whole fat Greek yogurt and full-fat coconut milk for creaminess. Don't substitute lower fat versions of either of these as they will contain higher-water content and will produce an icier result.
The yogurt base is sweetened with pure maple syrup in lieu of traditional sugar or simple syrup. These are very lightly sweetened (the fruit layer is pure mango puree!). The yogurt base will taste fairly sweet at room temperature, but will mellow out once frozen. I added my favorite vanilla bean paste for additional flavor!
Why do we need to add sugar to popsicles?
Added sugar helps prevent frozen popsicles, ice creams, and sorbets from developing large ice crystals once frozen. It is an essential component, not just for flavor and sweetness. Sugar molecules literally break up water molecules from forming into one solid mass during the freezing process.
On the other hand, too much sugar will cause ice cream to be soft once frozen. That is the worst case scenario for popsicles. Don't fret! These mango lassi popsicles hold up extremely well once removed from the freezer (I actually prefer to let them 'temper' at room temperature for about 5 to 10 minutes before eating!).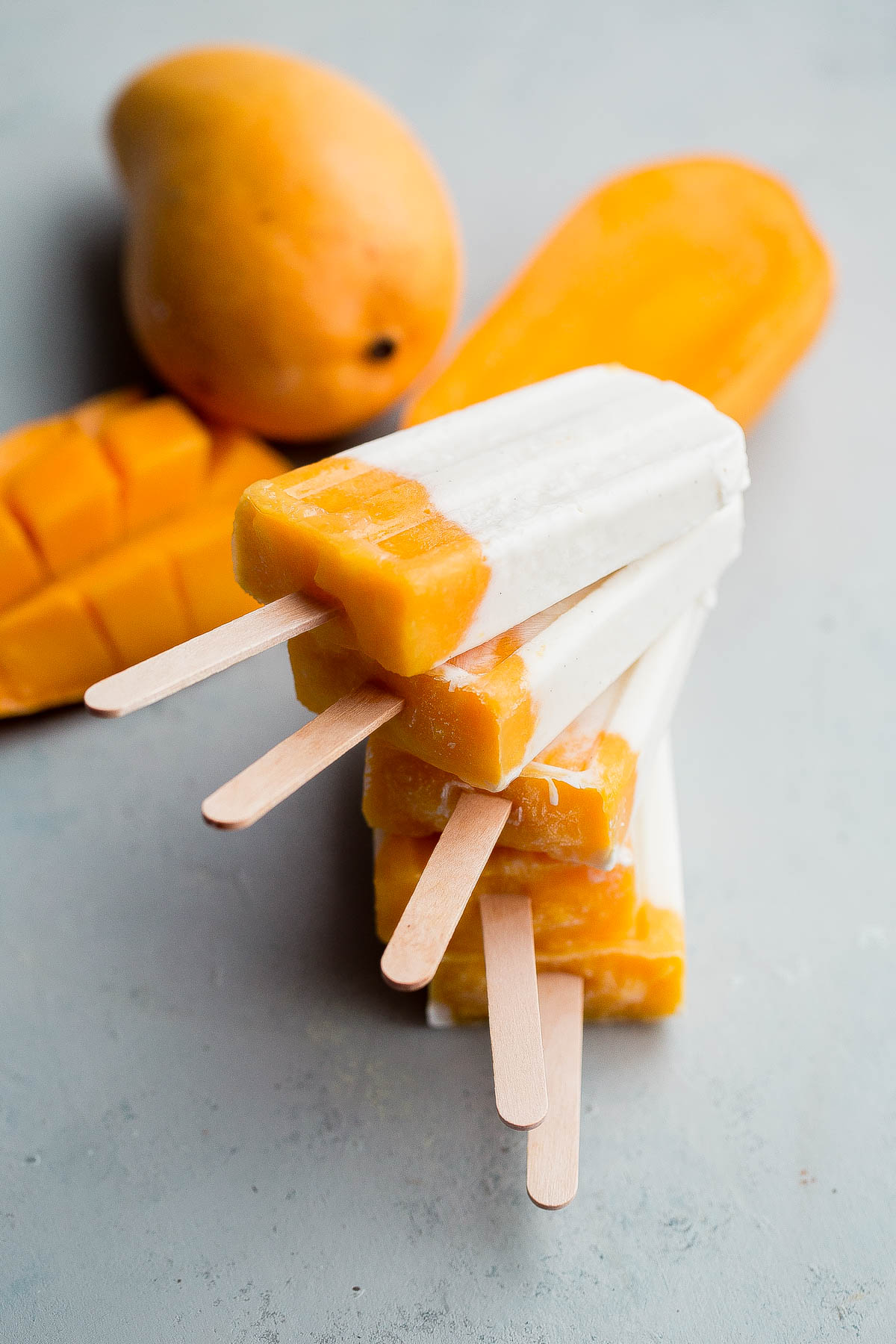 If you're looking for additional popsicle inspiration, be sure to check Billy's visual and searchable popsicle recipe guide, where you can find over 100 different (and insanely creative) new popsicle recipes!
Be back tomorrow with a Saturday edition of the Weekly Mix.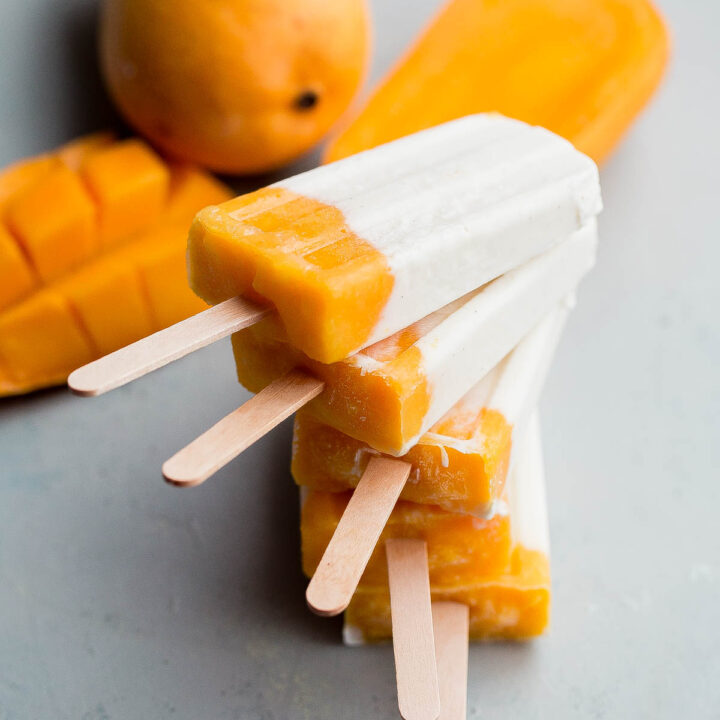 Mango Lassi Popsicles
Yield: 10 Popsicles
Prep Time: 10 minutes
Cook Time: 6 hours
Additional Time: 50 minutes
Total Time: 7 hours
Ingredients
1 and 1/2 cups (337 grams) whole fat Greek yogurt
3/4 cup full-fat coconut milk, stirred well
1/4 cup pure maple syrup
1 teaspoon pure vanilla bean paste (or 1 whole scraped vanilla bean)
2 champagne (ataulfo) mangos, peeled, pitted, and roughly pureed in a small food processor
Instructions
In a medium mixing bowl, whisk together the Greek yogurt, coconut milk, maple syrup, and vanilla bean paste. Transfer to a large measuring cup (or other container) with a spout for pouring.
Pour the yogurt and mango in alternating layers – this is your preference, but two layers of each might be ideal in hindsight – into the popsicle mold filling all ten molds. Insert wooden popsicle sticks (you want them to stick about by about an inch and a half), top with the lid, and freeze for at least 6 hours or until completely frozen and solid.
To remove the popsicles from the mold: Remove the popsicle mold cover. Fill a very large mixing bowl with hot tap water. Carefully set the popsicle mold into the hot water bath (top side up!) for about 10 to 15 seconds (or longer). This will very slightly warm the sides of the popsicles allowing them to be removed easily. Remove the popsicle mold from the water bath, transfer the popsicles to a small baking sheet lined with parchment paper, and place in the freezer for an additional 15 minutes before serving. Transfer to a large Ziploc, resealable bag for storage.
Notes
Tips for Success:
Added sugar helps prevent frozen popsicles, ice cream, and sorbets from developing large ice crystals once frozen. It is an essential component, not just for flavor and sweetness. Sugar molecules literally break up the water molecules from forming one solid mass during the freezing process.
Nutrition Information:
Yield: 10
Serving Size: 1
Amount Per Serving:
Calories: 113
Total Fat: 4g
Saturated Fat: 3g
Trans Fat: 0g
Unsaturated Fat: 0g
Cholesterol: 1mg
Sodium: 13mg
Carbohydrates: 13g
Fiber: 1g
Sugar: 11g
Protein: 3g