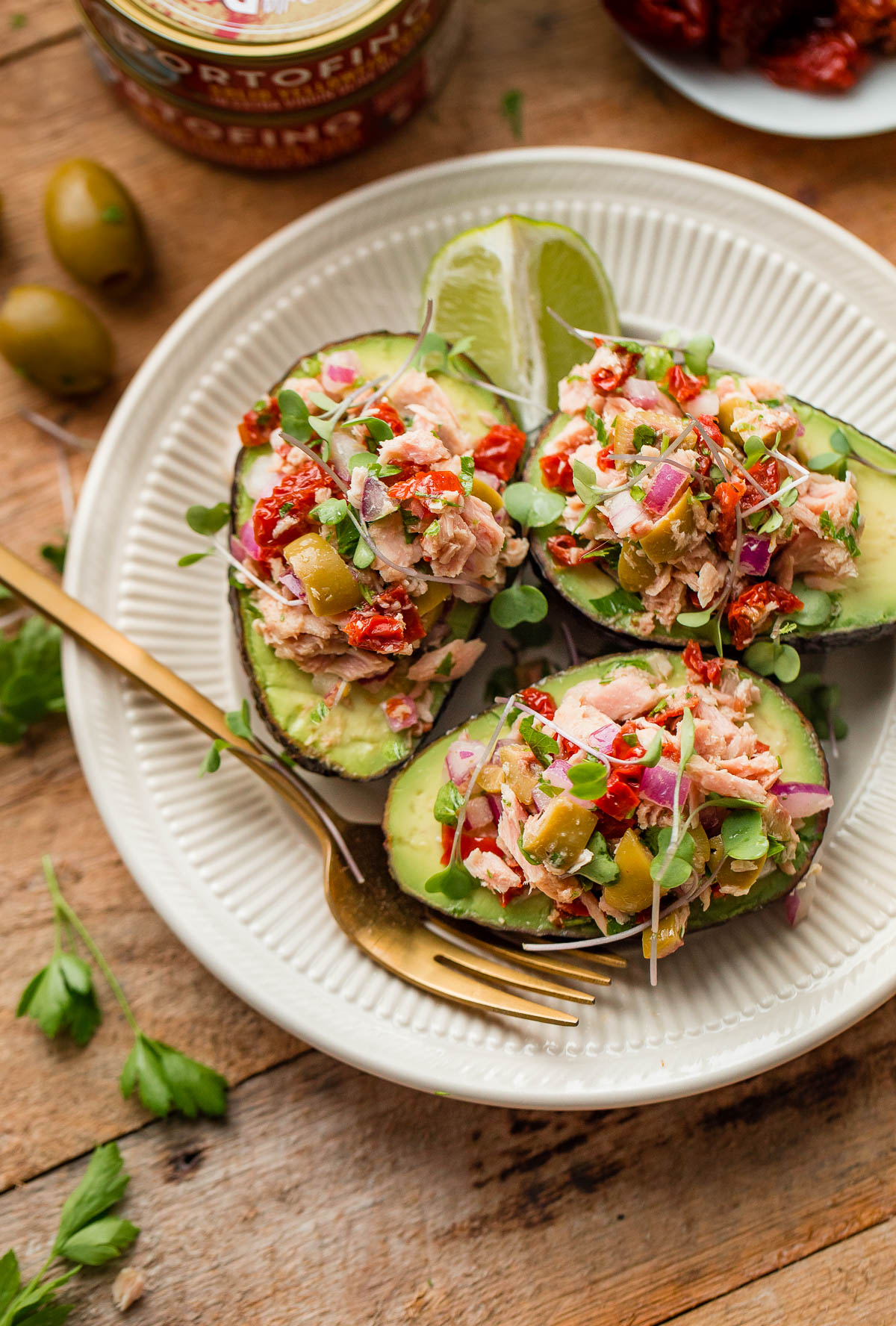 This post is brought to you by Bella Portofino. 
Despite being a relatively picky eater growing up, I've always had a special place in my heart for canned tuna.
My mom, inspired by her Italian heritage and own mother's cooking, used to prepare it for me and my sisters in a variety of ways when we were little: simple fresh pastas, sandwiches, or salads.
In fact, canned tuna is actually a fairly common ingredient in classic Italian and Mediterranean cuisine. It was a regular staple in our pantry and continues to be to this day.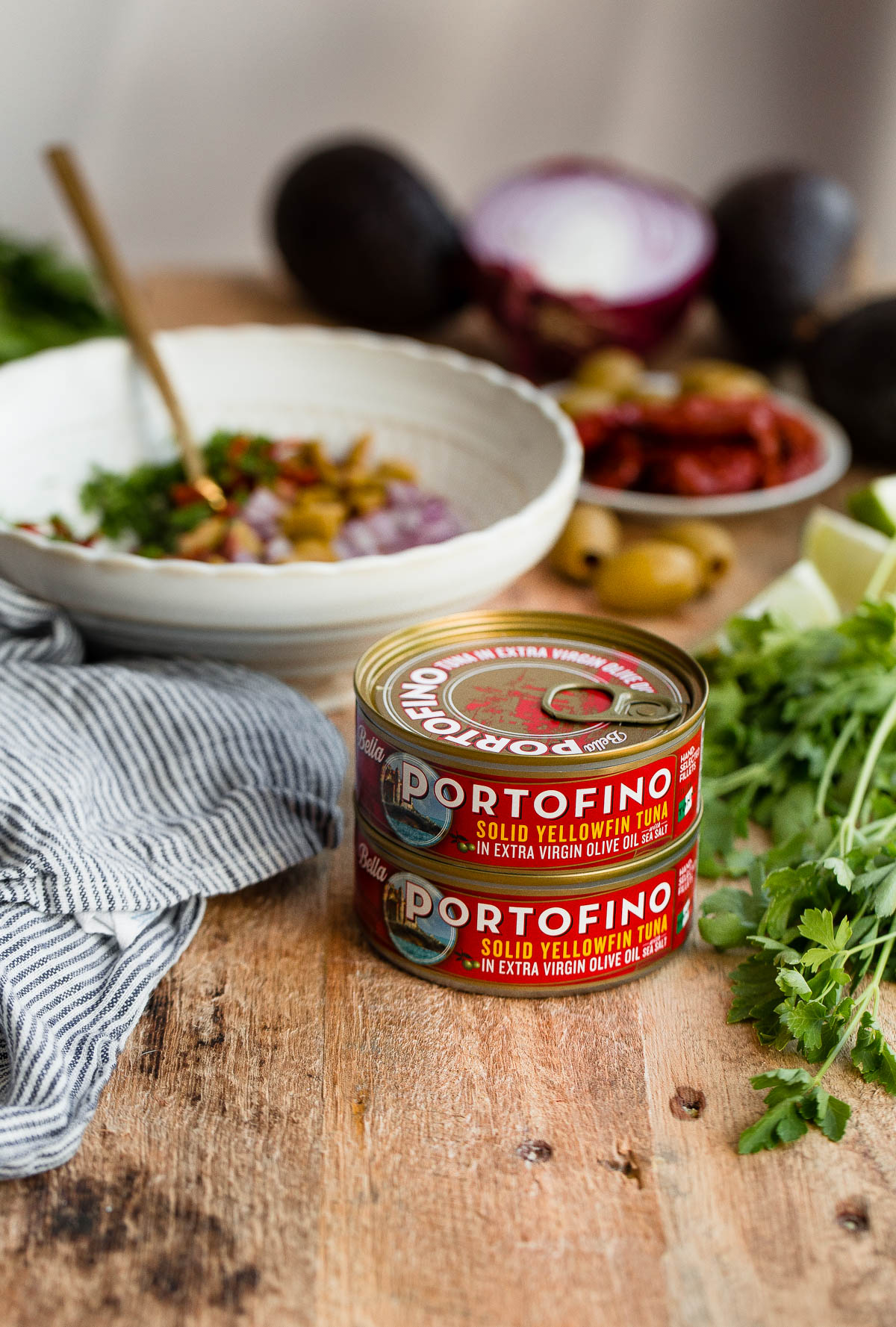 If you've ever snubbed your nose at canned tuna (I get it, but hear me out!), I urge you to try tuna packed in extra virgin olive oil, otherwise referred to as Italian 'tonno-style' canned tuna. I was lucky to have it from an early age and never turned back.
The taste and texture of extra virgin olive oil packed tuna is unparalleled to other varieties of canned tuna. Seriously. It makes a world of difference.
Extra virgin olive oil packed tuna is far more delicate and subtle in flavor. It also lends itself to much simpler, fresher preparations. There is no need to mask it with mayonnaise or other ingredients. Less is more.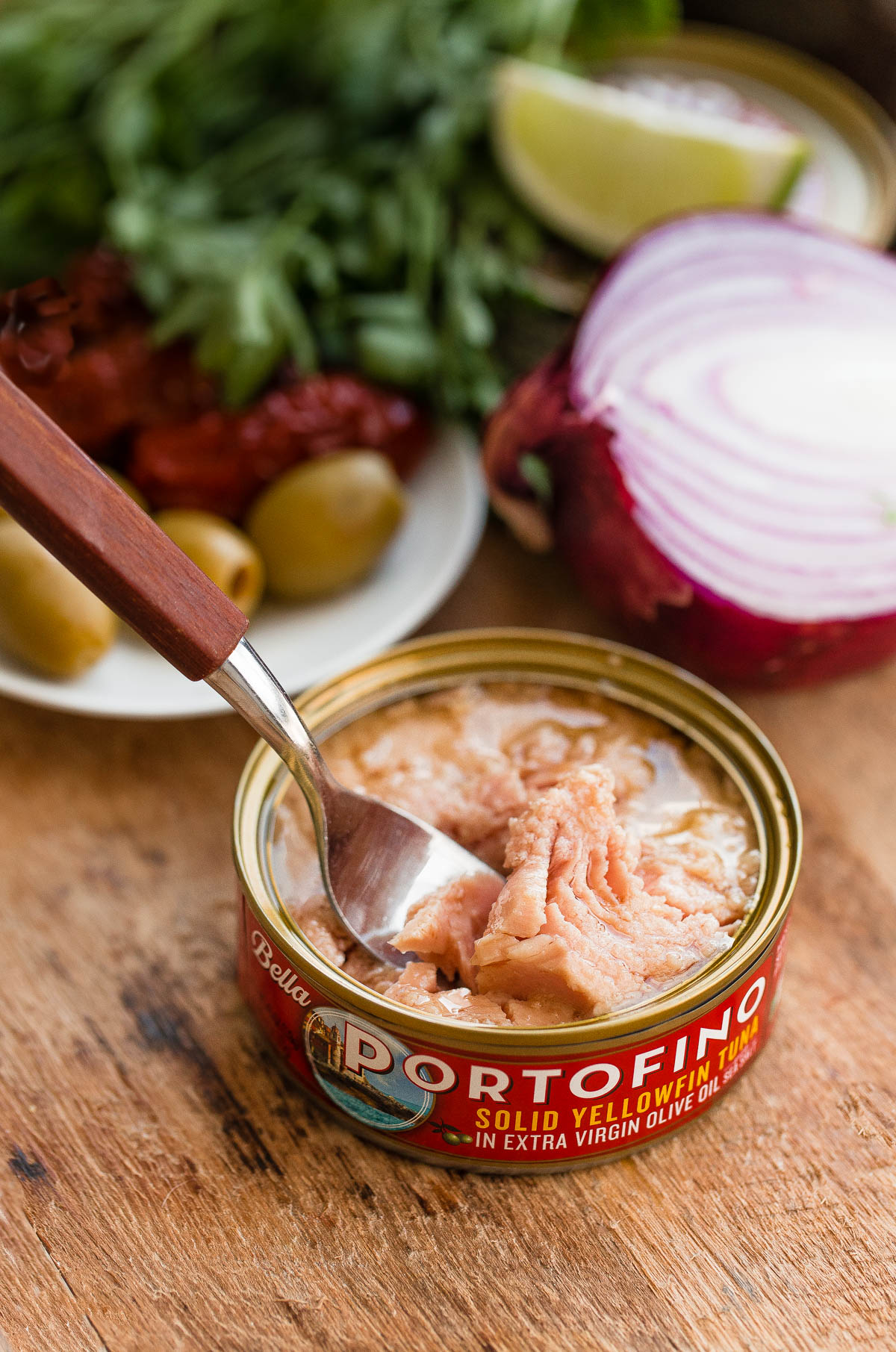 For today's recipe, I've teamed up with Bella Portofino, which recently launched a brand new line of extra virgin olive oil packed Yellowfin and Albacore canned tuna.
Not only is Bella Portofino's canned tuna delicious (seriously, you have to try it!), it is made with real, simple ingredients: wild-caught, hand-selected tuna fillets, extra virgin olive oil, and sea salt. That's it.
Bella Portofino tuna is also non-GMO, soy-free, and dolphin safe, all three of which are very important to me as a consumer.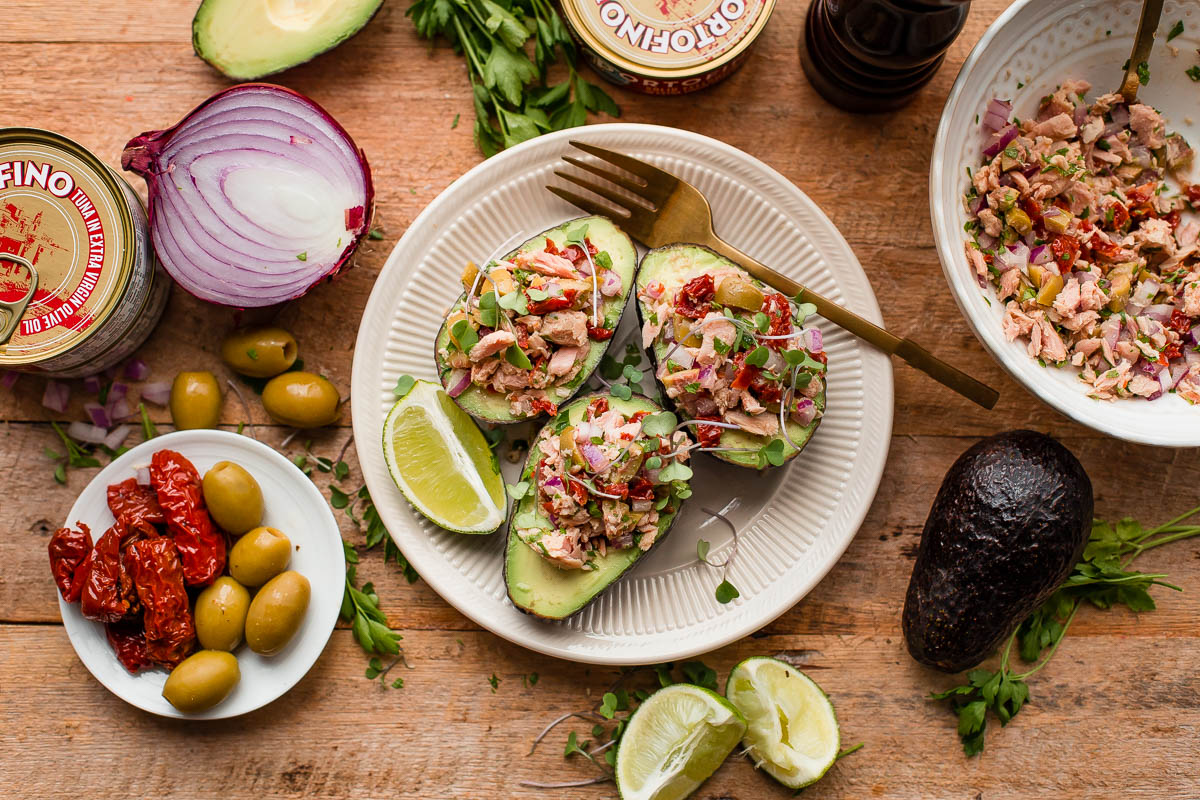 Over the next few months, I'll be sharing a bunch of recipes highlighting the versatility of Bella Portofino canned tuna. These Italian tuna avocado boats are first on the list, and I'm really excited to share them with you!
As I mentioned last week, I'm all for quick, easy meals during the summer months. If a recipe doesn't require any time spent over the stovetop, even better. These tuna avocado boats can be thrown together in less than 20 minutes and are packed with healthy protein and fat. They also happen to be dairy and gluten free.
I actually made a similar dish during my Whole30 challenge a few months ago, and it was one of my favorite go-to meals, because it was quick, nutritious, and kept me full for hours.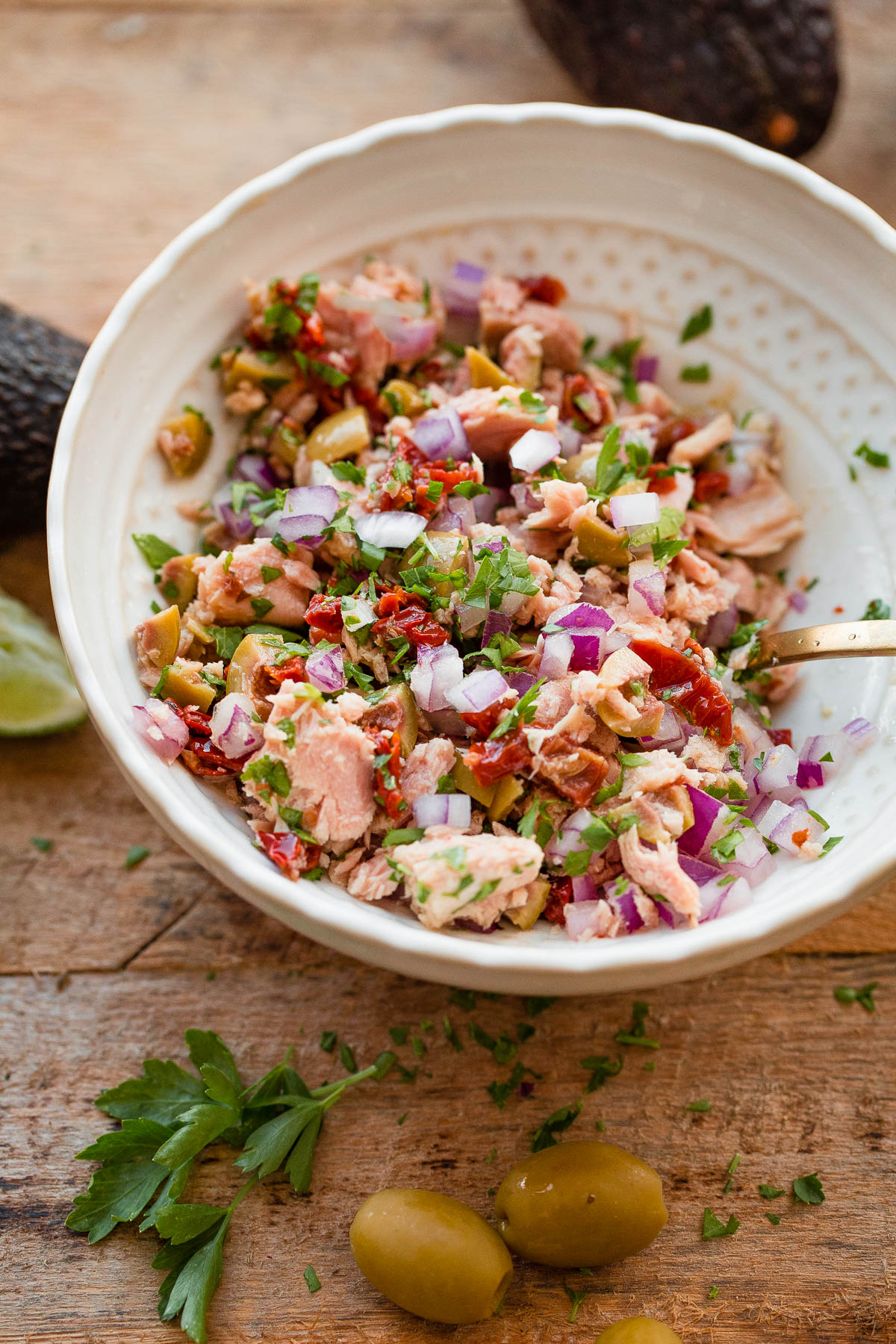 The basic concept?
An incredibly fresh tuna salad served in pitted avocado halves. The salad is a simple combination of Bella Portofino Yellowfin tuna, green olives, sun-dried tomatoes, red onion, Italian parsley, and fresh lime juice.
The flavor reminds me of a classic Nicoise salad, and is bright in flavor and full of texture. The lime juice (I prefer lime to lemon for this preparation!) gives it that touch of acid that helps pull it all together.
Yellowfin tuna has a tender texture and slightly mellower flavor, which lends itself well to this application. While the tuna salad tastes great on it's own, it really shines when paired with the creamy avocado.
These tuna avocado boats make for a fantastic lunch to take to work (you can pack the tuna salad and avocado separately!) or easy dinner for busy weeknights!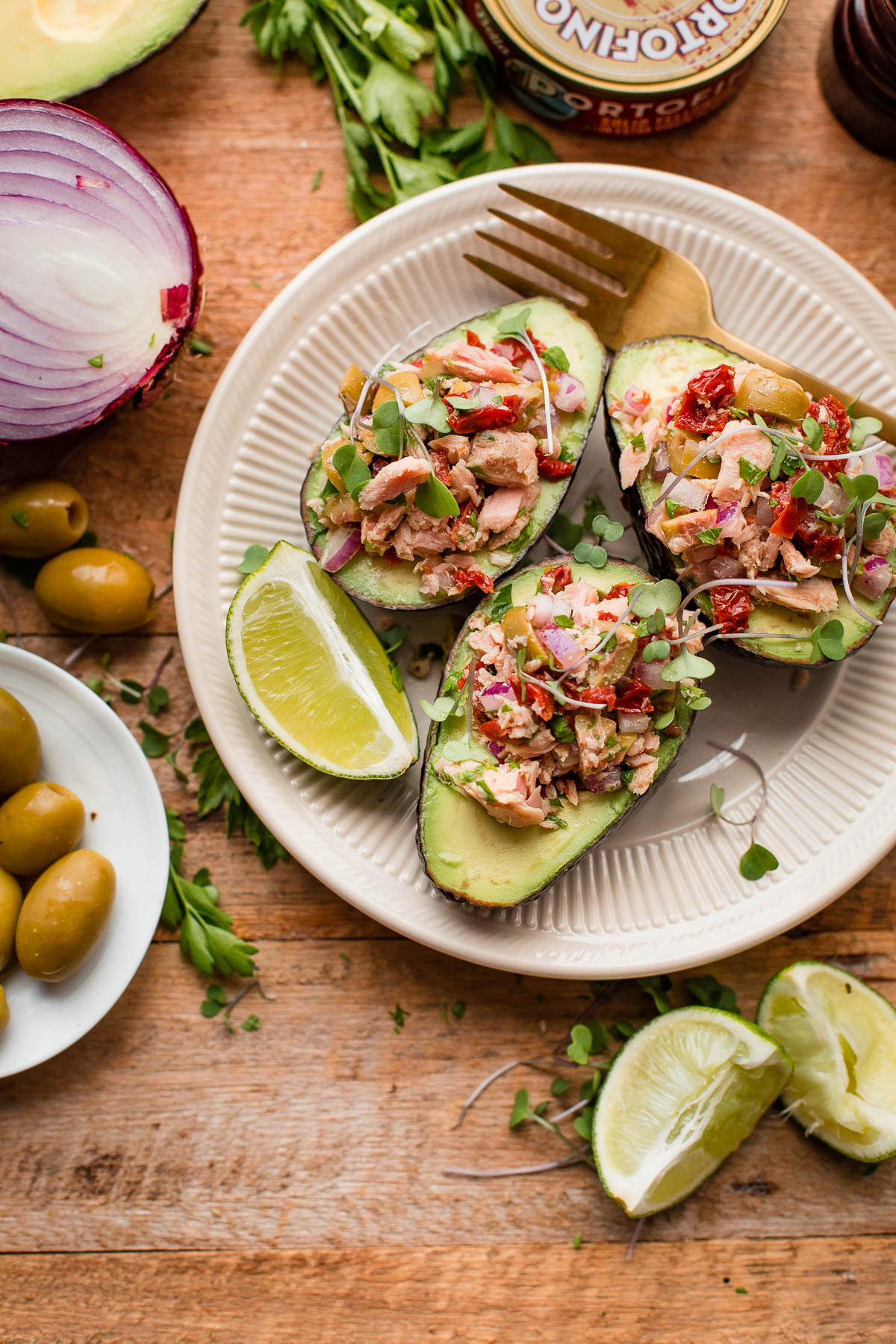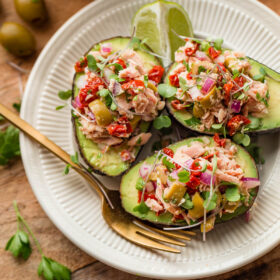 Tuna Avocado Boats
Ingredients:
2 cans (4.5 ounce each) Bella Portofino Solid Yellowfin Tuna in Extra Virgin Olive Oil, chunked (not drained)
½ small red onion (roughly ¼ cup), finely diced
8 pitted green olives, chopped
8 sundried tomatoes, packed in oil, drained, and chopped
2 tablespoons finely chopped flat leaf parsley
1 tablespoon freshly squeezed lime juice, plus more for serving
kosher salt
freshly ground black pepper
2 large ripe avocados
microgreens, for garnishing (optional)
Directions:
Place the tuna in a medium mixing bowl. Add the red onion, olives, tomatoes, parsley, and lime juice and stir gently to combine. Season to taste with salt and pepper.
Halve and pit the avocados. Scoop the tuna mixture into the pitted avocado halves (if desired, you can scoop out a small amount of the avocado to create more space for salad). Garnish with microgreens as desired, and a light squeeze of lime juice. Serve immediately.
Nutrition Information Serving Size 1 (of 4). Calories: 380 calories, Total Fat: 33 grams, Saturated Fat: 4.5 grams, Cholesterol: 25 mg, Sodium: 300 mg, Total Carbohydrate: 12 grams, Dietary Fiber: 8 grams, Sugars: 1 gram, Protein: 17 grams
All images and text © .
This post was created in partnership with Bella Portofino and I received compensation for my participation. Opinions are my own. Thank you for your support!