Maple Bacon Brussels Sprouts
Sweet, smoky, and salty caramelized maple bacon Brussels sprouts. These addictive sprouts are prepared with just four ingredients making it the perfect last-minute side dish for the holidays!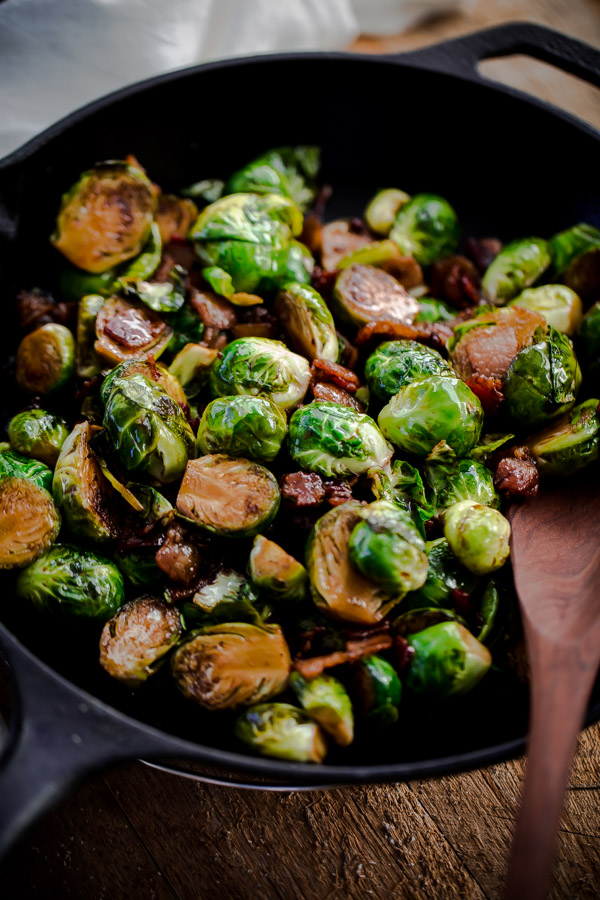 Where are you guys on Thanksgiving sides? I'm here to share just one more last-minute idea with you: maple bacon Brussels sprouts! It goes without being said that I'm obsessed with Brussels sprouts.
I dedicated an entire week to Brussels sprout recipes two years ago (aaah, #brusselssproutsweek memories), and I've had to restrain myself from going overboard with those adorable green sprouts ever since.
I feel particularly proud that one of the most well-loved recipes on this site is a Brussels sprout recipe. These roasted Brussels sprouts and squash will forever be on my Thanksgiving table, but these maple bacon Brussels sprouts are the salty, sweet, smoky equivalent for bacon lovers.
They are fantastically easy to prepare, take up zero oven space, and only require four simple ingredients, so this dish is a fabulous last-minute preparation idea for the big day.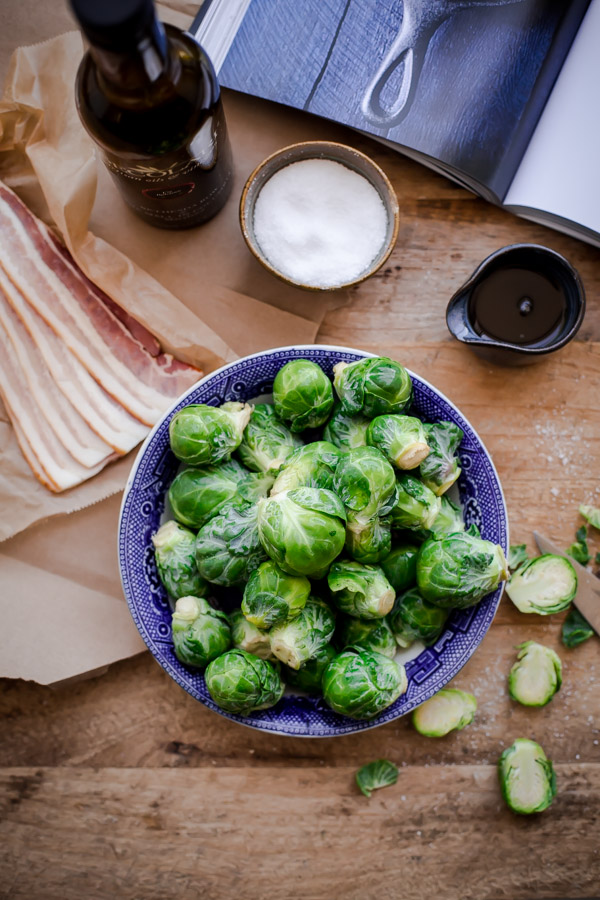 The recipe is courtesy of my friend Jennifer Farley's new cookbook The Gourmet Kitchen. Jennifer (blogger behind Savory Simple) and I have a ton in common. We both grew up in the Washington, DC area and attended the exact same culinary school, L'Academie de Cuisine, within a year of each other. Sadly we didn't meet in person until just before our move to Chicago, but I'm so thrilled for Jen and her new cookbook!
I've already made a handful of recipes from the book (caramel apple pound cake, hello!) and can't wait to cook more dishes from it. The book celebrates elegant, special-occasion recipes, but many are easy and simple enough to prepare on weekdays too. I had to stop bookmarking recipes, because I was literally bookmarking the entire book. We have incredibly similar taste in food, and Jennifer is extremely talented at creating well-tested, thorough and easy-to-follow recipes.
Each recipe is accompanied by a beautiful full-page picture showcasing Jennifer's talent for food photography. The pictures speak for themselves! These maple bacon Brussels sprouts are no different.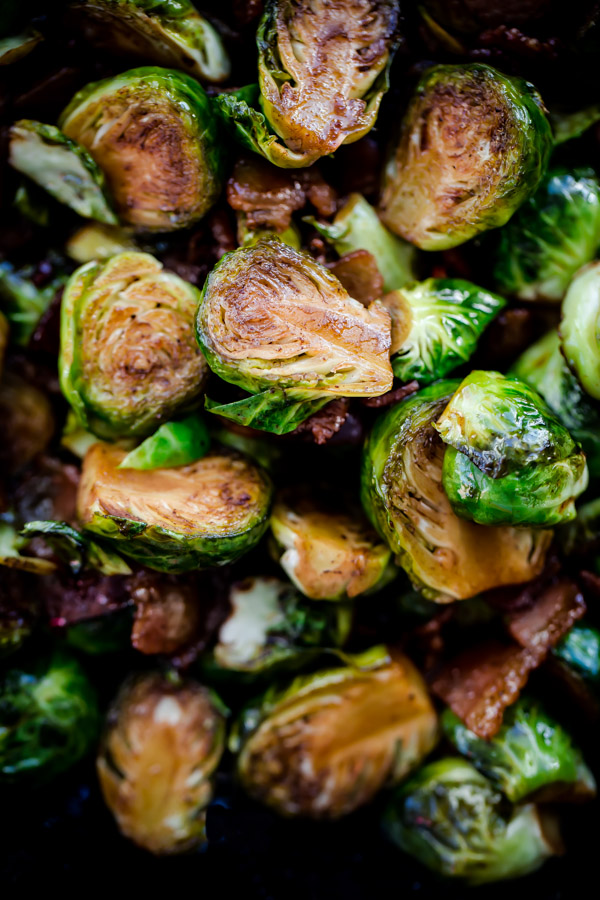 The absolute key to preparing tasty, addictive Brussels sprouts is cooking them over high heat, whether in the oven or stove in a sauté pan. For the love of God, don't steam or boil (cringe) your sprouts. Don't do it! I beg of you.
The basic premise behind this preparation is very simple. Render bacon over low-heat and sauté the Brussels sprouts in the bacon fact over high heat. Deglaze the pan with sweet, tangy balsamic vinegar and finish the whole thing off with pure maple syrup. Prepare to eat the entire pan in one sitting.
On that note, double or triple the recipe, because these will disappear fast.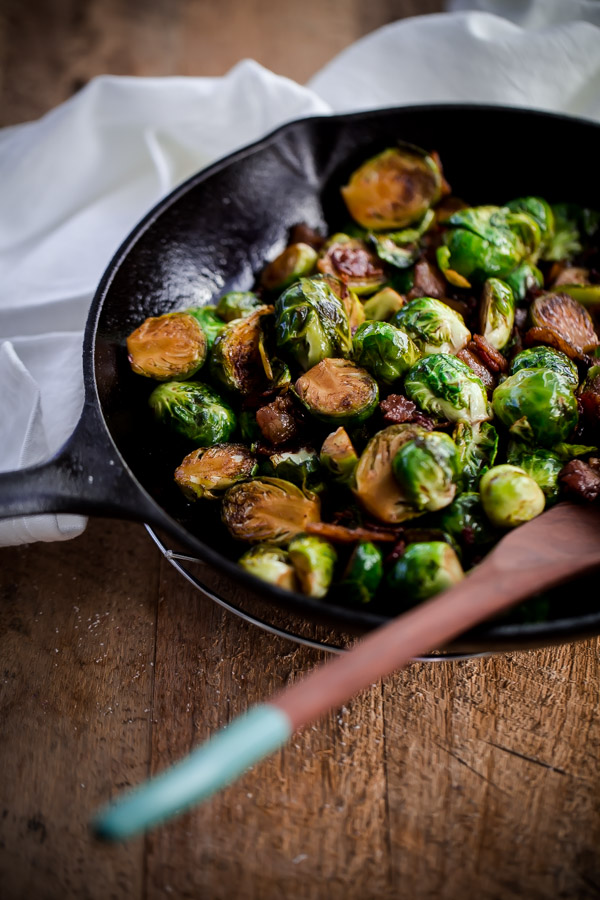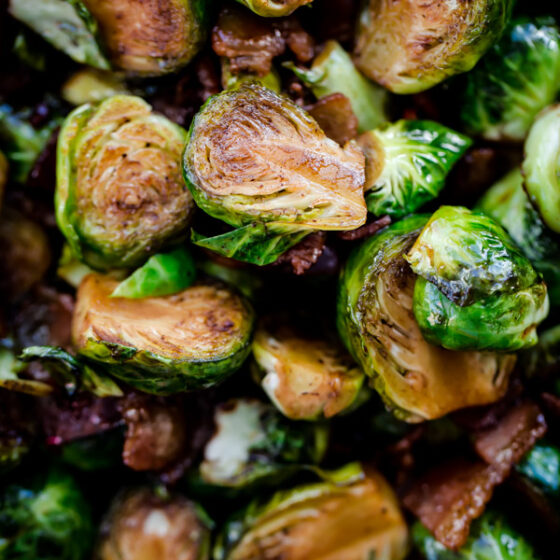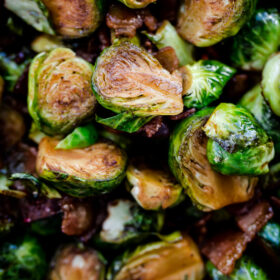 Maple Bacon Brussels Sprouts
Sweet, smoky, and salty caramelized maple bacon Brussels sprouts. These addictive sprouts are prepared with just four ingredients making it the perfect last-minute side dish for Thanksgiving or the holidays! 
Ingredients
1 lb (16 oz) Brussels sprouts
5 slices thick-cut bacon diced
2 tablespoons (30 mL) balsamic vinegar
2 tablespoons (30 mL) pure maple syrup
kosher salt
freshly ground black pepper
Instructions
Cut off the root ends of the Brussels sprouts and remove any loose outer leaves. Slice in half.

In a large skillet, render the fat from the bacon over low to medium-low heat. Once the fat mostly liquefied, turn up the heat to medium-high and cook the bacon until caramelized and crunchy. Set aside to drain on a plate lined with paper towels. Remove all but 2 tablespoons of the bacon fat from the pan.

Add the Brussels sprouts to the skillet and caramelize them on one side. Deglaze the pan with the vinegar, using a spatula to scrape up any brown bits and incorporate them with the Brussels sprouts. Continue to sauté the Brussels sprouts on high heat for a few minutes, swirling the pan, until they are tender. Add the bacon back to the pan along with the maple syrup. Stir until the syrup is evenly coating the Brussels sprouts. Season with salt and pepper and serve hot.
Tips for Success:
I prefer dark amber (formerly Grade B) maple syrup, because it has a stronger and more distinct flavor!
Recipe reprinted with permission from
The Gourmet Kitchen
by Jennifer Farley.
Serving: 1serving, Calories: 194kcal, Carbohydrates: 22g, Protein: 11g, Fat: 8g, Saturated Fat: 3g, Polyunsaturated Fat: 5g, Cholesterol: 20mg, Sodium: 567mg, Fiber: 4g, Sugar: 12g
This post contains affiliate links, which means that I make a small commission off items you purchase at no additional cost to you. Please read my
privacy policy
for more information.