Pumpkin Butter Rolls with Creme Fraiche Frosting
Pumpkin Butter Rolls with Creme Fraiche Frosting. Breakfast rolls filled with homemade pumpkin butter and topped with sweet and tart frosting!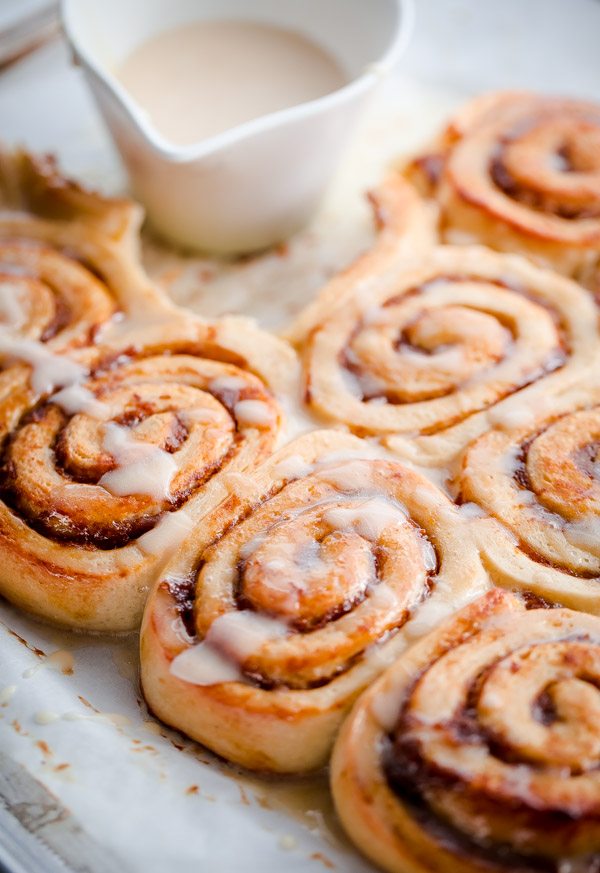 Sweet fluffy rolls! Homemade pumpkin butter! Creme fraiche frosting! A fabulous cause! There are so many things to celebrate about today's post.
These pumpkin rolls are adapted from Julia Turshen's new cookbook Small Victories. So many cookbooks have come out this season and this might be one of my absolute favorites! Seriously. The book is beautifully designed (the photos are gorgeous!) and full of approachable, yet elevated recipes. Everything from homemade merguez sausage with herby yogurt to potluck quinoa and berry buttermilk cobbler. I'm pretty sure Julia and I are kindred cooking spirits, because every recipe is right up my alley.
The recurring theme of the book is enjoying small victories in the kitchen, whether it's mastering the fear of yeast, making light and tender meatballs, or learning how to make homemade biscuits with your hands. It's about celebrating the joy of cooking, creating, and most importantly, giving back.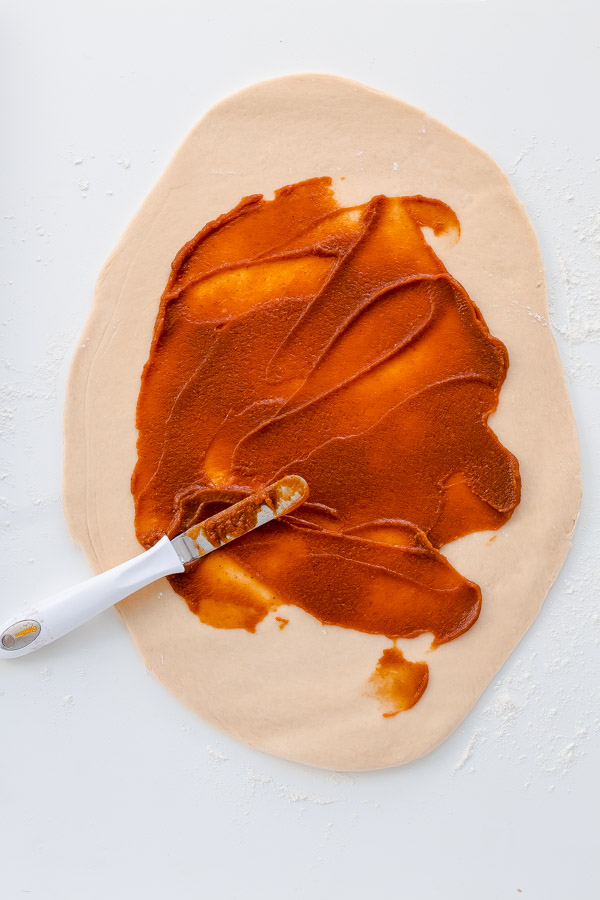 As Julia shares in the book, "This cookbook, like most cookbooks, assumes that whoever is reading it has access to food and not only the desire, but also the time, energy, and means to cook. How great would it be if that were the case for everyone? I firmly believe that if you have the privilege of eating however much you want whenever you want, you should spend some time ensuring that others have the same opportunity."
A few weeks ago, I was asked if I wanted to participate in Julia Turshen's cookbook tour to help raise awareness for childhood hunger with No Kid Hungry and I immediately said, "YES!" Giving back has been on my mind a lot lately (especially with the holidays coming up!), and I love being able to use this blog as a platform to share a great cause.
If you have the ability or means to give (even just a dollar or two!), you can donate to No Kid Hungry's fundraiser here – each meal is a small victory and a little goes a long way.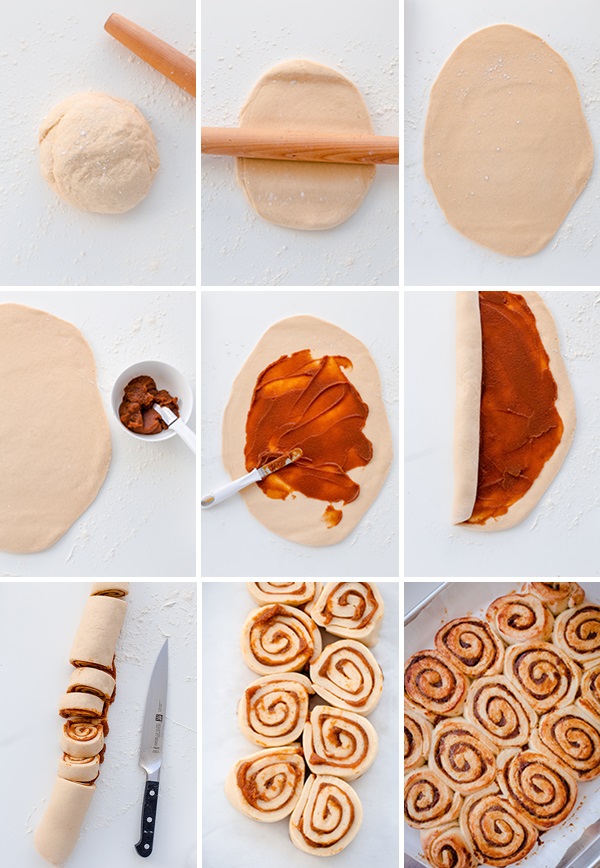 And now back to those pumpkin butter rolls! The original recipe in Small Victories was for raspberry jam rolls (the picture immediately caught my attention!) but since we are headfirst into the holiday season, I decided to give the rolls a Thanksgiving twist with homemade pumpkin butter.
Think cinnamon rolls with pumpkin butter filling instead. Remember when I made these pumpkin butter pecan scones a few years ago? They totally remind me of those.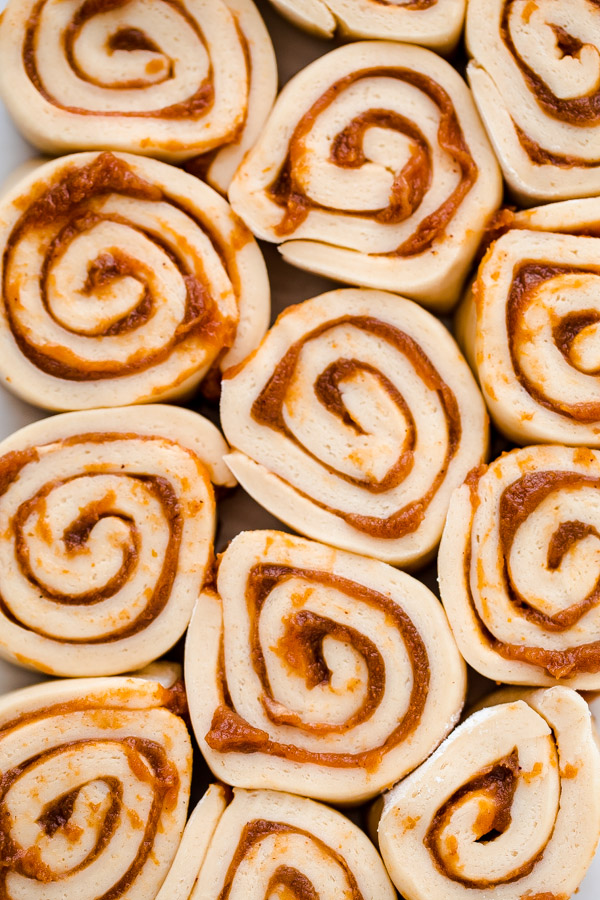 The great news is that you'll have leftover pumpkin butter. Small victory! See what I did there? If you're going the extra mile to make rolls with homemade pumpkin butter, you might as well have some leftovers to show for it, right? You can slather the pumpkin butter on toast, swirl it into yogurt (so good!), or dollop it onto pancakes or waffles. Also! I'm pretty sure you could use it in a cocktail or two.
I wanted to make the pumpkin butter as easy as possible so you'll be using one full (15 ounce) can of pumpkin puree (you could certainly use fresh roasted pumpkin puree too!). No awkward puree leftover. You can prepare the pumpkin butter days in advance to speed things up, or make it as you are throwing the dough together.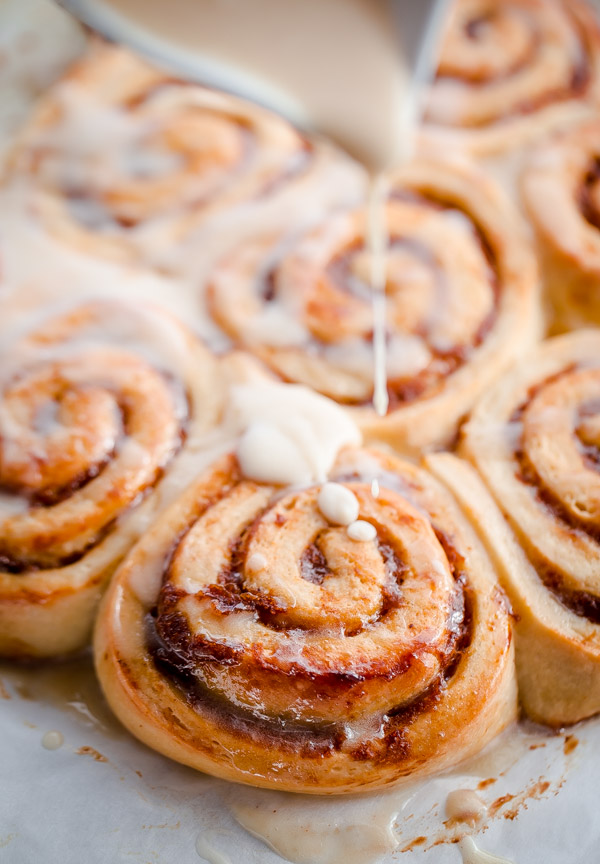 The creme fraiche frosting was another hit! Tart, sweet, and perfectly drippable! I love traditional cream cheese frosting too, but this was a lighter (in texture, not calories) and more delicate alternative. One of my favorite parts about the Small Victories cookbook is that each recipe is accompanied by "spin-off" recipes. So many spin off recipes! Prefer cream cheese? Substitute it for the creme fraiche.
This dough isn't any different. Julia offers SIX spin-off recipes for this recipe. I included four of them in the notes section – you can easily turn these into the original raspberry rolls, traditional cinnamon rolls, delicious garlic buns, or buttery dinner rolls.
So many options for all occasions! I love the versatility.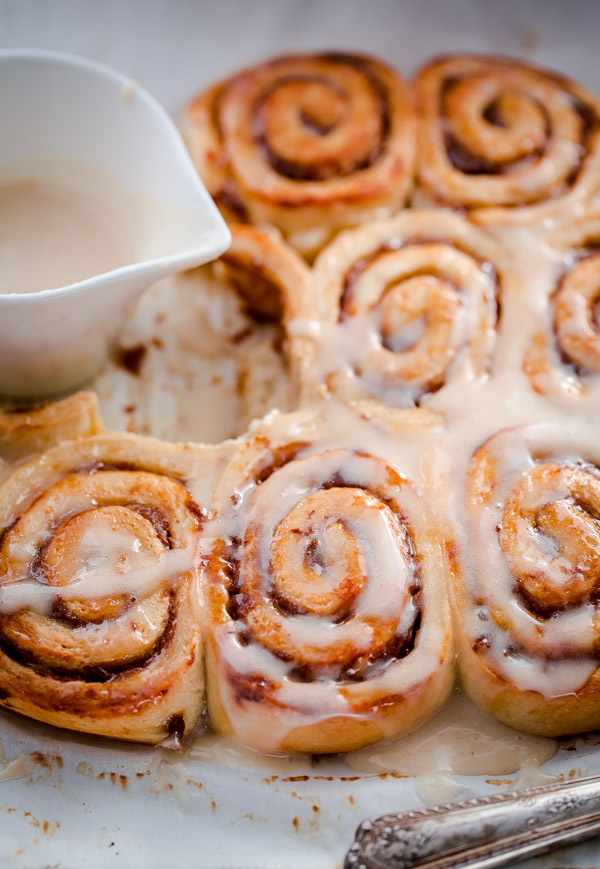 Don't forget: if you would like to consider giving a donation to No Kid Hungry to celebrate Julia's Small Victories thanksgiving, please check out this page! Any and all donations are significant, appreciated, and valued!
Products Used for this recipe:
(may include affiliate links)