Multigrain Bread with Sunflower Seeds
Like the new color scheme for the blog? (If you're reading this post from a reader, you'll have to visit the main website to check it out!).  I wanted a new look for the winter season.  More festive, if you will.  I might actually like it more than the old version?  Let me know what you think.  I can't believe it originally looked like this when it was first started: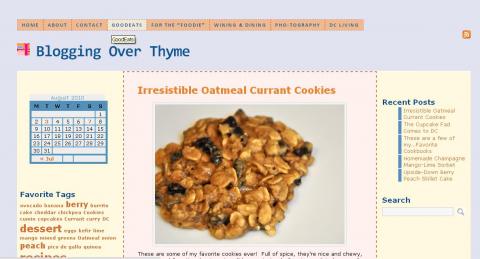 Also, if you've been coming to the main website, I've also added a fun new button —-> on the right sidebar, which links to a new page dedicated solely to my Holiday Culinary Challenge.  This page will also include all links to posts, where I tackle any of the recipes…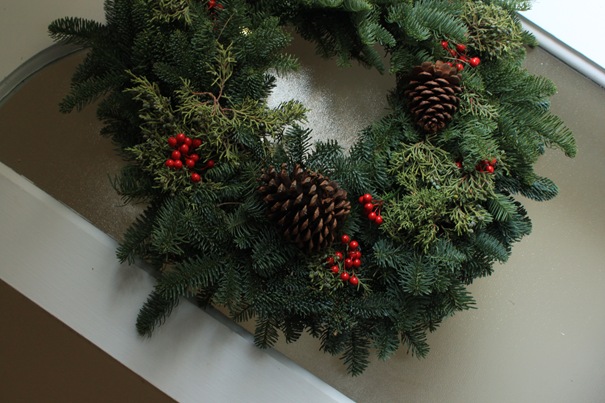 Starting NOW!
As of two days ago, I have succeeded in crossing off one of the more formidable items on my list.  I also added a recipe to the old arsenal, so you can tell that this turned out better than just ok.  Which one did I tackle first, you might ask?
Homemade Crusty Bread

I was a little worried that this post would be a sad tale of a bread-making experiment gone awry, but I'm happy to report that it was even more successful than I would have ever predicted.  Especially given what occurred during the first part of the bread-making experience.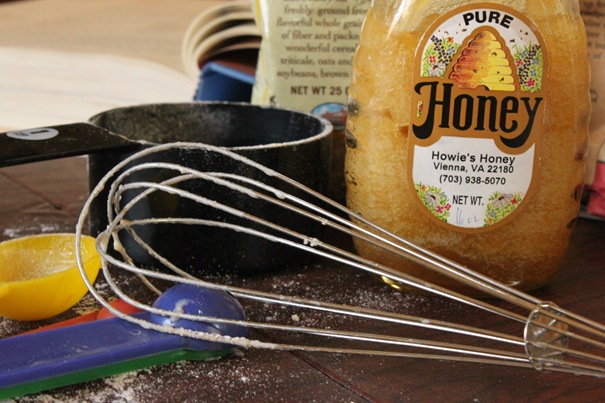 I messed up the ingredient quantities.  Rule Number #1 in bread baking is that you need to have very precisely measured ingredients.  Couldn't have broken this rule more.
Words to the wise:  It is very difficult to halve a recipe (originally 2 loaves—>1 loaf) and not somehow end up forgetting when measuring at least one of the ingredients.  This has happened to me WAY more times in the past than I would like to admit.  Everything is going right and then I somehow add twice as much of a critical ingredient, such as YEAST or WHOLE WHEAT FLOUR.  Fail.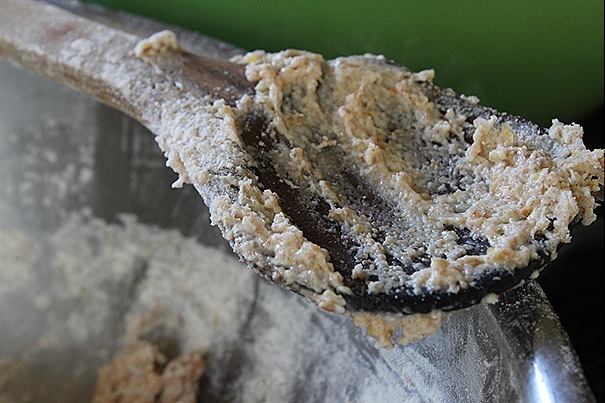 Wait, I take that back.
After realizing I had added twice as much yeast (not to mention flour—luckily I was able to scoop it out for the most part) and suddenly envisioning a monster bread, I decided to just go all out, bring out the rest of the ingredients again, and make the original recipe quantity for 2 bread loaves.  Although I've read multiple times that when working with yeast dough, it always works better in bulk quantities.
Luckily I did, because it ended up being delicious!  I got the recipe from Deborah Madison's cookbook, Vegetarian Cooking for Everyone.    I ended up tweaking it a bit, by upping the salt content by a bit, using a different type of oil, as well as using a cereal from Bob's Red Mill—which I will use exclusively for this recipe now.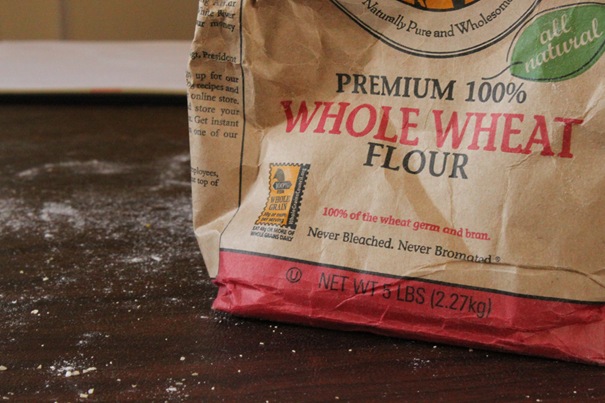 This recipe requires proofing the yeast (making sure it is alive, as well as allowing the flours and cereal to soften a bit in liquid), as well as several risings.  It is not a bread to make on a whim or at the last minute.  If you want to eat it the day of (when it tastes best!), be sure to start the bread-making process about 4 hours before the time you would like to consume it.  This includes baking time.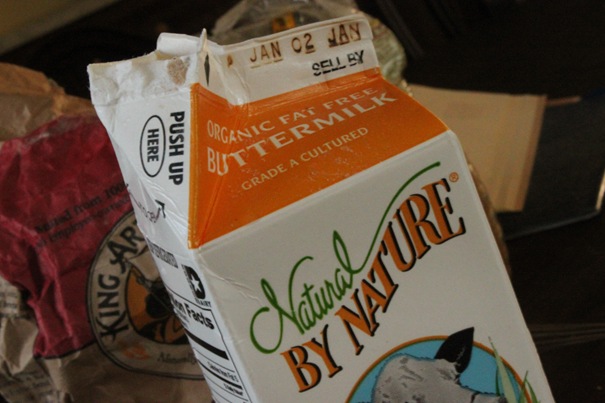 Here is the recipe in all of it's dense, chewy, delicious glory:
Directions:
For the Risings:  It is best for yeast to rise in a dark, dry warm place.  I've found that the best place is in an oven (not preheated!), with the oven light on.  This usually a bit warmer than the rest of your kitchen and the light gives off a bit of heat for the yeast to do its thing.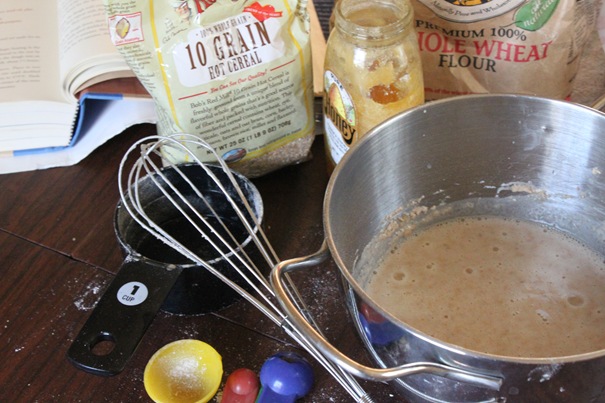 Make the Sponge: Whisk yeast and hot water (not too hot or it will kill the yeast).  Add the rest of the sponge ingredients: honey, 1 cup flour, and buttermilk.  Cover loosely with a dish towel, set in warm, dry place and let sit for 1 hour.     
Immediately After Mixed: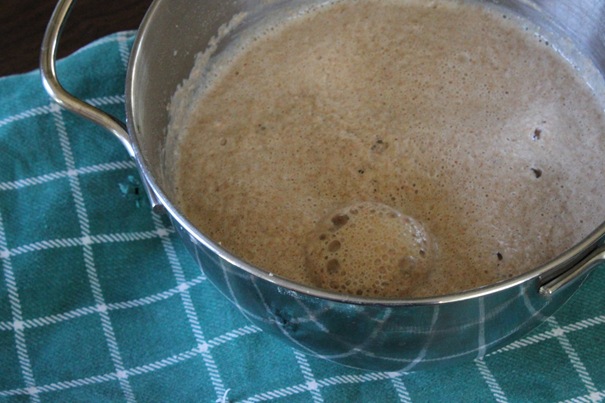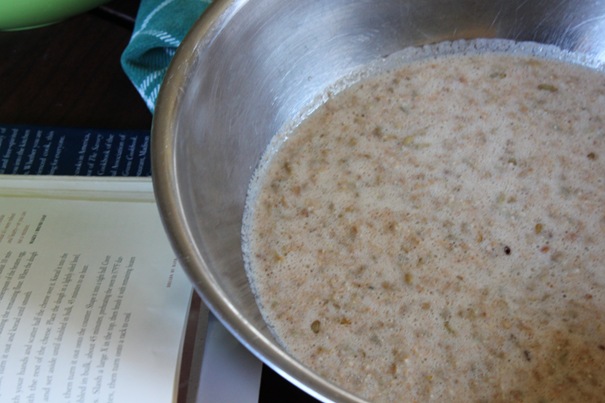 Make Bread Dough:  Push down sponge with wooden spoon (should be pretty liquidy!), stir in salt, oil, and sunflower seeds.  Slowly add all-purpose flour and whole wheat flour, until difficult to stir.  Halfway through, use hands to knead together the dough, using additional flour until dough is smooth and supple.  Move dough to oiled bowl, cover with plastic wrap, and let sit for an additional 1 1/2 hours.  The dough should be doubled in size at this point.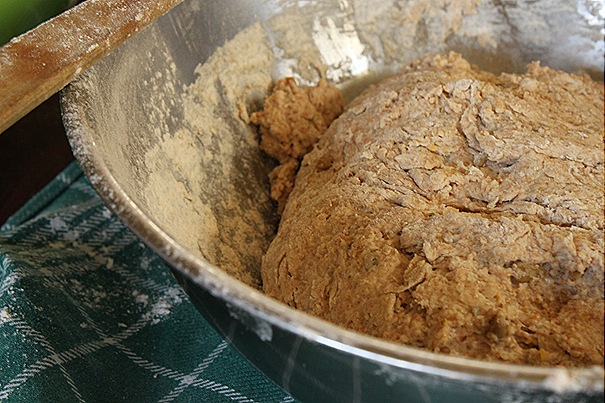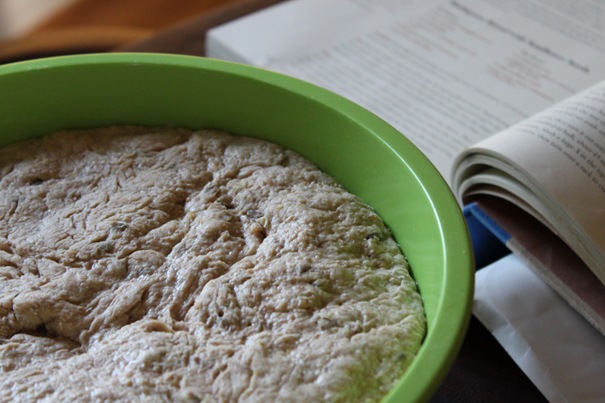 Divide & Bake:  Push down dough, divide into two pieces.  Shape into loaves (this doesn't need to be exact—just a nice rough rectangle).  Place in sprayed/buttered 8 1/2 inch-4 1/2 inch bread pans.  Don't worry if they do not fit the pan exactly.  Cover with dish towel and let rise for 30 minutes.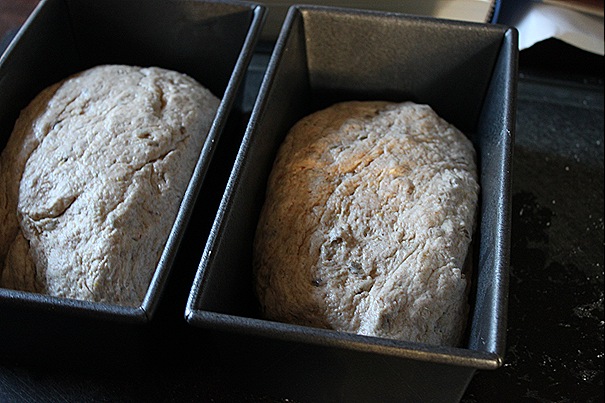 Remove the loaf pans from the oven (important!) and preheat the oven to 375 degrees. 
Let the bread rise for an additional 15 minutes.  Make a slash horizontally in the middle of the bread  using a sharp knife (1/2 inch down).  Bake for 40-45 minutes or until it forms a golden crust.
Let cool for 5 minutes, slice and serve! 
This bread was seriously good.  Because it contains whole wheat flour, as well as multigrain cereal (which usually contains many different grains, as well as flax seed), it also has a lot of protein, healthy fat, and fiber in each slice.  Very hearty and would be a great bread for sandwiches.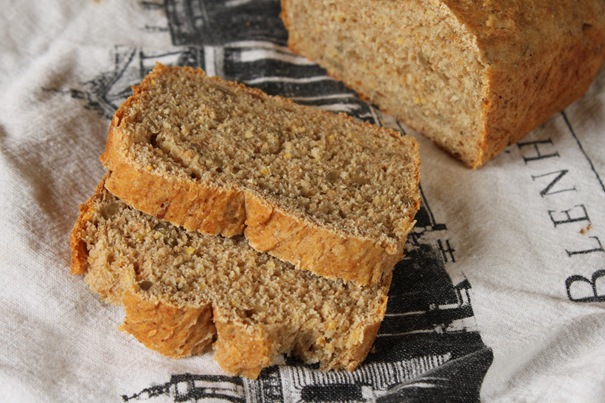 Disregarding the time necessary for the bread to rise (which requires no work and only a kitchen timer), this bread comes together really quickly and easily.  I almost messed it up multiple times, and it still turned out great.  So don't be intimidated by this bread!
I really liked using Bob Red Mill's 10-grain cereal for this, which contains stone ground high protein hard red wheat, rye, triticale (hybrid of wheat & rye), oat bran, oats, corn, barley, soy beans, brown rice, millet, and flaxseed.  However, if you have another one on hand, I'm sure that would work just as well!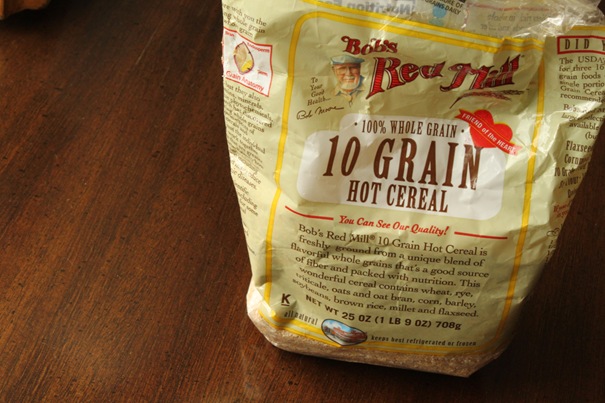 I'm so glad that my first recipe on my Holiday Challenge went well (although I'm sure that won't be the case for all of them)!  It was great to get in the kitchen, try a new technique and recipe and be rewarded with such a delicious product.
Ok, wow, this post was long.  Enough talking…what should I tackle next on the list?!
This post contains affiliate links, which means that I make a small commission off items you purchase at no additional cost to you. Please read my
privacy policy
for more information.