Mushroom Barley Soup with White Truffle Oil
This post contains affiliate links.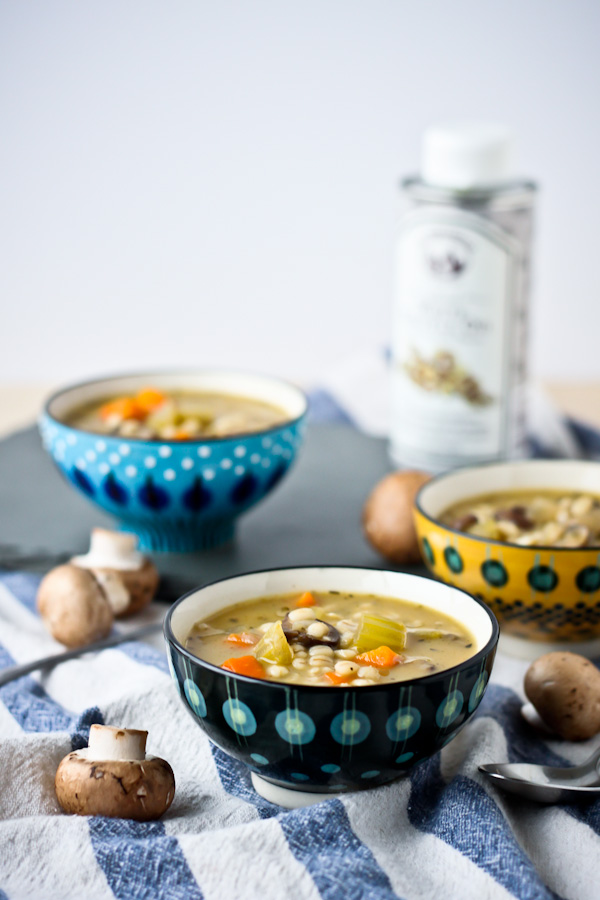 I know what you're thinking.  Those are either some really abnormally large baby bella mushrooms or incredibly teeny, tiny bowls.
Obviously, it is the latter, because that is normal behavior in blog land.
We pour five spoonfuls of soup into three tiny bowls (for two imaginary friends), take pictures, then proceed to dump it all back into the pot, and eat some out a plastic leftover container whilst standing up in the kitchen.
There might also be a few curse words that escape my mouth in the process of it all.  Aaaaah, welcome to the world of recipe development and food photography.
Let me guess.  I totally just destroyed the illusion for you.  That was not cool of me, I know, but sometimes it's worth mentioning to you (and reminding myself, for that matter) of all the craziness that goes into a single recipe post.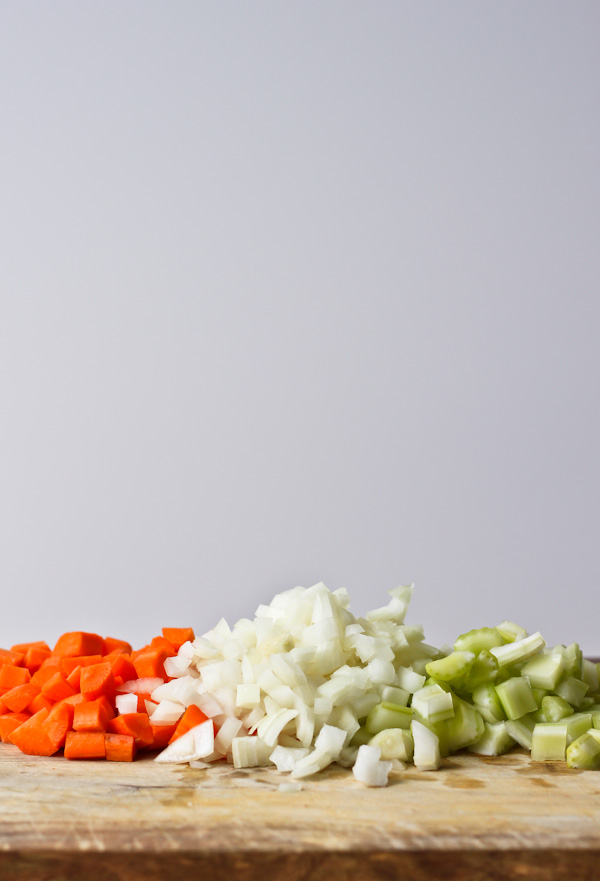 I love it, I really do, but I'm also sane enough–or at least, I think I'm sane enough–to realize that it's also a little bit nuts.
Then again, I'm editing photographs of mushrooms at 11 o'clock at night, so clearly that realization hasn't quite sunk in just yet.
Instead let's just talk about today's recipe, shall we?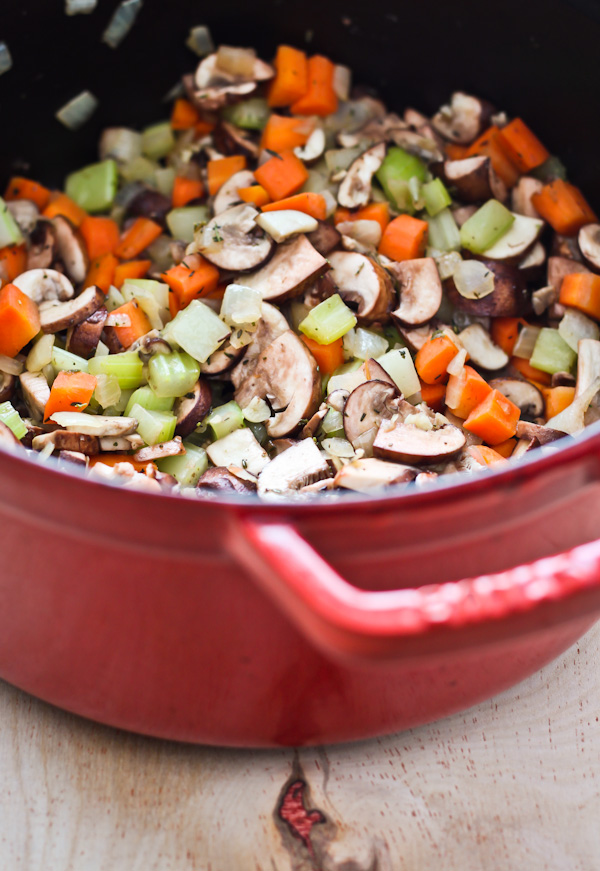 This mushroom barley soup (otherwise known as the third installment of soup week!) is incredibly hearty, thick, and rustic.  It calls for a massive loaf of crusty bread–and maybe some chunks of good cheese on the side.
Unlike yesterday's Thai coconut chicken noodle soup, which calls for some unusual ingredients, this recipe is a cinch to put together and the ingredient list is very simple and straight-forward.
The bulk of the soup comes from the addition of roughly chopped onion, carrots, celery, and barley.  To make it extra time-friendly, this recipe calls for quick cooking, par boiled barley (which is available at Trader Joe's and other supermarkets).
To make it extra decadent, I love to finish this soup off with a generous drizzle of white truffle oil.  You can certainly choose to forgo this step if its cost prohibitive or you can't find it, but it definitely helps take this soup to the next level!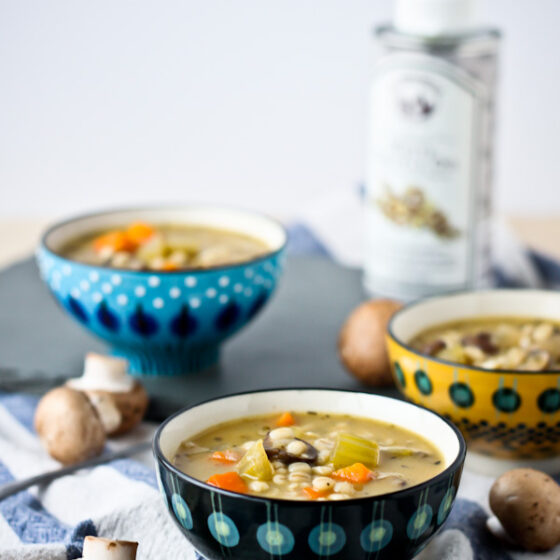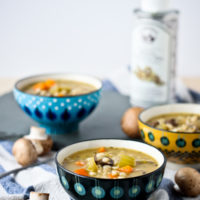 Mushroom Barley Soup with White Truffle Oil
Yield: 4-6 Servings
Prep Time: 15 minutes
Cook Time: 40 minutes
Total Time: 55 minutes
Ingredients
1 tablespoon extra virgin olive oil
1 tablespoon unsalted butter
1 medium onion, medium dice
3 cloves garlic, finely minced
1 teaspoon dried thyme
2-3 small carrots, medium dice (~1 cup)
2-3 stalks celery, medium dice (~1 cup)
1 lb. (16 ounces) baby bella mushrooms, stems trimmed, halved and sliced
1/4 cup dry sherry
1 cup par-cooked pearled barley
5 cups chicken stock
leftover parmesan rinds (optional)
1 teaspoon freshly squeezed lemon juice
1 tablespoon white truffle oil
kosher salt
freshly ground black pepper
Instructions
Heat oil and butter in a large soup pot over medium-low heat. Add onions and cook for 5 minutes, stirring frequently, until onions are soft and translucent.
Add garlic and continue cooking for an additional 1-2 minutes, stirring frequently. Add dried thyme.
Add celery and carrot together and cook over medium-low heat for an additional 3-5 minutes.
Add sliced mushrooms, stir, and allow to cook over high heat for 5-7 minutes, or until mushrooms begin to release their liquid. Allow liquid to evaporate, before adding dry sherry.
Reduce sherry until barely any liquid is left in the pot. Add the pearled barley, parmesan rinds, and chicken stock and bring to a low boil. Reduce the heat to a low simmer and cook for another 15-20 minutes or until barley is cooked through.
Season soup with salt and pepper to taste. Finish by stirring in truffle oil and lemon juice. Serve piping hot.
Notes
White truffle oil can be found at most supermarkets in the oil/vinegar section. Pre-cooked barley can be found at Trader Joes.
Nutrition Information:
Yield: 6
Serving Size: 1
Amount Per Serving:
Calories: 192
Total Fat: 9g
Saturated Fat: 3g
Trans Fat: 0g
Unsaturated Fat: 6g
Cholesterol: 12mg
Sodium: 491mg
Carbohydrates: 20g
Fiber: 2g
Sugar: 5g
Protein: 7g
A Beautiful Plate provides nutritional information, but these figures should be considered estimates, as they are not calculated by a registered dietician.
This post contains some affiliate links, which means that I make a small commission off items you purchase at no additional cost to you. Please read my
disclosure policy
for more information.