Thai Coconut Chicken Noodle Soup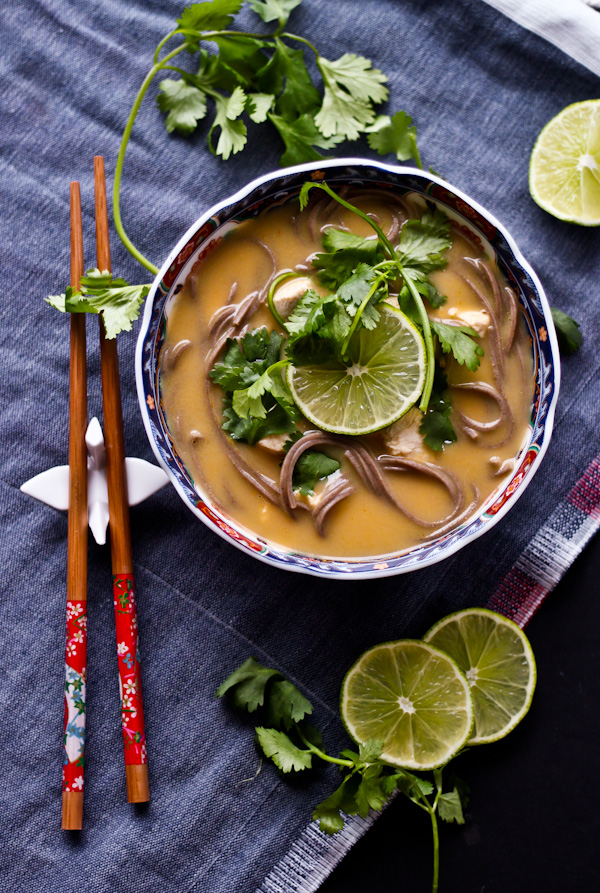 Soup week continues to go strong, which is a good thing because we are all really freezing our butts off today.
But seriously…can we all stop talking about the weather for a second and discuss kaffir lime leaves?  I am totally infatuated with them.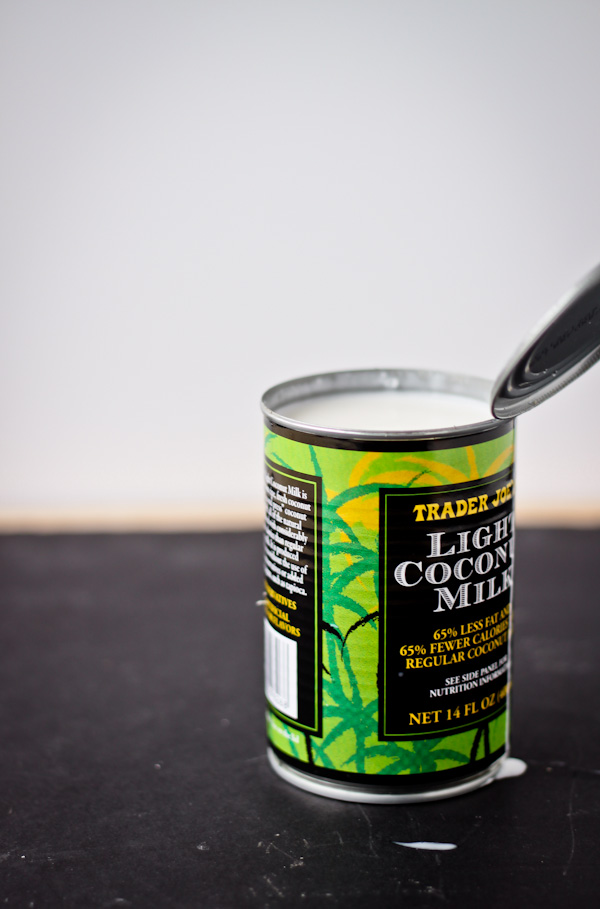 This Thai coconut chicken noodle soup is practically brimming with them.
And let me tell you.  Nothing smells better than a steaming bowl of chicken broth infused with spicy ginger, coconut milk, kaffir lime leaves, fish sauce, red curry paste, galangal, lime juice, and topped with fresh cilantro.
You'll want to drink the broth by itself, but the addition of chicken and soba noodles make it extra special.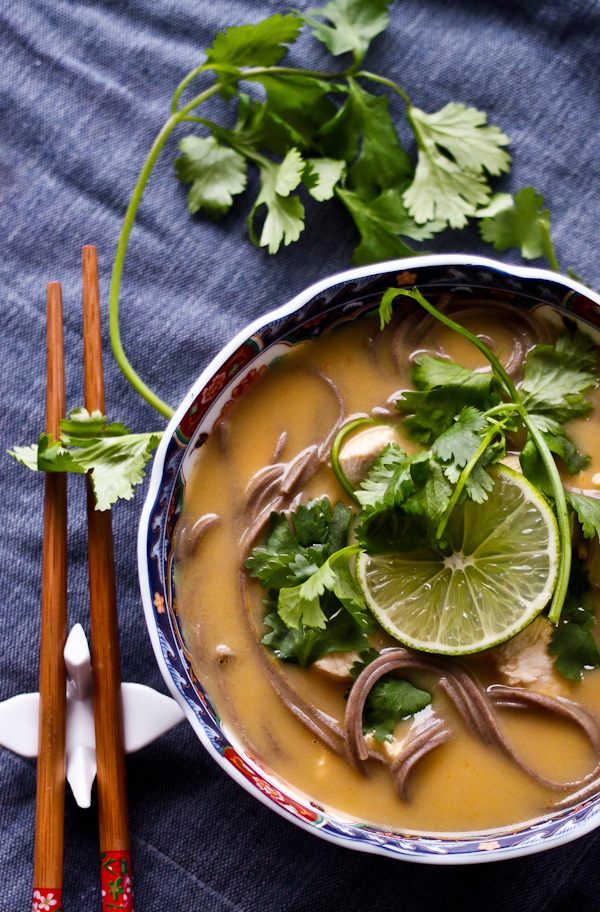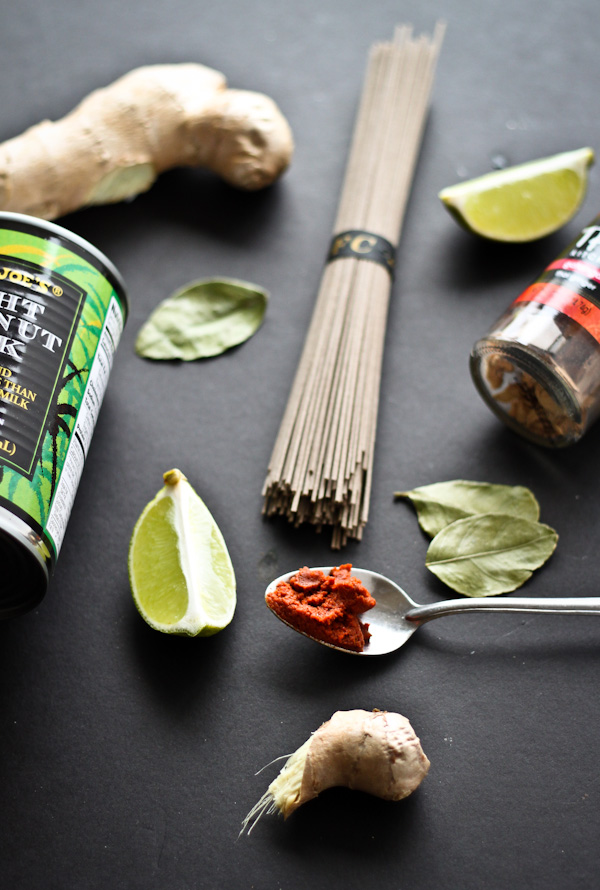 After visiting a great Thai restaurant in DC over Christmas (restaurant is a little bit of a misnomer–it is basically a family's townhouse, where you are brought one dish after another and instructed to BYOB), I've been wanting to make a Thai-inspired soup.
And this is what I came up with.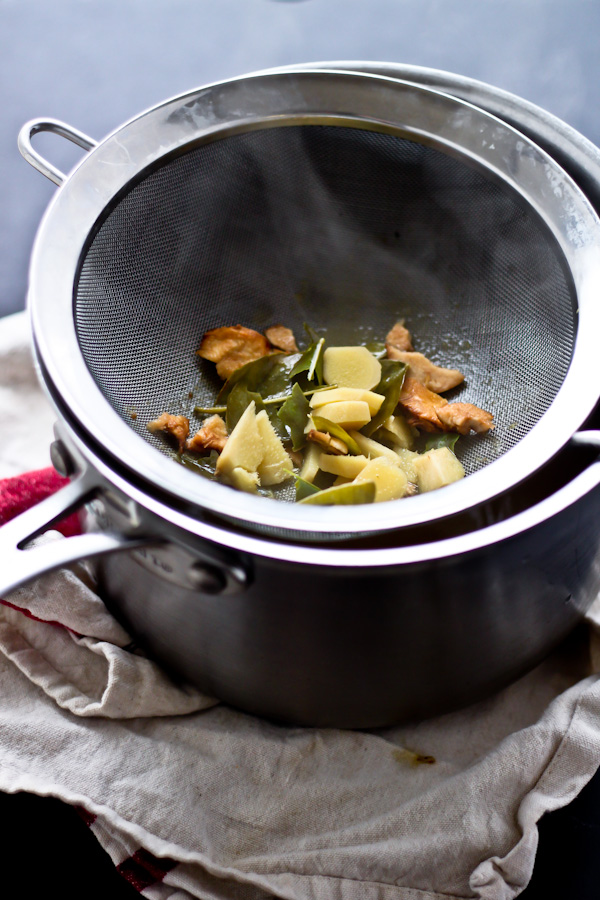 This recipe is a very, very loose interpretation of the traditional soup, Tom Ka Gai.  I cannot stress the word loose enough.
Obviously soba noodles are Japanese, so I took some liberties.  Forgive me.  If it means anything, these are the soup leftovers that Connor and I both fought over during the weekend.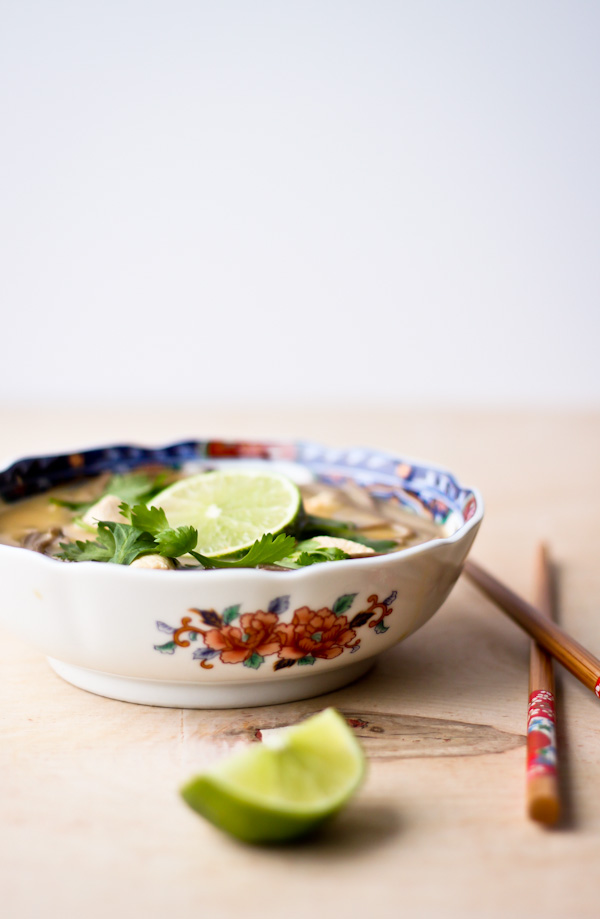 Since this soup doesn't include all that many ingredients, I strongly urge you not to substitute or leave out any of the ingredients (with exception of fish sauce and cilantro–if you happen not to be a fan of either).
Fresh kaffir lime leaves and dried (or even better, fresh!) galangal–an Asian root similar to ginger–can be found at Asian supermarkets and some Whole Foods locations.  Happy slurping!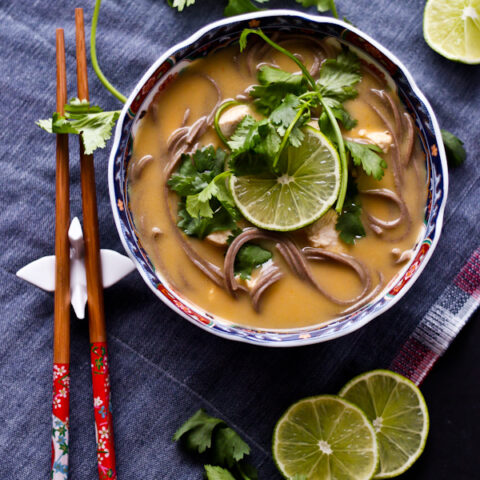 Thai Coconut Chicken Noodle Soup
Yield: 4-5 servings
Prep Time: 10 minutes
Cook Time: 35 minutes
Total Time: 45 minutes
Ingredients
8 cups (2 quarts) of low-sodium chicken broth
4 ounces dried soba noodles
2 inch piece of fresh ginger, peeled and roughly chopped
5 fresh kaffir lime leaves, torn
2 teaspoons dried galangal root
1 1/2 teaspoons Thai red curry paste
1 teaspoon nam pla fish sauce (optional)
1/8 teaspoon cayenne pepper
1 and 1/3 cup light, unsweetened coconut milk
10 ounces chicken breast, cut into 1/2″ chunks
juice of half a lime
fresh lime wedges (for garnish)
cilantro leaves (for garnish)
Instructions
Add chicken stock to large soup pot, bring to a boil and reduce by half.
Meanwhile, bring a large pot of water to a boil. Season generously with salt. Add the soba noodles and cook until al dente (just firm to bite). Drain and rinse noodles under cold water. Allow to drain and set aside in a bowl.
Add the kaffir lime leaves, galangal, and fresh ginger to the reduced broth and reduce heat to very low simmer. Simmer broth for 15 minutes, before straining broth into another large soup pot (or alternatively, combine kaffir lime leaves, galangal, and ginger and place in a cheesecloth sachet and tie).
Return strained broth to heat and season to taste with salt.
Whisk in the red curry paste, fish sauce, cayenne pepper, and coconut milk. Place over low heat (not simmering, but very hot) and add the chicken, stirring occasionally, until it is almost cooked. Add the cooked soba noodles and cook just until chicken is tender.
Stir in juice of half a lime. Serve soup piping hot, garnished with cilantro and sliced lime.
Notes
Kaffir lime leaves and dried (or fresh) galangal can be found at Asian supermarkets and some Whole Foods locations.
Nutrition Information:
Yield: 5
Serving Size: 1
Amount Per Serving:
Calories: 217
Total Fat: 5g
Saturated Fat: 2g
Trans Fat: 0g
Unsaturated Fat: 3g
Cholesterol: 48mg
Sodium: 331mg
Carbohydrates: 19g
Fiber: 1g
Sugar: 7g
Protein: 27g
A Beautiful Plate provides nutritional information, but these figures should be considered estimates, as they are not calculated by a registered dietician.