Mushroom Pizza with Havarti Cheese, Fresh Herbs, and White Truffle Oil
This incredible mushroom pizza is topped with aged havarti cheese, assorted sauteed mushrooms with herbs, and finished with a drizzle of white truffle oil.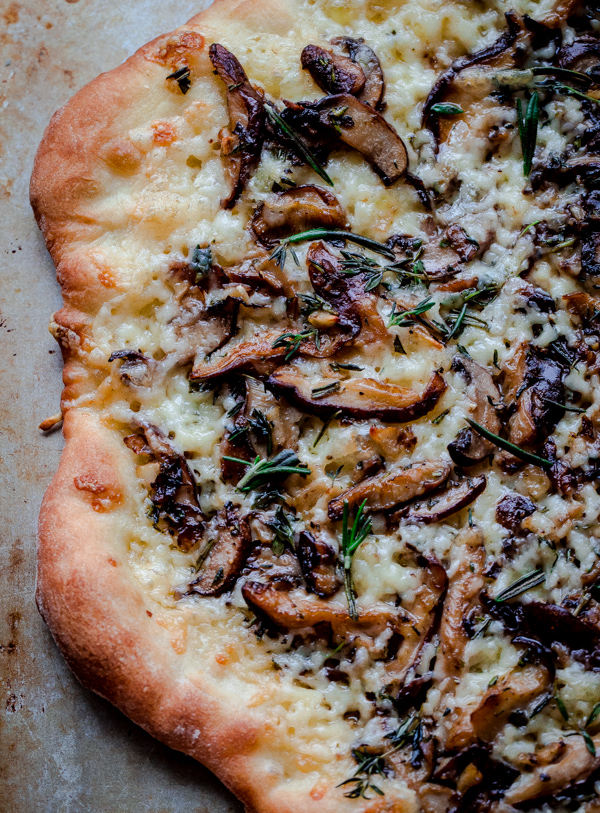 Oh lord, this pizza. Havarti cheese, sauteed shiitake and baby bella mushrooms, fresh rosemary and thyme, and a little drizzle of white truffle oil for good measure.
This pizza could single-handedly destroy a wedding diet (you know…if I was on one). I'm pretty sure Connor was ready to propose all over again after I tested this recipe on him. If that's not a ringing endorsement–pun intended–I'm not sure what is. It is the best homemade pizza I've ever made. EVER.
I know that I've said this a million times, but my love of cheese has no bounds. I think I received my first cheese knife when I was 10 years old. I also requested stinky cheese courses for special dinners at an equally ridiculous young age.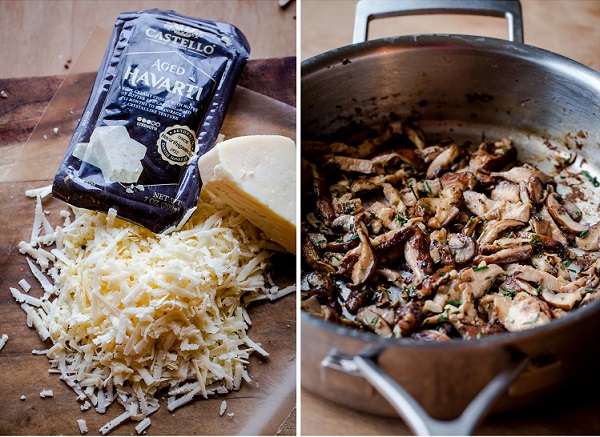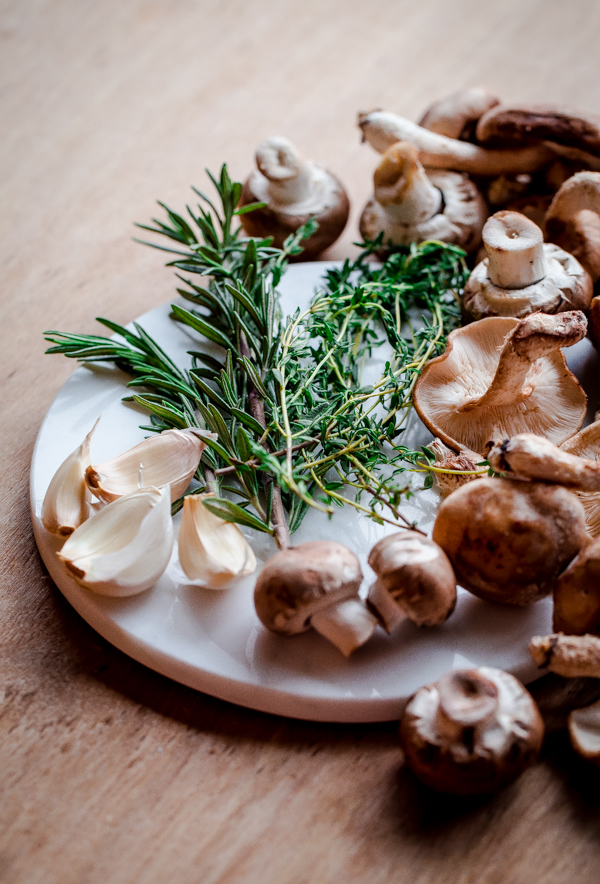 So when I had the opportunity to team up with Castello to create a recipe using their Reserve Aged Havarti Cheese, I was all over it. I have to admit, I'm a relative newbie to Havarti cheese, which made this project all the more exciting. I love working with new ingredients!
Plus, I'm a big fan of their wide variety of cheeses (remember these cheese gougeres from over a year ago?). If you're unfamiliar with traditional Havarti, it is a semi-soft Danish cheese that has a very buttery texture similar to Swiss cheese.
Unlike traditional Havarti cheese, which is aged for roughly three months on average, Castello's Reserve Aged Havarti is aged for 12 months. A full year! It is also imported all the way from Denmark, so you know it is made by the pros.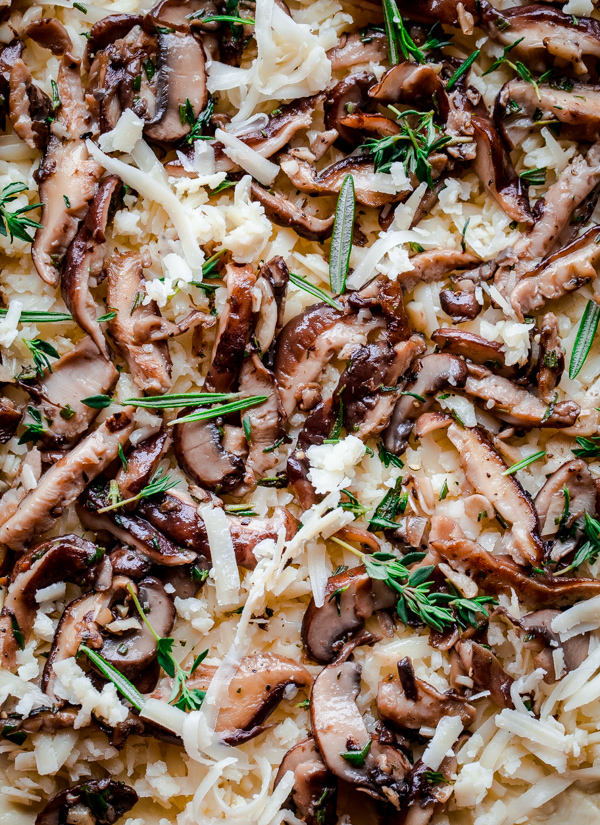 By aging the Harvarti for a longer period of time, the cheese develops a harder, crystalline texture (similar in some ways to a good-quality parmesan cheese) and a much stronger flavor, while still retaining the creamy, rich, buttery qualities that has become known for. It is a nutty and buttery, and just a bit salty.
And while it is the type of cheese that would be perfectly suited for a cheese platter accompanied by fresh fruit, I chose to go a slightly different route and put it on a pizza with earthy mushrooms, herbs, and truffle oil.
The cheese is just strong enough in flavor and dimension that it still shines in this dish! To increase the melting factor just a bit, I added a touch of grated fontina cheese as well.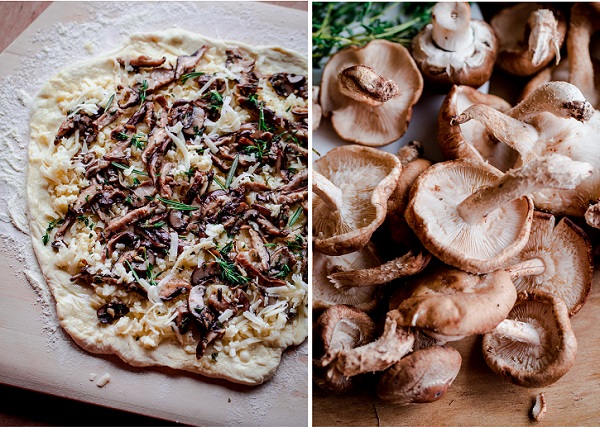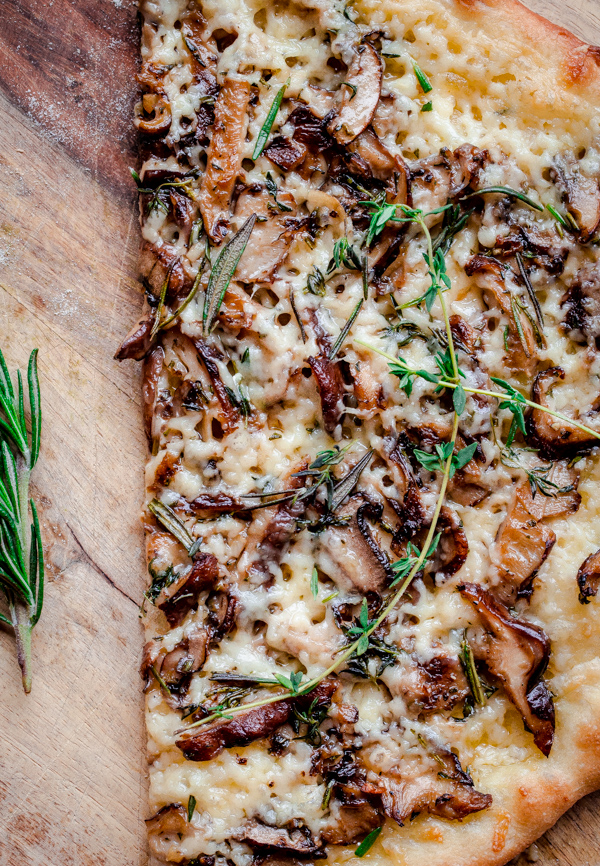 This pizza is rich and wonderfully addictive. I promise that if you cut this baby into little squares or wedges and serve it as finger food over the holidays, that people would go absolutely nuts.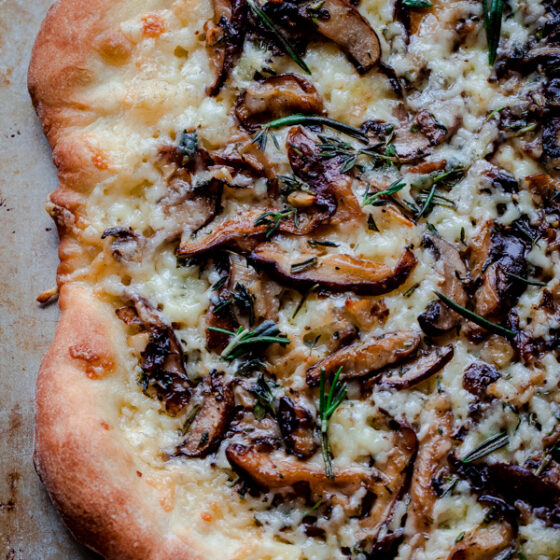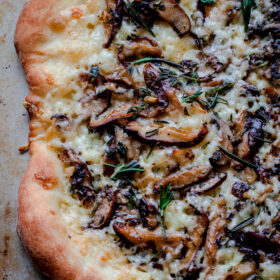 Mushroom Pizza with Havarti Cheese, Fresh Herbs, and White Truffle Oil
This incredible mushroom pizza is topped with aged havarti cheese, assorted sauteed mushrooms with herbs, and finished with a drizzle of white truffle oil. Rich and wonderfully addictive, you won't be able to stop at one slice! Serve as a main course or cut into small pieces as a decadent appetizer.
Ingredients
Pizza Dough:
1¼ cups (150 g) unbleached all-purpose flour
¾ teaspoon granulated sugar
¼ teaspoon active dry yeast
½ teaspoon Diamond Cyrstal kosher salt
¼ cup + 3 tablespoons (105 mL) warm water (105°F to 115°F)
1½ teaspoons extra virgin olive oil
semolina flour for dusting
Toppings:
2 tablespoons olive oil plus more for brushing
6 ounces shiitake mushrooms stems removed and sliced into ¼-inch slices
4 ounces baby bella mushrooms stems removed and sliced into ¼-inch slices
kosher salt
freshly ground black pepper
2 large garlic cloves finely chopped
1 tablespoon roughly chopped fresh rosemary 1 to 2 sprigs
2 teaspoons roughly chopped fresh thyme leaves 3 to 4 sprigs
2 tablespoons dry sherry
5 ounces Castello Reserve Aged Havarti Cheese grated
3 ounces fontina cheese grated
white truffle oil, for drizzling
Instructions
Prepare pizza dough: In a medium bowl, whisk together the flour, sugar, salt and yeast. Add the warm water, and stir mixture with a wooden spoon until the dough just begins to come together. Place the dough on a floured surface and knead it for three minutes, or until it is smooth and slightly elastic. Place the dough in a lightly greased bowl, cover, and allow the dough to rise at room temperature for 2 hours or until double in size.

Prepare mushrooms: Heat a 10 to 12-inch (the more surface area, the better) skillet over very high heat. Add the olive oil, followed by the sliced mushrooms, spreading into a single layer with a wooden spoon. Continue to saute for 5 to 6 minutes. The mushrooms will quickly begin to release their moisture, keep cooking until most of the liquid has evaporated. Season to taste with salt and pepper.

Add the chopped garlic and continue to saute, stirring constantly, for 1 to 2 minutes. De-glaze the pan with the dry sherry. Place back on the heat, add the chopped rosemary and thyme, and continue to cook over medium high heat until all of the sherry has evaporated. Set aside mushrooms to cool.

Assemble pizza: Preheat the oven and a baking steel (or pizza stone) to 500°F (260°C), with a rack in the upper third of the oven, for at least 1 hour. On a lightly floured surface, roll or stretch the dough until it forms a rough 10-inch circle. The dough will be thin. Transfer it to a pizza peel dusted with semolina flour.

Brush the top of the dough lightly with olive oil. Sprinkle the cheese evenly over the pizza, leaving a ¾-inch border on the edges. Spoon the mushrooms and distribute them evenly on top of the cheese. Slide the pizza gently onto the baking steel or stone and bake for 8 to 10 minutes or until the dough is golden and the cheese is melted and bubbly. If you wish, you can finish the pizza under the broiler for extra color, but watch it carefully. Immediately drizzle the top of pizza with white truffle oil, and garnish with additional rosemary sprigs or thyme leaves, if desired. Slice and serve.
Serving: 1serving, Calories: 630kcal, Carbohydrates: 50g, Protein: 25g, Fat: 38g, Saturated Fat: 16g, Polyunsaturated Fat: 19g, Cholesterol: 77mg, Sodium: 1120mg, Fiber: 6g, Sugar: 4g
This post is sponsored by Castello Cheese. Thank you for supporting the brands I love and use in my own kitchen!
This post contains affiliate links, which means that I make a small commission off items you purchase at no additional cost to you. Please read my
privacy policy
for more information.