These chewy blondie bars come together with just a bowl and a spoon. Mix them up with your favorite add-in's and the batter will be ready before the oven preheats!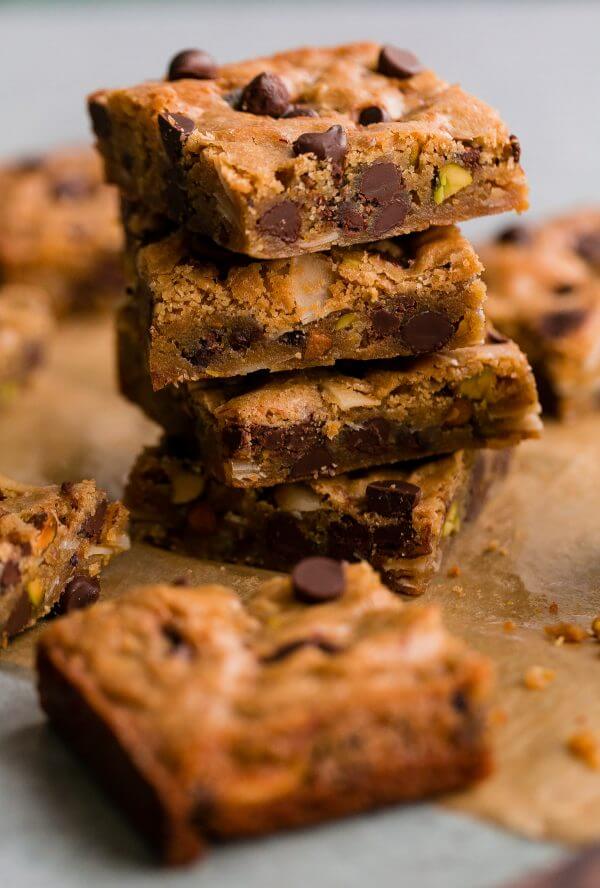 Yesterday, I experienced the first crisp fall day in Chicago. It was glorious and almost made me reconsider my current stance on pumpkin baked goods. It even peer-pressured me into buying my first decorative white pumpkin. I'm not mad about it.
The cooler weather is also getting me excited to bake all the things! I really, really don't enjoy turning on my oven during the summer. I mean, I do it (pizza, duh), but I really don't look forward to it. I'm sure I'm not alone in that sentiment.
Another reason why I love fall? It is officially cookbook season. Several internet friends are releasing their very own cookbook babies right now, and I love having the opportunity to share them with you! Today's chewy (seriously chewy!) never fail blondie bars are from The Weeknight Dinner Cookbook by Mary Younkin.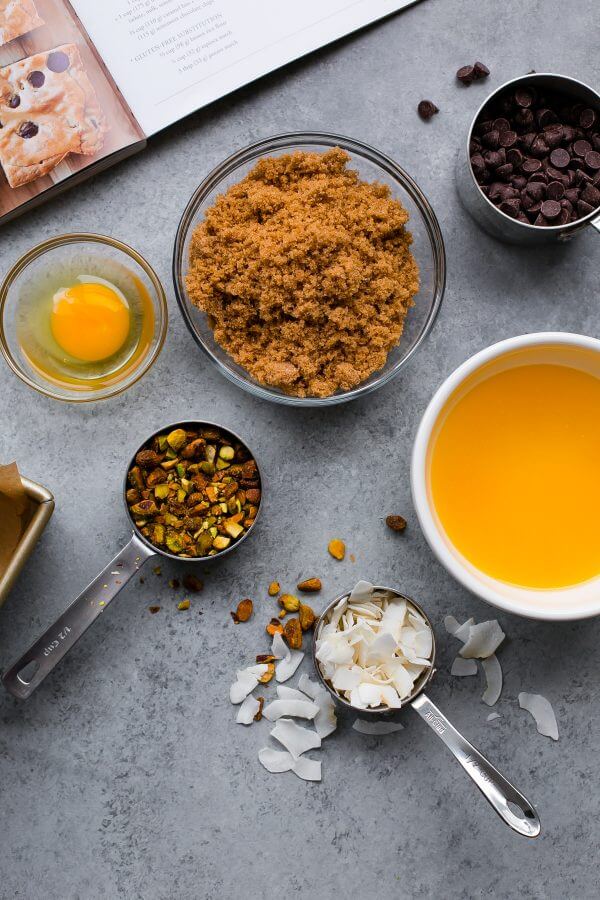 I met Mary (author of the blog The Weeknight Dinner Cookbook) on a photography retreat two years ago, and was struck by her kindness and wonderful sense of humor. Mary is a true gem, and also happens to be a busy working mom to three to the cutest kids (all boys!) ever. On that note, follow her on Snapchat.
Mary's motto in the kitchen is cooking from scratch as simply as possible, and her new cookbook channels that philosophy perfectly. It is filled to the brim with weeknight-friendly dinner recipes, and creatively divided into chapters based on preparation time. Each recipe includes ideas for easy side dish, preparation tips, or adaptations. The book also includes weight conversions, which I love, love, love!
Despite offering a huge range of savory dinner recipes to choose from, I got totally distracted by the dessert chapter and Mary's recipe for never fail blondies. The recipe name drew me in from the beginning, and a craving for blondie bars immediately ensued. Let's start baking!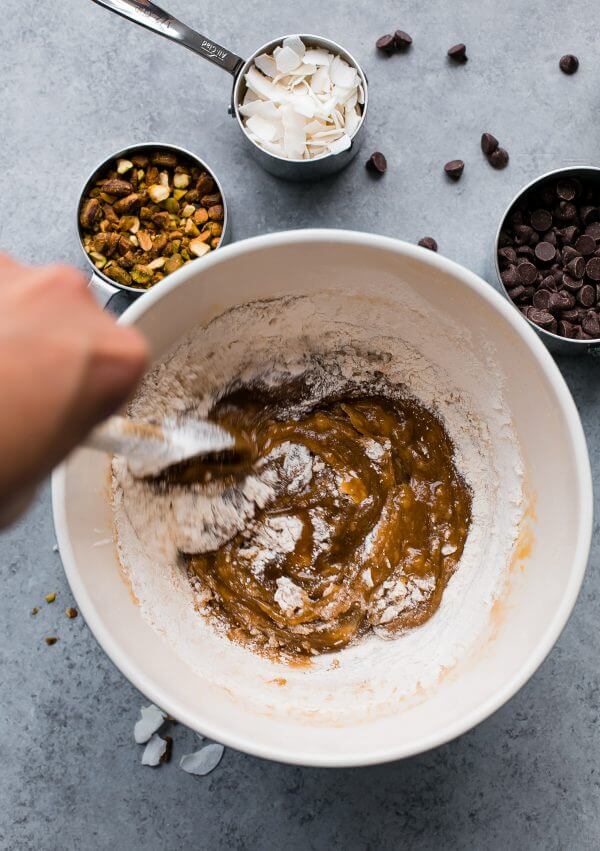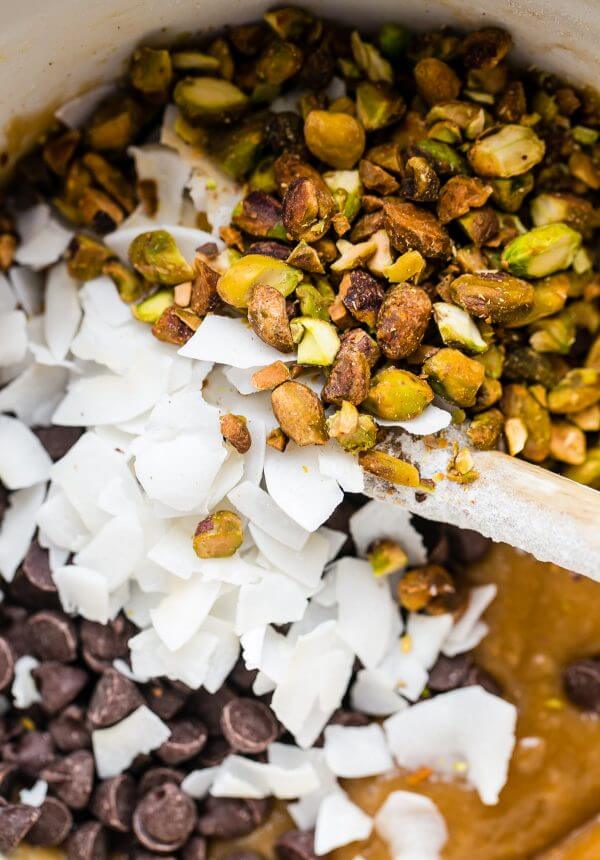 As the name suggests, this blondie bar recipe could literally not be easier. Who doesn't love a no fail dessert that you can turn to any day of the week?
The blondie batter can be thrown together with just a bowl and a spoon, and it will be ready before your oven even has time to preheat. Like my favorite cookies, these bars use only brown sugar, which helps make them extra chewy.
If you're a chewy dessert bar or cookie fan (is there any other way?), you will love these! The best part is that you can customize these blondie bars to your liking with various add-in combinations. Mary offers six different combinations as a starting point, but the possibilities are endless.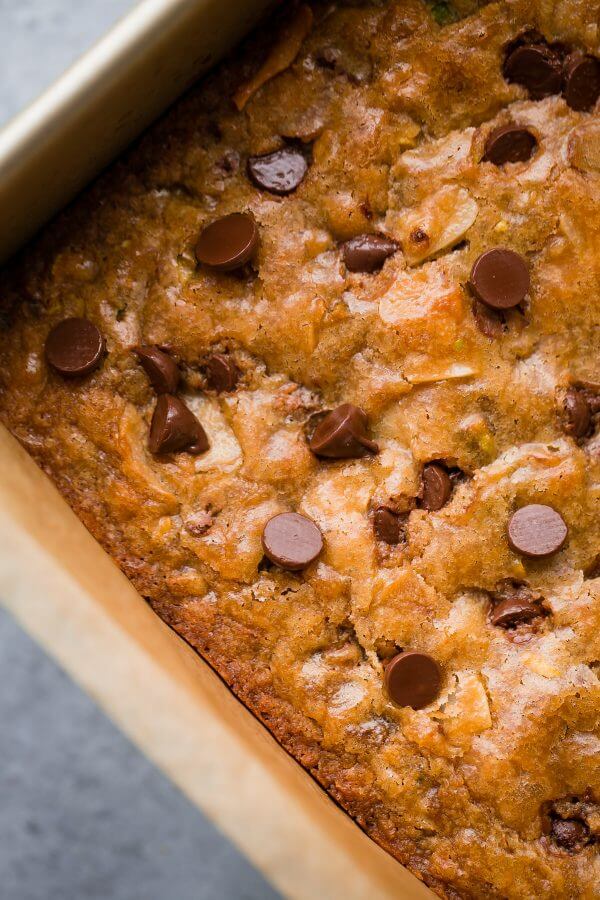 When I prepared this recipe, I took inspiration from the contents of my pantry. My version below contains semisweet chocolate chips, chopped pistachios, and unsweetened coconut flakes – but feel free to mix them up to your liking.
Dried fruits, nuts, extracts, chocolate, you name it and you can add it. Go wild!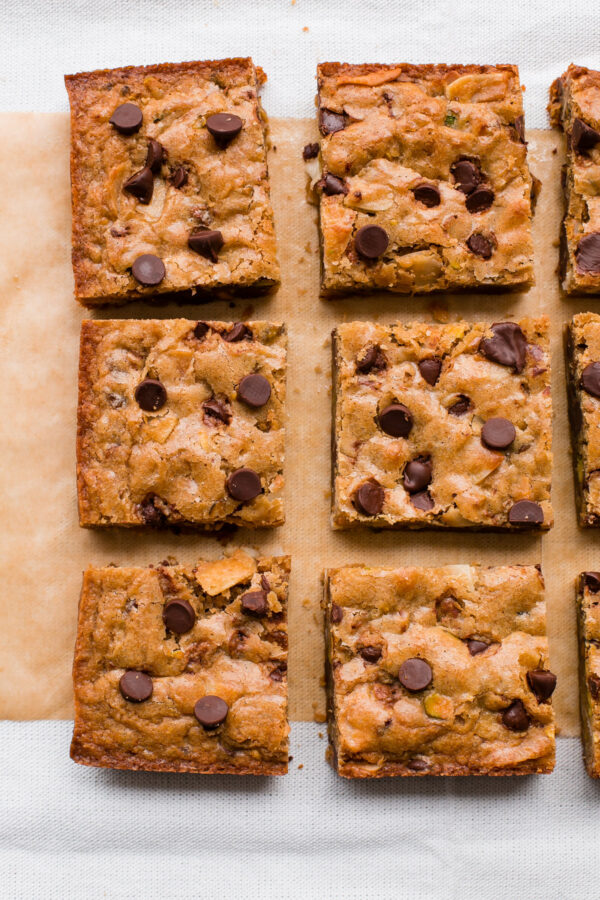 Other Flavor Combination Ideas:
1 cup (175 grams) chocolate chips, any kind
3/4 cup (130 grams) + 1/2 cup (55 grams) chopped pecans
3/4 cup (130 grams) white/dark chocolate chips + 1/2 cup (70 grams) macadamia nuts
3/4 cup (130 grams) dark chocolate chunks + 1/2 cup (55 grams) chopped walnuts
1 cup (80 grams) shredded coconut + 1 cup (175 grams) mixed chocolate chips
2/3 cup (110 grams) caramel bits + 2/3 cup (115 grams) semisweet chocolate chip
Products Used for this recipe:
(may include affiliate links)