Gingerbread Bundt Cake with Eggnog Whipped Cream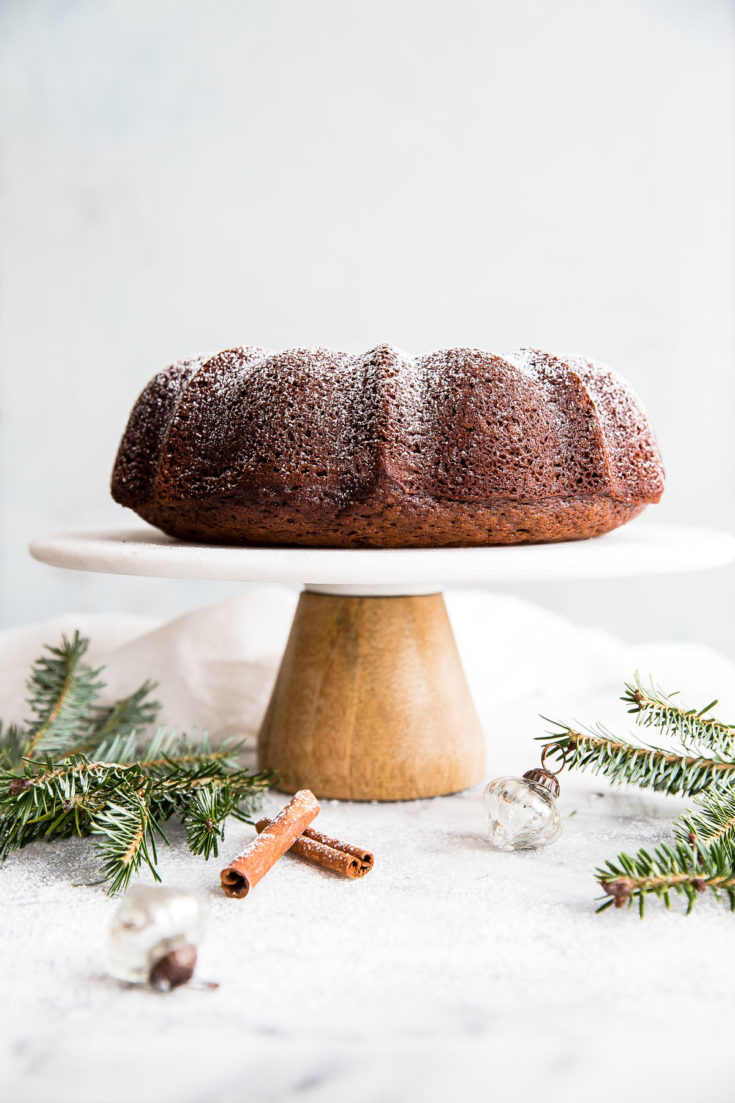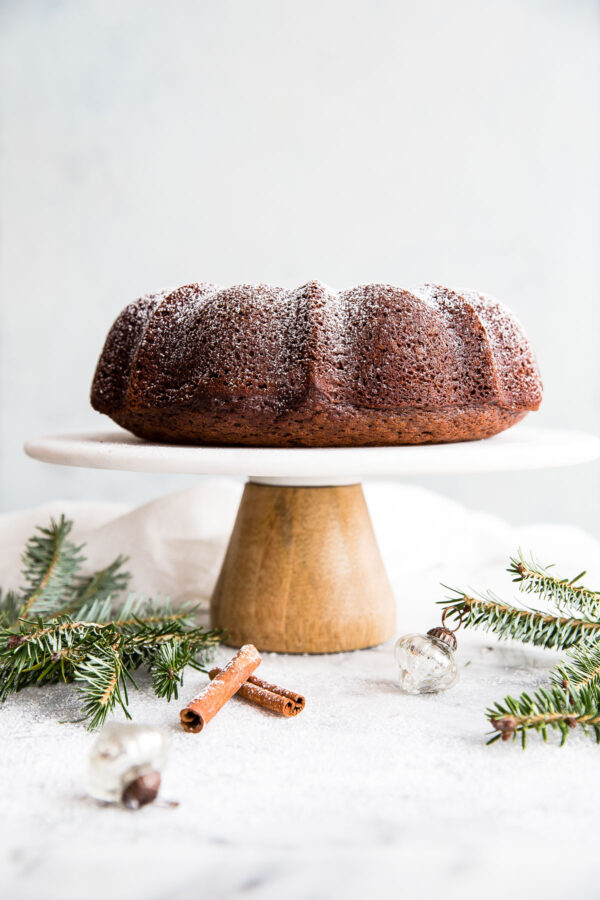 I love the warm spices and rich flavor of traditional gingerbread, but much prefer it in cake form (with the exception of these soft and fragrant Lebkuchen!).
While this isn't my first gingerbread recipe, it is definitely a favorite. This festive Gingerbread Bundt Cake is moist, flavorful, and an absolute cinch to throw together.
Lightly dusted with powdered sugar, it makes a lovely snacking cake for the holidays.
Or fancy it up by serving slices with dollops of homemade eggnog whipped cream (recipe below!).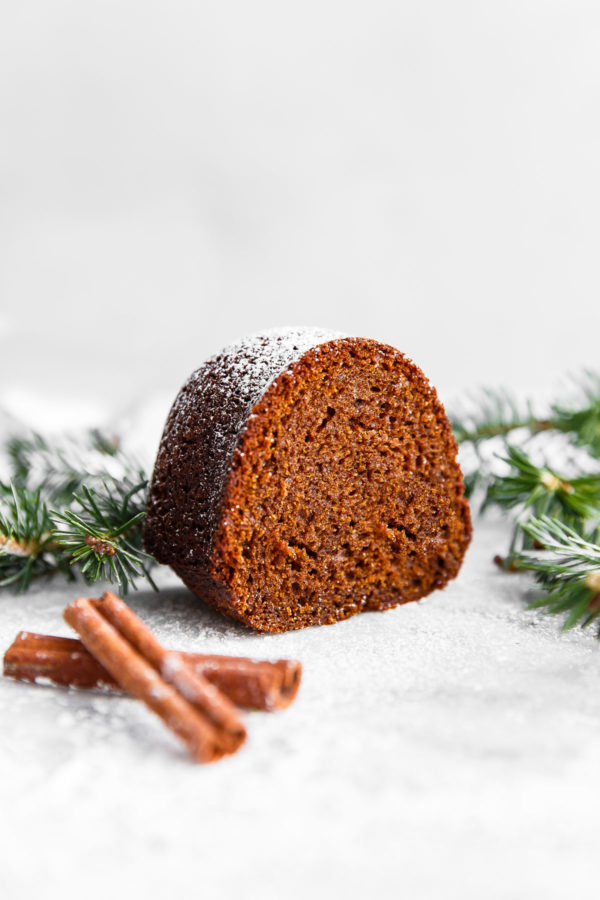 Why You'll Love This Gingerbread Cake
Moist – this cake is oil-based, which helps produce a moist crumb that holds very well. While I prefer to serve it the day it is baked, leftovers can be wrapped tightly and stored at room temperature for 2 to 3 days.
Balanced in Spices – it has a pronounced molasses, ginger, cinnamon, clove, and allspice flavor but isn't too spicy or overwhelming.
Easy to Make – the batter comes together quickly with just a large mixing bowl and whisk. No stand mixer or hand-held mixer required. It takes just 45 minutes to bake.
Releases Beautifully – unlike some bundt cake recipes which can be finicky, this cake releases beautifully (no stress!) from the pan every time.
Great for Entertaining – a bundt cake pan does all of the decorative work for you! Garnish with a light dusting of powdered sugar or serve and top with dollops of eggnog whipped cream. You could also try these gingerbread cupcakes.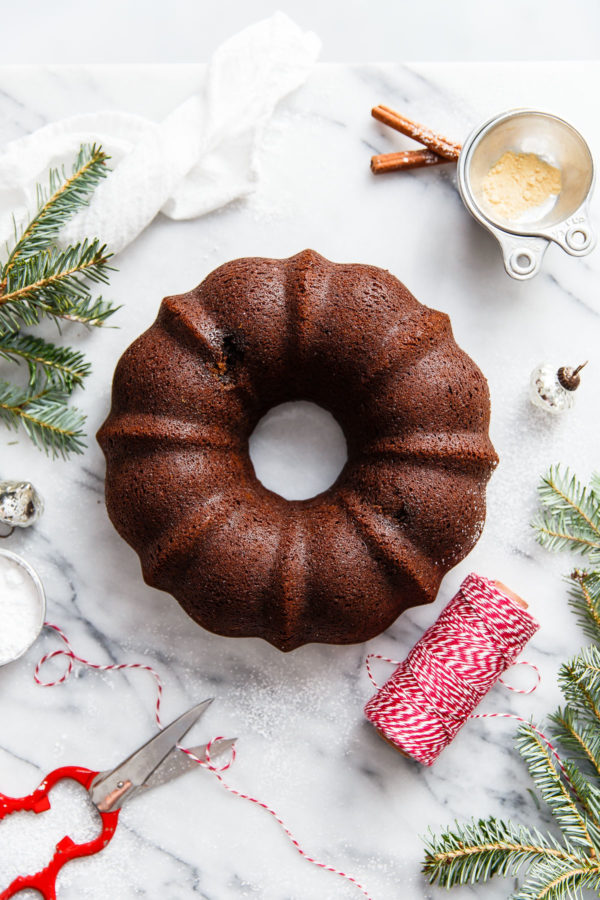 How Spicy Is This Gingerbread Bundt Cake?
Traditional gingerbread is made with several key ingredients: dark unsulphured molasses and a generous quantity of warming spices, including ground ginger, cinnamon, cloves, and allspice.
Gingerbread can range from mildly spicy to very, very spicy. On a scale of 1 to 10 (with 10 being the spiciest), this gingerbread bundt cake is a 6.
The spices are generous and present in each bite, but not overpowering. Even the biggest gingerbread skeptics are sure to love this cake!
How to Make Eggnog Whipped Cream:
Eggnog whipped cream is just amazing as it sounds. It has delicate eggnog flavor that beautifully complements the gingerbread bundt cake.
The flavor pairing is inspired by these gingerbread and eggnog ice cream cookie sandwiches!
Ingredients You'll Need: heavy cream, full fat eggnog (I recommend Organic Valley brand), pure vanilla extract, granulated sugar, and freshly grated nutmeg.
Combine and whip together until soft peaks form. Eggnog whipped cream holds for several hours in the refrigerator if you wish to make it ahead. It also happens to be an amazing way to use up leftover eggnog.
Tips for Success: Since eggnog does not contain as much fat as heavy cream, it is very important that you follow the ratio provided in the recipe below. If you use more eggnog than called for (and not enough heavy cream), the cream will not whip up properly.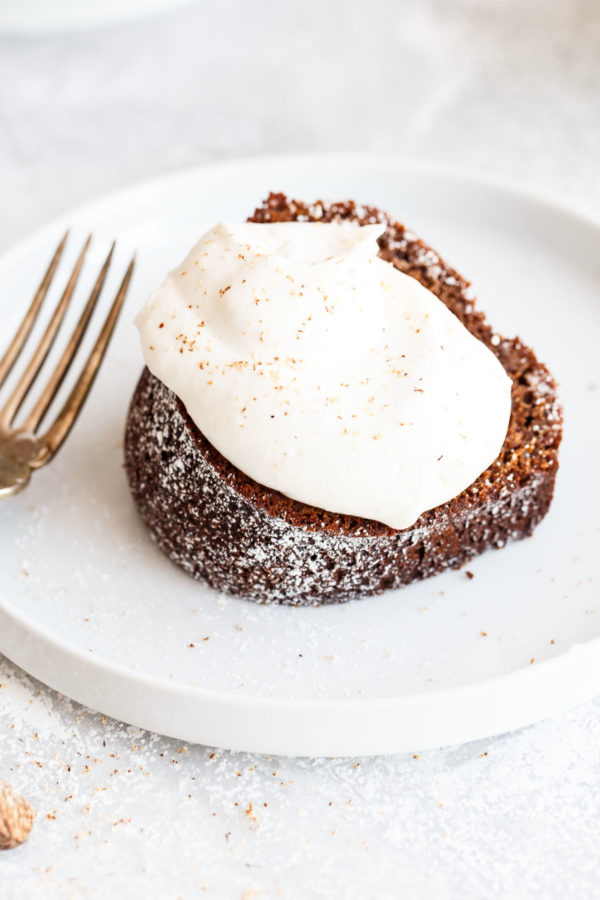 Storage Notes:
Once the bundt cake has fully cooled, wrap tightly in plastic wrap for storing. It can hold at room temperature for 2 to 3 days. Like most cakes, it is best served the day it is baked.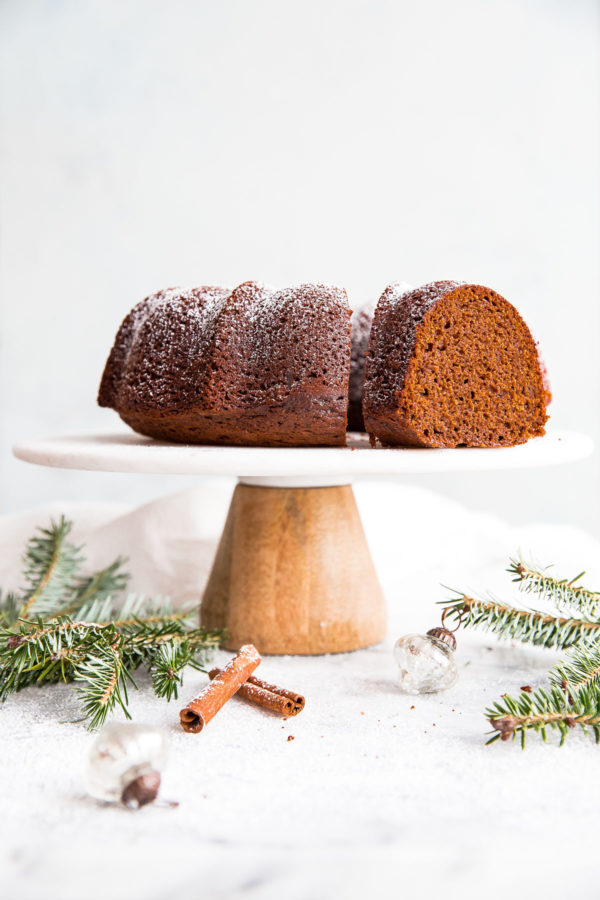 More Festive Holiday Cakes:
If you enjoy this bundt cake, try these other simple one-layer holiday cakes next: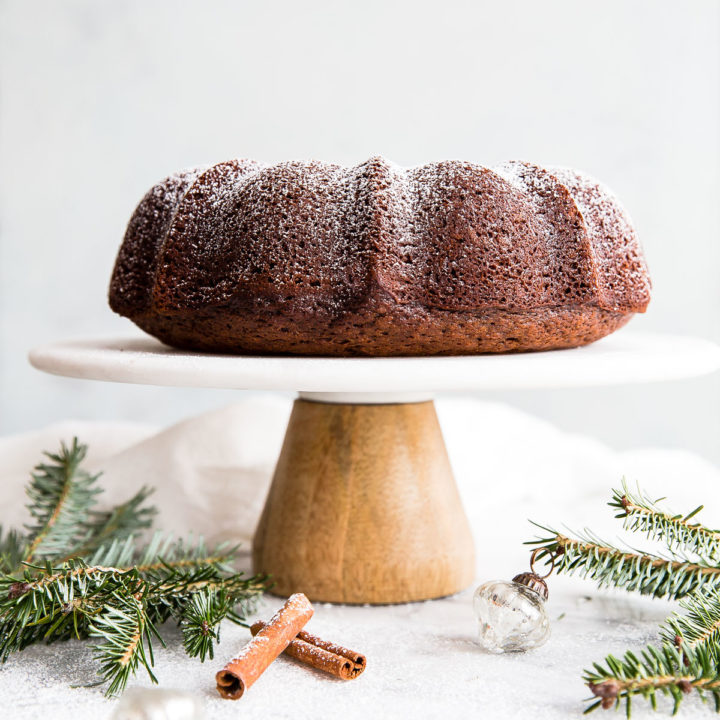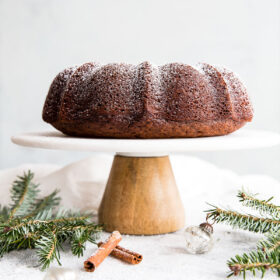 Gingerbread Bundt Cake with Eggnog Whipped Cream
Serving: 1serving, Calories: 452kcal, Carbohydrates: 58g, Protein: 5g, Fat: 23g, Saturated Fat: 7g, Polyunsaturated Fat: 15g, Trans Fat: 1g, Cholesterol: 82mg, Sodium: 300mg, Sugar: 49g
This post contains affiliate links, which means that I make a small commission off items you purchase at no additional cost to you. Please read my
privacy policy
for more information.