Gingerbread Bundt Cake with Eggnog Whipped Cream
Perfectly spiced gingerbread bundt cake served with a homemade eggnog whipped cream. A festive and simple holiday cake that can be made without a stand or hand-held mixer.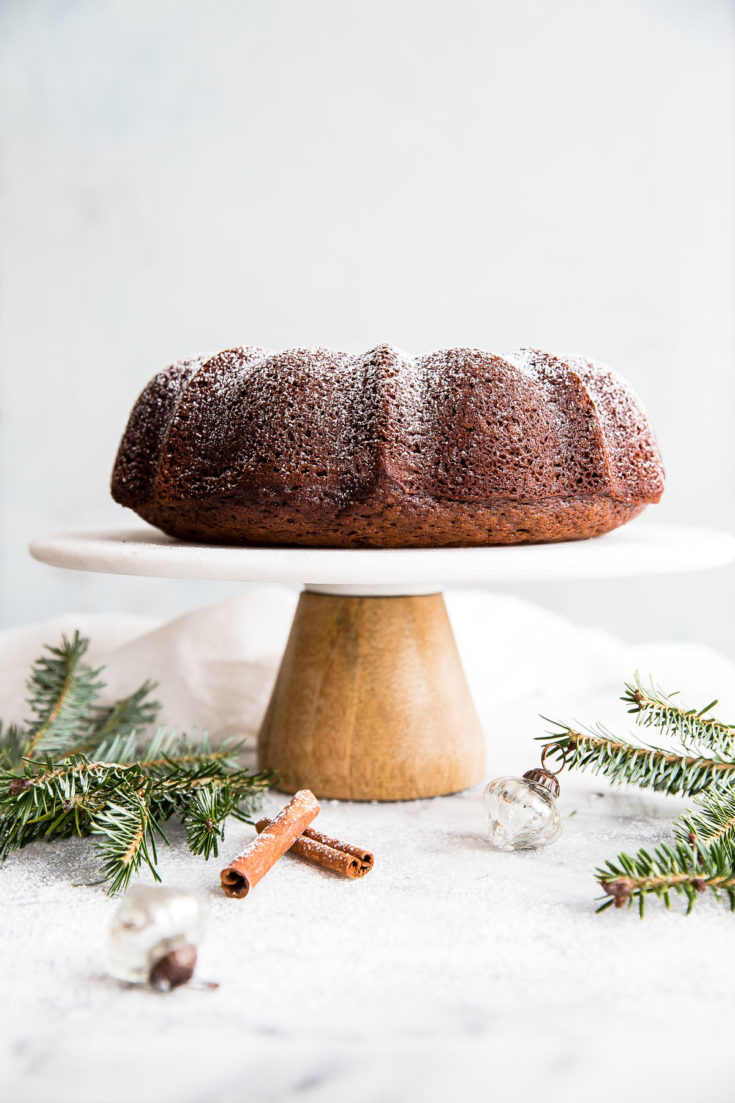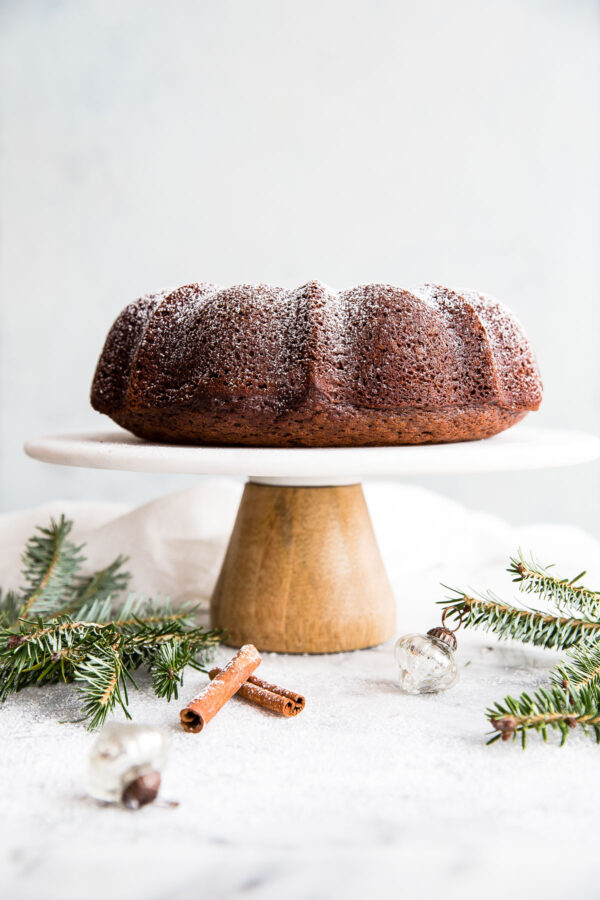 Can we take a moment and chat about this gingerbread bundt cake? Or, more importantly, today's eggnog whipped cream?! Because I'm pretty sure it deserves your sole and undivided attention right now.
This isn't my first gingerbread recipe on the site, but it is definitely my most favorite. I've always loved the rich flavor and spices of traditional gingerbread, but much prefer it in cake form than traditional cookies.
This bundt cake is moist, flavorful, and a cinch to throw together. You'll need just a mixing bowl And a well-greased bundt cake pan. It can be baked in under 45 minutes and looks best when decorated with a simple dusting of powdered sugar. Serve it casually as a snacking or tea cake or fancied up with a dollop of cream and light shaving of fresh nutmeg.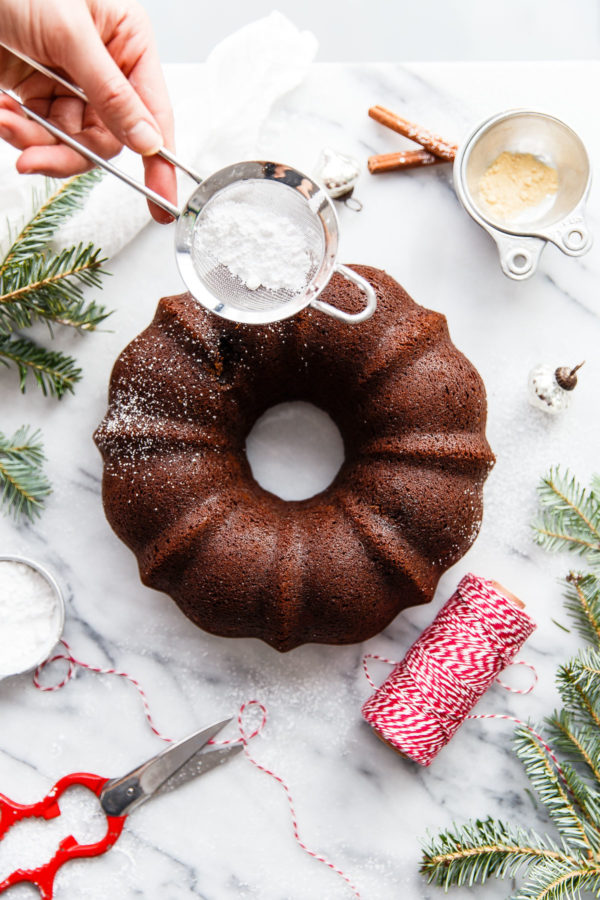 How Spicy Is This Gingerbread Cake?
Traditional gingerbread usually contains a handful of key ingredients: dark unsulfured molasses and a generous handful of spices including ginger, cinnamon, cloves, and allspice.
Gingerbread can range from mildly spicy to very, very spicy. On a scale of 1 to 10 (with 10 being the spiciest), I would rank this gingerbread bundt cake as a 6. The spices are generous and present in every bite, but not at all overpowering. Aka. if your family isn't normally into classic gingerbread, they might just be converted with a slice of this bundt cake. The good news? Spices play no structural role in cakes, so you can always increase or decrease them to fit your taste preferences.
In general, I've found that people become a lot more amenable to gingerbread when its in cake form. Once you bring eggnog whipped cream into the picture, you can bet that everyone will be coming back for a second slice.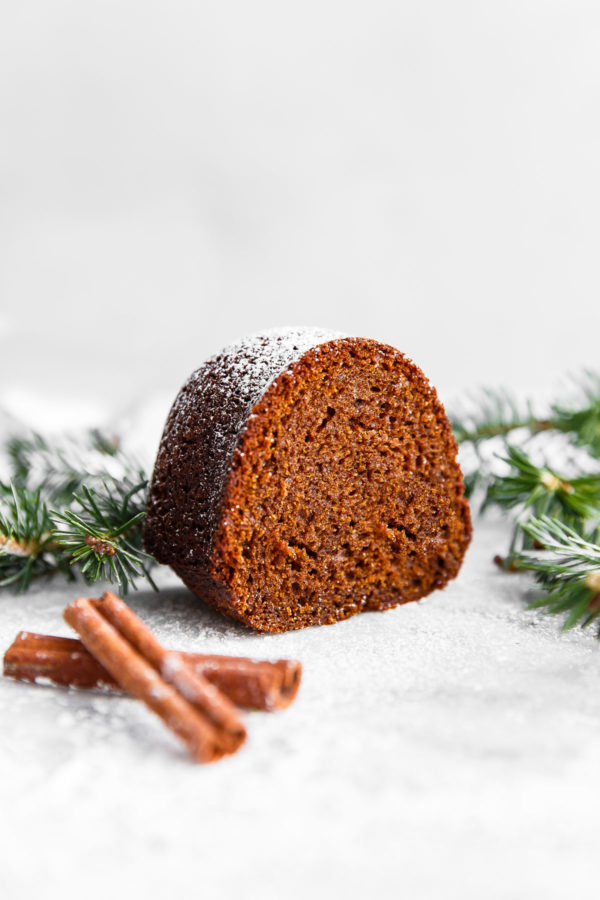 5 Reasons Why I Love This Gingerbread Bundt Cake
This cake batter uses oil as the primary fat, which helps keep the cake moist and allow it to store well for an extra day or two. While I love using butter in cakes for its added flavor, butter cakes have a tendency to dry out much faster than oil-based ones.
It is balanced in spice level. It has a pronounced molasses, ginger, cinnamon, clove, and allspice flavor without being overwhelming.
It can be made in a basic mixing bowl with minimal clean-up! You won't need a stand or hand-held mixer. The batter comes together quickly and effortlessly. An ideal celebration cake for the holiday season when we're all running out like nutcases and have minimal time on our hands.
The bundt pan does all the decorative work for you. This cake looks beautiful straight out of the pan with just a light dusting of powdered sugar. This also means that you can wrap it easily and store leftovers for later.
You can serve it with eggnog whipped cream. I mean, come on.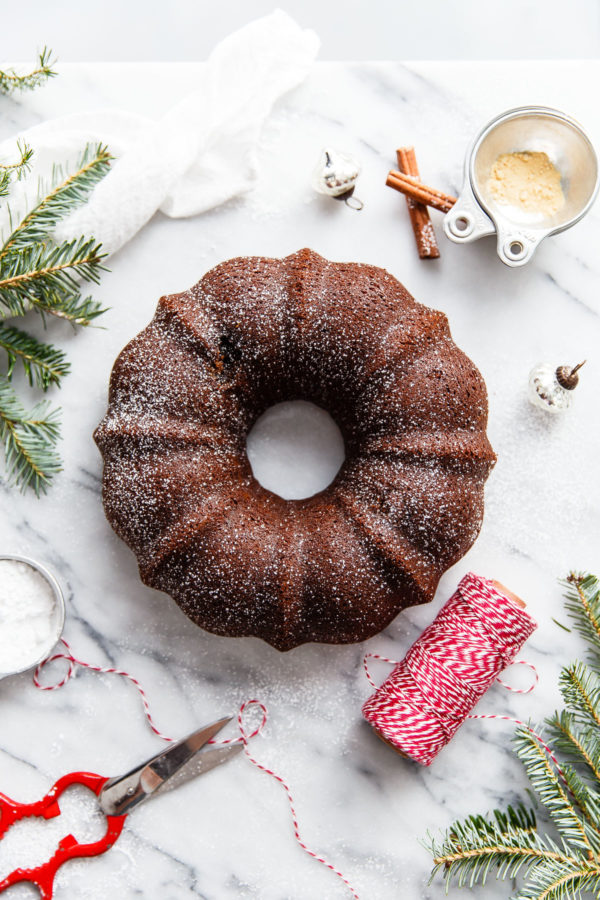 How to Make Eggnog Whipped Cream
Why yes, eggnog whipped cream is as just amazing as it sounds! This pairing was inspired by my gingerbread and eggnog ice cream cookie sandwiches from a few years back. The combination of gingerbread and eggnog just works, trust me.
You can make eggnog whipped cream with just the following ingredients:
heavy cream
full fat eggnog (*I highly recommend Organic Valley brand)
pure vanilla extract, for added flavor
touch of granulated sugar, for a touch of sweetness
freshly grated nutmeg, for garnishing
This mixture will whip up and create beautiful soft peaks of eggnog whipped cream. It will even hold for several hours in the refrigerator if you wish to make it ahead of time. The whipped cream has a delicate, yet present eggnog flavor that beautifully complements the gingerbread bundt cake. It also happens to be an amazing way to use up leftover eggnog.
Understanding: Since eggnog does not contain the same levels of fat as heavy cream, it is very important that you follow the ratio that I've provided below in the recipe. If you use more eggnog than called for (and not enough heavy cream), the cream will not whip up properly.
Alternative: If you don't care for whipped cream, you could absolutely top this bundt cake with a simple glaze made from confectioner's sugar and eggnog.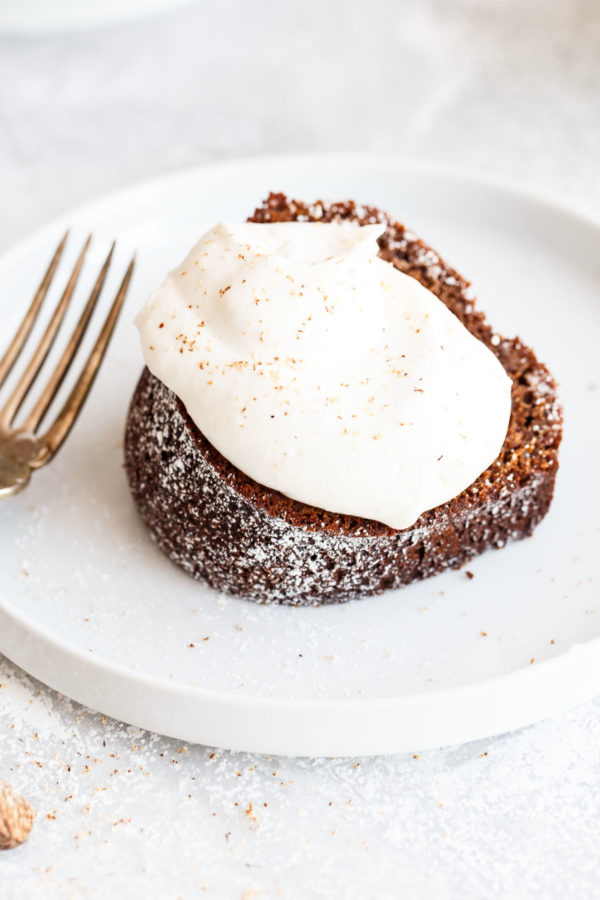 I know I say this a lot, but it really doesn't get more festive than this! Happy holidays!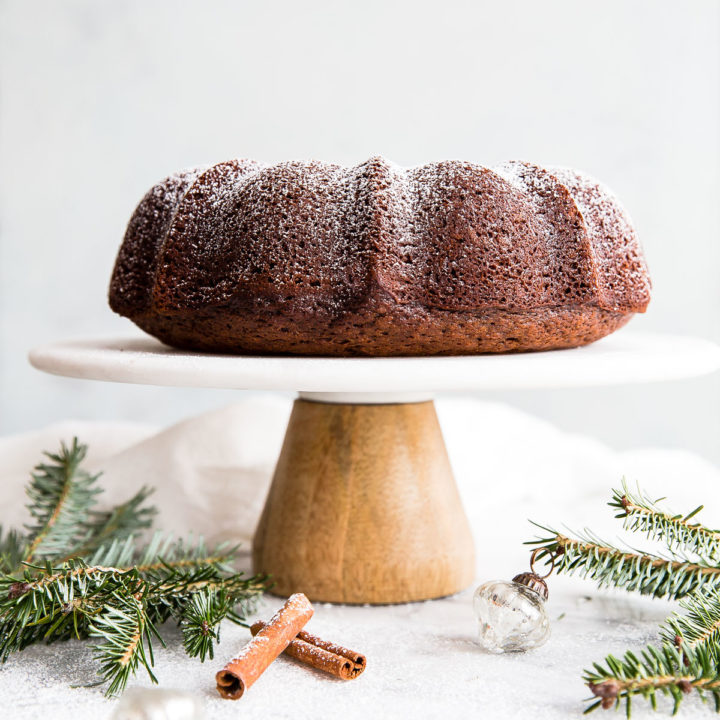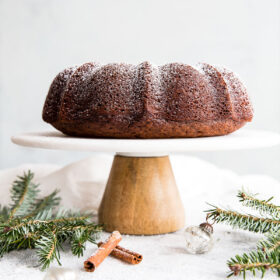 Gingerbread Bundt Cake with Eggnog Whipped Cream
Perfectly spiced gingerbread bundt cake served with a homemade eggnog whipped cream. A festive and simple holiday cake that can be made without a stand or hand-held mixer!
Ingredients
For the Cake
2½ cups (300 g) unbleached all-purpose flour
2½ teaspoons ground ginger
1½ teaspoons ground cinnamon
½ teaspoon ground cloves
½ teaspoon ground allspice
¾ teaspoon baking soda
¼ teaspoon baking powder
¾ teaspoon Diamond Crystal kosher salt
1 cup (210 g) packed dark brown sugar
¾ cup (180 mL) vegetable oil
½ cup (170 g) unsulphured molasses
3 large eggs room temperature
2 teaspoons pure vanilla extract
¾ cup (180 mL) buttermilk room temperature
powdered sugar for dusting
For the Eggnog Whipped Cream
½ cup (120 mL) chilled heavy cream
¼ cup (60 mL) whole-fat eggnog *I highly recommend Organic Valley brand
1 teaspoon (4 g) granulated sugar
½ teaspoon pure vanilla extract
freshly grated nutmeg for garnishing
Instructions
Prepare the Gingerbread Bundt Cake: Preheat the oven to 350°F (175°C) with a rack in the center position. Generously grease a 10 or 12-cup bundt cake pan and set aside.

In a medium bowl, whisk together the all-purpose flour, ginger, cinnamon, cloves, allspice, baking soda, baking powder, and salt. Set aside.

In a large bowl, whisk together the dark brown sugar, oil, molasses, eggs, and vanilla extract. Mix until no lumps remain. Pour in the buttermilk and whisk until smooth.

Add the flour mixture to the wet ingredients in two additions, whisking until the flour is just absorbed. Using a spatula, transfer the batter to the greased bundt pan. Bake for 40 to 45 minutes or until a toothpick inserted in the center comes out mostly clean, a few moist crumbs should be visible.

Set the pan with the cake on a rack for 10 minutes and then remove the cake from the pan. Let the cake cool completely on a wire rack. Just before serving, dust lightly with powdered sugar.

Prepare the Eggnog Whipped Cream: Combine the heavy cream, eggnog, granulated sugar, and vanilla extract in a medium bowl. Using a hand-held mixer or balloon whisk, whip the mixture until it reaches soft peaks. It will take a few minutes.

Slice the cake with a serrated knife and serve each piece with a dollop of eggnog whipped cream and a touch of freshly grated nutmeg. Serve.
How to Store:
Once the gingerbread cake has cooled, it is best to wrap it tightly in plastic wrap for storing. It can hold at room temperature for up to 3 days; it is best served the day it is baked.
The eggnog whipped cream can be prepared a few hours in advance and held in a covered container in the refrigerator.
Eggnog Whipped Cream based on Serious Eats ratios and method.
Serving: 1serving, Calories: 452kcal, Carbohydrates: 58g, Protein: 5g, Fat: 23g, Saturated Fat: 7g, Polyunsaturated Fat: 15g, Trans Fat: 1g, Cholesterol: 82mg, Sodium: 300mg, Sugar: 49g
This post contains affiliate links, which means that I make a small commission off items you purchase at no additional cost to you. Please read my
privacy policy
for more information.