No-Guilt Blueberry Almond Muffins
This post contains affiliate links.
A couple weekends ago, Connor and I went to visit his grandfather on his 100-acre farm just outside Buffalo, New York.  It was a relaxing weekend full of swimming, reading, champagne cocktails, and just enjoying the outdoors—something which I haven't done a lot of recently due to the crazy heat wave we've been having here on the East Coast.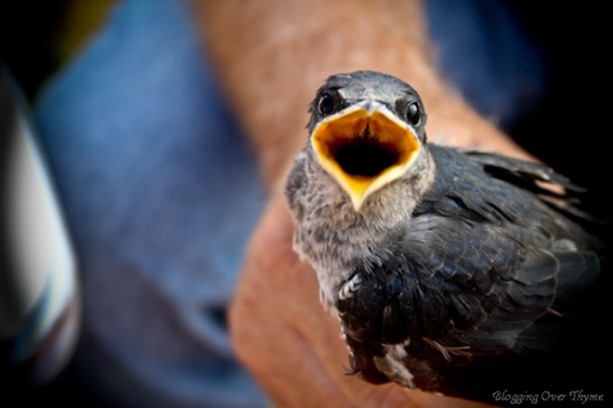 One of the most memorable parts, I must say, was devouring delicious, fresh, plump, warm-from-the-sun blueberries straight from the garden.  Even though I've had my share of blueberries over the summer, none of them have even come close in comparison.  Pure deliciousness!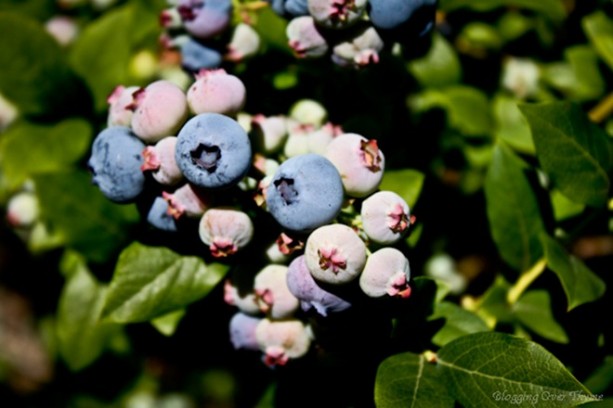 In fact, I think I've been thinking of them ever since.  So much so, in fact, that they were in the inspiration for my latest baking creation…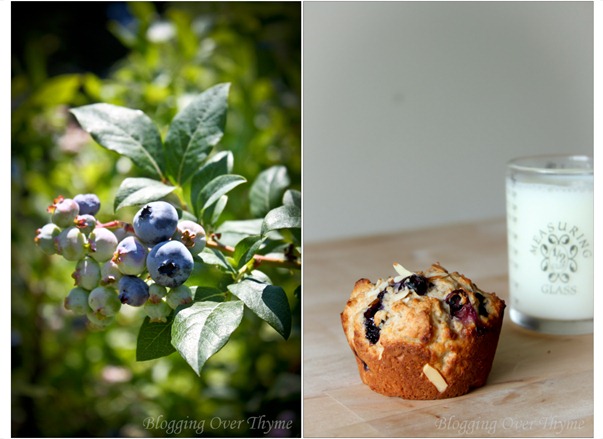 However, I wasn't looking to create just any old blueberry muffin.  I was ultimately hoping for one that wasn't overly indulgent or sweet.  Therefore, I looked to the internet for a little inspiration, substituted a bunch of ingredients, whipped up a batch, stuck them in the oven, and gave a little prayer.  This was the end result: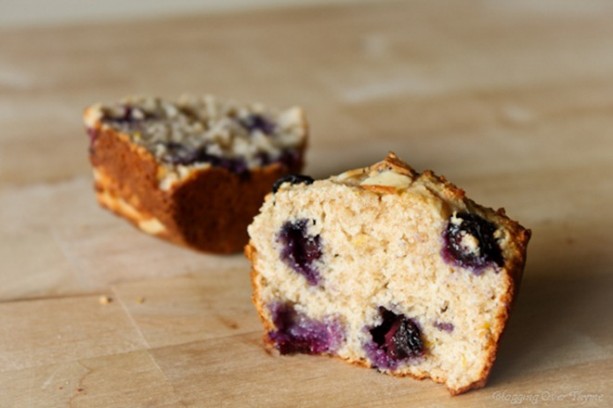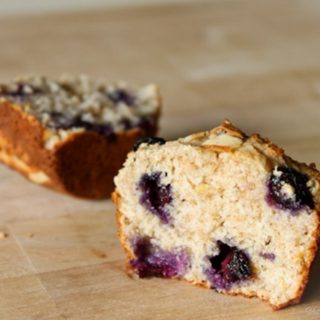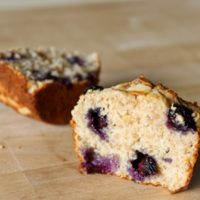 No Guilt Blueberry Almond Muffins
Yield: 9 Muffins
Prep Time: 15 minutes
Cook Time: 15 minutes
Total Time: 30 minutes
Ingredients
¾ cup whole wheat flour
¾ cup all-purpose unbleached flour
¼ tsp baking soda
1 ½ tsp baking powder
¼ tsp salt
1 egg, room temp
¾ cup non-fat greek yogurt
1/8 cup unsweetened apple sauce
3 tablespoons unsalted butter, softened
½ cup granulated sugar
zest of one lemon
¾ cup fresh blueberries
sliced almonds
Instructions
Preheat oven to 375 degrees Fahrenheit.
Grease muffin pan.Using mixer, beat together apple sauce, butter, and sugar until light and fluffy. Proceed to mix in egg, yogurt, and zest one at a time until mixed thoroughly.
In separate bowl, whisk together flours, baking powder, baking soda, and salt.
Using spatula, fold in half of the flour mixture until comes together. Add in additional half and gently fold into batter. Batter will be very thick and dough-like.
Add in fresh blueberries, gently folding in with spatula, being careful not to break the berries.
Using spoon, fill muffin pan about 7/8 full. Sprinkle sliced almonds onto each muffin.
Bake for 10-12 minutes (gas) or until golden brown and toothpick inserted comes clean. Cool on rack. Serve warm with butter.
Nutrition Information:
Yield: 9
Serving Size: 1
Amount Per Serving:
Calories: 251
Total Fat: 10g
Saturated Fat: 3g
Trans Fat: 0g
Unsaturated Fat: 6g
Cholesterol: 32mg
Sodium: 197mg
Carbohydrates: 35g
Fiber: 3g
Sugar: 14g
Protein: 8g
A Beautiful Plate provides nutritional information, but these figures should be considered estimates, as they are not calculated by a registered dietician.
*Nutritional Stats* ~170 calories & 5 grams protein/muffin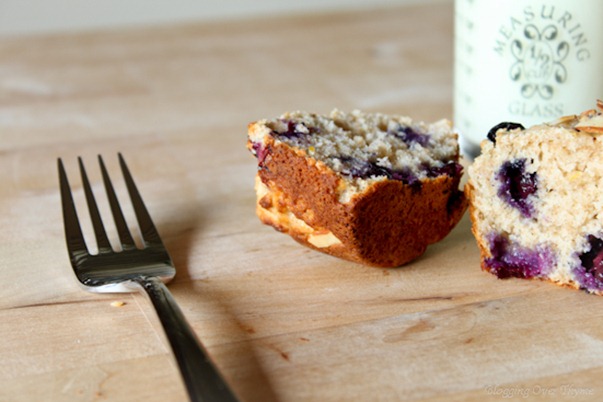 These muffins were exactly what I was hoping for and more—not too sweet, hearty from the whole wheat flour, juicy from the fresh blueberries, all with the added bonus of the slight crunch of almonds on top.  The recipe also comes together incredibly quickly!  Although these muffins are best the day of, they will last for days and are particularly good when served warm.
Now if only I could figure out how to grow some of those home-grown blueberries on my apartment balcony…
This post contains some affiliate links, which means that I make a small commission off items you purchase at no additional cost to you. Please read my
disclosure policy
for more information.