Pasta with Rapini and Hot Italian Sausage
This post contains affiliate links.
Several weeks ago,  Connor's family took us out to a popular restaurant in the heart of Arlington called Tallula.  One of the things I enjoy most about dining out is perusing the menu, inquiring about a waiter's favorite dish, and asking about any specials they may be offering that evening.
There are definitely moments where I take my time deciding between several dishes that may have caught my eye, but on many occasions, there will be one or two dishes that stand out among the rest.  In this case, it was an appetizer of homemade cavatelli pasta with escarole, chili flakes, and locally sourced veal sausage.  It arrived at the table piping hot, garnished with shavings of Parmigiano-Reggiano cheese, and full of flavor and spice.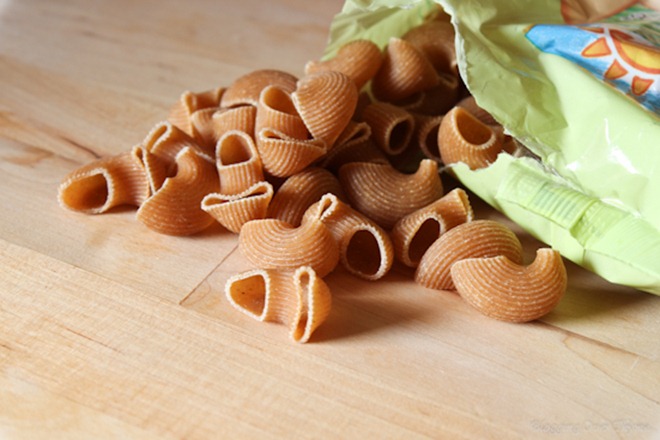 While I enjoyed it tremendously, I also happily came to the conclusion once I had devoured the whole plate, that this was exactly the type of dish I could easily recreate at home for an easy, satisfying dinner any day of the week.
Tip of the Day:  More and more, I find myself quickly jotting down flavor combinations or rough descriptions of a favorite dish while I'm out at a restaurant or café.  If you are extra nosy (like myself) and ask a lot of questions,  the waiters will often give you an idea of how to put the dish together too.  Send a text message to yourself or find a spare piece of paper to scribble on.  Instant inspiration for your next meal at home!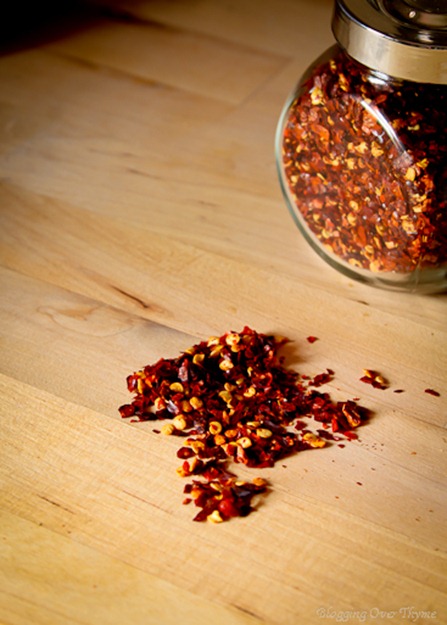 This past weekend, I decided to put my "dish recreation" skills to the test.  In an effort to get locally sourced meat, I turned to the Falls Church farmer's market, where I found Stachowski Brand Charcuterie's delicious, hot Italian pork sausage.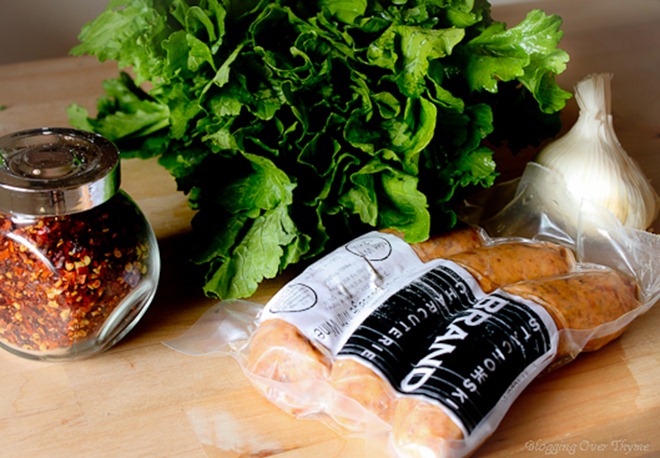 Though I was not able to find escarole, I easily substituted it with another leafy, quick-to-cook green in the form of rapini (otherwise known as Broccoli Rabe).  All the other components of the dish, pasta, hot pepper flakes, olive oil, Parmigiano-Reggiano, and garlic, were readily available in my pantry at home.
Quick, easy, satisfying, and exactly how I remembered it…but with my own little twists.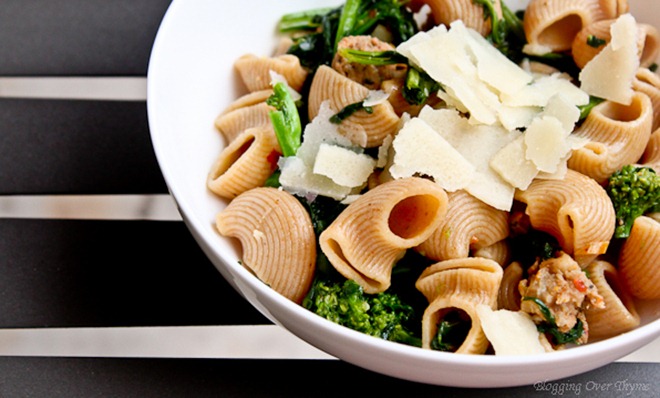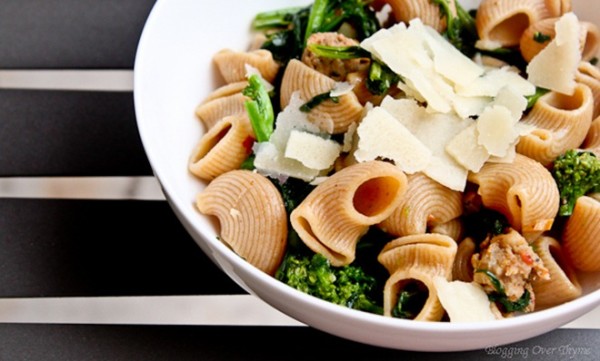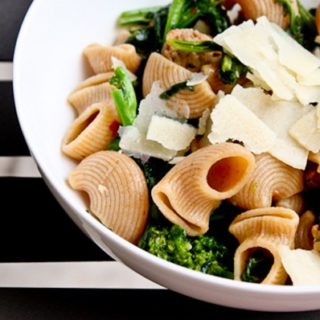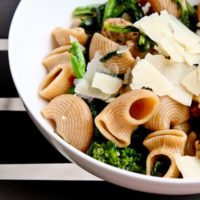 Pasta with Rapini and Hot Italian Sausage
Yield: 2-3 Servings
Prep Time: 15 minutes
Cook Time: 25 minutes
Total Time: 40 minutes
Ingredients
8 to 10 ounces chiocciole or fusili whole-wheat pasta
2-3 tablespoons extra virgin olive oil
2-3 cloves garlic, minced
3/4 teaspoon red hot pepper flakes
12 ounces hot Italian sausage (pork/chicken), casings removed
1 bunch of rapini (otherwise known as Broccoli Rabe)
1/2 cup pasta water
Parmigiano-Reggiano cheese, shaved (garnish)
Instructions
Prepare ingredients: Remove casings from sausages. Mince garlic. Trim and wash rapini, removing any tough stalks. Set aside.
Bring large pot of water to boil. Add salt and pasta and cook according to instructions.
While pasta is cooking, bring large non-stick skillet to medium-high heat. Add two tablespoons (roughly) of extra virgin olive oil. Add sausage (without casings). garlic, and red hot pepper flakes. Using wooden spoon, slowly break apart meat until in bite-size pieces, cooking until just pink.
Add rapini and pasta water. Bring heat to low. Cover pan and allow greens to steam slightly. Remove cover and allow mixture to cook slowly on low heat, allowing pasta water to evaporate slightly.
Drain pasta in colander and immediately add to skillet. Turn off heat and slowly stir until comes together.
Serve and garnish with shaved Parmigiano-Reggiano cheese.
Nutrition Information:
Yield: 3
Serving Size: 1
Amount Per Serving:
Calories: 631
Total Fat: 22g
Saturated Fat: 6g
Trans Fat: 0g
Unsaturated Fat: 15g
Cholesterol: 25mg
Sodium: 342mg
Carbohydrates: 90g
Fiber: 11g
Sugar: 3g
Protein: 26g
A Beautiful Plate provides nutritional information, but these figures should be considered estimates, as they are not calculated by a registered dietician.
This post contains some affiliate links, which means that I make a small commission off items you purchase at no additional cost to you. Please read my
disclosure policy
for more information.