Orecchiette with Spicy Sausage, Broccoli Rabe, Sun-Dried Tomatoes, and Olives
Orecchiette pasta tossed with spicy Italian sausage, broccoli rabe, sun-dried tomatoes, and kalamata olives. This spicy main course can be thrown together in less than 30 minutes and is one of my favorite weeknight pasta recipes.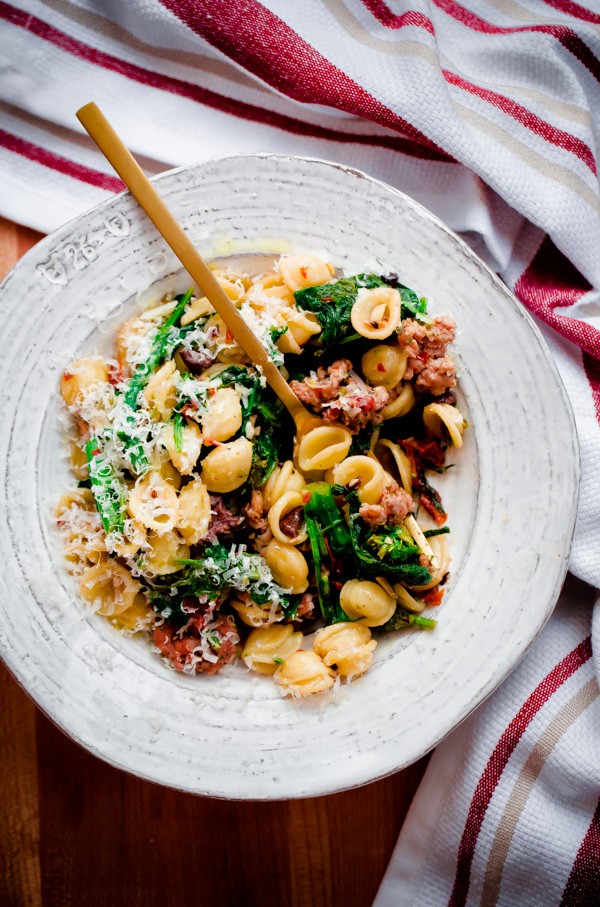 Do you like pasta? That's rhetorical.
Do you like spicy things? And broccoli rabe and garlic and kalamata olives and sun-dried tomatoes?
If you've answered yes to any of those questions (and well, how could you not love those things?!), this orecchiette pasta will become your new favorite weeknight dinner. It is easily one of my top five pastas that I make on a regular basis. Last month's whole wheat penne with walnut-sage pesto and this spaghetti all'amatriciana come very close. Don't make me choose!
But really, this pasta never disappoints and only requires a handful of ingredients, many of which you might already have on hand. Seriously simple and satisfying. If you're not feeling one particular ingredient, just leave it out. If you're not a fan of spicy foods, omit the red pepper flakes and use mild sausage instead.
You see where I'm going with this. It's extremely versatile!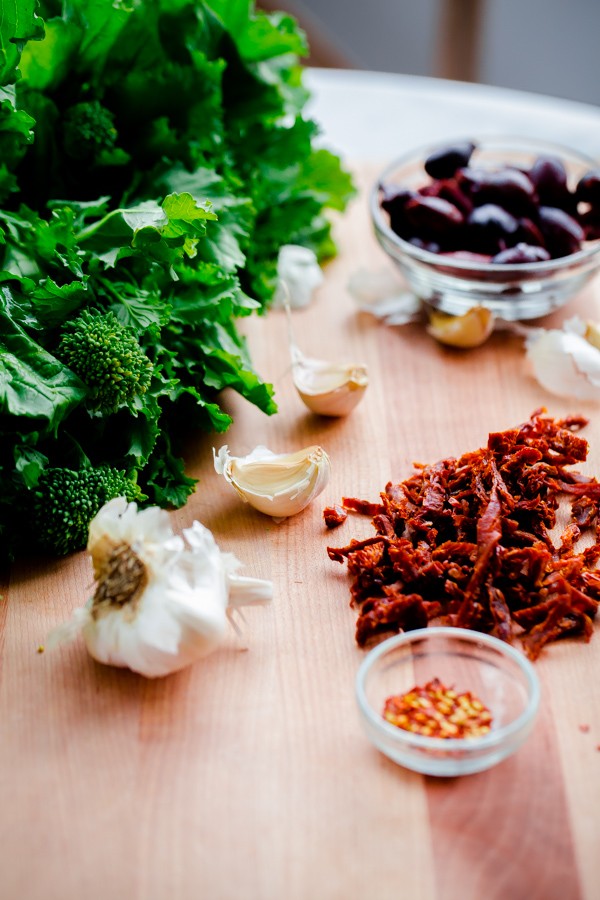 Why in the world it takes me so long to share my favorite everyday dinners with you, I'll never know. I promise, I'm working on it.
So, here's the deal with this recipe. It only takes about 30 minutes to prepare start to finish and you'll only need two pieces of cookware: one large pot and one large (preferably 10″ to 12″ inches, or the largest one you own!) skillet.
For this recipe, you'll want to use bulk spicy Italian sausage (or you can buy regular sausage links and remove them from their casings!). I use high-quality pork sausage, but honestly, anything will work for this! The most important step is to brown the sausage to develop tons of flavor.
This is where a skillet with a large surface area comes in handy, because if you over crowd the pan or add too much sausage at once during this step, you won't brown or caramelize the meat.
My biggest tip is to allow the skillet to fully heat up, add a touch of olive oil, break the sausage into small pieces with your hands, and gradually add them to the pan.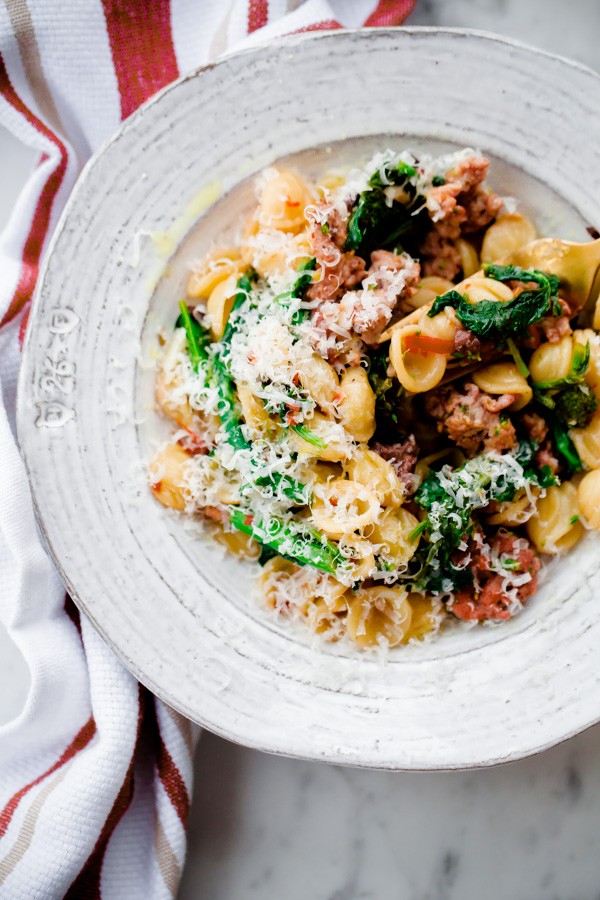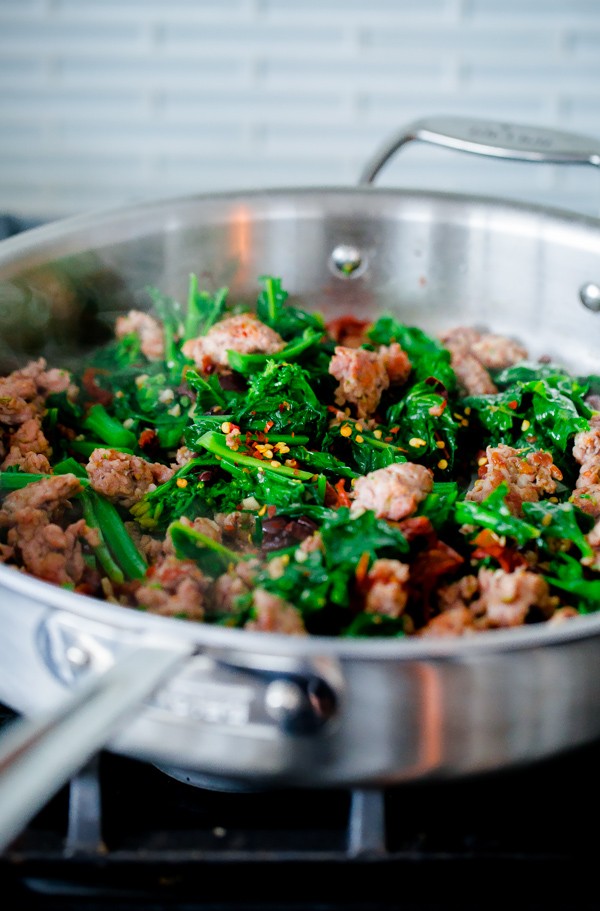 Once you've browned the sausage, simply add the chopped sun-dried tomatoes and kalamata olives to the pan, saute them for few minutes, and follow this with the chopped garlic. This recipe uses a lot of fresh garlic, but I wouldn't have it any other way.
When in doubt, add more garlic <— life cooking motto.
I also like to add more dried red pepper flakes into the mix, but adjust this amount according to your preferences.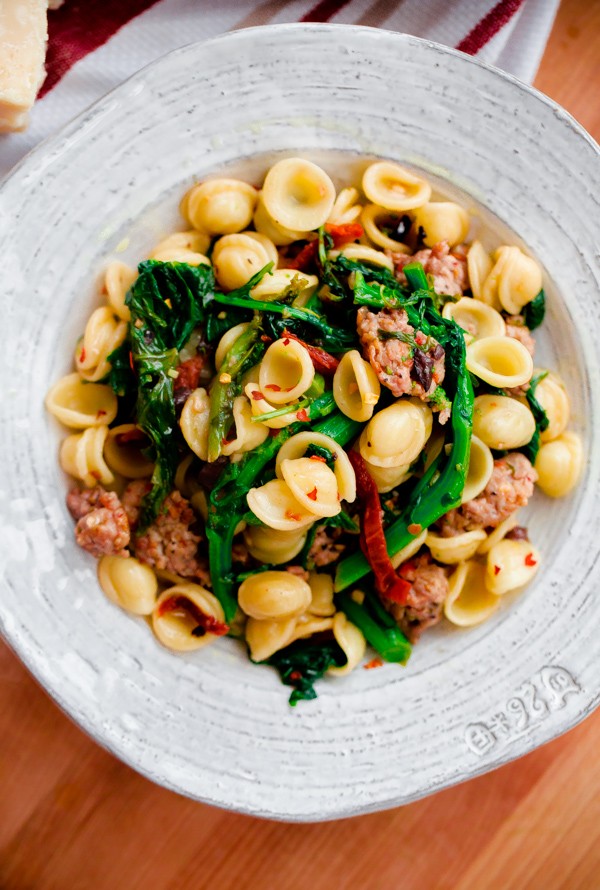 As you prepare and begin to brown the sausage, you'll want to bring a large pot of salted water to a boil. You're actually going to use this water for two cooking steps, in this order: blanching the broccoli rabe and cooking the orecchiette pasta.
The best part is that once you have blanched the broccoli rabe (this only takes about 1-2 minutes!), you can use the remaining boiling water to cook your pasta. The salted blanching water has the added effect of helping the broccoli rabe keep its beautiful green color. I love when that happens!
The wilted and blanched broccoli rabe gets added directly to the skillet – I find the easiest way to transfer the broccoli rabe to the skillet is to scoop it up with a medium fine mesh sieve from the pot- and this helps de-glaze and pick up any delicious brown bits from the bottom of the pan.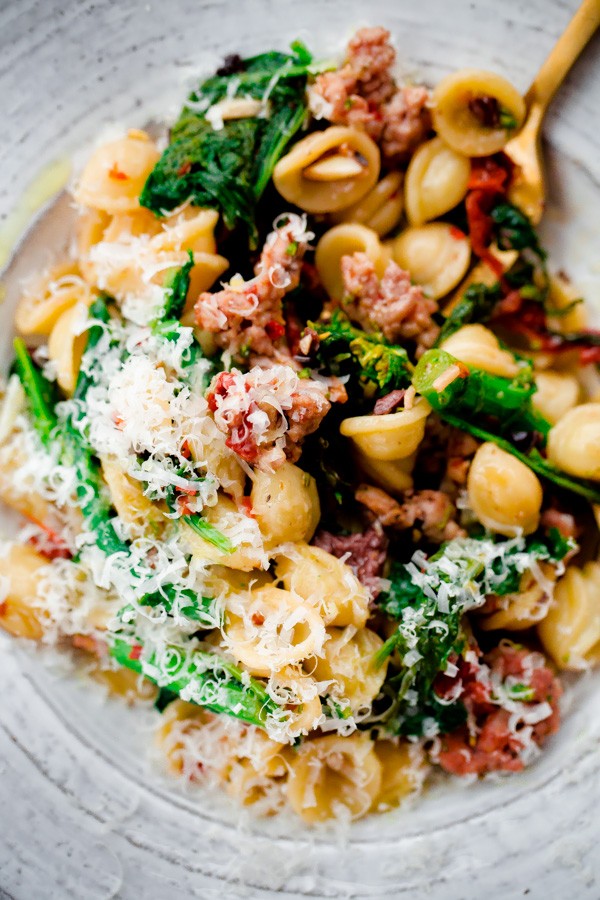 Next up! Cook the orecchiette pasta, toss it all together, drizzle it with a bit of olive oil, and serve!
I use an extremely large skillet (think 13-inches in diameter), so I add the pasta directly the skillet to finish cooking. If your skillet is not quite large enough to accommodate this, simply add the drained pasta back into the large pot, drizzle with a little bit of olive oil, and scrape the contents of the skillet into the pot and toss.
Serve and top with freshly grated parmigiano-reggiano cheese and try not go to back for seconds and thirds. Enjoy!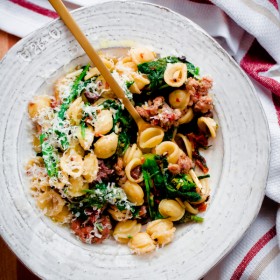 Orecchiette with Italian Sausage, Broccoli Rabe, Sun-Dried Tomatoes, and Olives
Ingredients:
2 tablespoons extra virgin olive oil, plus more for drizzling
1 lb bulk spicy Italian sausage (aka. sausage without the casings)
1/3 cup chopped dry or oil-packed sun-dried tomatoes *see note section
1/2 cup chopped pitted and drained kalamata olives
5-6 large cloves of garlic, finely chopped
1 large bunch (roughly 1 lb) of broccoli rabe, rinsed and any tough stems trimmed and discarded
1 lb regular or whole-wheat orecchiette pasta
1/4 teaspoon dried red pepper flakes
grated parmigiano-reggiano cheese
Directions:
Rinse and trim any tough ends of the broccoli rabe. Stack and bunch the leafs together and roughly chop into large pieces. Set aside.
Bring a large pot of salted water to a boil. Meanwhile, heat a large skillet with oil (preferably 10″- 12″ inches or larger) over medium-high heat. Add the sausage, breaking it into small pieces as you add it to the hot pan. It should sizzle when it hits the hot oil. If it does not sizzle, adjust the heat as necessary. Brown the sausage, breaking any large pieces up with a wooden spoon, for 4-5 minutes, or until mostly cooked through and evenly caramelized on all sides.
Add the chopped sun-dried tomatoes and olives to the skillet, and saute for 1 to 2 minutes, stirring frequently. Add the chopped garlic to the skillet and saute, stirring constantly, for 30 seconds to 1 minute, or until fragrant.
Meanwhile, add the chopped broccoli rabe to the boiling water and blanch for 1 to 2 minutes, or until just wilted. Using a fine mesh sieve (or large tongs), remove the blanched broccoli rabe from the water – do not discard or drain the water, as you will be using this to cook the pasta – and add to the skillet along with the sausage. You will need to do this in batches. Don't worry if some cooking water comes with the broccoli rabe, as this will help de-glaze and pick up any caramelized bits from the bottom of the pan. Place the skillet over low heat to keep warm, stirring occasionally, and season to taste with salt and pepper.
Bring the pot of blanching water back to a boil, if it is not already. It will be slightly green from blanching the vegetables, but this will not transfer itself to the cooked pasta – so don't worry! Cook the pasta until al dente, reserving some of the pasta cooking water.
Scoop and drain the pasta and add directly to the skillet (if large enough to accommodate) to finish cooking – or drain the pasta in a colander, place back into the pot, drizzle and toss with olive oil, and scrape the contents of the skillet into the pot. Add the red pepper flakes and toss to combine. Serve immediately and top with freshly grated parmigiano-reggiano cheese.
You are welcome to use dry or oil-packed sun-dried tomatoes for this recipe. Some dry sun-dried tomatoes are relatively moist and tender and can be used as is, but if yours are very dry, I recommend re-hydrating them briefly in hot water before chopping and adding to the skillet.
If using oil-packed sun-dried tomatoes, simply drain the oil before using.
All images and text ©
.