Broccoli Rabe and Sausage Pasta
Broccoli rabe and sausage pasta. This spicy main course is packed with flavor, can be thrown together in less than 30 minutes, and is one of my all-time favorite pasta recipes!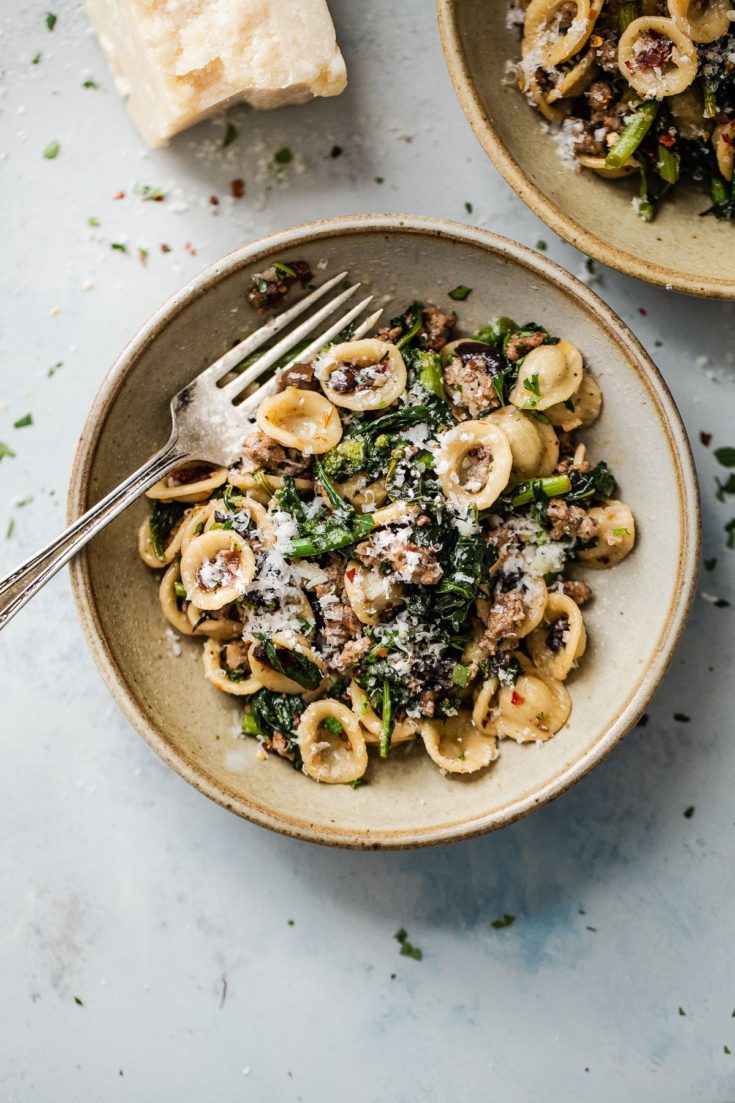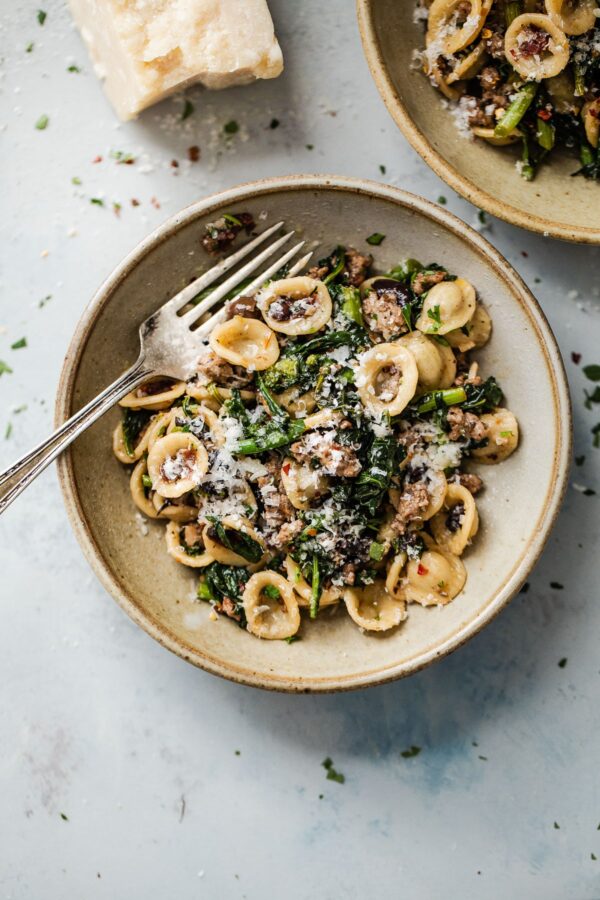 Say hello to one of my top five favorite pasta recipes!
We make this broccoli rabe and sausage pasta every few weeks, it is that delicious. It is the type of dish that you'll make over and over again, and can be adapted to suit your tastes (or dietary preference).
Broccoli rabe and sausage pasta isn't anything new and different. It is a classic Italian pasta dish, but I've given it a few simple twists that take it over the top.
My recipe below uses spicy Hot Italian pork sausage and adds kalamata olives, umami rich sun-dried tomatoes, and lots and lots of fresh garlic into the mix. Just before serving, this sausage mixture is tossed with orecchiette pasta (or any other textured small pasta of choice!).
Quite simply put, these ingredients work magic together! This pasta is spicy, briny, incredibly flavorful, and so easy to prepare. It has a little bit of everything. Best of all, it comes together in less than 30 minutes.
I originally shared this recipe a few years ago and am sharing a slightly updated version today with new photos. It deserves some attention in the spotlight!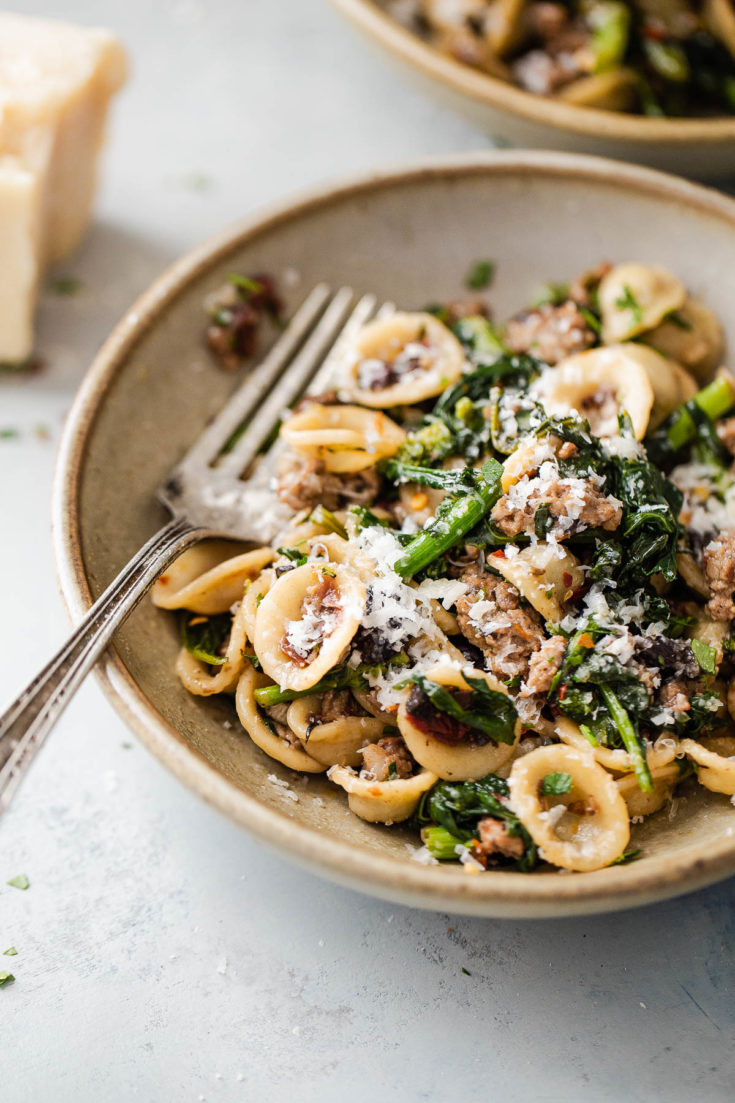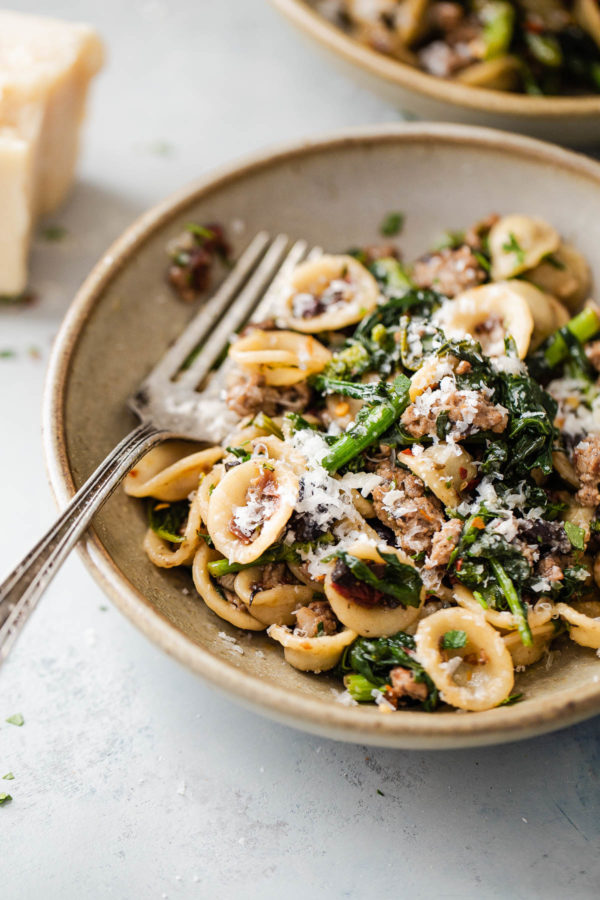 If you're not feeling one particular ingredient, just leave it out. If you're not a fan of spicy foods, use mild sausage and omit the additional red pepper flakes. If you don't like pork, substitute it with chicken or turkey sausage. If you're vegetarian, feel free to leave out the sausage altogether.
You see where I'm going with this. This broccoli rabe pasta is extremely versatile!
What is Broccoli Rabe?
I've always loved broccoli rabe, but this recipe made me a broccoli rabe convert. If you've never cooked or prepared broccoli rabe before, this is a great way to introduce yourself to the green.
Broccoli rabe (pronounced broccoli rahb) is a green vegetable related to the cabbage and turnip family. It sometimes goes by the name of rapini or Italian broccoli, and comes in large bunches with very small broccoli-like buds. Like other bitter greens, broccoli rabe is packed with nutrients and is very high in Vitamin K and C, dietary fiber, and iron.
Broccoli rabe is known for its slightly bitter flavor, which is balanced and complemented by the other ingredients in this pasta. The slightly bitter flavor makes this green so complex and flavorful, much more so than other basic greens.
For this recipe, we'll be roughly chopping the entire bunch of broccoli rabe and blanching it briefly in boiling salted water, before sautéing it with the sausage, olive, sun-dried tomato, and garlic mixture. The stems, leaves, and buds are all edible and contribute great texture to the pasta. As the rabe cooks down, the bitterness becomes more delicate.
Broccoli Rabe vs Broccolini
Broccoli rabe should not be confused with broccolini, which is much smaller and resembles long slender broccoli stalks. Broccolini is a cross between Chinese kale and traditional broccoli, and is better suited for roasting and other preparations.
If you can't find broccoli rabe for this recipe, the next best alternative would be kale or spinach (just skip the blanching step, if using spinach!).


How to Make Broccoli Rabe and Sausage Pasta:
This broccoli rabe pasta takes about 30 minutes to prepare start to finish. You'll need two pieces of equipment: one large pot and one large (preferably 10″ to 12″ inches, or larger!) stainless steel skillet.
I recommend high-quality hot Italian pork sausage for this recipe. You can use bulk sausage or traditional sausage links. I recommend removing and discarding the casings, as it allows the sausage to be better distributed in the final pasta.
One of the most important steps in this recipe is to brown and caramelize the sausage to develop tons of flavor. To do this, you'll need a large skillet. If the pan is too small, the sausage will be over-crowded and the meat will steam and not brown properly.
We'll be using the large pot to blanch the broccoli rabe greens, as well as to cook the pasta. This eliminates the need to dirty up additional pots. Since we'll be transferring the blanched greens (and pasta) directly to the skillet with the sausage mixture, you'll also want a large slotted spoon or kitchen spider on hand.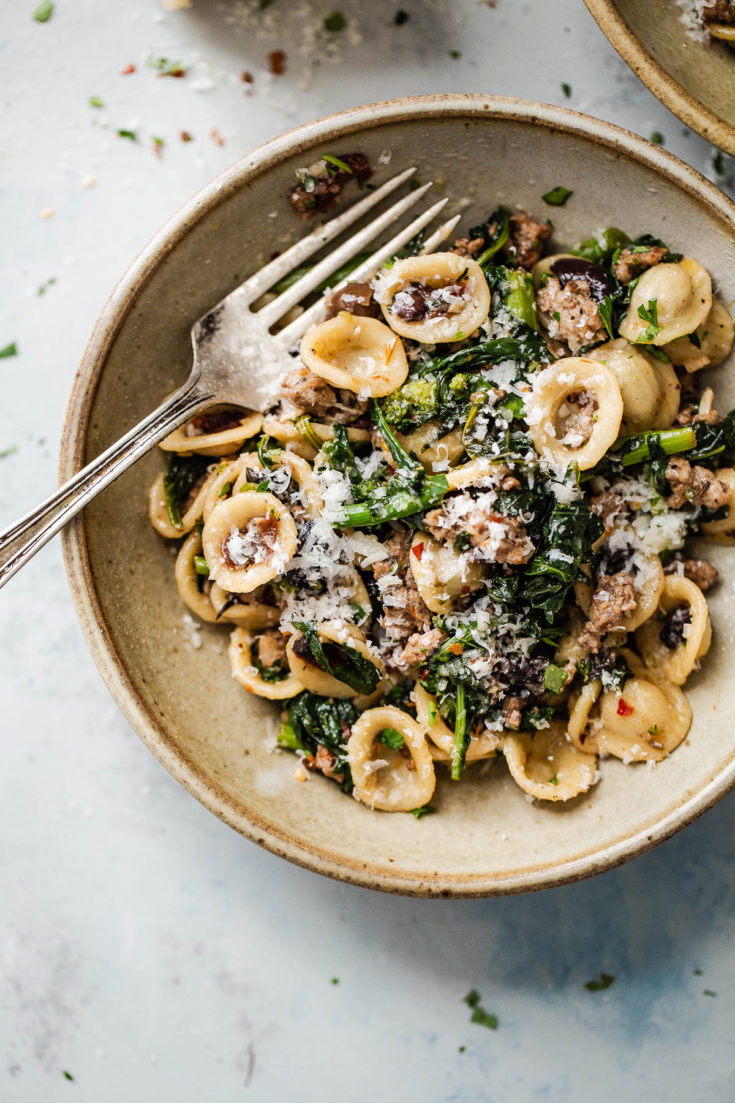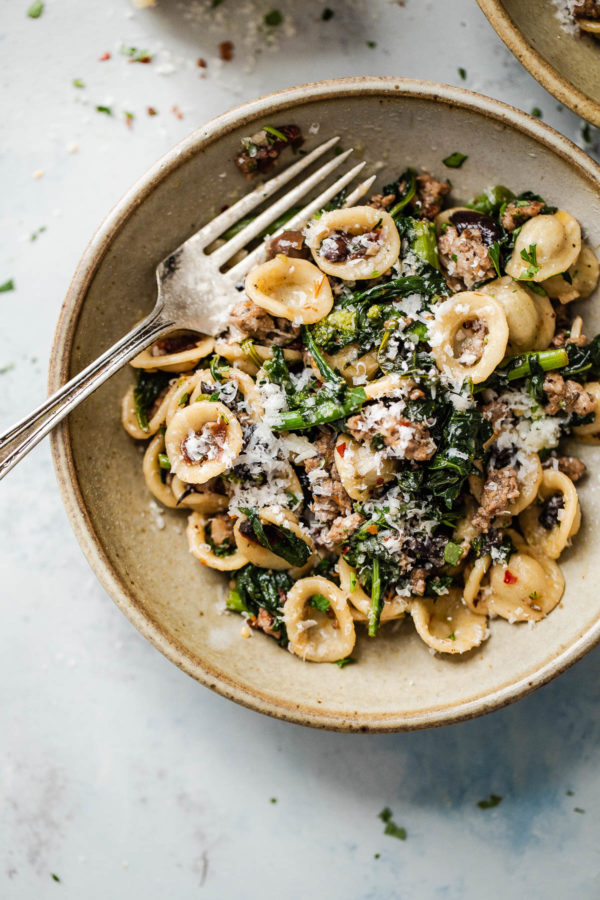 If you love this recipe, be sure to try this romanesco cauliflower pasta or this fennel pasta next!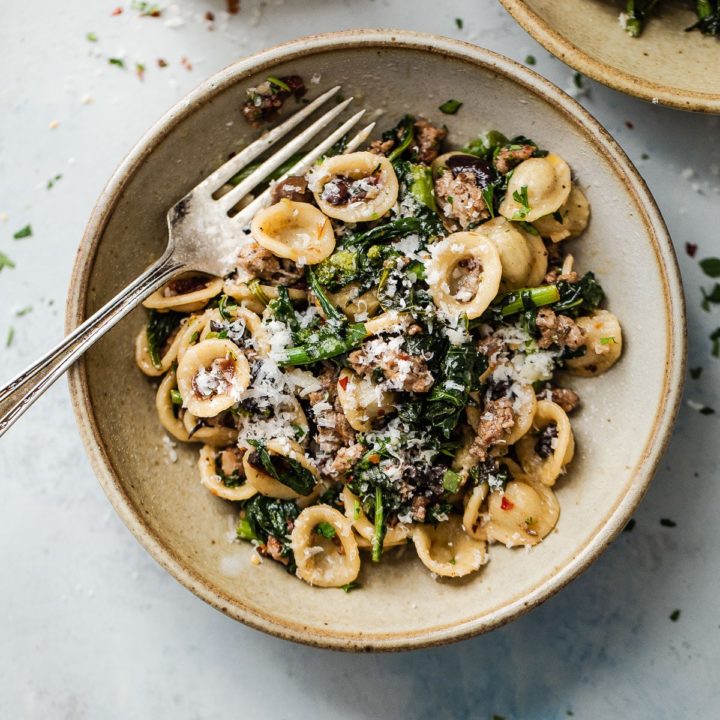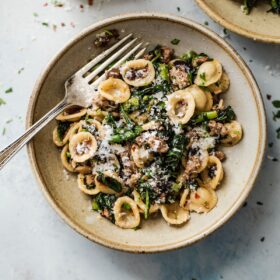 Broccoli Rabe and Sausage Pasta
This simple broccoli rabe and sausage pasta is bursting with flavor, and comes together so quickly. The slightly bitter broccoli rabe and spicy Hot Italian pork sausage are balanced with umami rich sun-dried tomatoes and briny kalamata olives. This pasta is a crowd-pleaser and one of our favorite weekday dinner recipes! If you do not eat pork, feel free to substitute it with spicy chicken sausage or leave it out altogether.
Ingredients
2 tablespoons extra virgin olive oil plus more for drizzling
12-16 ounces Hot Italian pork sausage casings removed
⅓ cup olive oil-packed sun-dried tomatoes finely chopped
½ cup pitted and drained kalamata olives roughly chopped
5-6 large garlic cloves finely chopped
¼ teaspoon dried red pepper flakes
1 large bunch broccoli rabe (about 1 lb) roughly chopped
12 ounces orecchiette or other textured short pasta
kosher salt to taste
freshly ground black pepper to taste
grated parmigiano-reggiano cheese for serving
Instructions
Bring a large pot of salted water to a boil. Heat the olive oil in a large skillet over medium-high heat. Add the sausage, breaking it into small pieces as you add it to the hot pan. Brown the sausage until mostly cooked through and evenly caramelized.

Add the olives and sun-dried tomatoes to the skillet. Sauté over medium heat for 1 to 2 minutes, stirring frequently. Add the chopped garlic and red pepper flakes and cook, stirring constantly, for about 30 seconds or until fragrant.

Add the chopped broccoli rabe to the boiling water, blanch for 1 to 2 minutes, or until just wilted. Using a skimmer, fine-meshed sieve, or large slotted spoon, transfer the blanched broccoli rabe to the skillet. Stir mixture together until evenly combined. Do not discard the water, you'll be using it to cook the pasta! Keep the skillet over medium-low heat to continuing gently sauteeinkeep warm, stirring occasionally, and season to taste with salt and pepper.

Bring the pot of blanching water back to a boil. Cook the pasta until al dente, reserving a cup or so of the pasta cooking water.

Scoop and drain the pasta, and add it directly to the skillet to finish cooking. Gently toss pasta with the sausage and broccoli rabe mixture, adding reserved pasta water to thin if desired, until evenly combined. Season with salt and pepper to taste.

Serve pasta with grated parmigiano-reggiano cheese and a light drizzle of high-quality extra virgin olive oil (if desired).
Tips for Success:
While I prefer using pork sausage (casings removed) for this pasta dish, feel free to substitute it with Hot Italian chicken or turkey sausage if that is your preference.
Alternatively, you can make this dish vegetarian by omitting the sausage altogether.
Serving: 1serving, Calories: 552kcal, Carbohydrates: 30g, Protein: 23g, Fat: 38g, Saturated Fat: 11g, Polyunsaturated Fat: 29g, Cholesterol: 53mg, Sodium: 998mg, Fiber: 3g, Sugar: 2g
This post contains affiliate links, which means that I make a small commission off items you purchase at no additional cost to you. Please read my
privacy policy
for more information.