Our Kitchen Tour
After sharing many recipes and dishes with all of you, I realized that I still haven't shared a tour of the actual space in which I make all of the food featured on this blog. 
It only seems right, don't you think?  Without further ado, come on in…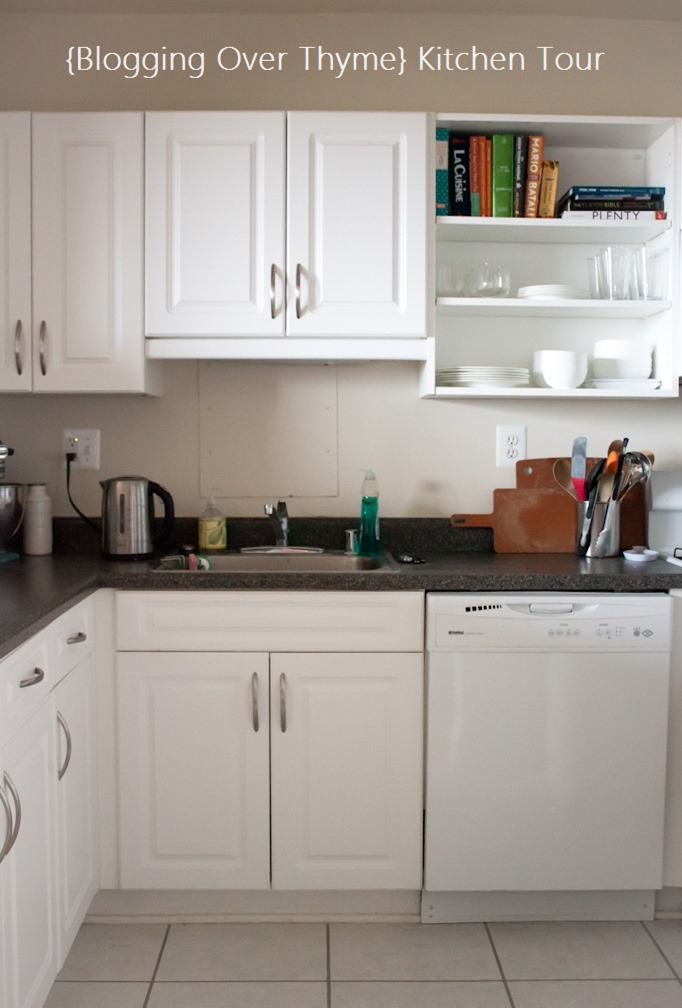 Believe it or not, my stove is normally this clean…
Only because I spend about half of my life cleaning it! Ok, that is a slight exaggeration, but you can find me scrubbing this thing almost every other day. I can go weeks with a messy closet, but splatter marks and stains on this thing drive me bonkers.
I go through a lot of Brillo pads by the way.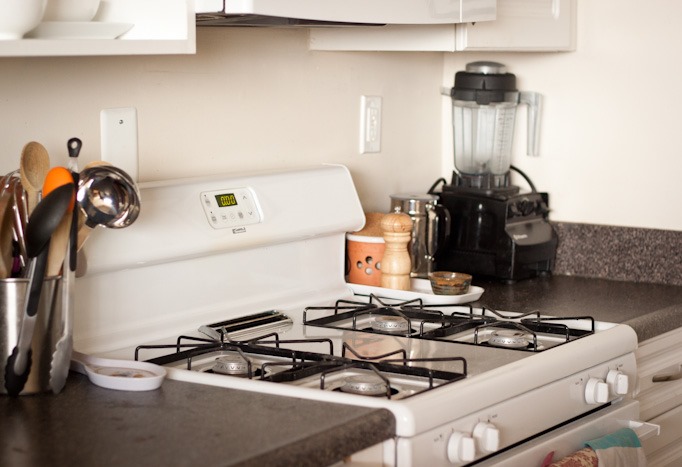 The cabinet below the right of the stove holds most of my skillets and non-stick pans, as well as my beloved 5.5 Quart Staub Dutch-oven.
I honestly believe these are the best-quality Dutch ovens on the market and they are quite pretty to stare at.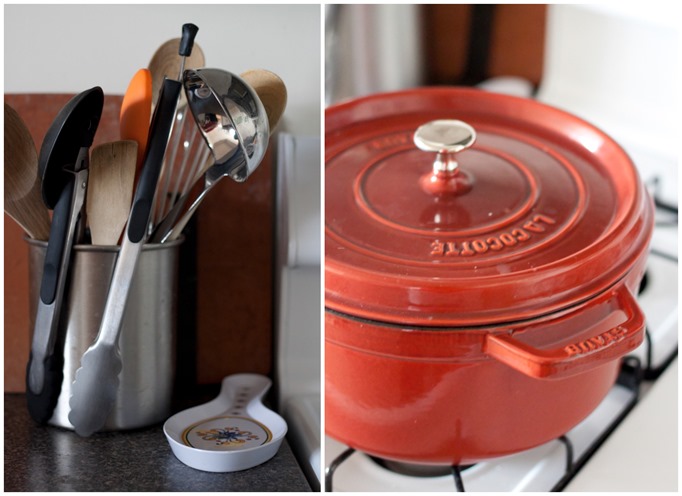 On an unrelated note…
Can we all agree that cabinets above fridges are completely useless? Especially when you need to use the top of your fridge for additional storage? Hence, the lack of pictures of that cabinet.
In case any of you are curious, yes, that's a obscenely large container of coffee from Costco that I have a love/hate relationship with. Love in the sense that it means I don't have to buy coffee very often and hate because it is huge and obnoxious.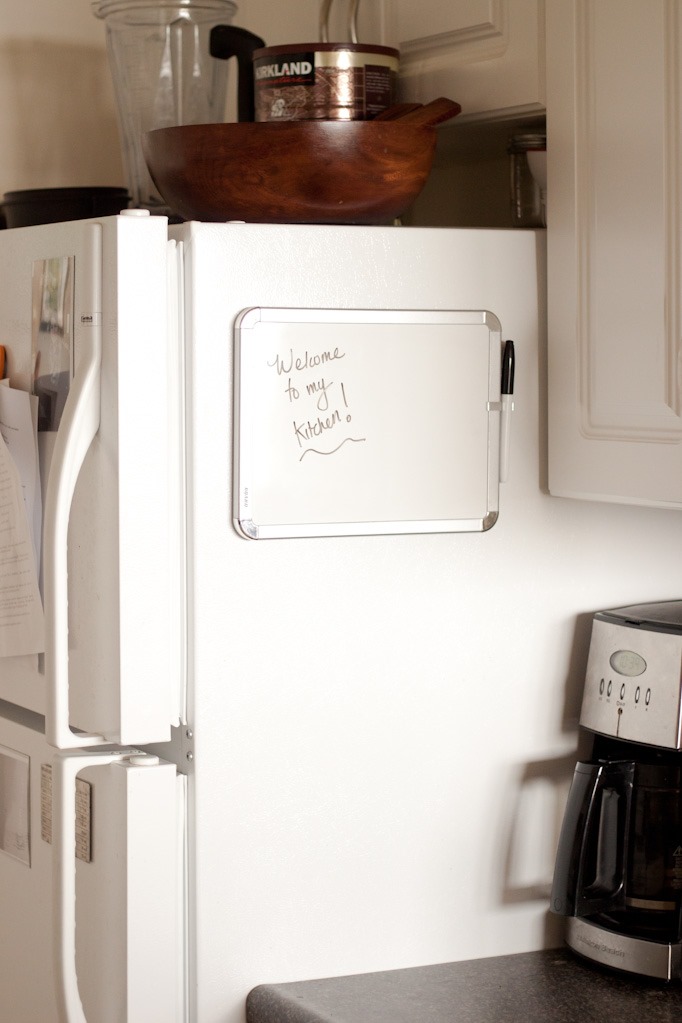 Below the coffee maker (and toaster) is an area where I store more pots and pans—making them easy to grab from the stove!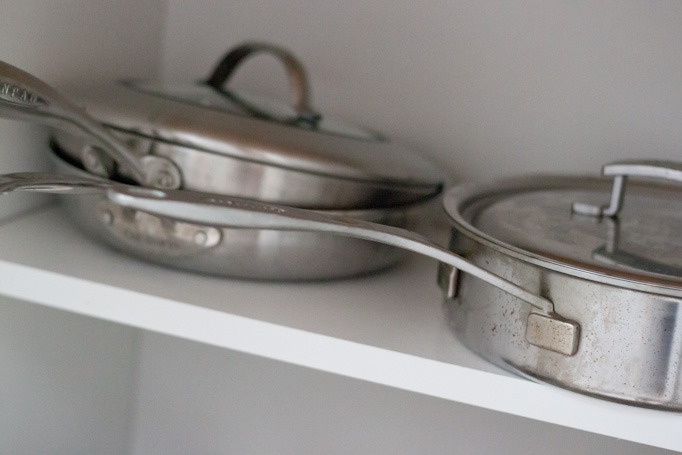 The cabinet above houses all of my spices and bulk storage. I recently bought a really cheap label maker ($10) and it has made a huge difference.  Gone are the days where I had to pull out container after container to find what I was looking for!
I love using these quart mason jars to hold grains and other bulk bin items. These ones aren't labeled, mostly because they are easy enough to tell apart.  It also makes it easy to swap them out for different uses. Mason jars make the world go round!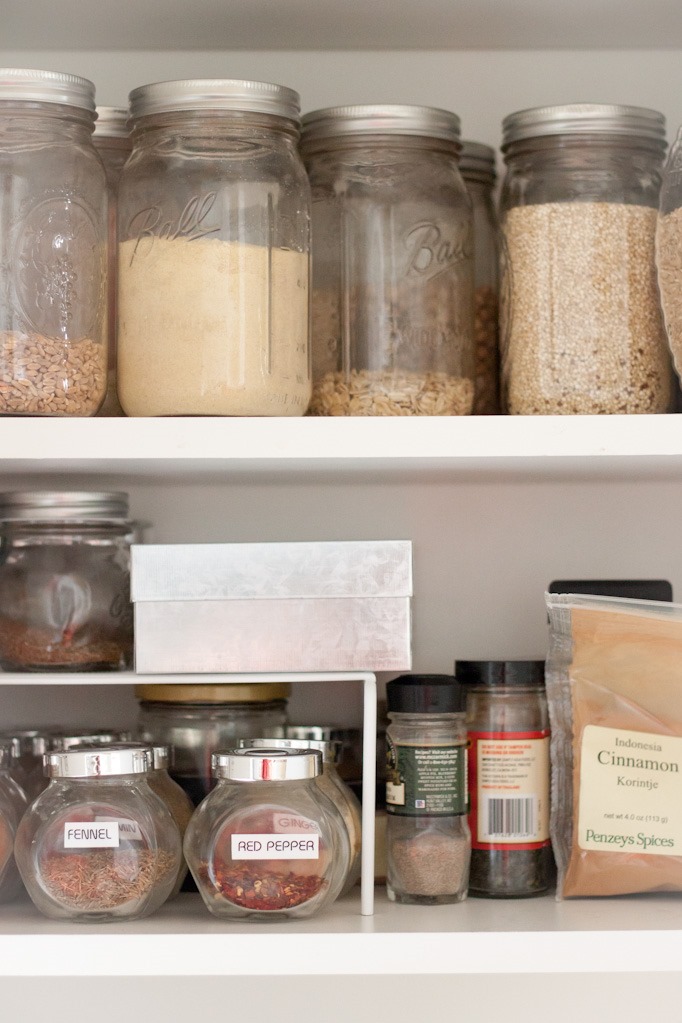 The cabinet right above the sink is pantry space (I also use two shelves in my hallway closet for any over flow)…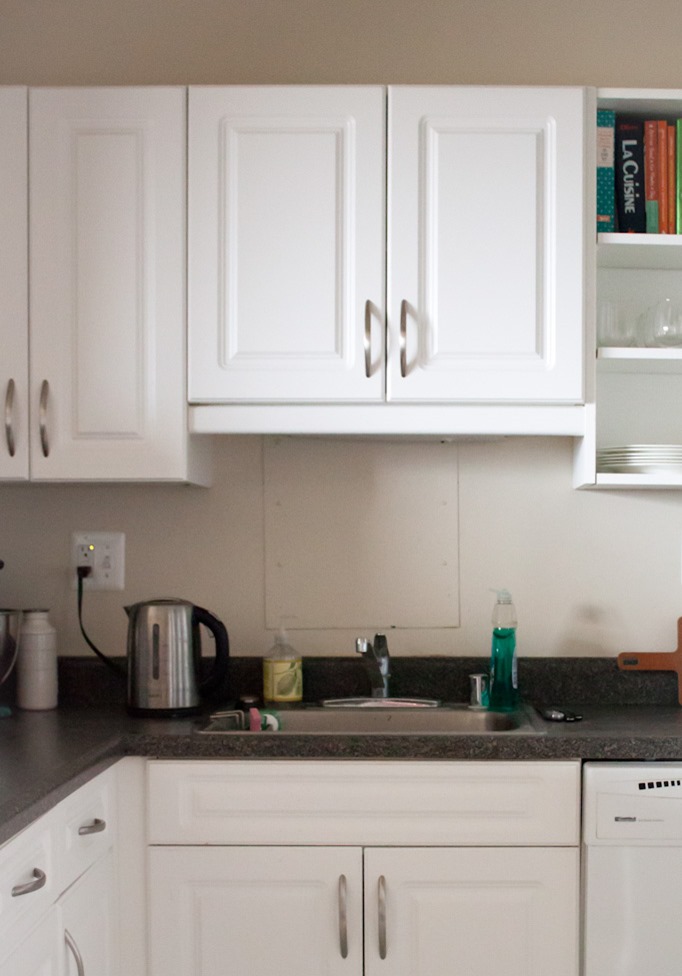 You will often find me opening those doors, staring at the contents, and lamenting about how I can't find anything to snack on. 
True story.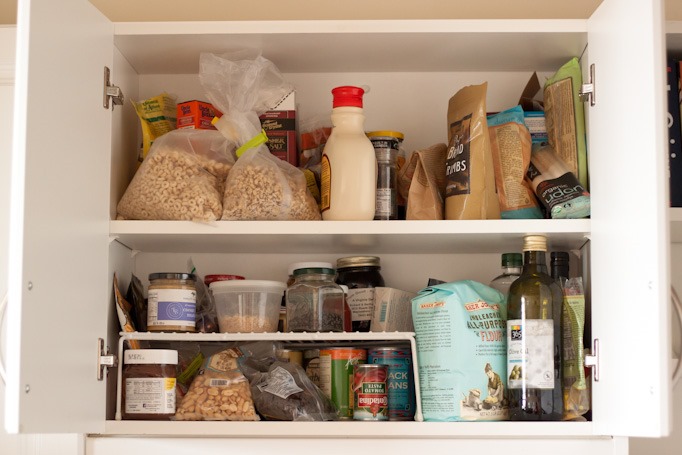 I'm so grateful for the big stretch of countertop space below and it is my favorite part of this kitchen.  One of the cabinets on this side of the kitchen houses, among other things, my rice cooker…
It is really easy to store out of sight (even though I bring it out a lot), because it is incredibly lightweight and has a really convenient handle to pick it up.  I also keep a huge one-gallon glass jar (which I saved from being thrown out at the restaurant and then carried home on the metro!) filled with sushi rice down there…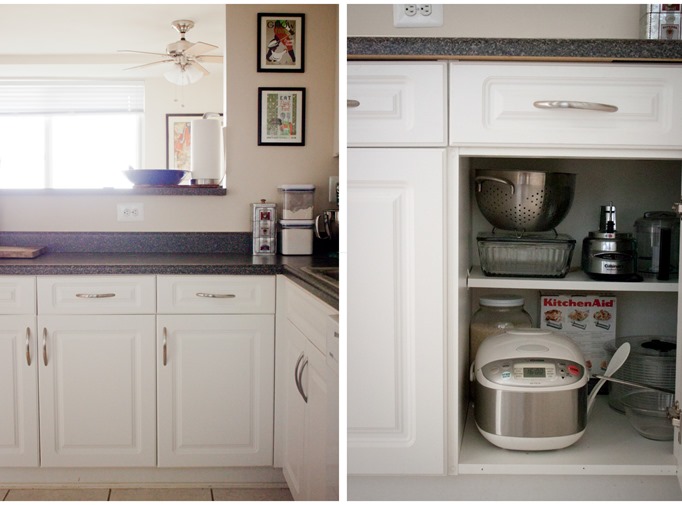 The other cabinet is dedicated entirely to baking stuff. 
I use the top shelf for storing things like flours, sugars, and chocolate chips.  The bottom space holds my mixing bowls, baking sheets and dishes, as well as a large container that holds stuff that is really easy to lose track of (candy thermometer and the tiny attachments for my ice cream bowl).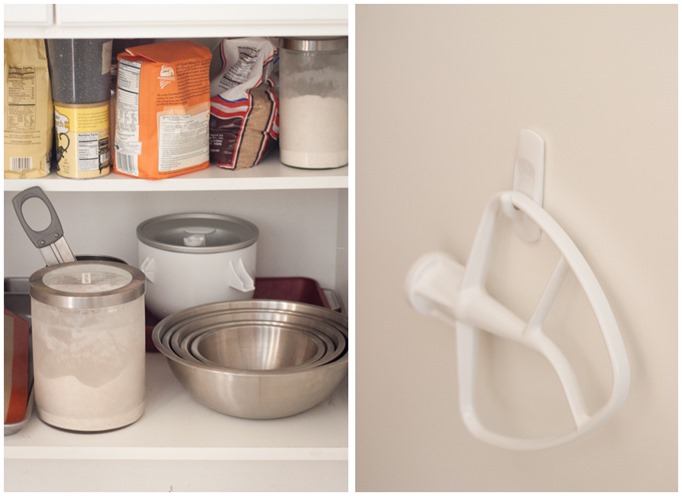 That set of light-weight, stainless steel mixing bowls is something I purchased about a year ago and use on a daily basis.  I use these bowls as double broilers, waste prep bowls, etc.  I searched high and low for these (most sets out there are either way too heavy, have weird rubber bottoms, or are too tall and skinny, as opposed to wide and shallow). I really wanted the cheap kind we used in culinary school and at the restaurant—and this set from Williams-Sonoma is the closest version to those that I've found.
I recently added removable-adhesive hooks to the sides of the cabinet doors to hang my stand mixer attachments.  I have one on either door for both the paddle and dough hook—and just store the wire whisk in the bowl.  Saves space and makes them easy to grab and put away!  (Thank you, Pinterest.)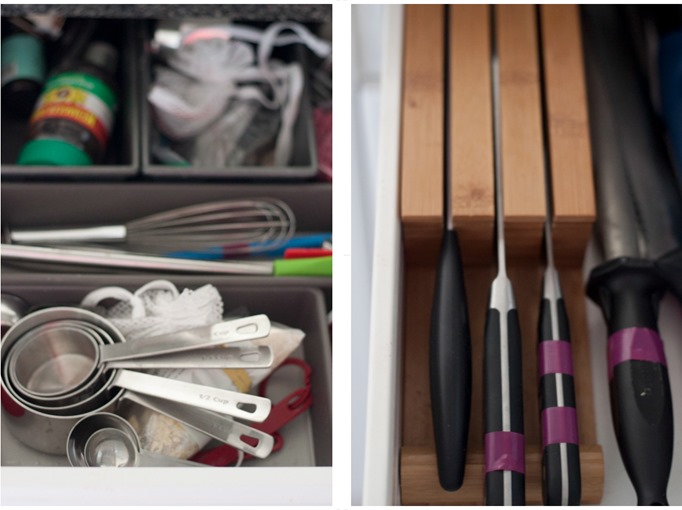 Right above that cabinet, I have several drawers–one of which is dedicated completely to small baking stuff, like measuring cups, spoons, piping tips, whisks, spatulas, and biscuit cutters.  Baking powder and baking soda are put in there too, for easy access!  The other two drawers are dedicated to cutlery and knives.
I have a few of those drawer dividers, but the containers in the back are actually loaf pans, which I double purpose as storage containers.  They are just the right height that I can still close the drawers.  It's nice to get an additional use out of the them and they are easy to grab for baking as well!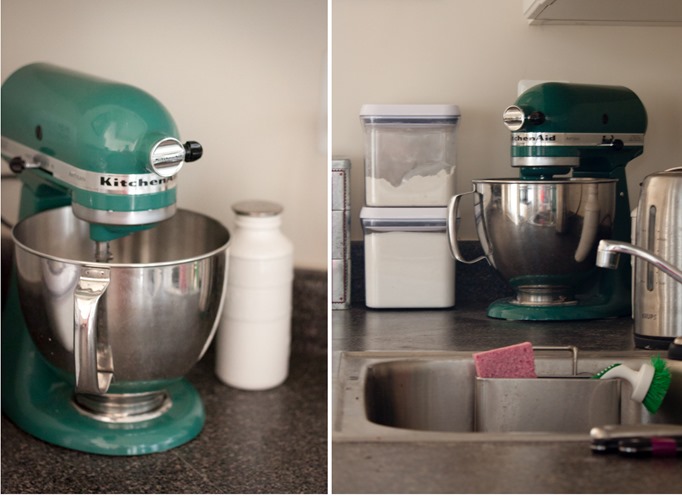 My KitchenAid mixer has a permanent space on my countertop—tucked into the corner. I love this thing, but it is far too heavy to put anywhere else! The milk bottle measuring cups (a birthday gift from my best friend) are also too cute not to display (I don't recommend using anything from Anthropologie for baking—they are anything but accurate—but they do work well for small prep bowls or storage).
Since we live in a rental apartment and can't do much to the kitchen, I've tried to add as much personality as possible.  Some of my favorite details are the whisk clock (gifted by my oldest sister last Christmas), as well as these food prints by Joe Wirtheim (originally discovered on Kath's blog).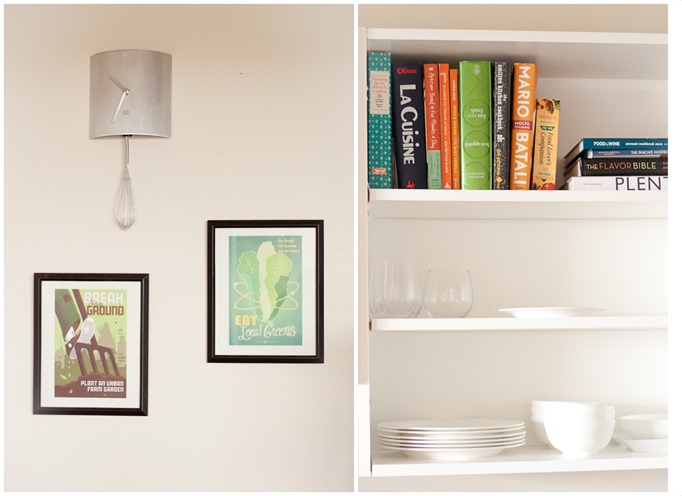 I also gave the kitchen a spontaneous mini-makeover not too long ago (which some of you may remember), where I removed one set of cabinet doors to create some open shelving.  It has surprisingly opened up the kitchen a lot and given space to show off a small amount of my cookbook collection.  
Hope you enjoyed getting a little peek into our kitchen!  Maybe next time a behind-the-scenes glimpse into a blog post photo shoot?  
This post contains affiliate links, which means that I make a small commission off items you purchase at no additional cost to you. Please read my
privacy policy
for more information.