Parmesan Thyme Buttermilk Biscuits
These buttermilk biscuits are incredibly fluffy and light and flavored with fresh thyme and grated parmesan cheese.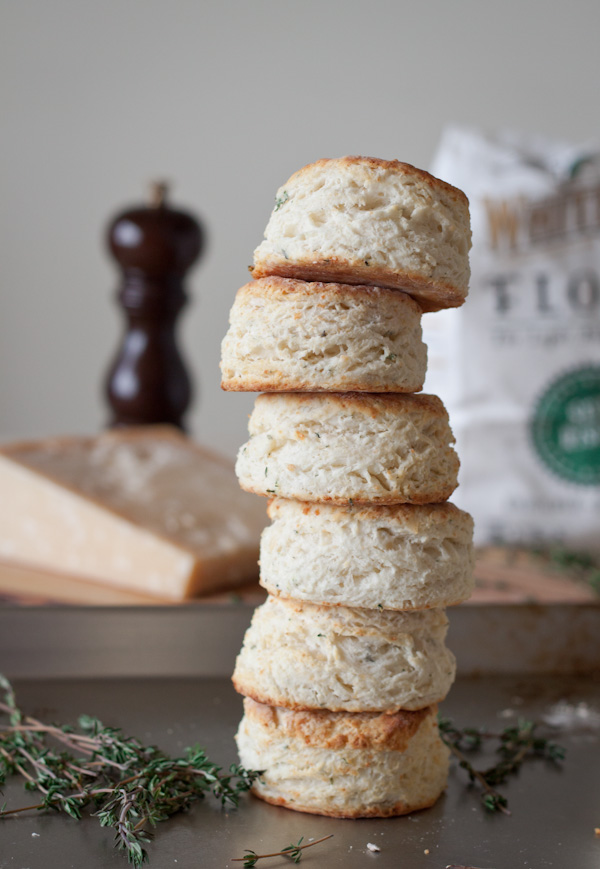 These parmesan thyme buttermilk biscuits were a labor of love. About four and half hours of labor to be exact. I've gone through a quart of buttermilk, more butter than I'd like to admit, washed three loads of dishes, and cleaned out flour from almost every crevice in my kitchen.
It wasn't until the fourth trial batch that I finally achieved the flavor, texture, and height that defines a classic buttermilk biscuit. Even though we were both pretty sick of biscuits at this point, the smell of parmesan and thyme was enough to draw me in.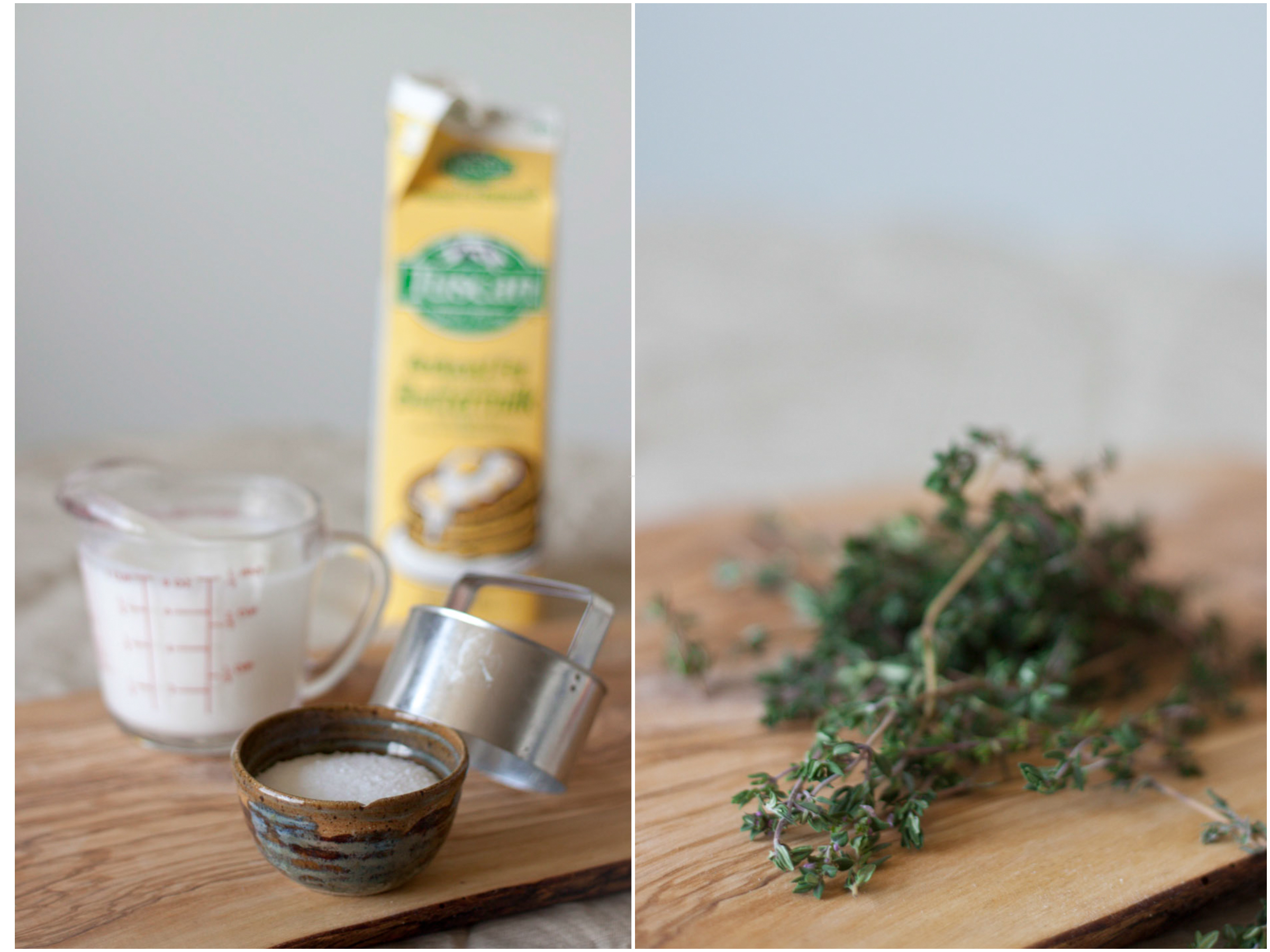 To be fair, they all tasted good. In fact, Connor inhaled the very first batch within minutes of taking them out of the oven. By the fourth trial (which generally involves me staring him down and interrogating him–"seriously though, do you really like them?"), his enthusiasm was waning.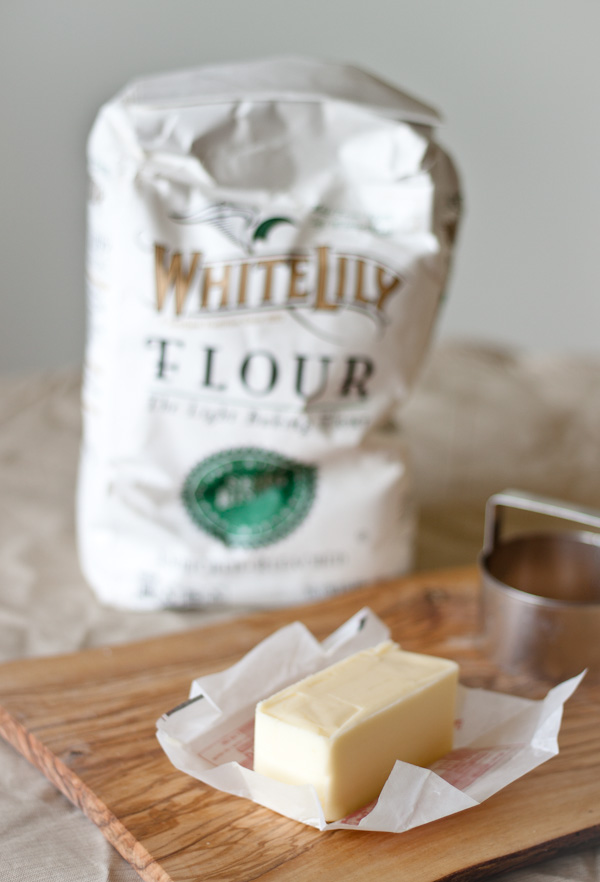 Though I've shared whole wheat biscuits on the blog once before, these Parmesan Thyme Buttermilk Biscuits are more classic in texture. Though I'm no Southerner, I am true believer in the magic of White Lily flour.
Similar to cake flour, White Lily is flour milled from soft winter red-wheat. It is lower in protein than regular, all-purpose flour. Low-protein (and gluten) equals tender, light biscuits.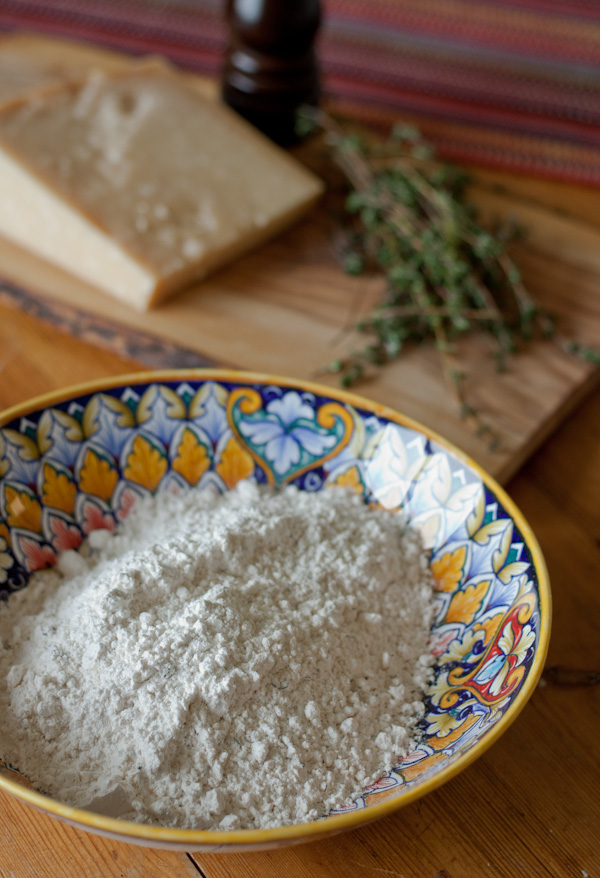 Despite being a bit difficult to find, I was finally able to snag a bag of White Lily flour during a visit to a nearby grocery store and it has been sitting in my pantry for months, reserved only for biscuit making.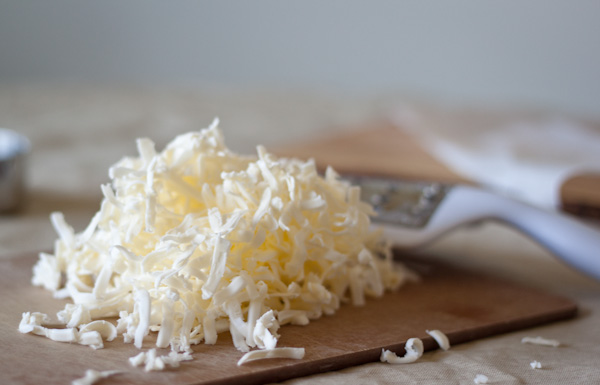 Instead of using a pastry cutter to incorporate the butter into the dry ingredients, we'll grate the cold butter with a box grated.
It is incredibly easy!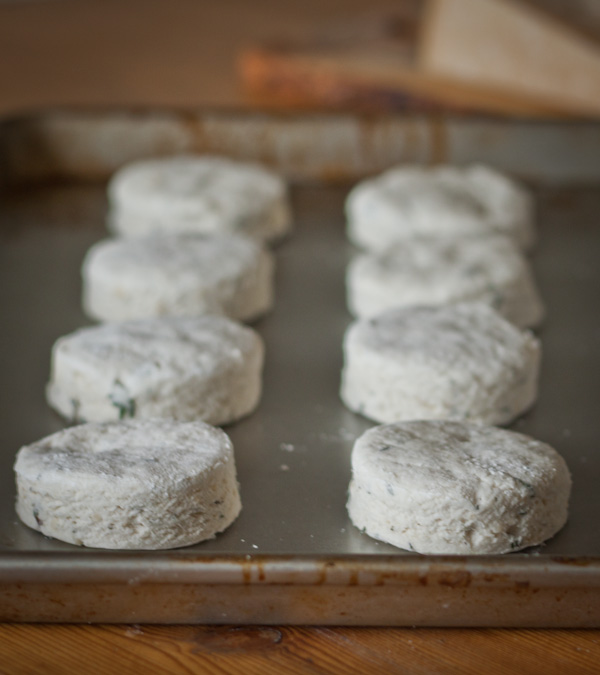 When it comes to biscuits, I'm a bit of a traditionalist and I didn't want to veer too far off the well-worn path.
The addition of parmesan cheese, fresh thyme, and a touch of black pepper ended up being the perfect middle ground for me. Just different enough to make them special and bit unique, but still worthy of classic buttermilk biscuit status.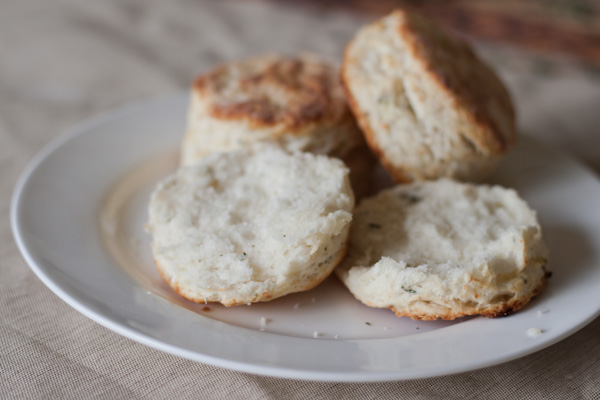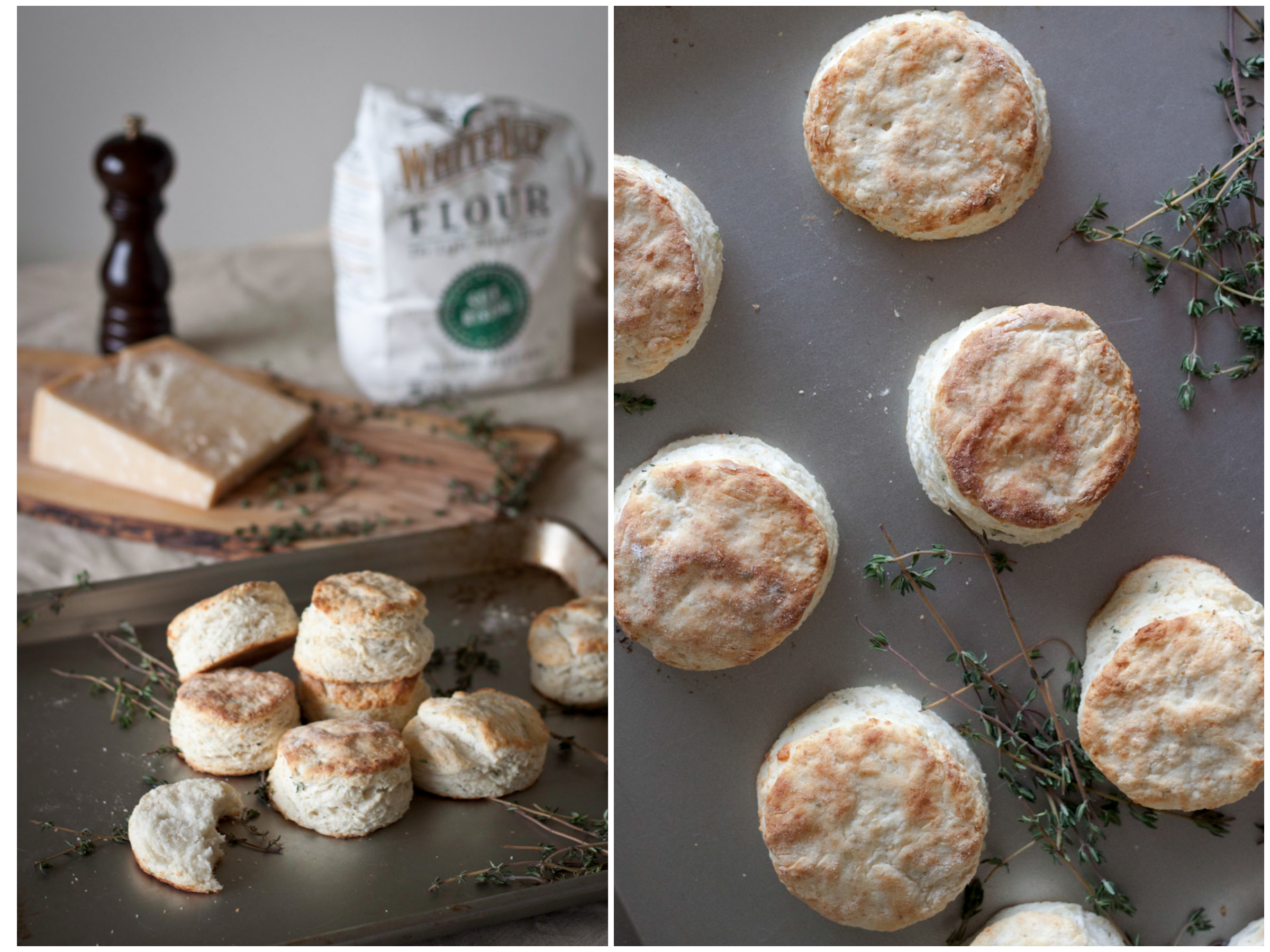 These biscuits would make a perfect side to a big bowl of soup or topped with a runny egg and served at breakfast.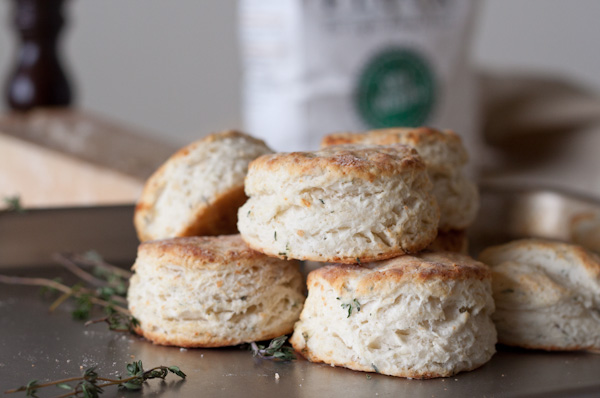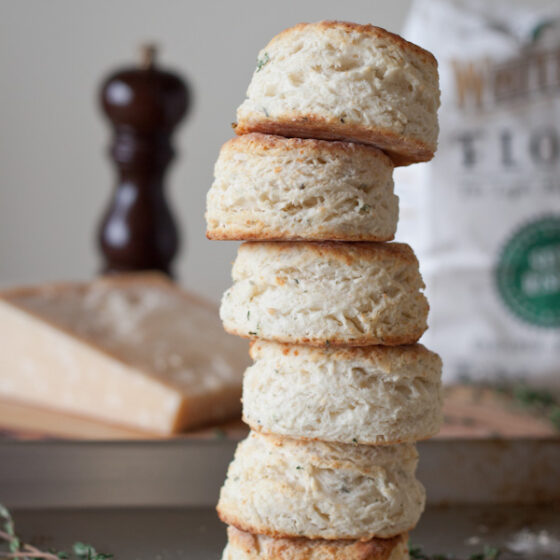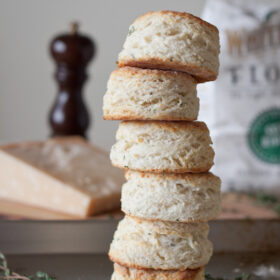 Parmesan Thyme Buttermilk Biscuits
When it comes to biscuits, I'm a bit of a traditionalist and I didn't want to veer too far off the well-worn path. These Parmesan Thyme Buttermilk Biscuits are tall, fluffy, and delicious.The addition of grated parmigiano-reggiano cheese, fresh thyme, and a touch of black pepper makes them extra special and a bit unique.
Ingredients
2 cups White Lily self-rising flour plus more for dusting
¼ cup finely grated Parmigiano-Reggiano cheese
1½ teaspoon finely chopped fresh thyme leaves
½ teaspoon baking powder
¼ teaspoon kosher salt
⅛ teaspoon freshly ground black pepper
4 tablespoons (2 oz; 60g) cold unsalted butter
¾ cup + 1 tablespoon (195 mL) cold buttermilk shake container before pouring
Instructions
Preheat oven to 500°F (260°C) with a rack in the center position. Line a half sheet pan with parchment paper or a Silpat.

Place the butter in the freezer for at least 10 to 15 minutes, until almost frozen. In a large mixing bowl, whisk together the self-rising flour, grated cheese, thyme, baking powder, salt, and pepper and baking powder.

Using a box grater, grate the very cold butter directly into the bowl with the dry ingredients. Toss the mixture lightly with your fingers, breaking up the butter pieces, until they are all evenly coated in some dry flour. Place the bowl in freezer for another 5 to 10 minutes.

Meanwhile, dust a working surface lightly with flour. Set aside a small bowl with additional flour, where you grab extra as needed and lightly dust the edges of the biscuit cutter as you work.

Remove chilled mixture from the freezer and create a large well in the center. Add the buttermilk and using a wooden spoon or fork, mix gently until the dry ingredients are moistened. Do not overwork.

Using your fingers, transfer the dough (it should be wet and shaggy) onto the floured countertop. Dust your hands with flour and knead the dough gently together several times until it comes together and is relatively smooth.

Using your fingertips, pat the dough into a ¾-inch thick disc. Using a lightly floured cutter, cut out biscuits using a 2-inch round biscuit cutter (do not twist the cutter or it will seal the edges of the dough and prevent the biscuits from rising properly). Place the biscuits on the lined sheet pan. Set them several inches apart if you prefer crisper edges or place them against each other if you prefer softer edged biscuits. Press and knead together any remaining dough scraps and repeat procedure until you have roughly 8 (two-inch) round biscuits.

Bake for 8 to 10 minutes or until lightly golden and tall. Serve immediately with softened butter.
Serving: 1serving, Calories: 192kcal, Carbohydrates: 24g, Protein: 6g, Fat: 8g, Saturated Fat: 5g, Polyunsaturated Fat: 1g, Monounsaturated Fat: 2g, Trans Fat: 1g, Cholesterol: 20mg, Sodium: 226mg, Potassium: 66mg, Fiber: 1g, Sugar: 1g, Vitamin A: 246IU, Calcium: 84mg, Iron: 1mg
This post contains affiliate links, which means that I make a small commission off items you purchase at no additional cost to you. Please read my
privacy policy
for more information.