Pear Smoothie with Vanilla, Honey, and Lime Zest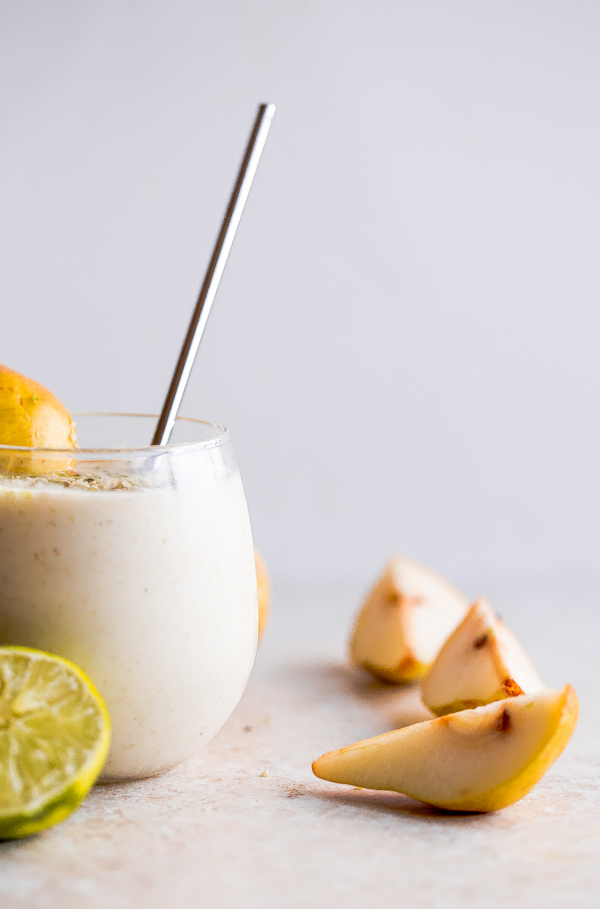 Fall is full of so many wonderful foods, but there is one that I just can't live without at this time of year. This simple pear smoothie takes full advantage of my favorite fall fruit: Bartlett pears!
They are my absolute favorite snack and I can easily eat three or four of them in a day. I pick up one or two of those Trader Joe's bags (the organic ones are such a steal and at least, in my experience, always reliable!) every single week, and am always left wanting more.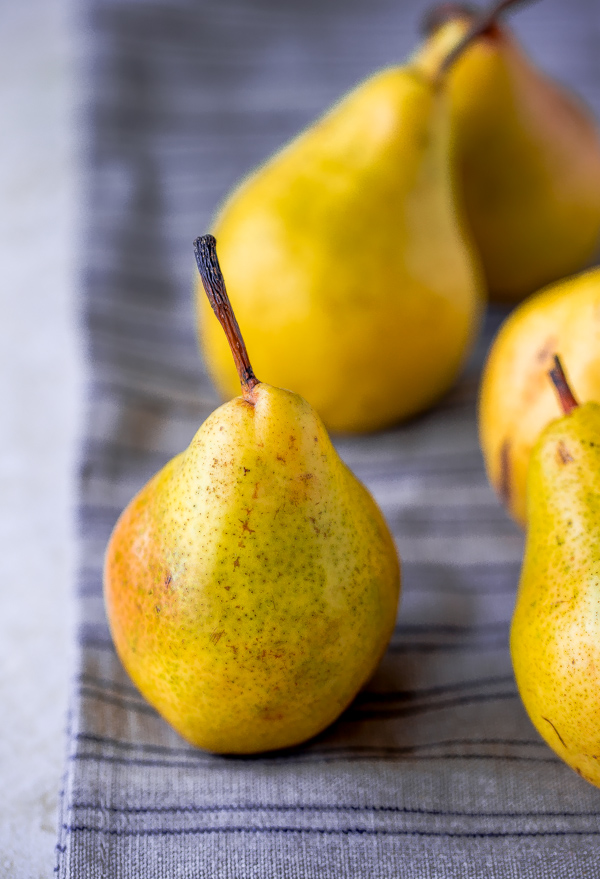 I have a confession though. I'm not a huge baked pear dessert fan. I'm just as surprised by this as you probably are. After all,  I generally believe that most fruits taste just as good, if not better, in baked goods. But pears?
Eh. I find them a bit one-dimensional in flavor and a little too sweet for my liking (especially D'Anjou or Bosc pears) once they've mellowed out even more in the oven.
I'd much rather enjoy them in fresh form. Either plain (boring, I know) or better yet, in this healthy and filling fall-friendly pear smoothie!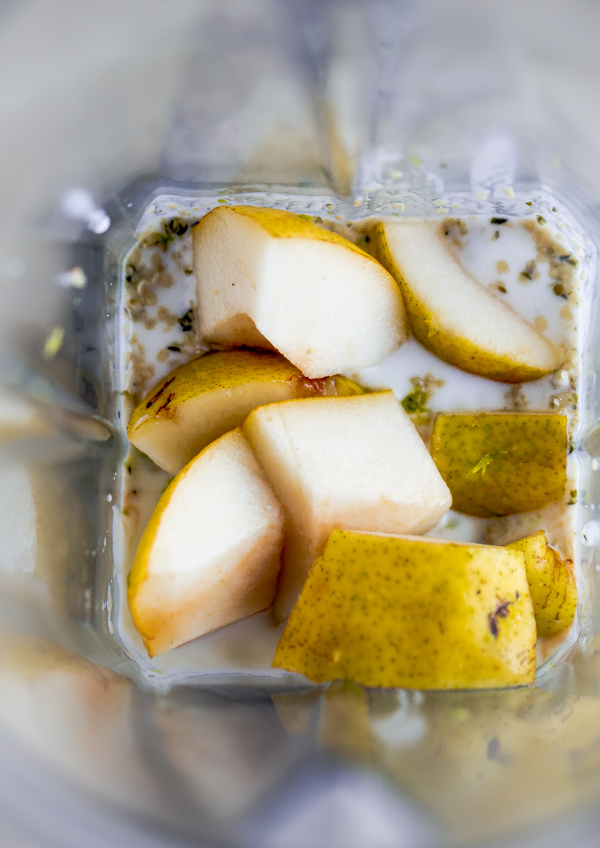 Hopefully you're not opposed to drinking smoothies in the fall!
But, but! I feel like the majority of the country is still in that weird weather transition that calls for a good cold smoothie every now and again. You know?
After all, I spent most of last week sweating to death in my apartment due to my apartment building's unfortunate decision to turn on the heat smack dab in the middle of an all-too-predictable heat wave. This seems to happen every year without fail.
Pear smoothie to the rescue!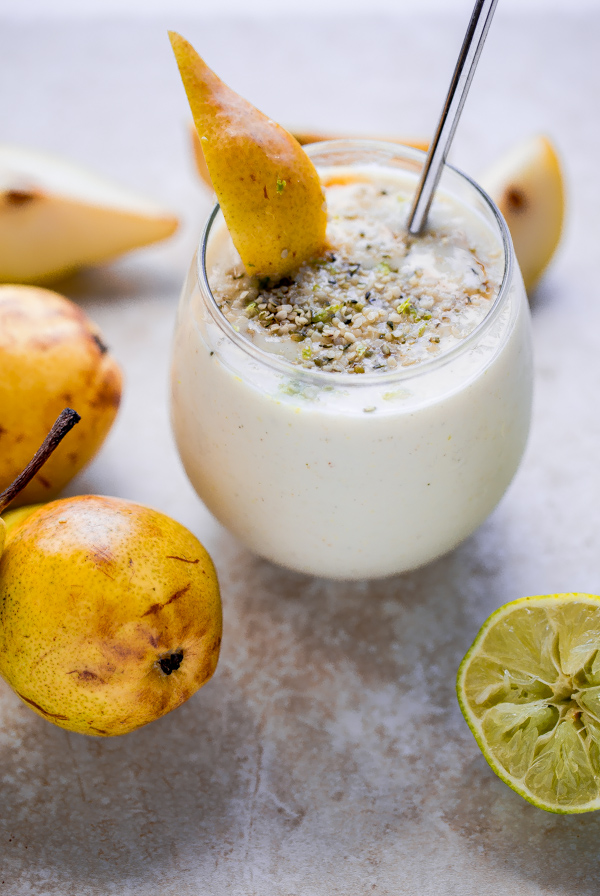 I kept this smoothie really simple with only a handful of ingredients. Kefir is my all-time favorite dairy choice for smoothies! It has the tartness and tang of yogurt, but with a much thinner consistency, making it perfect for blending. It is available in most grocery stores (in the refrigerated dairy section), but feel free to substitute it with low-fat plain yogurt.
A touch of honey adds sweetness and the lime zest helps brighten the whole thing up! To up the health factor, I like to add hulled raw hemp seeds to almost all of my smoothies. They are almost indistinguishable in taste, but full of protein (they are one of the only complete proteins out there!) and omega fatty acids.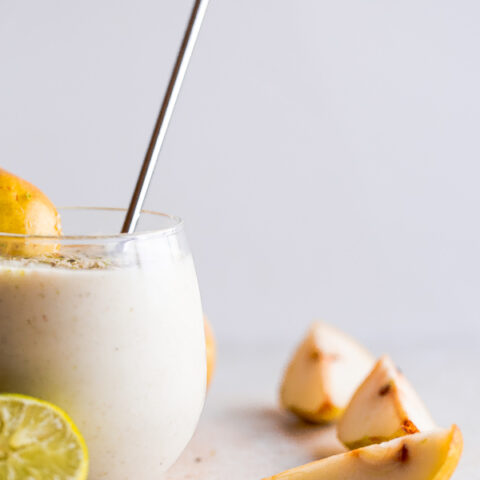 Pear Smoothie with Vanilla, Honey, and Lime Zest
Yield: 1 Serving
A refreshing pear smoothie made with kefir, and lightly sweetened with honey.
Prep Time: 5 minutes
Total Time: 5 minutes
Ingredients
1 cup kefir (or substitute with low-fat plain yogurt)
1 large bartlett pear, cored and cut into large chunks
1 tablespoon raw hemp seeds
1 teaspoon honey
1 teaspoon pure vanilla extract
zest of half a lime
Instructions
Place all ingredients in a blender and puree until smooth. Serve immediately.
Nutrition Information:
Yield: 1
Serving Size: 1
Amount Per Serving:
Calories: 342
Total Fat: 7g
Saturated Fat: 2g
Trans Fat: 0g
Unsaturated Fat: 6g
Cholesterol: 10mg
Sodium: 476mg
Carbohydrates: 58g
Fiber: 9g
Sugar: 41g
Protein: 15g
A Beautiful Plate provides nutritional information, but these figures should be considered estimates, as they are not calculated by a registered dietician.