30-Minute Weeknight Veggie Quesadillas
This post contains affiliate links.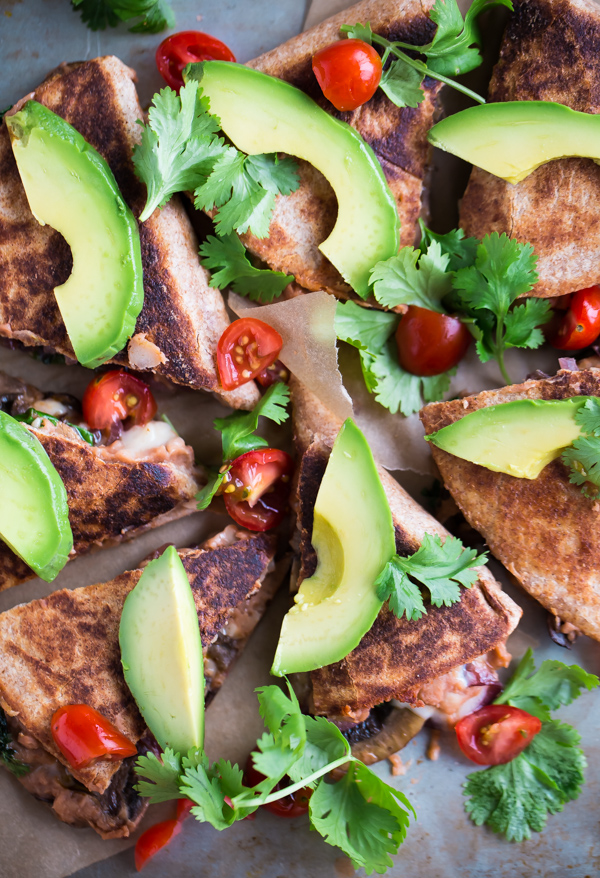 So, today's post was a bit of a struggle for me. I contemplated trashing it altogether, and very nearly did! Not because the recipe isn't good (I literally eat it all the time, probably far too often actually), but because it is a quesadilla.
And, let's be honest, I'm not sure if these quesadillas warrant a recipe. It really isn't all that complicated or mind-blowing. It is, however, tasty and easy. But one of the areas of the blog that I'm trying to work on and improve is my recipe archive.
As much as I love to challenge myself and do crazy things like make chocolate tarts and top them with spun sugar, I also realize that the majority of us, including myself, don't have time for that kind of thing. Everyday life and spun sugar don't really jive. Insert sad face.
Also, one of the things that the vast majority of you asked (in the survey) to see more of, in regards to recipes, was…wait for it…weeknight-friendly recipes! Many of you also requested more vegetarian recipe as well.
Cue these 30-minute weeknight (coincidentally, vegetarian) quesadillas. Just another reason why I am so glad that I decided to do a survey!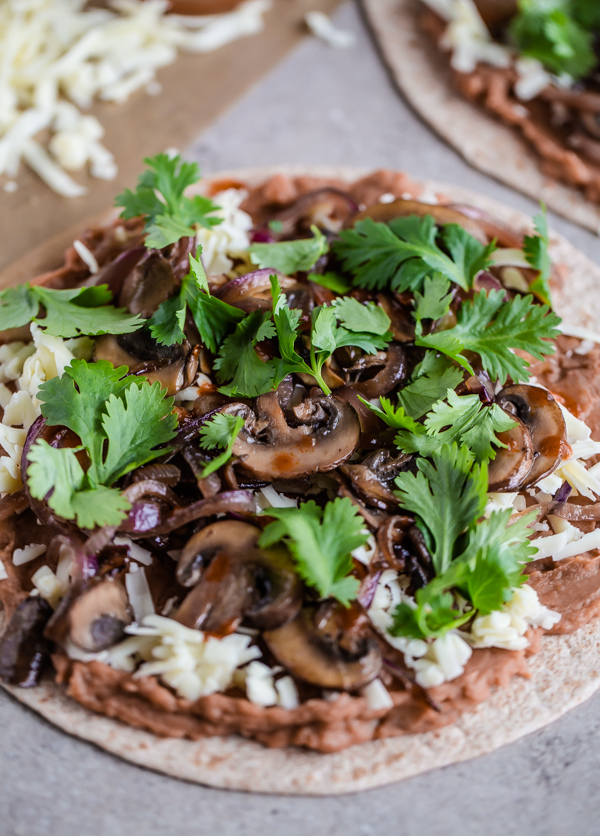 One of the unfortunate side effects of attending culinary school and having worked in the food industry is that the people tend to think that I make really fancy, complicated and impressive dishes all the time. And trust me, I'm not complaining! It is a compliment.
But it also couldn't be further from the truth. Connor can attest to this more than anyone else. He has been subjected to a lot of far-from-inspired dinners over the past few years.
In fact, I probably cooked the most boring meals of my life when I worked in the kitchen and up until two months ago, I was spending nearly two hours in the car every day commuting back and forth to work.
So, fast and easy weeknight dinners were, and still continue to be, incredibly important to me.
These veggie quesadillas are my go-to weeknight quesadillas. I never quite make them the exact same way, and often add in other things depending on what is in my fridge, but this recipe includes my staples. Feel free to mix it up, add more cheese, toppings, you name it!
Without sounding like a Trader Joe's commercial (this is not sponsored by them in any way), you can also find everything you'll need to make these there.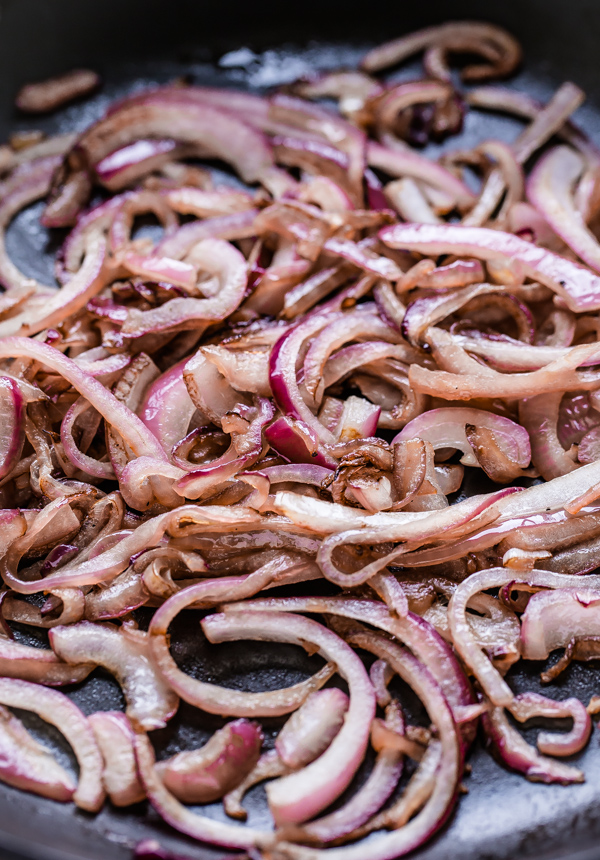 Let's start with the staples.
CHEESE. Obviously, that needs no explanation at all. I like to use a really sharp good-quality cheddar cheese, and always use freshly grated cheese.
Refried beans! Refried beans are my favorite quesadilla ingredient. Not only are they good for you, but they are also incredibly filling. They also help hold everything together. Quesadilla glue, if you will. [That doesn't sound appetizing, sorry.]
Next? Sauteed mushrooms and red onions! I put sauteed mushrooms in quesadillas for the first time many years ago, and have never looked back. Be sure to saute the mushrooms over very high heat to draw out all the moisture and brown them. The last thing that you want is soggy mushrooms in your quesadilla.
Not good.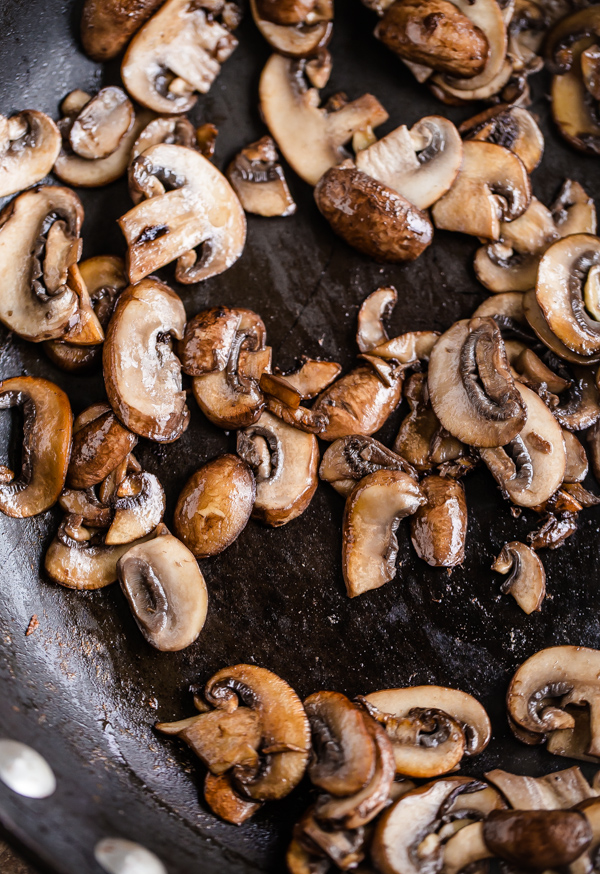 Sauteed onions are also a must. It only takes about 5-6 minutes on the stove, and adds so much flavor and texture!
Also, jalapeno hot sauce! I add some to the inside, as well as more for topping. If you don't like spicy food, add just a tiny bit. If you do like spicy food (like myself), go to town. It makes the whole thing more delicious.
Avocado, sliced cherry tomatoes, and cilantro are never a bad idea either. Right? Right.
Don't forget the hot sauce!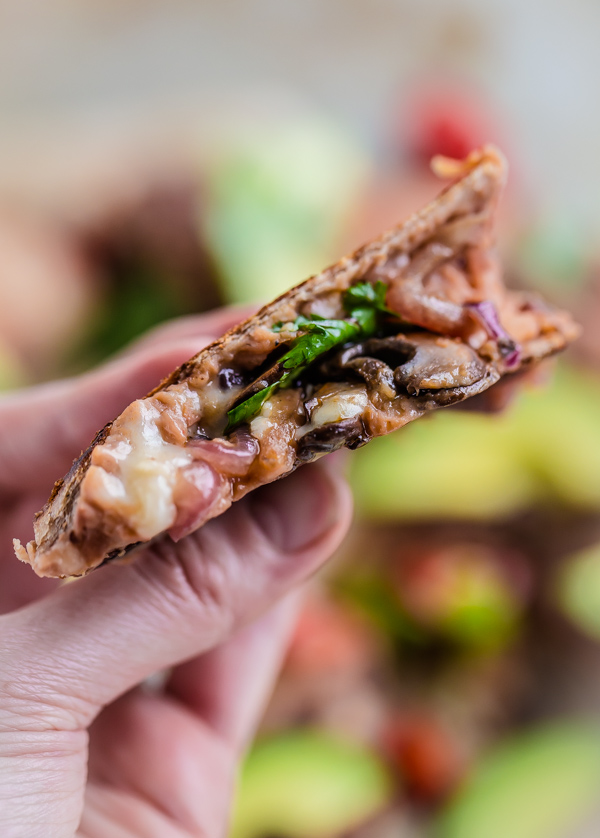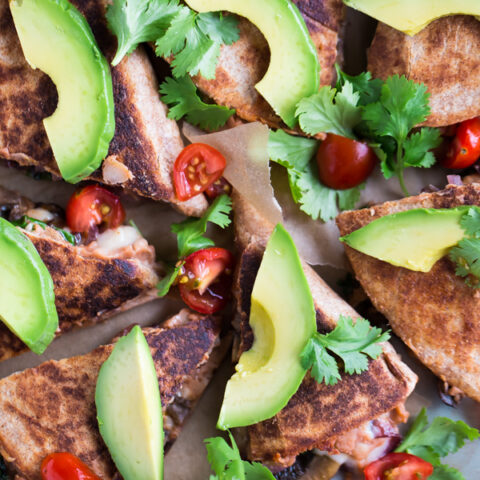 30 Minute Weeknight Veggie Quesadillas
Yield: 4-5 Servings
Prep Time: 10 minutes
Cook Time: 20 minutes
Total Time: 30 minutes
Ingredients
3 tablespoons olive oil, divided
1 large red (or sweet) onion, thinly sliced
10 ounces baby bella mushrooms, stems trimmed and thinly sliced
kosher salt
freshly ground black pepper
5 large whole wheat flour tortillas
1 (16 ounce) can of refried pinto beans
jalapeno hot sauce
5-6 ounces sharp cheddar cheese, freshly grated
fresh cilantro
1 ripe avocado, sliced
cherry tomatoes, halved (for garnish, but optional)
Instructions
Heat the oil over high heat in a large skillet or saute pan. Add the sliced onions, season with salt and pepper immediately, and saute, stirring every minute or so, for 5-7 minutes, or until the onions are softened slightly and gained color. Set aside in a bowl.
Heat another tablespoon of oil in the same skillet over high heat (alternatively, you can use two pans and speed up the cooking process), add the sliced mushrooms and saute them (avoid stirring too frequently, as it will prevent them from gaining color) over high heat for 4-5 minutes, or until any liquid that has released from the mushrooms during the cooking process has evaporated. Season with salt and pepper and set the mushrooms aside in a bowl.
Spread a thin layer of refried beans on one half of each whole wheat tortilla, add jalapeno hot sauce as desired, top with a generous handful of grated cheese, a spoonful of both sauteed onions and mushrooms, and several cilantro leaves. Fold the tortillas in half.
Heat a large non-stick skillet with oil (or spray) over medium-low heat. Once the pan is hot, lay the quesadilla (don't overcrowd the pan) into the pan. Flip once golden brown and crispy, and continue to cook until the quesadilla is golden on both sides and the cheese has melted completely. Cut each quesadilla into wedges, top with cilantro leaves, sliced avocado, and cherry tomatoes (and more hot sauce!). Serve immediately.
Nutrition Information:
Yield: 5
Serving Size: 1
Amount Per Serving:
Calories: 514
Total Fat: 38g
Saturated Fat: 19g
Trans Fat: 1g
Unsaturated Fat: 15g
Cholesterol: 84mg
Sodium: 726mg
Carbohydrates: 19g
Fiber: 6g
Sugar: 2g
Protein: 25g
A Beautiful Plate provides nutritional information, but these figures should be considered estimates, as they are not calculated by a registered dietician.
This post contains some affiliate links, which means that I make a small commission off items you purchase at no additional cost to you. Please read my
disclosure policy
for more information.