Pomegranate Ginger Sorbet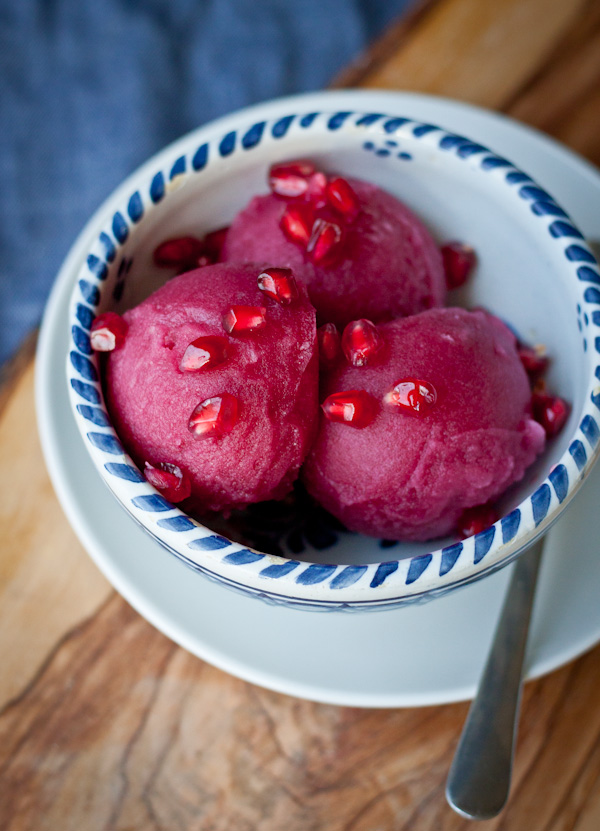 Happy Friday!  I made you guys some sorbet.  There's some booze in there too.  I figure at this point in the week, we kinda deserve it.  Don't you?
This sorbet is incredibly easy to make.  Ridiculously simple, in fact.  All you need is 100% pomegranate juice and sugar.  You could certainly stop there and make a regular, normal pomegranate sorbet, but I decided to make it a bit extra special and add a couple other ingredients.
It takes it from good sorbet to "woh…what's in the that?" sorbet.  Much better, right?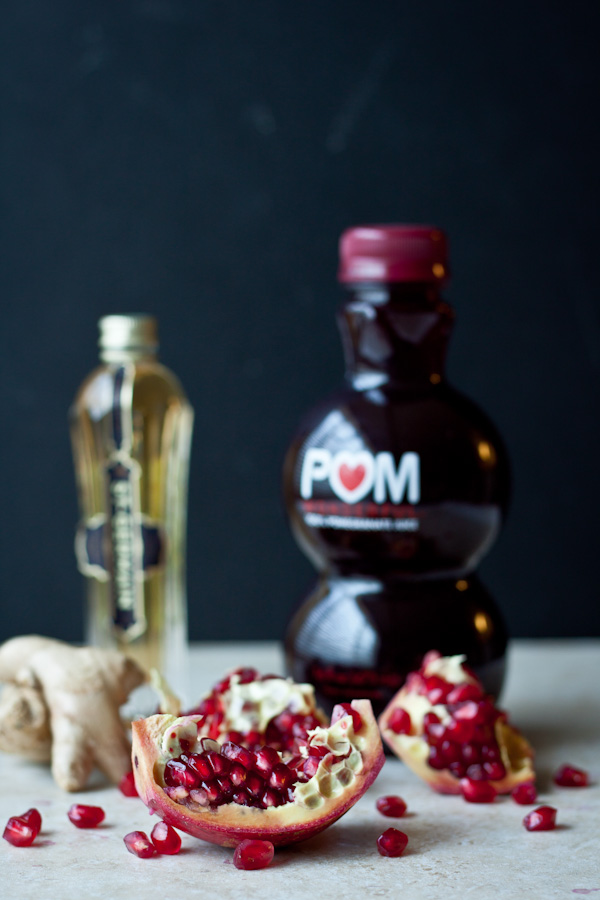 In this case, those extra ingredients include fresh ginger and St. Germain elder flower liqueur.
The ginger adds just the right amount of of zing to every spoonful–and the elder flower liqueur helps cut the sweetness and adds a slightly floral note, without being totally over the top.  For those not into booze, I promise, it doesn't make the end result boozy in the slightest.  And they work so well together!
Obviously, a lot of us don't need an excuse to add booze to sorbet.  But if you want to get technical (and have an additional excuse), it also has the added bonus of helping keep the sorbet smoother and softer once frozen, since alcohol itself does not freeze.  This avoids the whole icy, impossible to scoop sorbet that we've all known and experienced.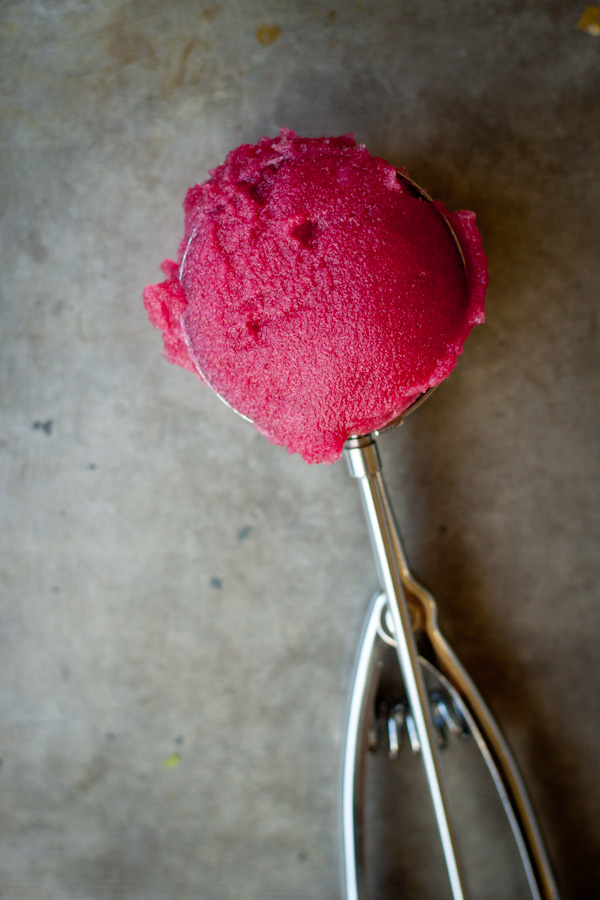 Technically, since most of us are lucky enough to have access to pomegranate juice year-round–you could totally make this sorbet at any time of the year.  Summer, fall, spring, winter.  It is totally doable.
But,  that's sort of the equivalent of making a pumpkin pie smack dab in the middle of July.  Sure, you technically could.  We all have that hoarded can of pumpkin in the back our pantry at all times of the year.  But it's just not right.  Don't do it!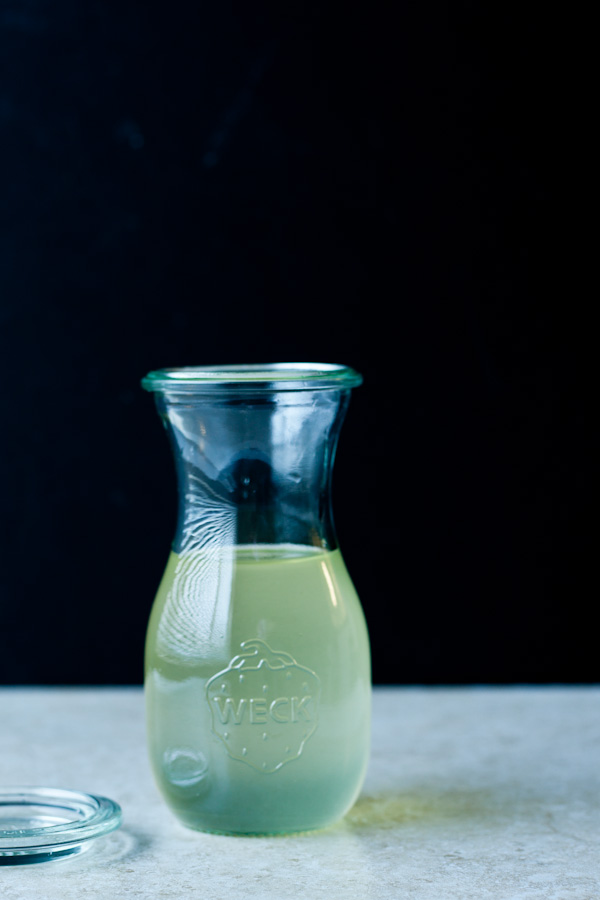 Once actual whole pomegranates arrive in the store (i.e. NOW!), then you can go ahead and bust out the pomegranate juice.
Plus, what's the fun in making pomegranate sorbet if you don't have fresh pomegranate arils to garnish it with?  Prettiest.fruit.ever.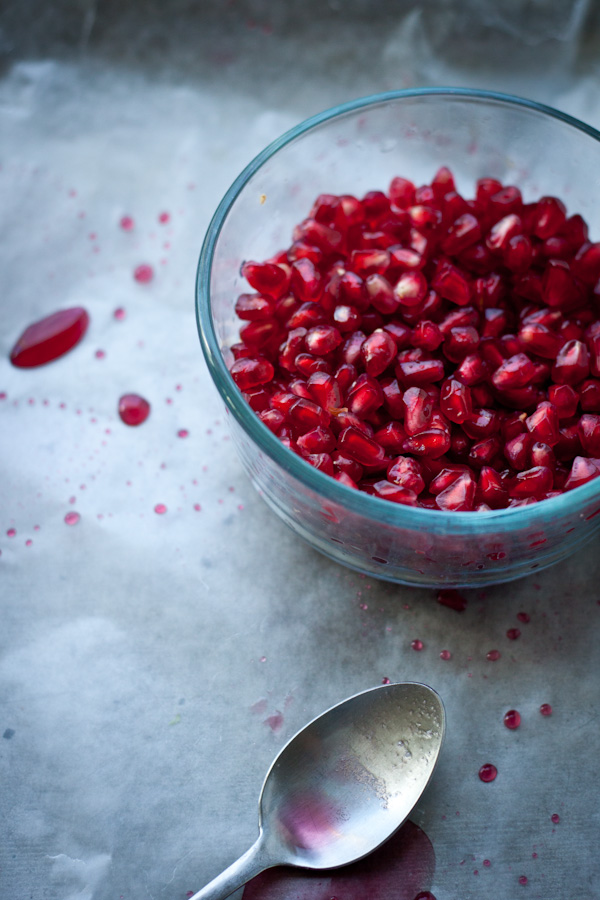 If you're wondering how to get those lovely arils out of the fruit, I'm here to help.  And I've literally tried every method in the book…
Slicing and hitting the back of the fruit with a wooden spoon (verdict: gets the arils out sort of…but totally destroys them in the process).
Cutting a cone into the top and scoring lightly along the ridges to break into segments (verdict: I don't think pomegranate ridges are always so obvious, so its not incredibly effective, but I recently stumbled upon this video…so I might have to try it again)
And lastly, the under-water-method, which I'm convinced is still the best way.  The membranes float and the seeds sink to the bottom of bowl–making it faster and less messy.  Here are some lovely step-by-step photos.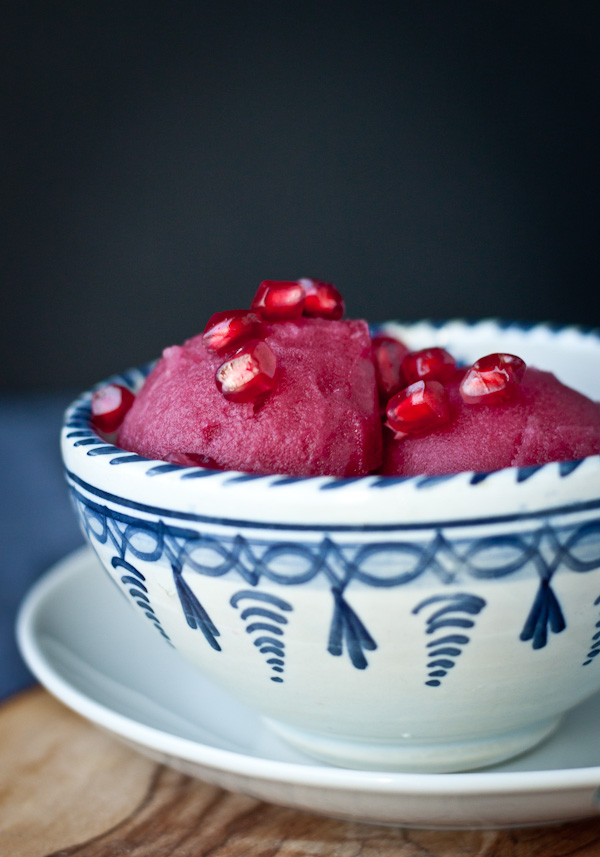 The resulting pomegranate ginger sorbet is refreshingly light, with just the right amount of tartness.  Once again, I just love the ginger and elder flower–so please, please, please don't skimp out on either of those (but yes, the alcohol is technically optional).
It would work perfectly as a dessert for a heavier meal.  You could even make it ahead of time and serve it as a healthier (vegan) dessert alternative at Thanksgiving or Christmas!
I would probably just have it in addition to everything else, but that's just me.  Enjoy!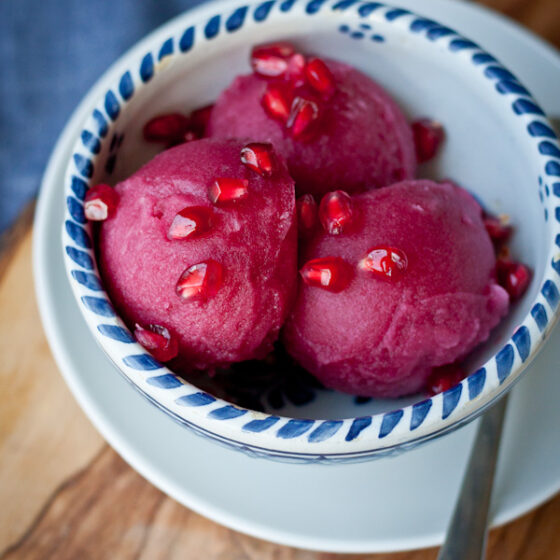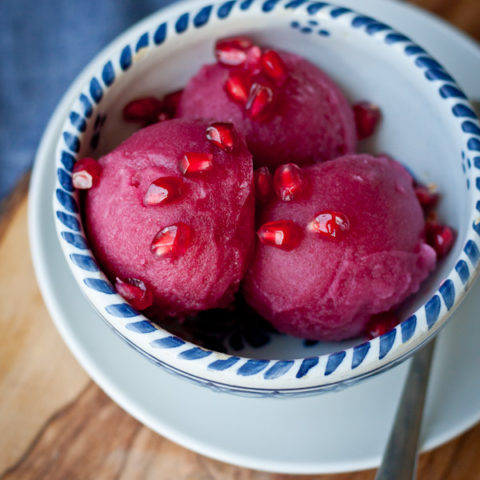 Pomegranate Ginger Sorbet
Yield: 1 Quart
This pomegranate ginger sorbet is refreshingly light, with just the right amount of tartness!
Prep Time: 40 minutes
Cook Time: 30 minutes
Total Time: 1 hour 10 minutes
Ingredients
1 cup granulated sugar
1/2 cup water
1 tablespoon roughly chopped fresh ginger
2 cups (100%) pomegranate juice (such as POM)
1 tablespoon + 1.5 teaspoons St. Germain liqueur (optional, but highly recommended)
Instructions
Combine the sugar, water, and ginger in a small saucepan. Bring to a boil, reduce heat and simmer, whisking occasionally, until sugar has fully dissolved.
Set aside in heatproof bowl, cover with plastic wrap, and allow to cool completely in refrigerator–which should take about 20-30 minutes, roughly.
Once the simple syrup has chilled, strain through a fine-meshed sieve to remove the ginger chunks (discard).
Whisk together the pomegranate juice, simple syrup, and St. Germain liqeuor in large bowl.
Freeze the mixture in an ice-cream maker according to manufacturers directions–the sorbet is ready when it resembles the texture of a thick slushy.
Place sorbet in an airtight container (cover surface with plastic wrap) and freeze for an addition 4-6 hours (or overnight, ideally) to firm up. Garnish with fresh pomegranate arils.
Notes
St.Germain is available at spirit and liqueur stores.
Nutrition Information:
Yield: 6
Serving Size: 1
Amount Per Serving:
Calories: 176
Total Fat: 0g
Saturated Fat: 0g
Trans Fat: 0g
Unsaturated Fat: 0g
Cholesterol: 0mg
Sodium: 49mg
Carbohydrates: 44g
Fiber: 0g
Sugar: 43g
Protein: 0g
A Beautiful Plate provides nutritional information, but these figures should be considered estimates, as they are not calculated by a registered dietician.
P.S. I promise not to mention Christmas again for at least another few weeks…I think.  Don't hold me to that.