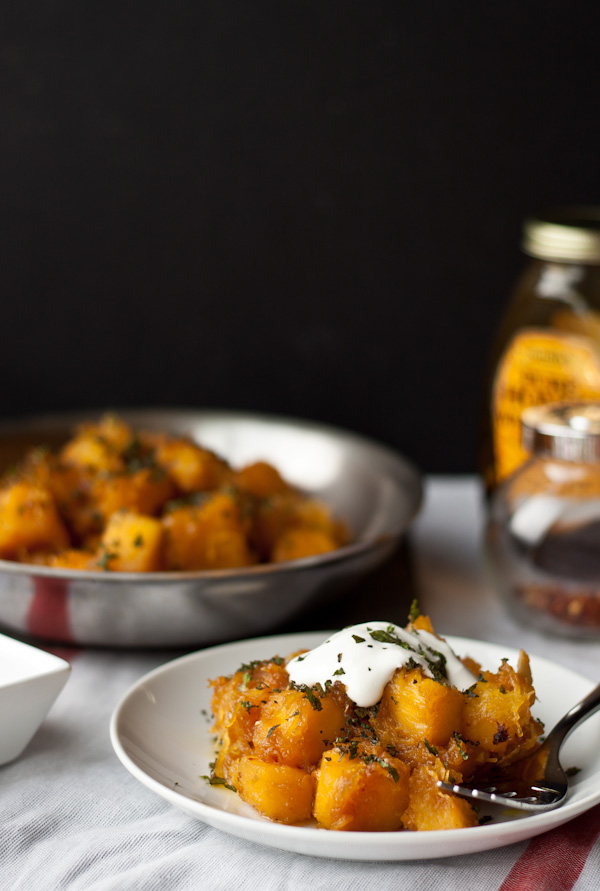 I know…more pumpkin.  Hello?  Are you still there?
But in all fairness, this sweet and sour pumpkin dish is totally different than almost any other pumpkin recipe I've (and hopefully, you've?) ever made in my entire life.  And that is exactly what attracted me to it in the first place.  That and the fact that it reminded me, vaguely, of a dish that Connor and I stumbled upon in a casual restaurant during our trip to Italy last March.
I was feeling nostalgic.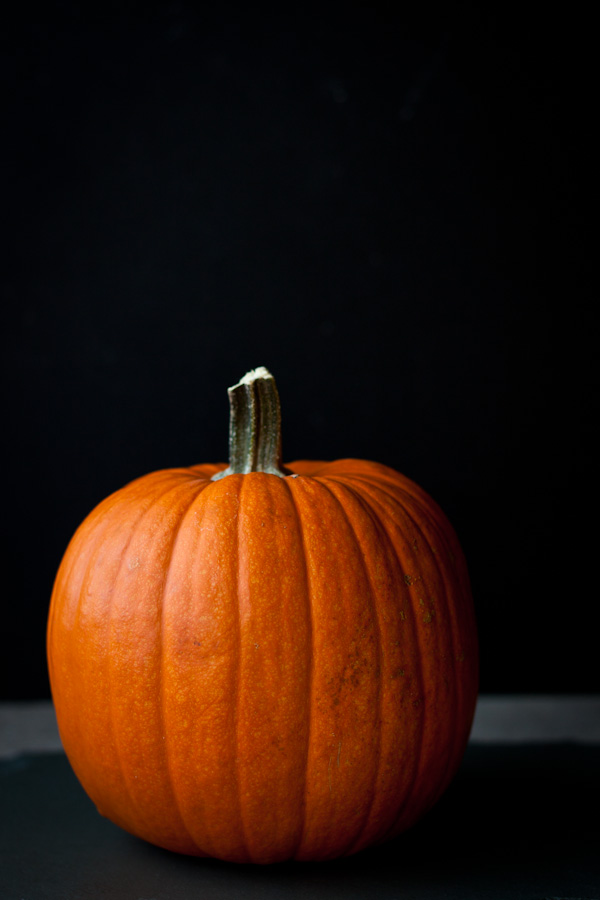 Anyway, back to the point.  What really attracted me to the idea of starting this series back in August was that it gave me an excuse to look through old, in some cases long forgotten, magazine issues and cookbooks and do something different in the kitchen.
I love to come up with my own recipes, don't get me wrong.  There is nothing more satisfying than creating something incredibly delicious that stemmed purely from an idea.  Food is sort of magical in that way.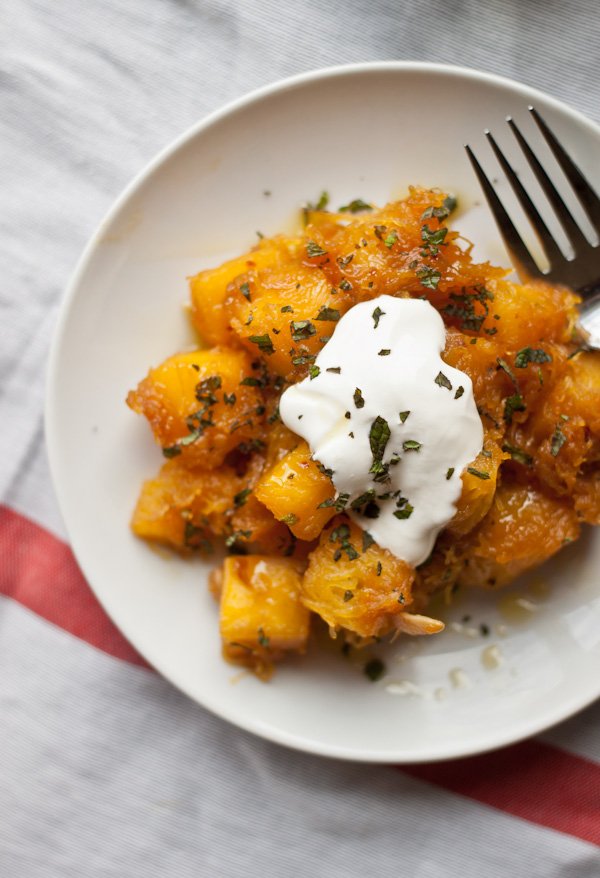 But, in all honesty, I think most of those ideas have to come from somewhere.
Whether it's a dish that you had out at a restaurant a few weeks ago, the last remnants of an empty fridge, a childhood treat, a classic flavor pairing, or just all of your favorite foods smashed (placed delicately?) together on one plate.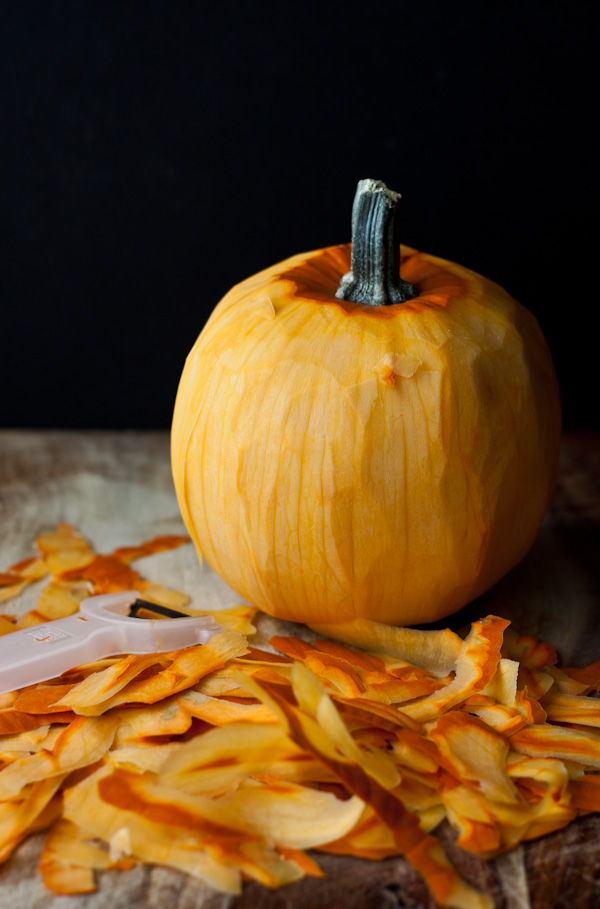 But sometimes, life gets in the way.  We're all busy and it's easier to stick with what is comfortable and familiar.  With food.  With jobs.  With everything.
Since I don't work in the (professional) kitchen anymore (another post that is long over due, oops)….I feel that the best way to keep learning and growing as a cook is to continue creating things, make mistakes, and try as many different foods as often as possible.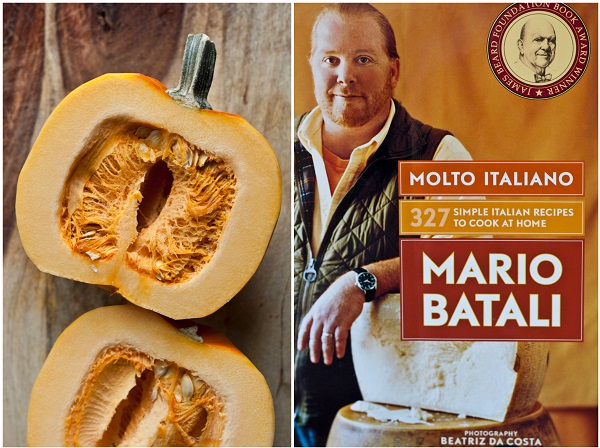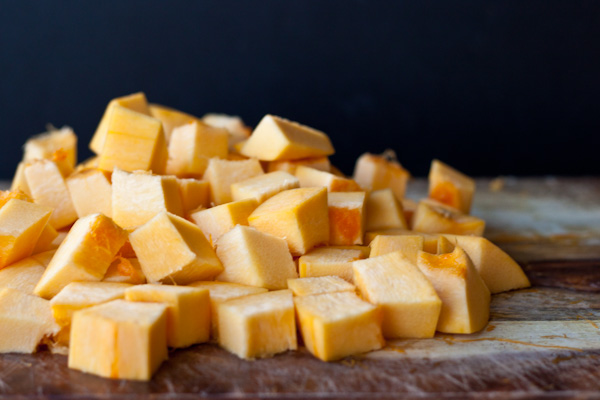 And yes, they are only recipes.  I'm not going to turn into Rene Redzepi any time soon (or ever, for that matter).  I have no clue how that guy comes up with those ideas, I swear.  Mind boggling.
But recipes can also expose you to new cooking techniques, new ingredients, and ultimately, the tools it takes to create your own dishes.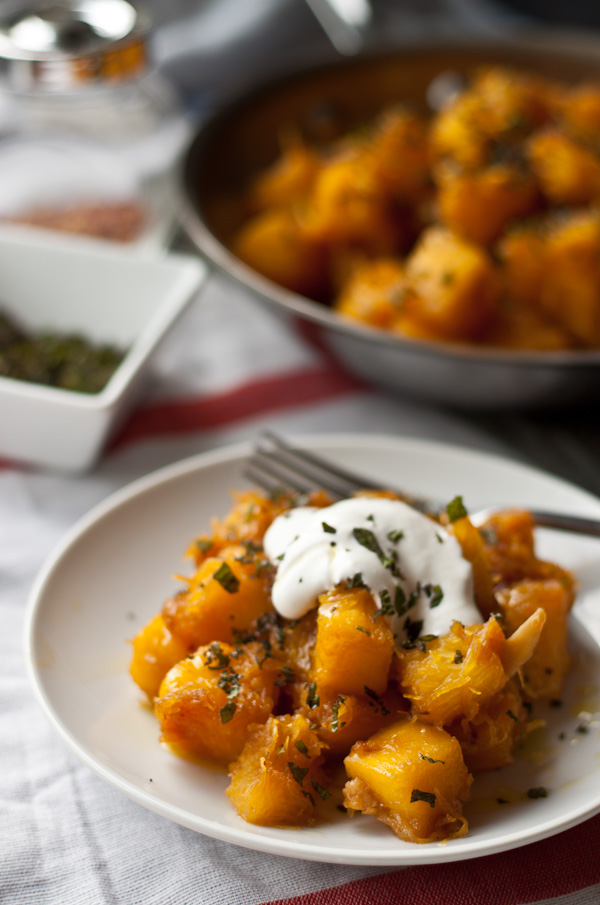 This sweet and sour pumpkin dish is a perfect example of something I never would have come up with on my own.  The original recipe comes from Mario Batali's Molto Italiano cookbook–and is incredibly interesting and different.
I ended up making it twice (just to be sure), cut back the heat a lot (the original called for a teaspoon of red pepper flakes–which was a little excessive), and chopped the pumpkin a bit finer to speed up the cooking process.  Enjoy!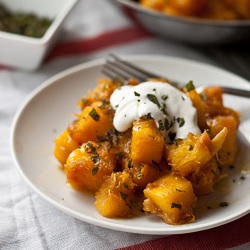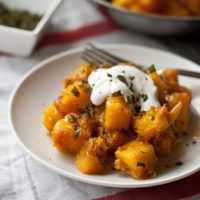 Sweet and Sour Pumpkin
Yield: 4-5 Servings
Prep Time: 10 minutes
Cook Time: 20 minutes
Total Time: 30 minutes
Ingredients
1/4 cup extra virgin olive oil
1 lb sugar (pie) pumpkin, de-seeded & peeled
4 garlic cloves, thinly sliced
3 tablespoons red wine vinegar
3 tablespoons honey
1/2 teaspoon red pepper flakes
kosher salt
small bunch of fresh mint, finely chopped (for garnish)
Instructions
Peel and de-seed the pumpkin. Chop into 1/2″ cubes. Set aside.
Combine red wine vinegar, honey and pepper flakes in separate bowl (tip: to cleanly measure honey, spray measuring device with oil and it will slide off cleanly).
Heat olive oil in large (10-12″) non-stick skillet over medium-high heat until just smoking.
Carefully add the pumpkin and garlic. Saute until golden brown (turning down the heat, if necessary) for roughly 4-5 minutes.
Add honey, vinegar, and red pepper mixture. Bring to simmer and cook over medium-low heat for an additional 7-8 minutes, or until glaze has reduced and become syrupy–and pumpkin is cooked through.
Season with salt.
Sprinkle with finely chopped mint and serve immediately with a dollop of Greek yogurt or sour cream.
Notes
Recipe barely adapted from Mario Batali's Molto Italiano cookbook (2005).
Nutrition Information:
Yield: 5
Serving Size: 1
Amount Per Serving:
Calories: 141
Total Fat: 11g
Saturated Fat: 2g
Trans Fat: 0g
Unsaturated Fat: 9g
Cholesterol: 0mg
Sodium: 119mg
Carbohydrates: 12g
Fiber: 0g
Sugar: 10g
Protein: 0g
A Beautiful Plate provides nutritional information, but these figures should be considered estimates, as they are not calculated by a registered dietician.