Pumpkin Sheet Cake with Spiced Cream Cheese Frosting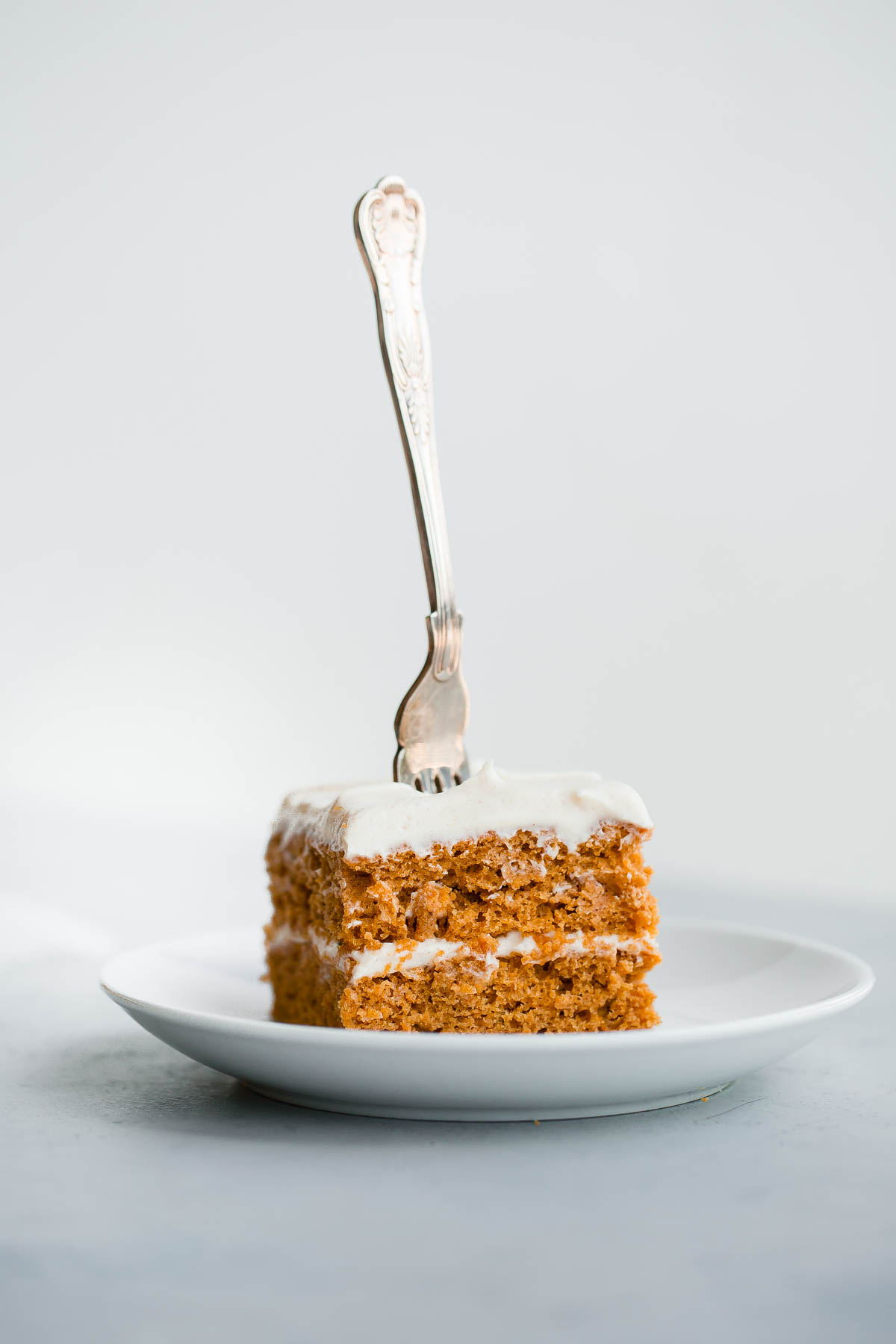 Does the internet really need another pumpkin sheet cake recipe? Probably not, but I'm forging ahead and bringing you one regardless! Sheet cakes are unfussy, practical, and best of all, easy to prepare.
So, here's the thing. I've been sitting on this cake recipe for an entire year. Yes, really, that long. I developed it a little bit too late into the season and decided to tuck it away for another time. Today's the day.
As I'm sure you can guess by the copious amounts of spiced cream cheese frosting shown above, we're making no illusions to health food today. This is a rich cake worthy of celebration. As with any sheet cake recipe, this one serves upwards of 12 people, so be sure to have a good number of friends and family in close proximity to help take it off your hands. I kept coming back for more.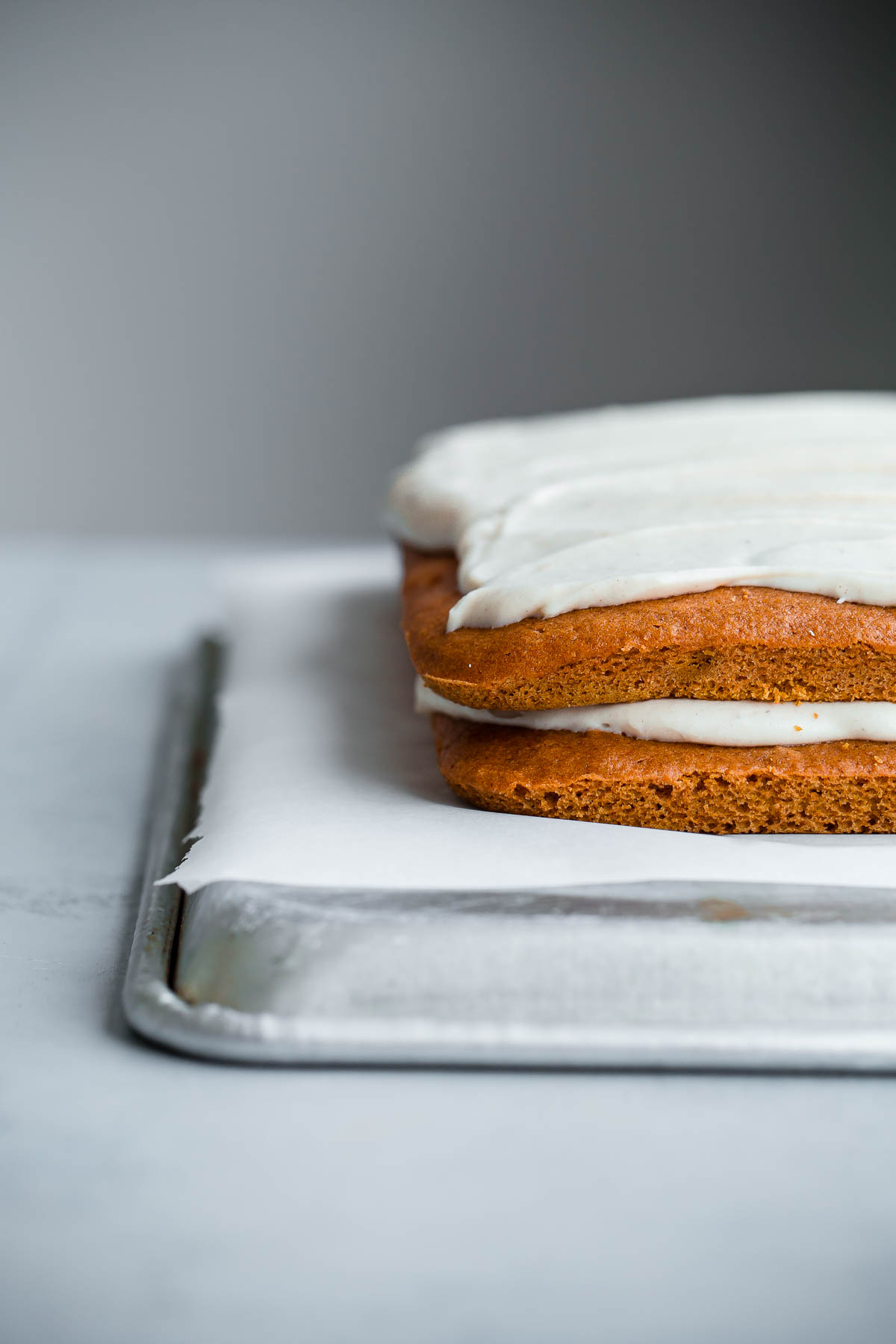 Sheet cakes can come in a lot of forms, but this pumpkin cake is a true sheet cake. The cake is baked in a classic half sheet pan. The same one that you use for roasting vegetables, baking cookies, and countless other tasks in the kitchen.
This cake doesn't require any fancy equipment, piping tools, or pans. The batter can be prepared with just a few mixing bowls, a whisk, and a spatula. You'll need a simple hand mixer or stand mixer, fitted with a paddle attachment, for the icing. Nothing more.
Most people associate sheet cakes with a simple one-layer cake topped with frosting. While all of that is true, many recipes require a rectangular cake pan, measuring 9 inches x 13 inches across. Can I make a confession? I don't really consider that a sheet cake. Yes, it produces a literal sheet of cake (and one that is taller!) but it might necessitate buying a pan that you might not use for much else.
Doesn't that sort of defeat the purpose of making a sheet cake? I consider my kitchen fairly well stocked and even I don't own one.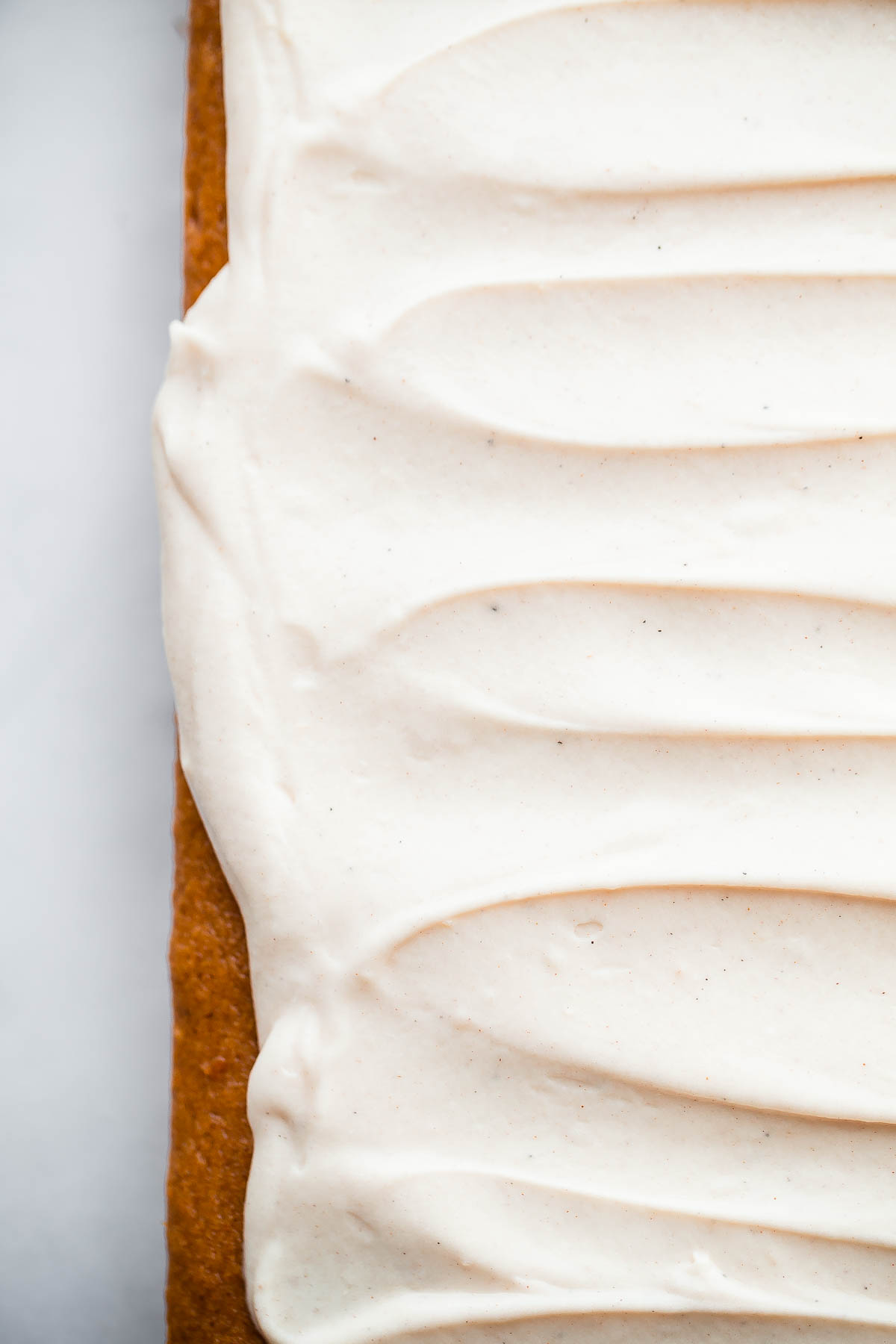 Benefits of an Authentic Sheet Cake:
By baking this pumpkin sheet cake in a half sheet pan, it allows you to produce a moist cake that bakes up in just 17 to 20 minutes. Since it has a large surface area and is relatively thin, the cake also cools quickly allowing you to frost and assemble the cake in just over an hour.
You might be wondering how this is a sheet cake if it contains two layers. Let me explain. While you could certainly prepare this cake as a single, thin layer, we're going to slice the cake in half to produce a simple two layer cake.
It's a simple step, but adds height and elegance without requiring any additional tools. I also secretly love the inner layer of cream cheese frosting, so there's that.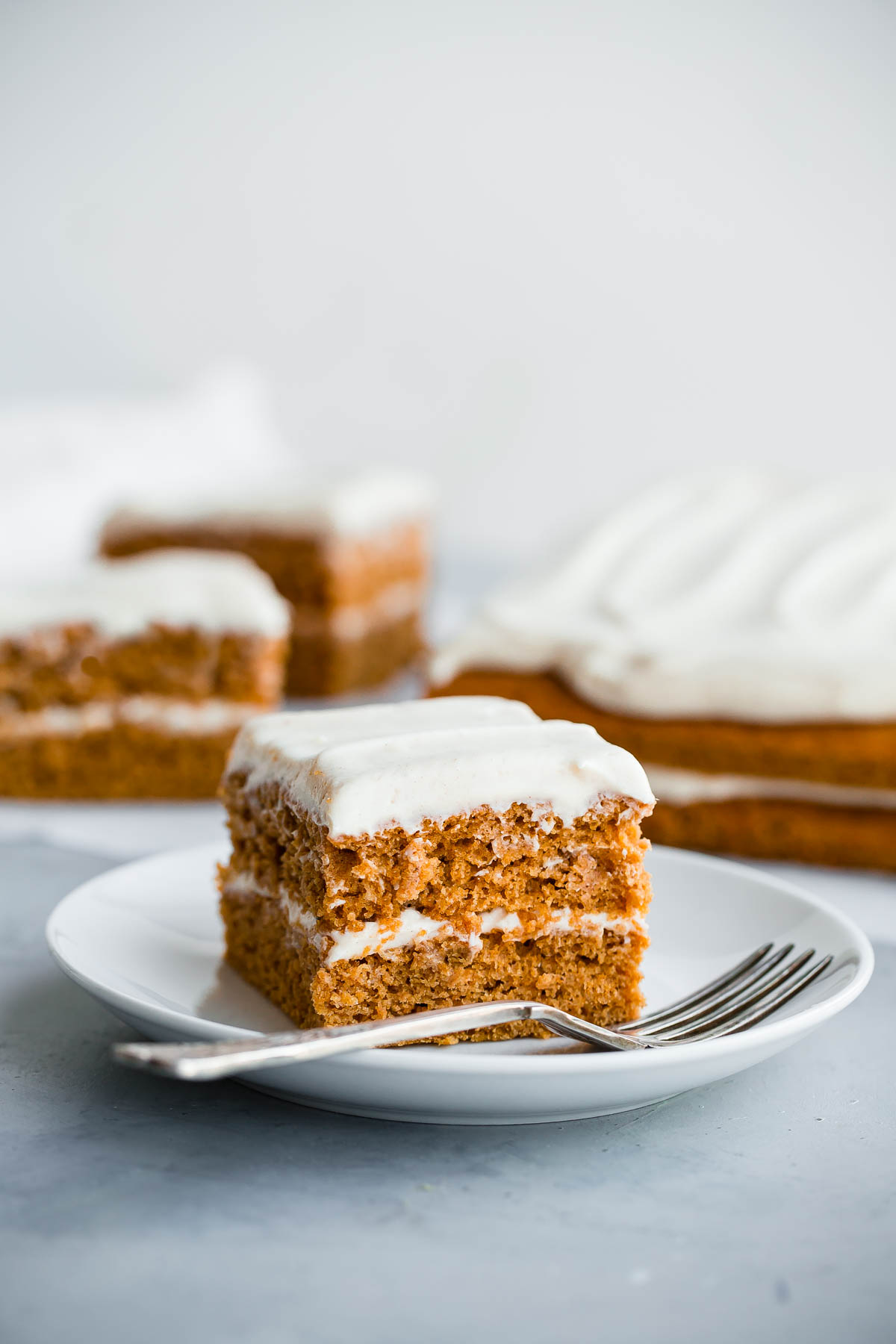 5 Reasons Why I Love This Sheet Cake Recipe:
it requires no special equipment or cake pans (this is a great-quality affordable half sheet pan, if you're looking for recommendations – affiliate link)
the cake itself has great spice flavor from cinnamon, ginger, and cloves. there's no need to buy a special pumpkin pie spice blend. this flavor carries over to the spiced cream cheese frosting, which is infused with pure maple syrup, cardamom, and cinnamon.
it uses one entire (15 ounce) can of pure pumpkin puree, so there's no need to store (and inevitably throw out when you forget about it) awkward leftovers in the fridge.
to make ourselves feel slightly better, the cake is prepared with whole wheat pastry flour (you can read why I love it so much here!) so it is technically whole grain. if you don't have it on hand, simply substitute it with an equal quantity of unbleached all-purpose flour.
it gives us an excuse to eat cream cheese frosting, which let's face it, is the best type of frosting.
It's worth noting that this recipe produces a generous amount of cream cheese frosting, which is quite rich. If you are not a frosting lover, use your judgement when frosting the cake itself or consider cutting the frosting recipe in half. The measurements make it easy to do so.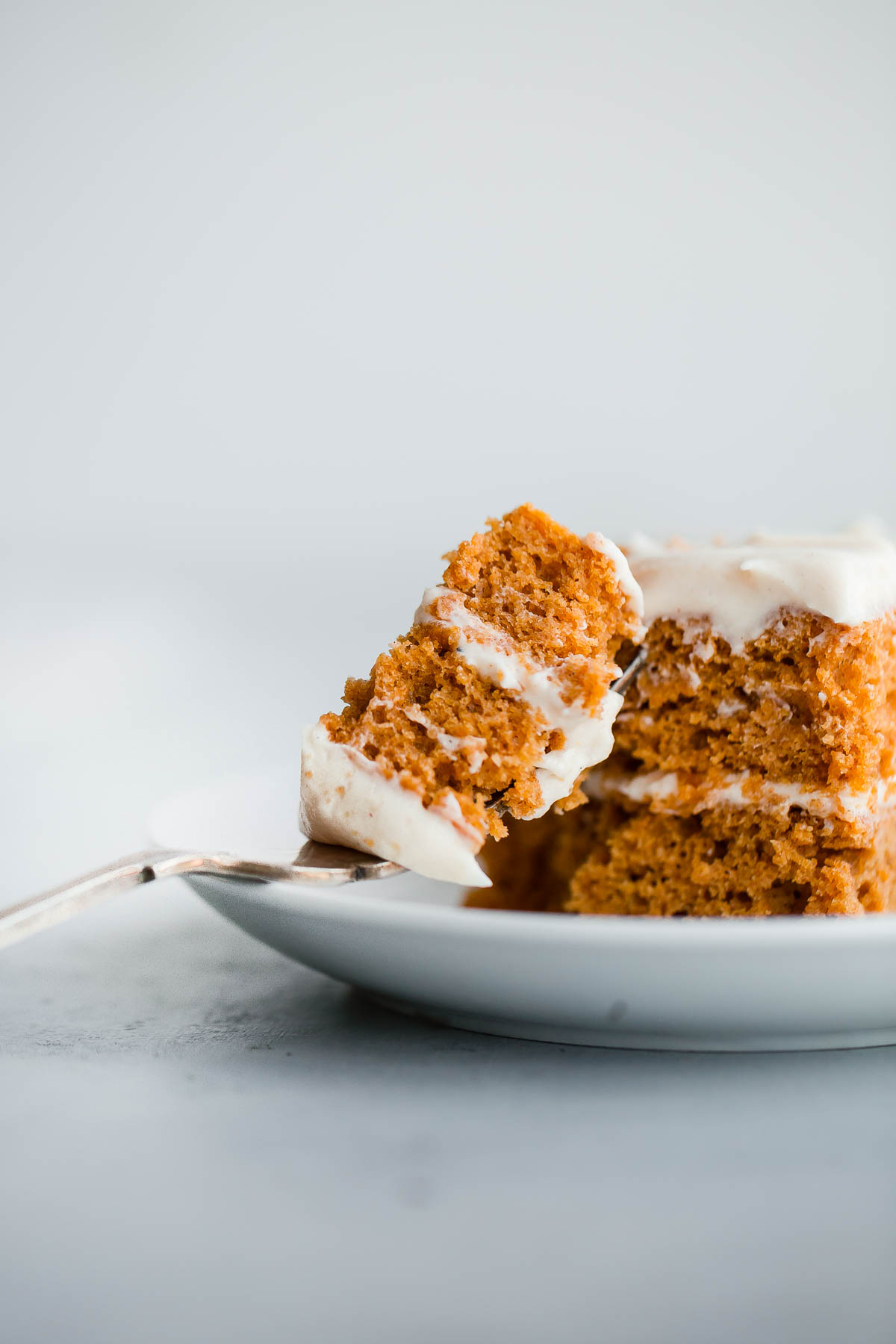 I mean, look at that bite!