Quinoa Chowder
A light, delicious, and surprisingly hearty quinoa chowder is from Deborah Madison cookbook, Vegetarian Cooking for Everyone.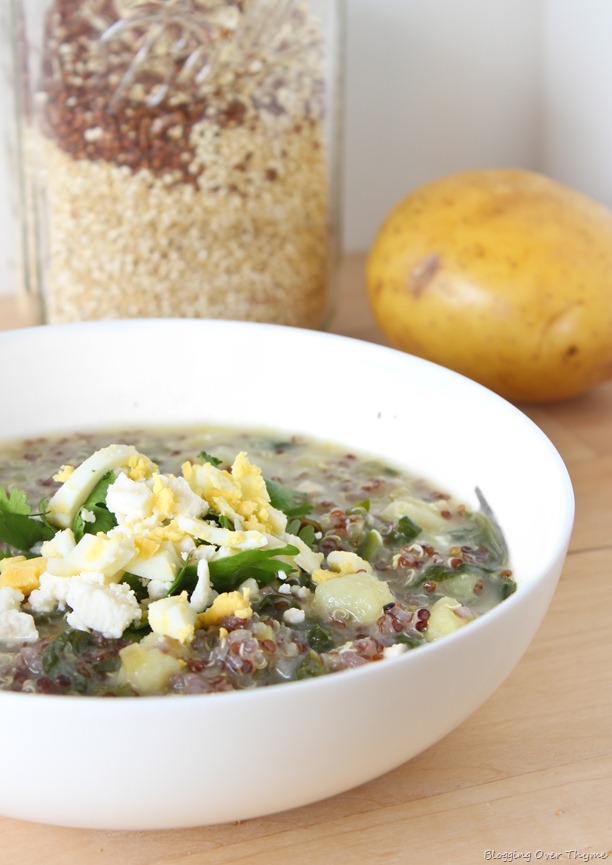 The week after Thanksgiving, I always end up craving simple, healthy, and light dinners. This usually brings soup to mind. Soup always leaves me satiated, but never stuffed to the point of no return. They also make the perfect meal on a cold and wintry day.
One of my goals this fall was to try lots of new and different soup recipes. I tend to resort to familiar favorites, like slow cooker winter vegetable soup and curried lentil soup. A quinoa chowder recipe was entirely foreign to me, which was exactly what attracted me to this soup in the first place.
This recipe is from one of my favorite cookbooks Vegetarian Cooking for Everyone by Deborah Madison. It had the following description:
"Light, utterly delicious, pretty, and fresh looking, this recipe stems from one in Chef Felipe's Rojas-Lombardi's book, The Art of South American Cooking, that I was draw to because I simply couldn't imagine it. Now, one of my favorite dishes in any category, it makes a quick, wholesome meal" (pg. 230)
This soup was described perfectly. In fact, the ingredient list was exactly what attracted me to it in the first place. And don't let the name fool you, while this resembles chowder in a textural way and incorporates potatoes, nothing else about it is traditional.
Just check out the ingredient list and you'll immediately become intrigued!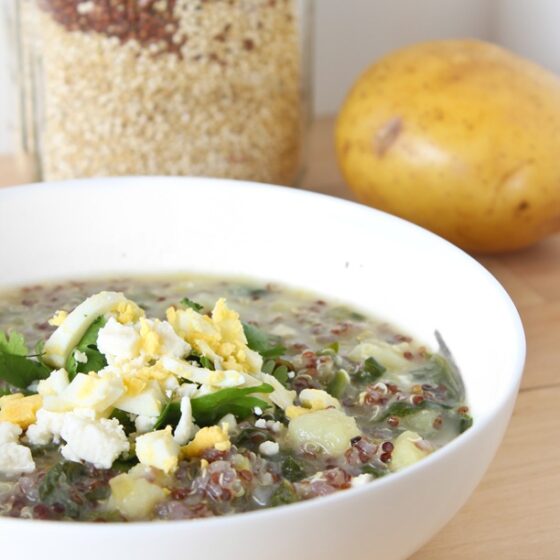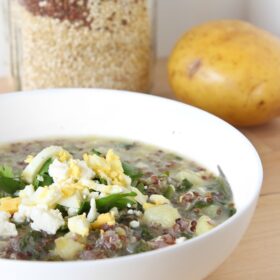 Quinoa Chowder
This light, delicious, and surprisingly hearty quinoa chowder is from Deborah Madison's Vegetarian Cooking for Everyone. Each serving is topped with feta cheese, chopped hard-boiled egg, and cilantro!
Ingredients
1 cup red or white quinoa rinsed well
2 tablespoons (30 mL) extra virgin olive oil
2 garlic cloves finely chopped
1 jalapeño pepper de-ribbed and seeded, finely diced
1 teaspoon ground cumin
¾ pound Yukon gold potatoes peeled and cut into ¼-inch cubes
1 bunch scallions thinly sliced
3 cups baby spinach finely sliced
6 ounces feta cheese crumbled
½ cup chopped cilantro leaves
freshly ground black pepper
Garnishes:
1 hard-boiled egg chopped (garnish)
Instructions
Measure and rinse the quinoa in fine sieve (this removes the outer layer of quinoa, which is bitter and has a 'soapy' taste). Combine the rinsed quinoa and 8 cups (2 quarts) water in medium soup pot. Bring to a boil, lower the heat, and simmer for 10 minutes. While the quinoa is cooking, prepare the remaining ingredients.

Once quinoa has simmered for 10 minutes, remove from heat and drain - reserving all of the cooking liquid. The easiest way to do this is to set a fine-meshed sieve over a large soup pot.

In a large clean soup pot, heat the extra virgin olive oil over medium heat. Add chopped garlic and jalapeno. Cook for 30 seconds, stirring continuously. Add cumin, about 1 teaspoon salt, and the chopped potatoes and cook for a few minutes, stirring frequently to avoid them sticking to the bottom of the pan and ensuring the garlic does not brown.

Add the reserved quinoa cooking water, half of the chopped scallions, and simmer until the potatoes are tender, about 15 to 20 minutes. Add cooked quinoa, spinach, and remaining scallions and simmer for 5 to 10 minutes. The soup will continue to thicken and come together.

Turn the soup off the heat and stir in crumbled feta cheese and cilantro. Season with salt and pepper to taste. Serve the soup, garnishing each serving with a small spoonful of chopped hard-boiled egg.
Tips for Success:
How to Hard Boil An Egg: Combine water and egg in small saucepan. Bring to boil and cook for 5 to 7 minutes. Remove egg from water, place in ice bath, and once cool enough to handle, peel. 
Soup slightly adapted from
Vegetarian Cooking for Everyone by Deborah Madison.
Serving: 1serving, Calories: 479kcal, Carbohydrates: 39g, Protein: 22g, Fat: 27g, Saturated Fat: 11g, Polyunsaturated Fat: 13g, Cholesterol: 110mg, Sodium: 1079mg, Fiber: 5g, Sugar: 5g
This post contains affiliate links, which means that I make a small commission off items you purchase at no additional cost to you. Please read my
privacy policy
for more information.