Slow Cooker Curried Lentil Soup
Slow Cooker Curried Lentil Soup. An EASY flavorful lentil soup recipe seasoned with turmeric, ginger, cardamom, cloves, cinnamon, and coconut milk.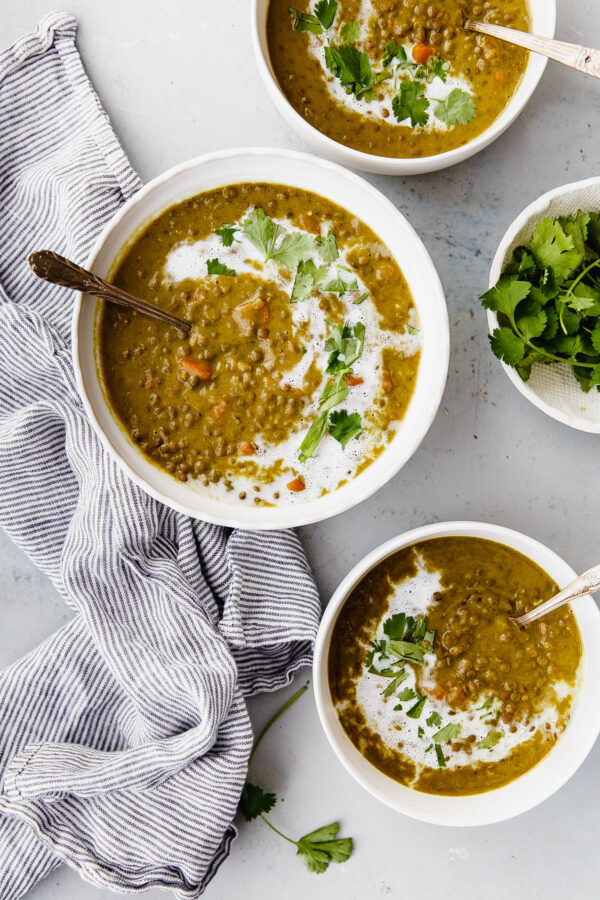 This recipe post is sponsored by Imagine®. 
Since January has been filled with more days in the negative digits than I can count on two hands, I decided it was high time that I share another delicious, hearty soup recipe with you. And not just any soup, an incredibly flavorful and nutritious slow cooker curried lentil soup that will make you want to curl up on the sofa under a good blanket.
I love this one so much that I've been making a habit of throwing a batch together at the beginning of each week. It heats up beautifully and can hold me over for hours (aka. it ensures that I don't get hangry and snack on everything in sight!).
You've been consistently asking for more slow cooker recipes without fail every year and always offer an overwhelmingly positive response each time that I do. Thank you! I hope this curried lentil soup will satisfy all of your winter soup cravings and allow you, even on the busiest of days, to put a delicious home-cooked meal on the table with more ease.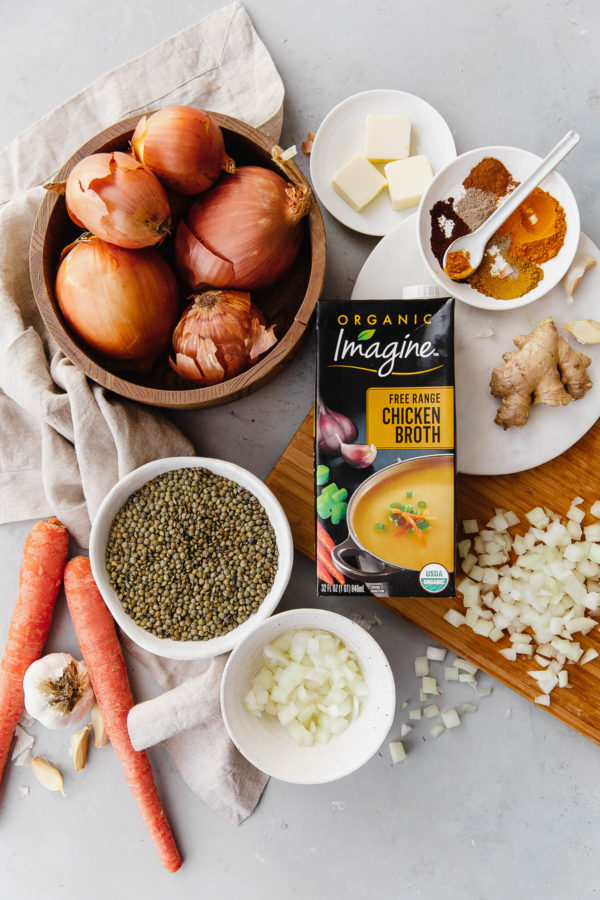 Tips for Success
The foundation of any great soup recipe starts with a high-quality broth. I generally prefer to make soups with chicken broth, because the flavor offers a wonderful, rich canvas on which to build and add flavors.
For this recipe, we'll be using one full quart (4 cups) of Imagine® Organic Free Range Chicken Broth. Sourcing responsibly raised and organic meat-based products has always been a high priority for me and these broths are top of the line. Even more noteworthy, Imagine® chicken broths have received a Global Animal Partnership Step 3 animal welfare rating.


I've been familiar with their line of products for some time, but became a regular convert when I completed Whole30 last year. You'd be shocked to find that even seemingly good-quality store-bought broths usually contain an excess of ingredients (aka. cane sugar or 'flavorings').
Imagine® chicken broth is made with real, wholesome non-GMO ingredients including organic, free-range chicken, organic farm-grown vegetables, and a delicate balance of savory herbs and seasonings. Their products are made with ingredients that I feel proud to use in my kitchen.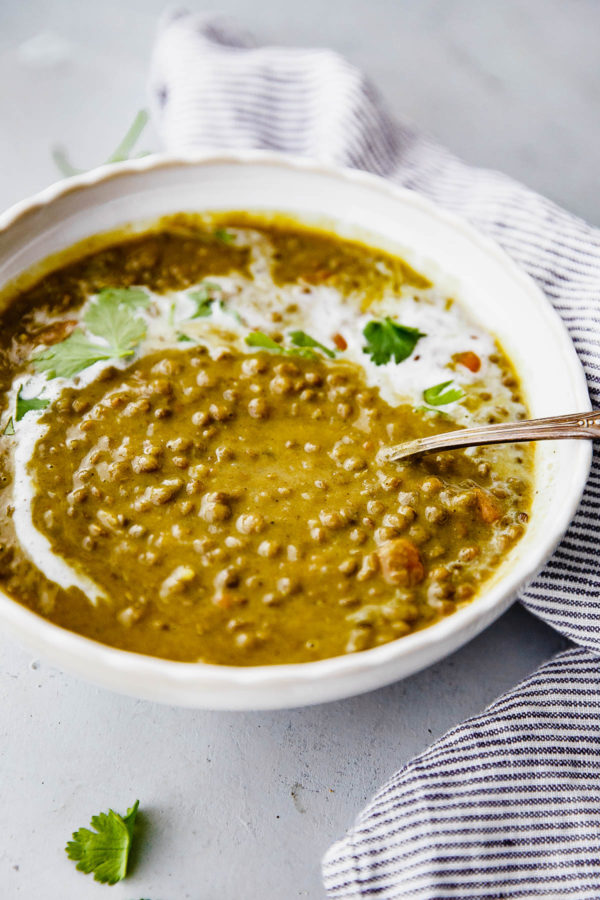 Why You'll Love This Slow Cooker Curried Lentil Soup Recipe:
The heartiness and heft of this curried lentil soup comes from typical soup aromatics, including onion, carrot, garlic, and ginger, and my favorite French green lentils. Sometimes called puy lentils, these lentils hold their shape once cooked, making them an ideal lentil for slow cooker or crockpot preparations.
The incredible flavor comes from a combination of warming spices, including curry powder, turmeric, cardamom, cinnamon, and cloves (yep, these aren't just baking spices!). It will make your kitchen smell fantastic.
It is worth noting that this soup will be very loose once you first combine the ingredients in the slow cooker, but as it cooks over low heat, it will transform into a hearty and thick stew.
Just before serving, you'll stir in generous pour of creamy full-fat coconut milk and a light squeeze of fresh lemon juice. The coconut milk adds fantastic creaminess and the lemon juice, while seemingly insignificant, rounds out all of the flavors.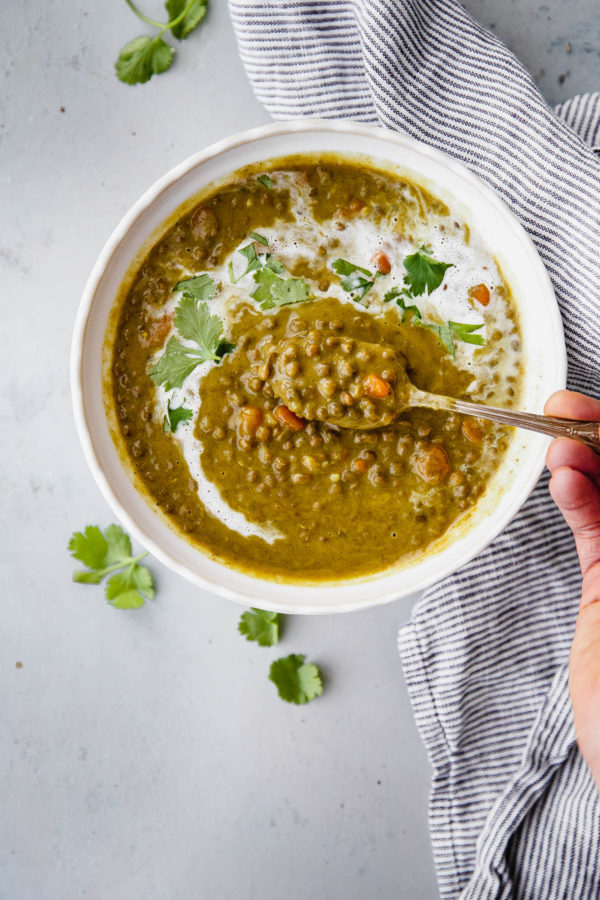 This might be my favorite slow cooker soup creation to date! I hope you love it as much as I do.
If you're looking for more easy soup inspiration, try this slow cooker cannellini bean soup or this crowd-pleasing slow cooker winter vegetable soup.
This post is sponsored by Imagine®. For more information on their products and where to find them, please visit their website or use their store locator. Thanks for supporting the brands I love and use in my own kitchen!