Quinoa Risotto with White Beans and Roasted Brassica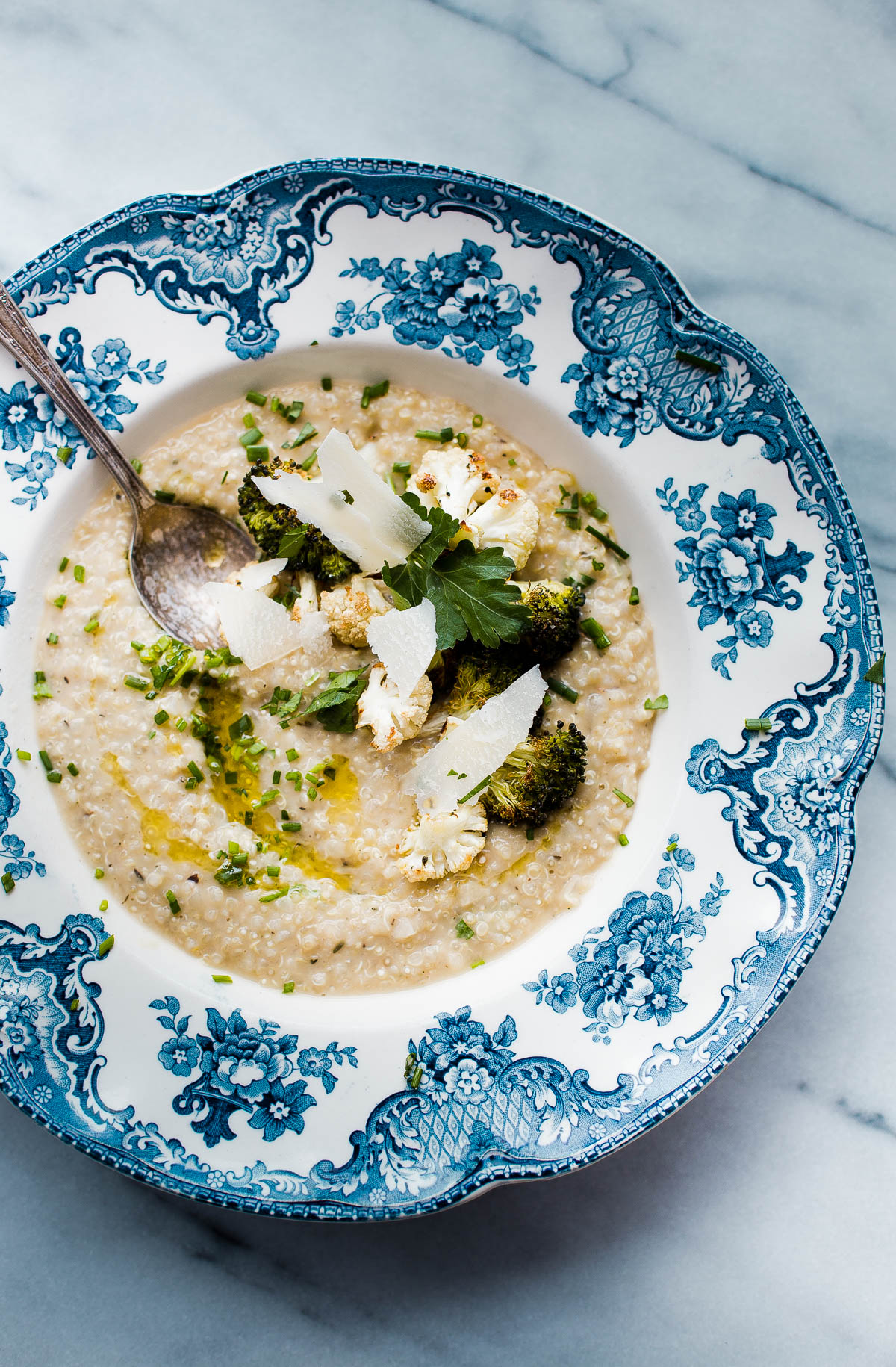 The words healthy, nutritious, quick, and risotto don't usually go hand-in-hand in the same sentence, but that is exactly what today's quinoa risotto accomplishes. Creamy quinoa risotto that can be cooked in under 45 minutes from start to finish. It also happens to be dairy-free.
This genius concept comes from the latest addition to my cookbook collection, The First Mess by Laura Wright. You might be familiar with her blog The First Mess. I've been a huge fan of her work for years! Laura is an expert at sharing creative and elegant plant-based, vegan recipes. Her new cookbook (which will be released next week!) is full of them. More than 125 of them.
As you all know, I'm far from vegan. I love my dairy and I do incorporate meat/seafood into our weekly rotation. But I also love vegetables and plant-based meals, and am always looking for more inspiration in this area. In fact, the majority of the recipes on this site happen to be meatless. Laura's intention and focus behind all of her dishes is to create satisfying, nourishing, and most importantly, delicious food.
As Laura describes in the introduction, "I eat for pleasure first and tend to gravitate towards a certain overall abundance with my food – in color, textural variation, and good flavor. When I keep these things in mind with my cooking and recipes, I know that I'm creating something that transcends dietary and seasonal confines, even if it does play within them." I love this philosophy, and strive toward this with my own work.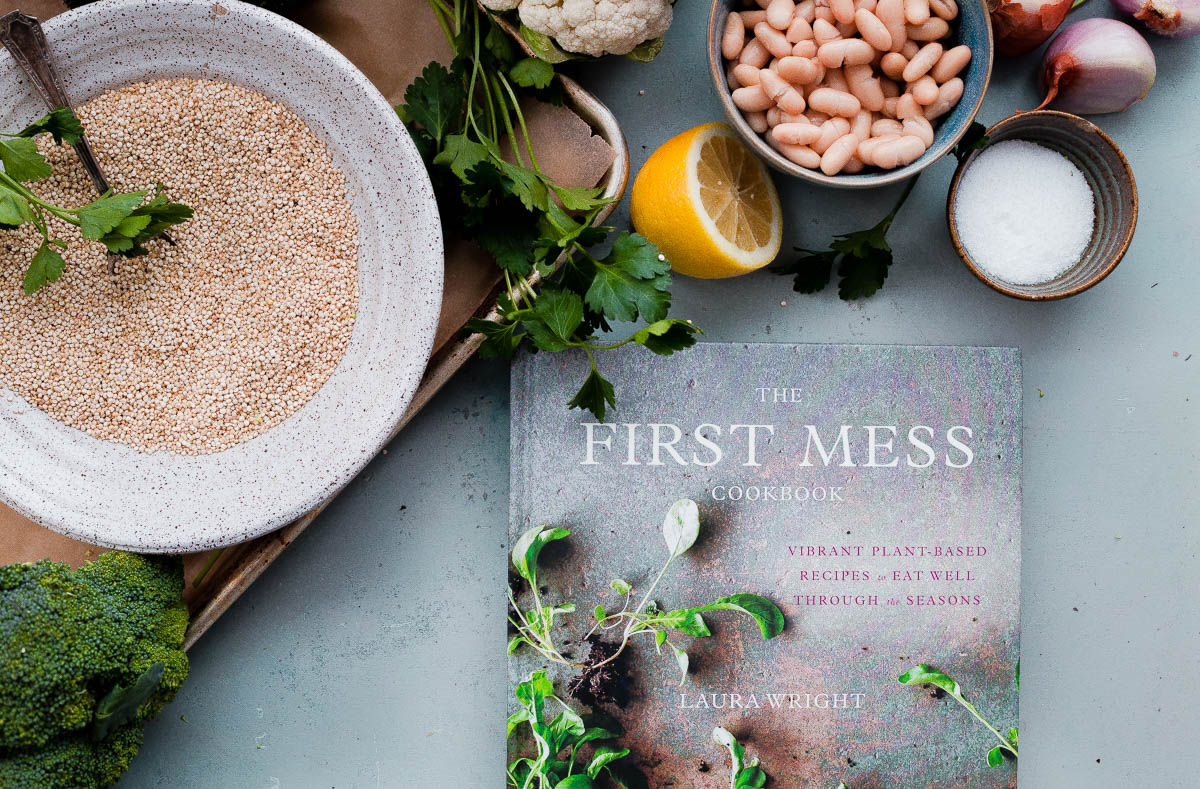 After flipping through the pages of her cookbook, I immediately wanted to almost every single recipe in the book. They were just so…unique and vibrant! The recipes are incredibly innovative (eggplant bolognese, garlicky winter vegetable and white bean mash with mushroom miso gravy, salted caramel date shake, raw raspberry cheesecake, etc.) and the photographs are stunning.
This quinoa risotto recipe piqued my curiosity and immediately caught my eye. Since quinoa is not naturally starchy (unlike traditional arborio rice used for risotto), I couldn't help but wonder how she had achieved a dairy-free creamy risotto that looked just as good as the real thing.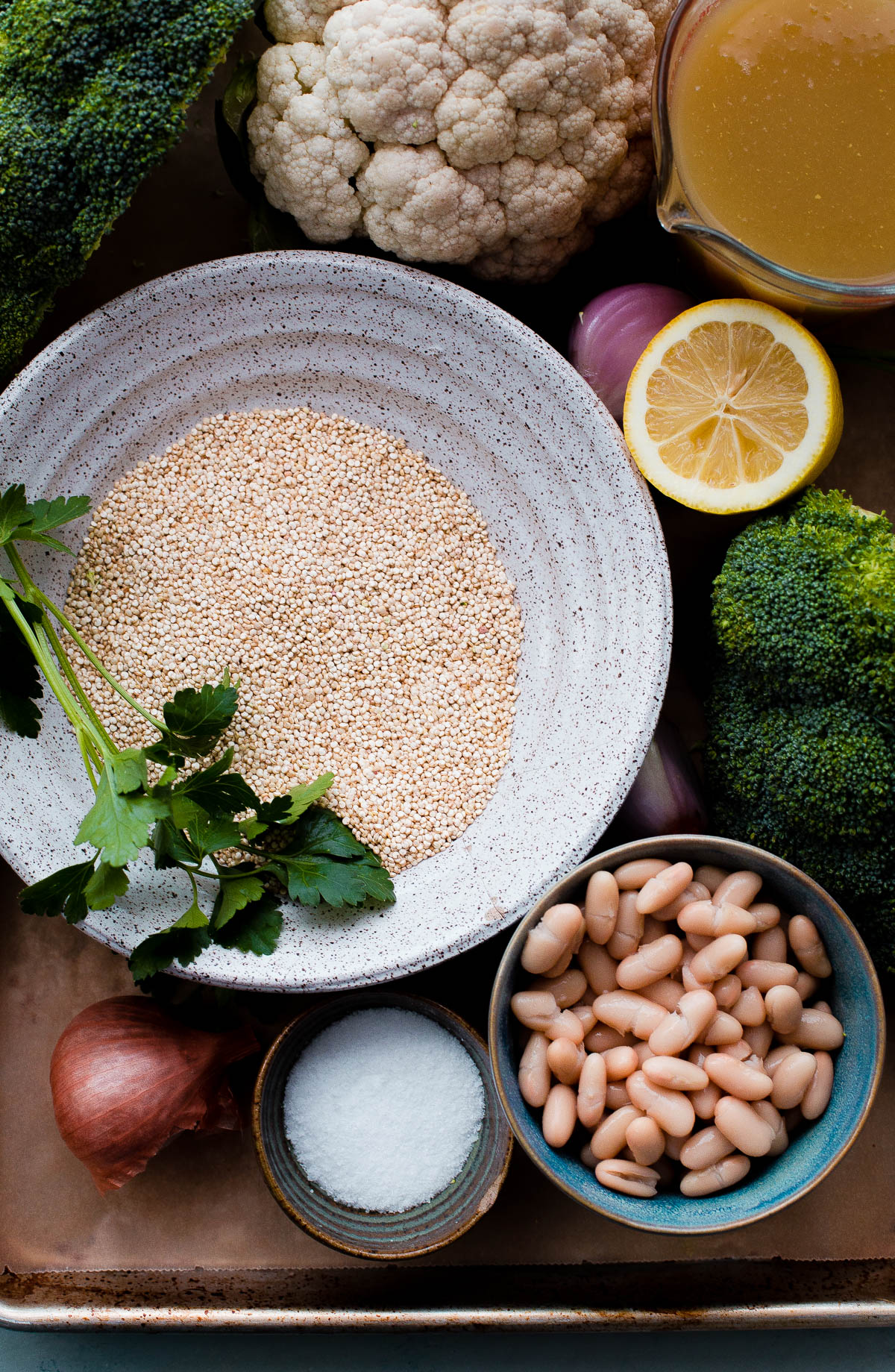 Laura's trick? White bean puree.
Cooked cannellini or navy beans are pureed in a blender with a touch of olive oil, lemon juice, and stock, and this puree is stirred into the quinoa once it is finished cooking. It works wonders for this recipe.
While I've used this trick before for bolognese sauces or soups, I've never thought to try it with risotto until now. Her cookbook is brimming with ideas like this!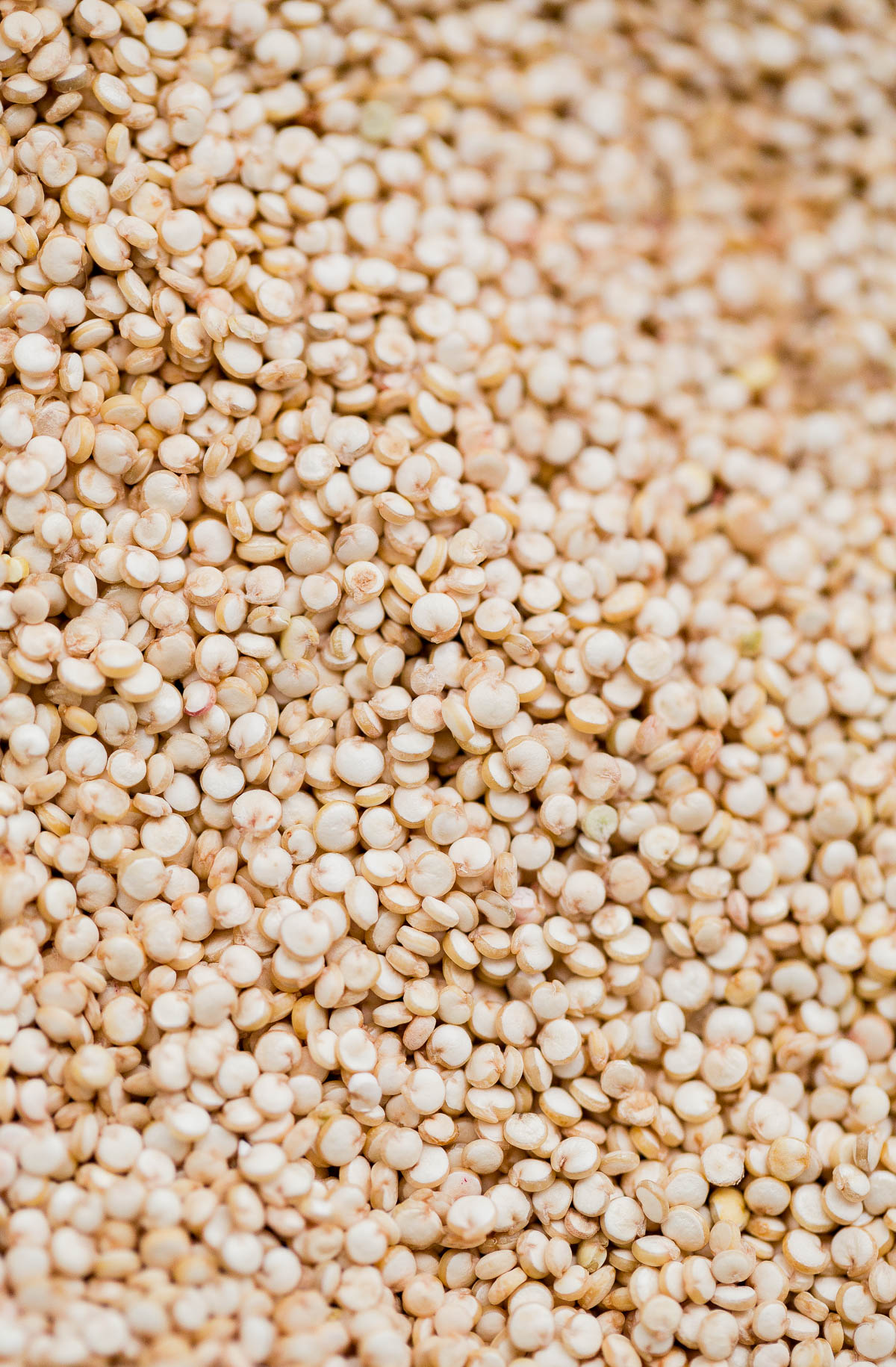 Here's the deal. Does this quinoa risotto taste like traditional arborio risotto made with generous amounts of parmigiano-reggiano cheese? Of course not! That would be impossible, and I'm sure Laura would agree with me.
But is this quinoa risotto still incredibly satisfying, hearty, delicious, and worthy? Absolutely.
It also happens to be very, very good for you. Traditional risotto is a treat, but this is a main course that could easily become part of your regular meal rotation. I love that. Each bowl is packed with fiber and protein (far more than traditional risotto), and comes together much faster than traditional risotto. One pot and zero stirring, which I love!
Like traditional risotto, this quinoa risotto is also naturally gluten-free.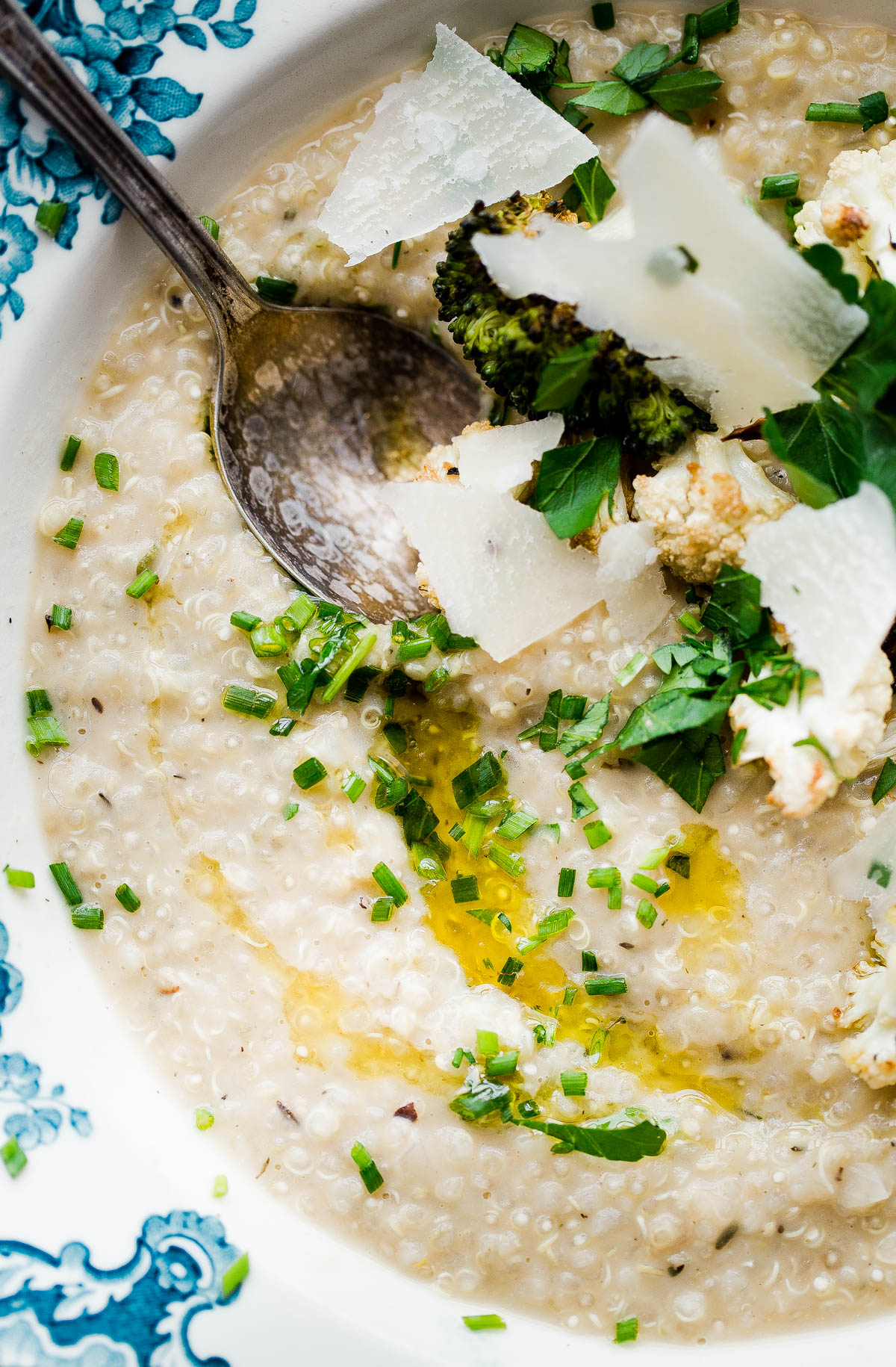 To finish it off, the quinoa risotto is topped off with roasted brassica florets (I used a combination of cauliflower and broccoli florets, but any roasted vegetables would be great with this).
The best part is that you can adjust this recipe towards your own preferences. Since I didn't have any vegetable stock on hand, I chose to prepare mine with homemade chicken stock and topped it off with a small amount of parmigiano-reggiano cheese (because I can't quit that stuff).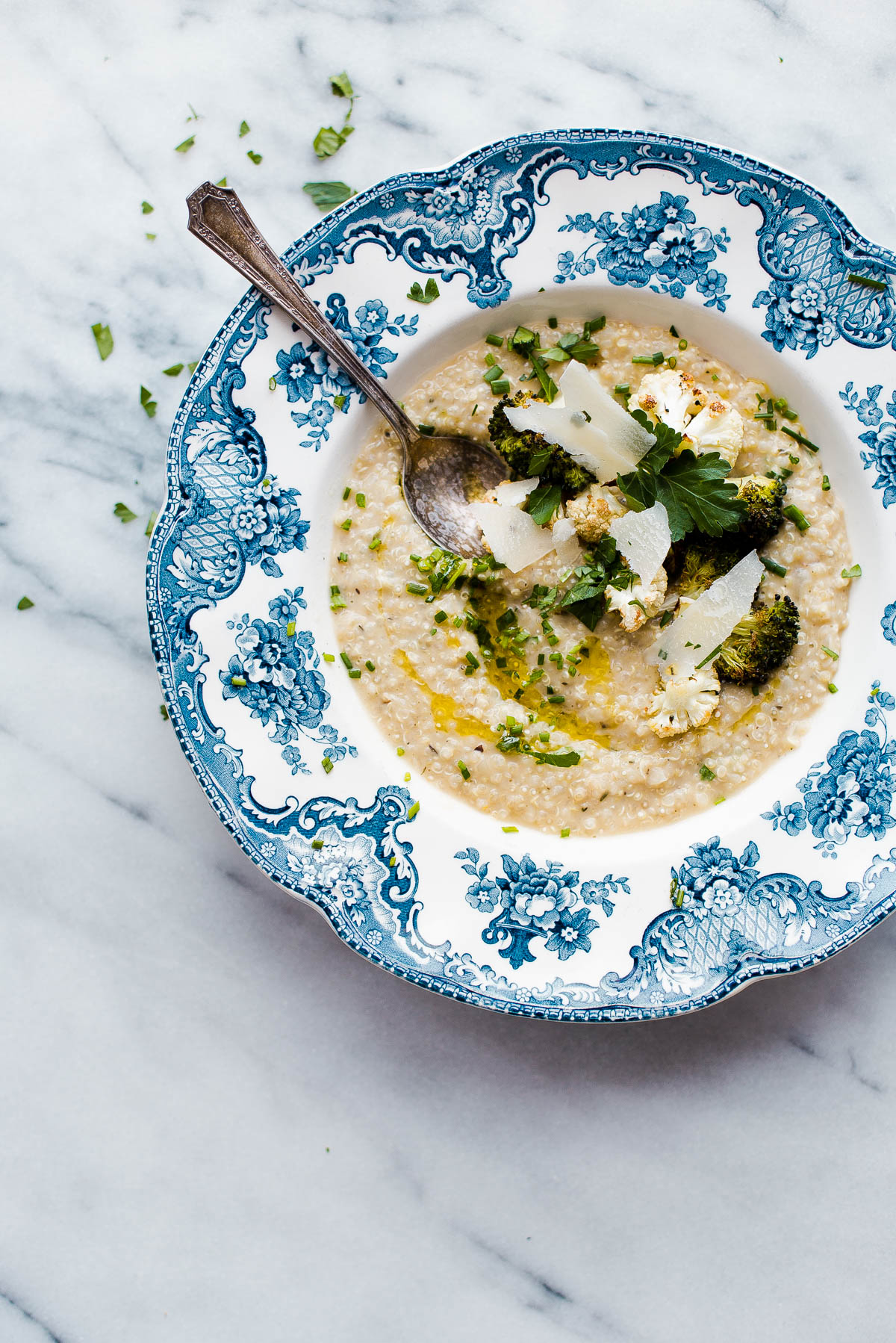 If you're looking for more plant-based recipe inspiration, be sure to check out Laura's cookbook!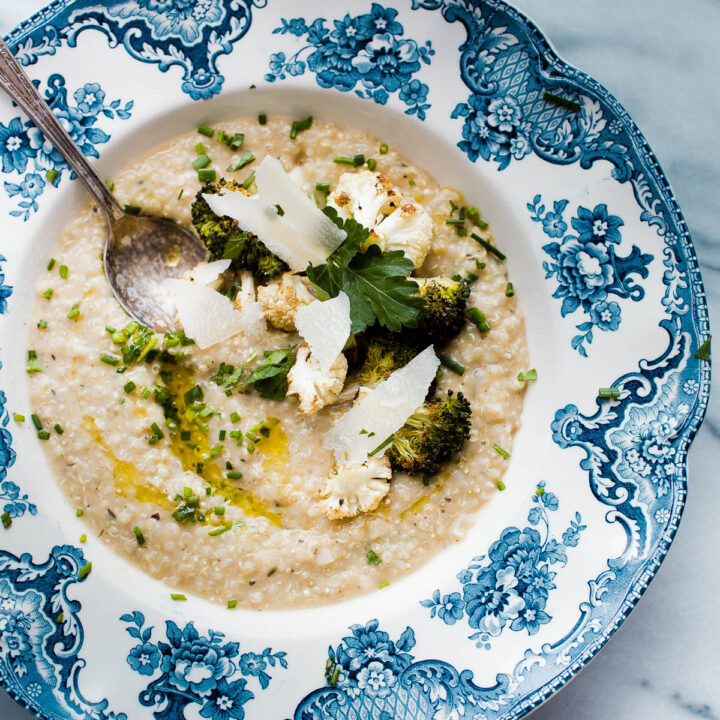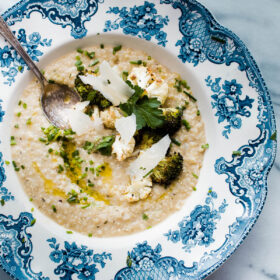 Quinoa Risotto with White Beans
Creamy quinoa risotto that can be cooked in under 45 minutes from start to finish. To top it off, the quinoa risotto is topped off with roasted brassica florets (I used a combination of cauliflower and broccoli florets, but any roasted vegetables would be great with this).
Ingredients
5 to 6 cups small caulfilower or broccoli florets, or a mixture roughly 1 to 1½ inch in size
2 tablespoons, plus 2 teaspoons extra virgin olive oil divided
kosher salt to taste
freshly ground black pepper to taste
1 (15 ounce) can cannellini or navy beans drained and rinsed (about 2 cups)
1 tablespoon (15 mL) fresh lemon juice
pinch of nutritional yeast (or grated parmigiano-reggiano cheese)
2⅓ cups (575 mL) vegetable or chicken stock
4 small shallots finely diced
2 teaspoons fresh thyme leaves about 4 sprigs
1 cup dry quinoa rinsed well
½ cup (120 mL) chopped fresh flat-leaf parsley divided
extra virgin olive oil, for drizzling
grated parmigiano-reggiano cheese for serving
Instructions
Preheat the oven to 400°F (200°C). Line a baking sheet with parchment paper and set aside.

Place the small florets on the baking sheet. Drizzle with 1 tablespoon (15 mL) of olive oil, and season with salt and pepper. Toss to coat and roast the florets until the edges are evenly brown and crispy, flipping the pieces over occasionally to ensure equal doneness, about 20 to 25 minutes. Set aside.

While the florets roast, in a blender, puree the white beans with the lemon juice, nutritional yeast (or grated parmigiano cheese if using), 2 teaspoons (10 mL) of the olive oil, and ⅓ cup (80 mL) of the stock. As soon as you have a smooth and creamy purée, stop the blender. Set the bean purée aside.

Heat the remaining 1 tablespoon (15 mL) of olive oil in a braised or medium-sized soup pot over medium heat. Add the shallots, and sauté until translucent, about 4 minutes. Add the fresh thyme and stir until fragrant, about 1 minute.

Add the rinsed quinoa to the pot and stir to coat in the oil, herbs, and shallots. Then, add the remaining 2 cups (480 mL) stock to the pot and stir. Bring to a boil, then simmer until the quinoa has absorbed almost all of the liquid, about 13 to 15 minutes.

Scrape the bean purée into the pot and stir to combine. The quinoa should have a creamy consistency without seeming dry. If it seems dry, add a good splash of stock.

Season the risotto with salt and pepper. Add half of the parsley to the pot and stir to mix throughout. Divide the quinoa risotto among 4 bowls. Top all portions of risotto with the crispy roasted florets and remaining parsley. Drizzle a bit of olive oil over the top if you like. Serve hot.
Tips for Success:
Mix it up by substituting the roasted broccoli or cauliflower with other roasted vegetables. Roasted squash, Brussels sprouts, or mushrooms would also work wonderfully for this dish.
This recipe is reprinted with permission from
The First Mess Cookbook
by Laura Wright (Avery, Spring 2017). I've included a few of my own adaptations above.
Serving: 1serving, Calories: 461kcal, Carbohydrates: 73g, Protein: 25g, Fat: 10g, Saturated Fat: 2g, Polyunsaturated Fat: 7g, Cholesterol: 4mg, Sodium: 484mg, Fiber: 22g, Sugar: 11g
This post contains affiliate links, which means that I make a small commission off items you purchase at no additional cost to you. Please read my
privacy policy
for more information.