Quinoa Risotto with White Beans and Roasted Brassica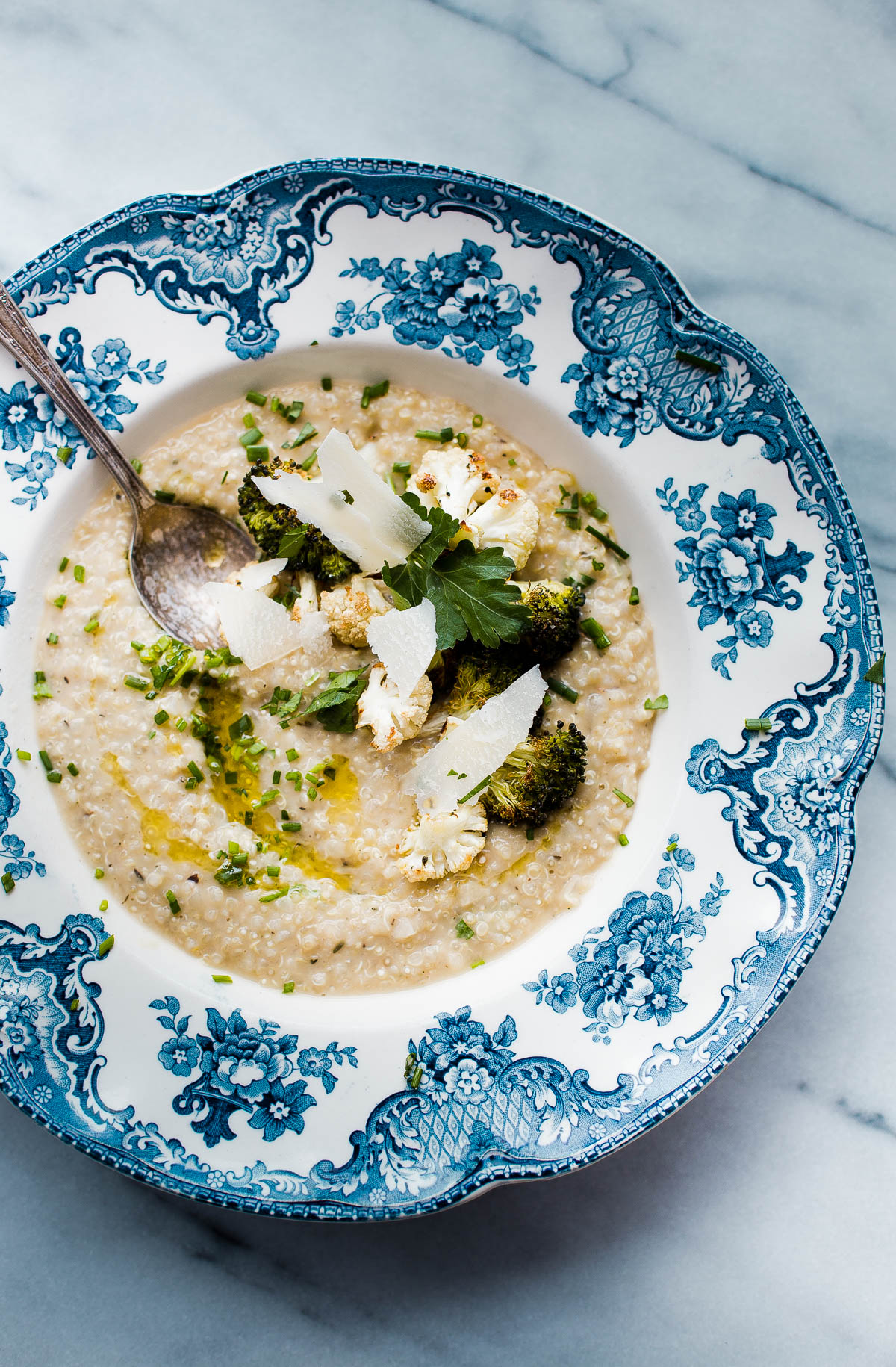 The words healthy, nutritious, quick, and risotto don't usually go hand-in-hand in the same sentence, but that is exactly what today's quinoa risotto accomplishes. Creamy quinoa risotto that can be cooked in under 45 minutes from start to finish. It also happens to be dairy-free.
This genius concept comes from the latest addition to my cookbook collection, The First Mess by Laura Wright. You might be familiar with her blog The First Mess. I've been a huge fan of her work for years! Laura is an expert at sharing creative and elegant plant-based, vegan recipes. Her new cookbook (which will be released next week!) is full of them. More than 125 of them.
As you all know, I'm far from vegan. I love my dairy and I do incorporate meat/seafood into our weekly rotation. But I also love vegetables and plant-based meals, and am always looking for more inspiration in this area. In fact, the majority of the recipes on this site happen to be meatless. Laura's intention and focus behind all of her dishes is to create satisfying, nourishing, and most importantly, delicious food.
As Laura describes in the introduction, "I eat for pleasure first and tend to gravitate towards a certain overall abundance with my food – in color, textural variation, and good flavor. When I keep these things in mind with my cooking and recipes, I know that I'm creating something that transcends dietary and seasonal confines, even if it does play within them." I love this philosophy, and strive toward this with my own work.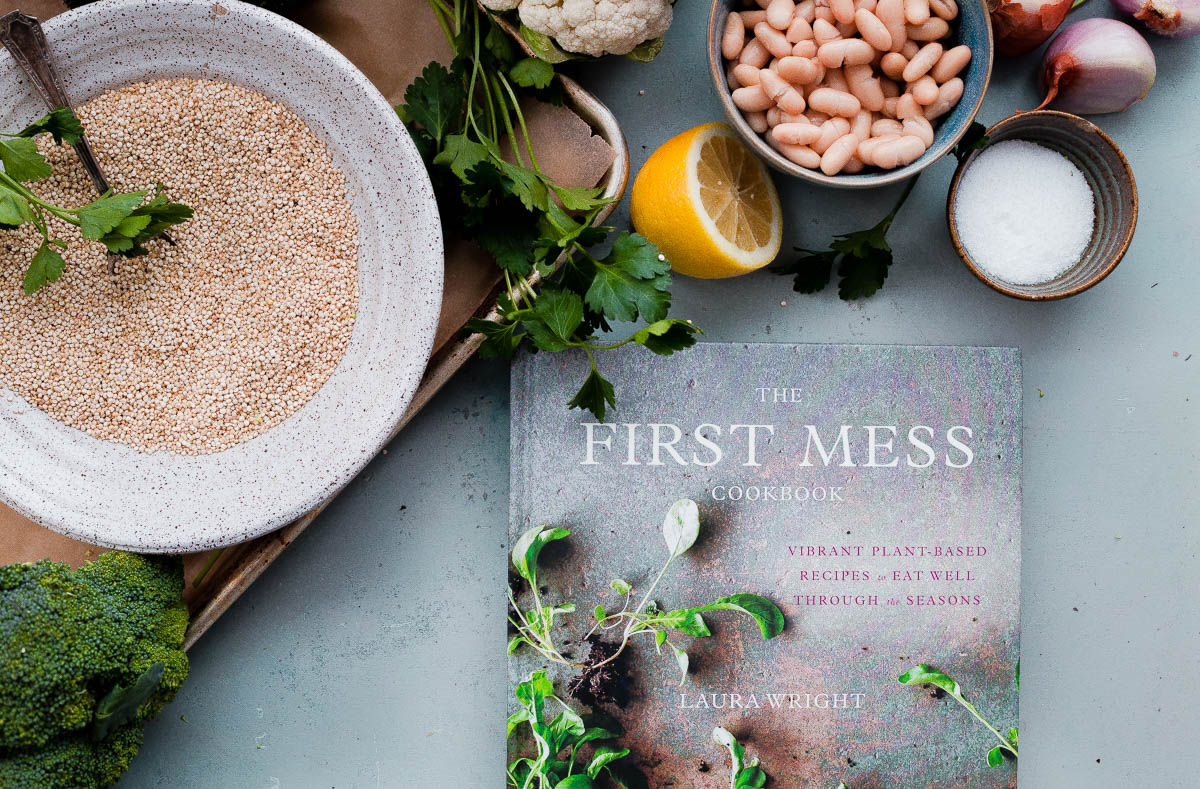 After flipping through the pages of her cookbook, I immediately wanted to almost every single recipe in the book. They were just so…unique and vibrant! The recipes are incredibly innovative (eggplant bolognese, garlicky winter vegetable and white bean mash with mushroom miso gravy, salted caramel date shake, raw raspberry cheesecake, etc.) and the photographs are stunning. 
This quinoa risotto recipe piqued my curiosity and immediately caught my eye. Since quinoa is not naturally starchy (unlike traditional arborio rice used for risotto), I couldn't help but wonder how she had achieved a dairy-free creamy risotto that looked just as good as the real thing.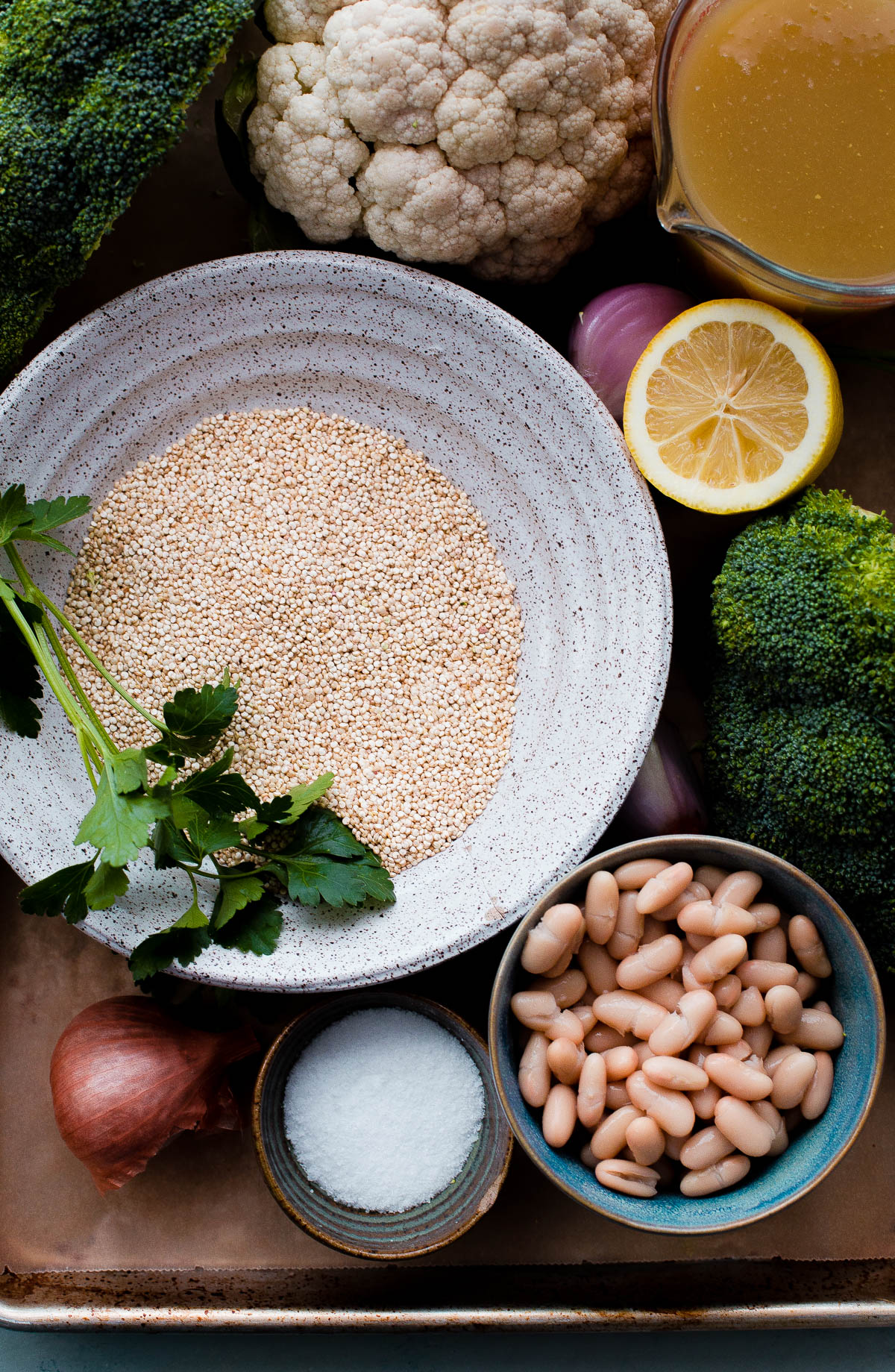 Laura's trick? White bean puree.
Cooked cannellini or navy beans are pureed in a blender with a touch of olive oil, lemon juice, and stock, and this puree is stirred into the quinoa once it is finished cooking. It works wonders for this recipe.
While I've used this trick before for bolognese sauces or soups, I've never thought to try it with risotto until now. Her cookbook is brimming with ideas like this!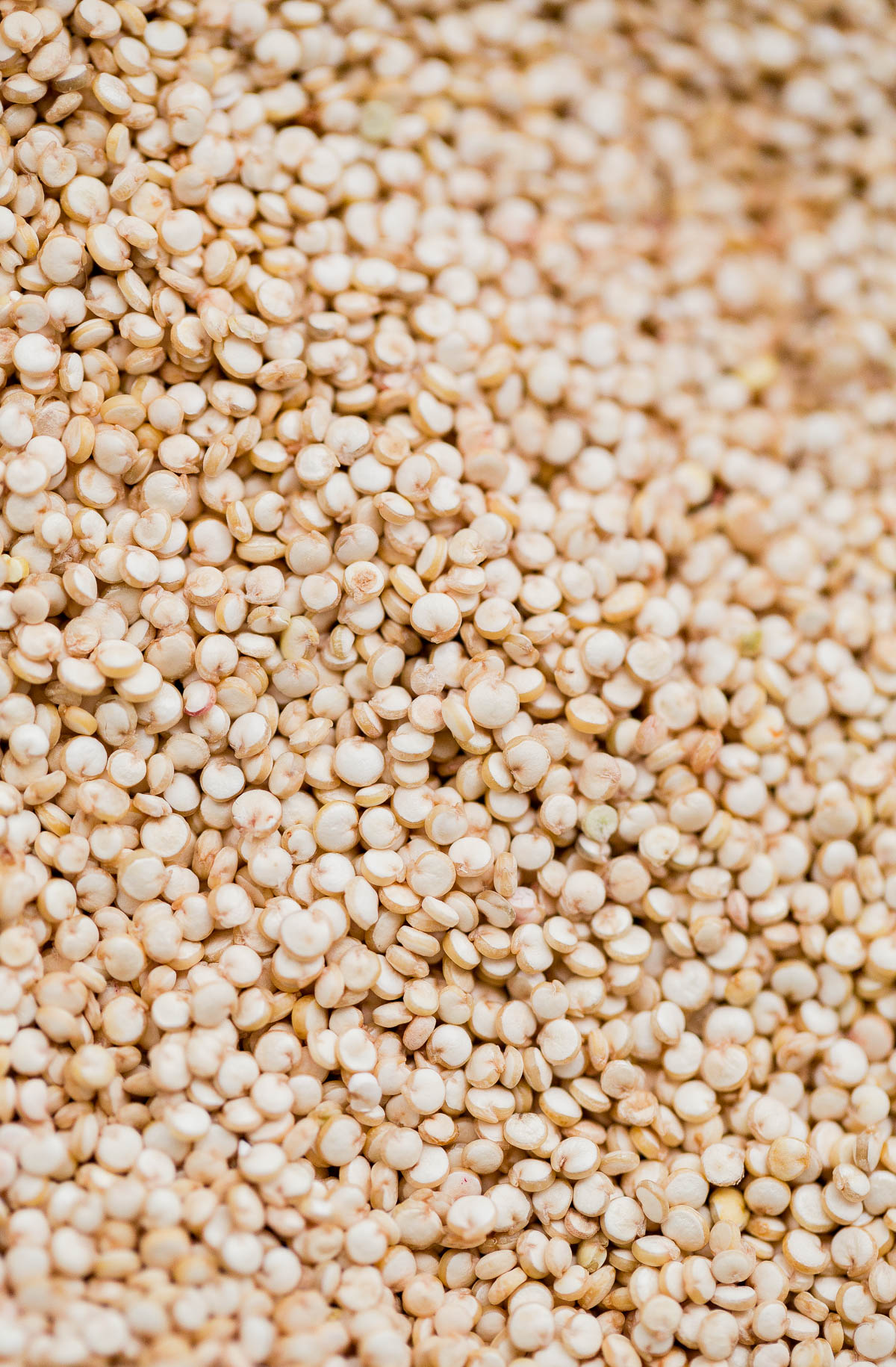 Here's the deal. Does this quinoa risotto taste like traditional arborio risotto made with generous amounts of parmigiano-reggiano cheese? Of course not! That would be impossible, and I'm sure Laura would agree with me.
But is this quinoa risotto still incredibly satisfying, hearty, delicious, and worthy? Absolutely.
It also happens to be very, very good for you. Traditional risotto is a treat, but this is a main course that could easily become part of your regular meal rotation. I love that. Each bowl is packed with fiber and protein (far more than traditional risotto), and comes together much faster than traditional risotto. One pot and zero stirring, which I love!
Like traditional risotto, this quinoa risotto is also naturally gluten-free.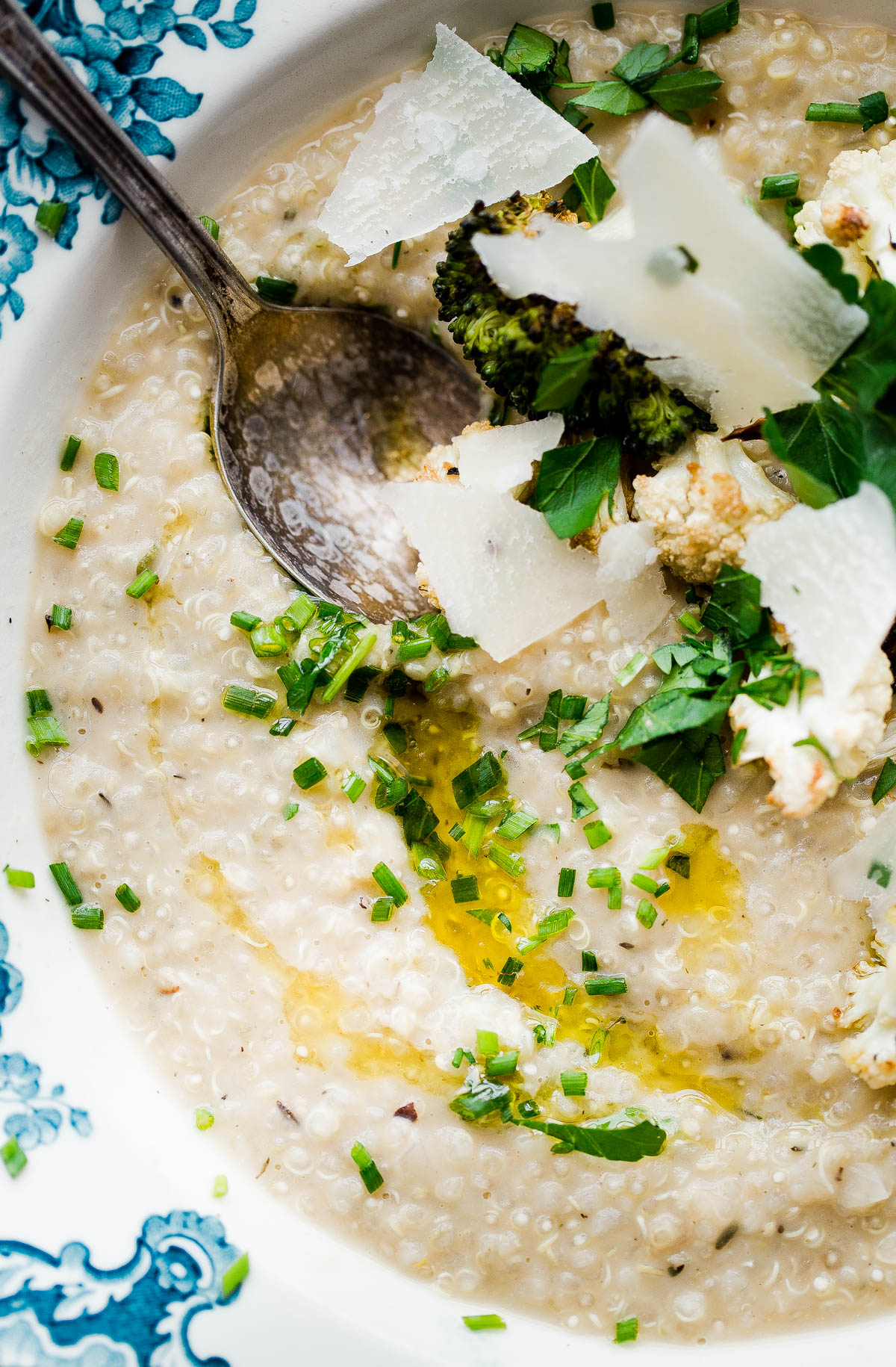 To finish it off, the quinoa risotto is topped off with roasted brassica florets (I used a combination of cauliflower and broccoli florets, but any roasted vegetables would be great with this).
The best part is that you can adjust this recipe towards your own preferences. Since I didn't have any vegetable stock on hand, I chose to prepare mine with homemade chicken stock and topped it off with a small amount of parmigiano-reggiano cheese (because I can't quit that stuff).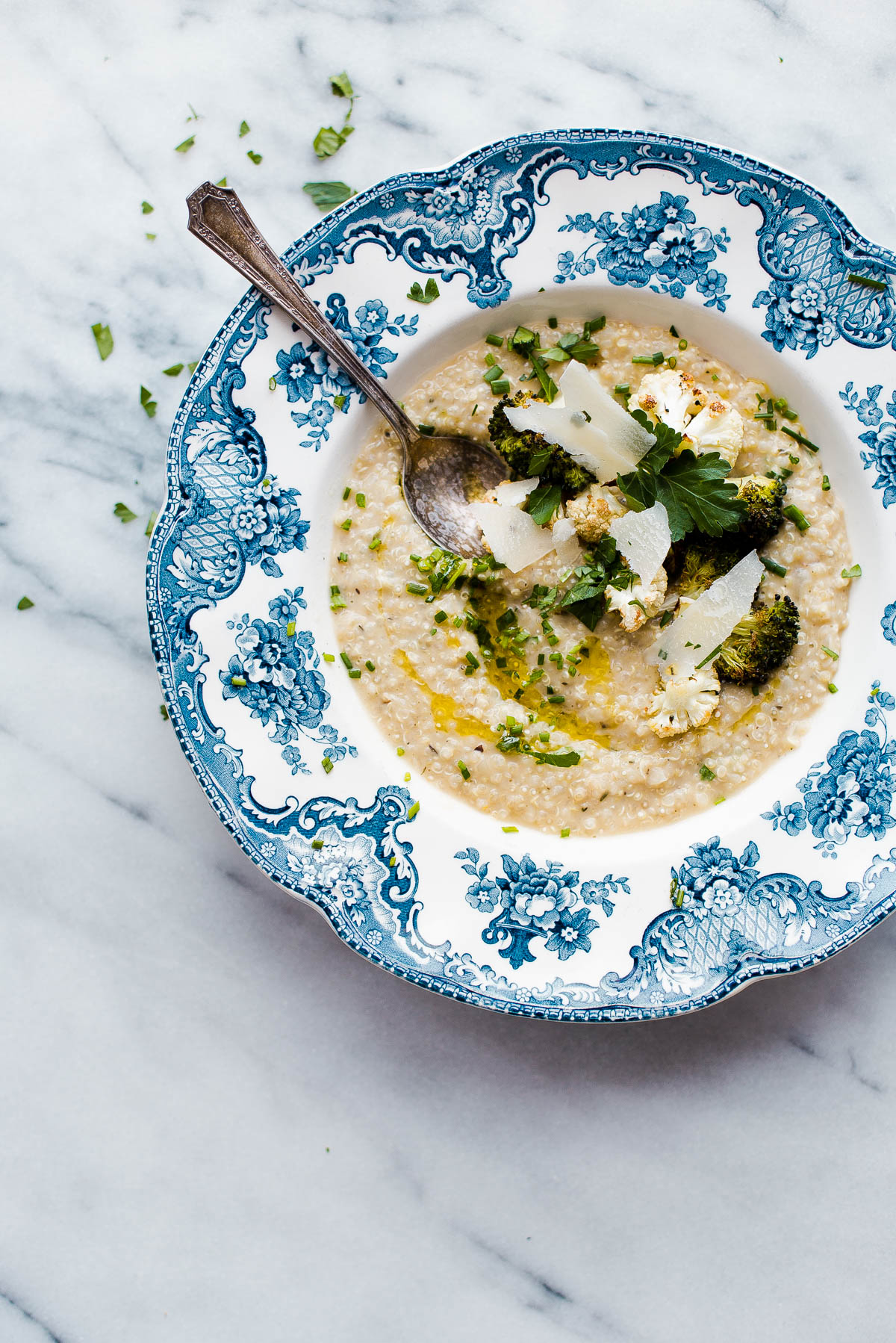 If you're looking for more plant-based recipe inspiration, be sure to check out Laura's cookbook! You will be blown away, promise. I can't wait to cook more recipes from it!
Products Used for this recipe:
(may include affiliate links)