Spaghetti with Cannellini Bean Bolognese
This post contains affiliate links.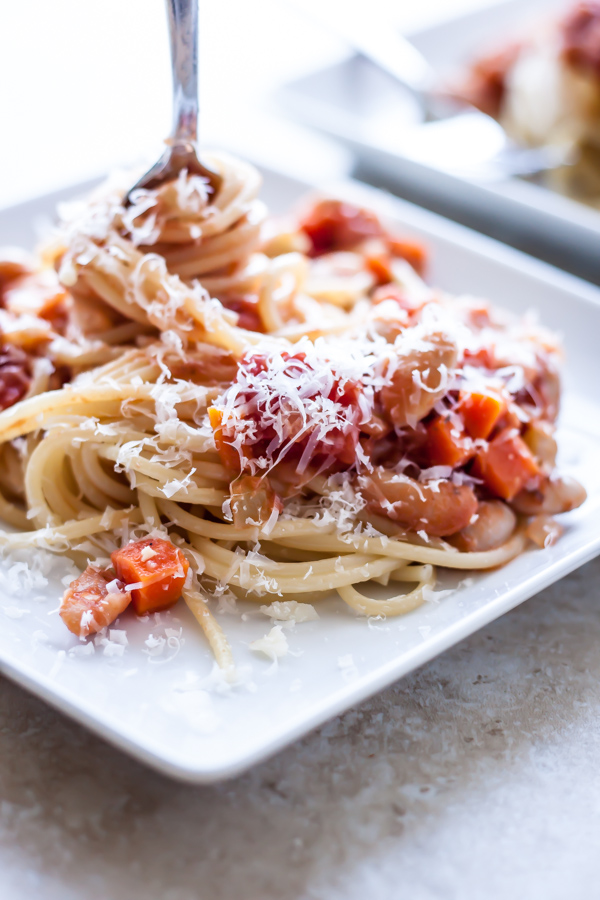 It's Friday! Let's eat all.the.carbs.
Apparently this is 'comfort foods' week on the blog (minus Monday because, well, salads do not qualify as comfort food in my opinion…no matter how delicious they are).   And there is nothing more comforting, in my mind, than pasta.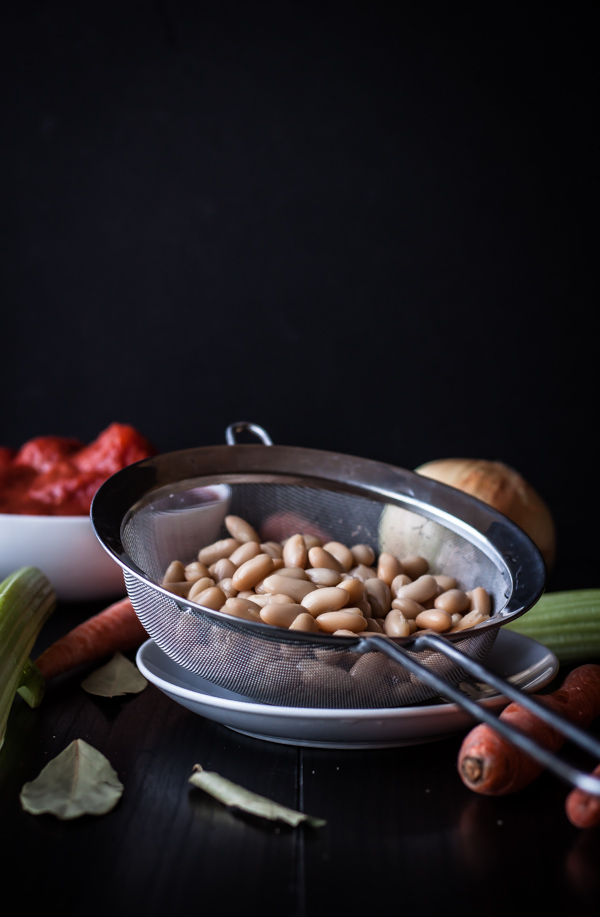 It is my go-to Friday meal.  Actually, it is sort of my go-to meal any day of the week.  Always has been, always will be.  But I must say, it tastes extra special on a Friday after a long work week.
Speaking of pasta, I have a little bit of a confession.  There was a decent chunk of time in my life (i.e the first 8 years of my existence) where I survived solely on pasta–and grapefruit juice (thankfully, not together in the same meal–or at least, I don't think so).
Yes, I was one of the plain-pasta-with-butter-and-cheese-only kids.  I know.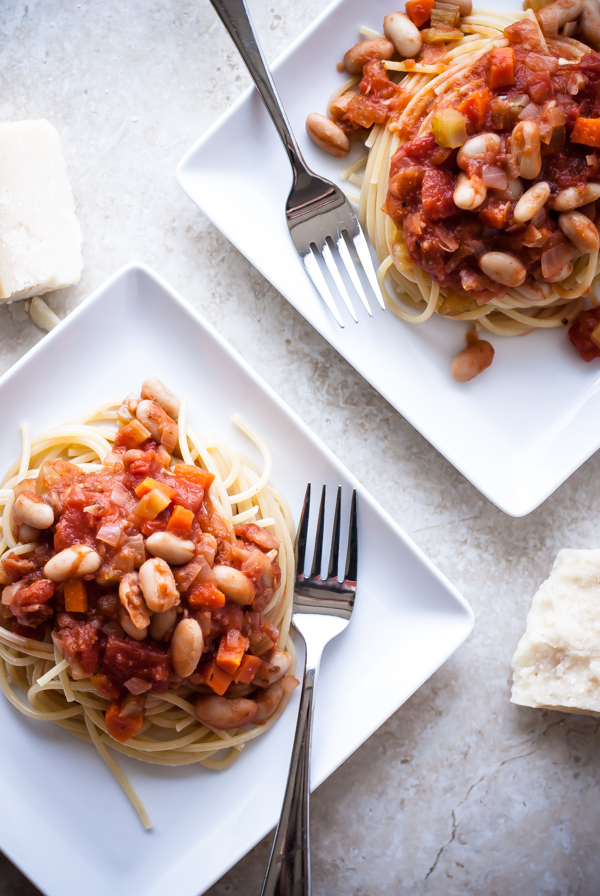 I prefer to look back and think that I was a very discerning eater with a sensitive palate.  Or that I was just extremely loyal to my favorite food groups.  That sounds a lot better in my opinion.  Doesn't it?
Yeah, let's go with that.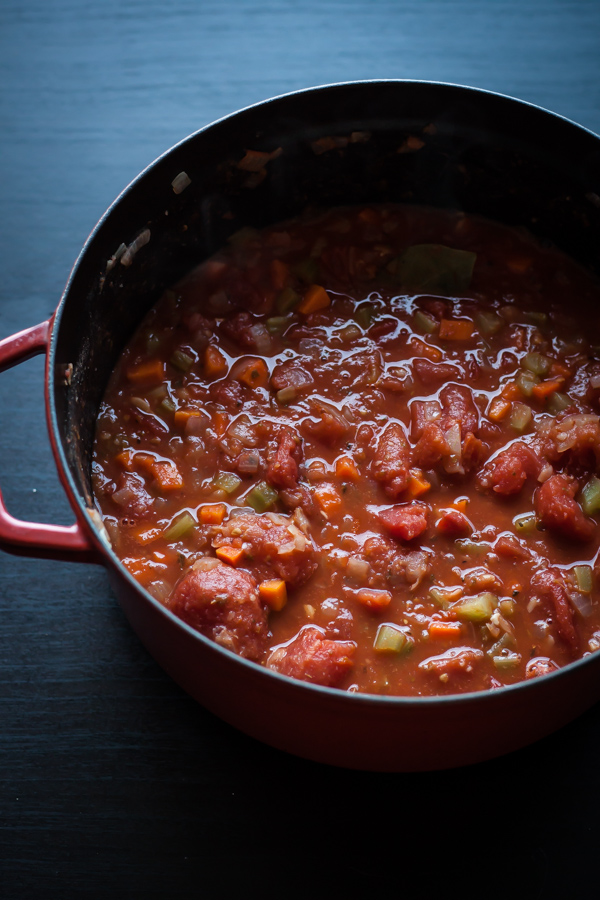 Despite my picky eating habits, I always loved a good bolognese.  It might be one of the most comforting pasta sauces out there–but it not the most weeknight friendly meal.
This cannellini bean bolognese is a lighter, more time-friendly vegetarian take on classic bolognese.  But it is just as hearty and filling.  It is chock full of veggies–carrots, celery, and onion–and gets its thickness from the addition of mashed cannellini beans, in addition to whole.  And it can be made in less than half the time.
Don't forget the cheeeeese!  It is just as important as the pasta.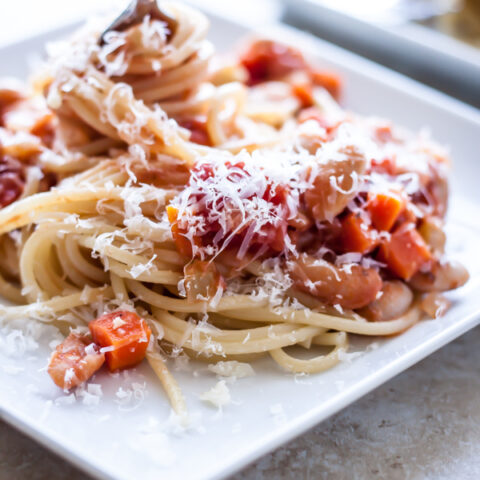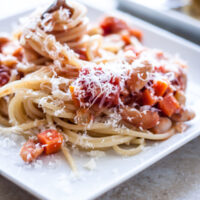 Spaghetti with Cannellini Bean Bolognese
Yield: 4-5 Servings
Prep Time: 20 minutes
Cook Time: 40 minutes
Total Time: 1 hour
Ingredients
1 (14.5 ounce) can of cannellini beans, rinsed well and drained
2 tablespoons extra virgin olive oil
1 medium onion, diced
1 cup diced carrot
1 cup diced celery
3 cloves garlic, finely chopped
2 bay leaves
1 tablespoon oregano
1/2 cup dry white wine
1 (28-ounce) can of whole peeled plum tomatoes
1 (14.5 ounce) diced tomato
1/3 cup water
kosher salt
pepper
1 lb dried spaghetti
Parmigiano-Reggiano cheese, grated
Instructions
Mash 1/2 cup of the beans and set aside. Heat the oil over medium heat in a large heavy-bottom saucepan. Add the onion and saute, stirring frequently, until they they are soft and translucent.
Add the carrots and celery, and cover–and continue to cook for another 10 minutes, stirring occasionally.
Add the garlic, bay leaf, oregano and cook for another minute or until fragrant.
Add the white wine, increase the heat to high, and cook until almost all of the wine has evaporated. Add the mashed beans, tomatoes, and water and simmer the sauce for 20-30 minutes. Stir in the remaining rinsed beans. Season with salt and pepper to taste.
Meanwhile, heat a large pot of salted water to a boil. Cook the pasta until al dente and drain. Top the pasta with sauce and garnish with cheese.
Nutrition Information:
Yield: 5
Serving Size: 1
Amount Per Serving:
Calories: 295
Total Fat: 7g
Saturated Fat: 1g
Trans Fat: 0g
Unsaturated Fat: 5g
Cholesterol: 1mg
Sodium: 191mg
Carbohydrates: 46g
Fiber: 6g
Sugar: 5g
Protein: 10g
A Beautiful Plate provides nutritional information, but these figures should be considered estimates, as they are not calculated by a registered dietician.
This post contains some affiliate links, which means that I make a small commission off items you purchase at no additional cost to you. Please read my
disclosure policy
for more information.