Red Quinoa Arugula Salad
This post contains affiliate links.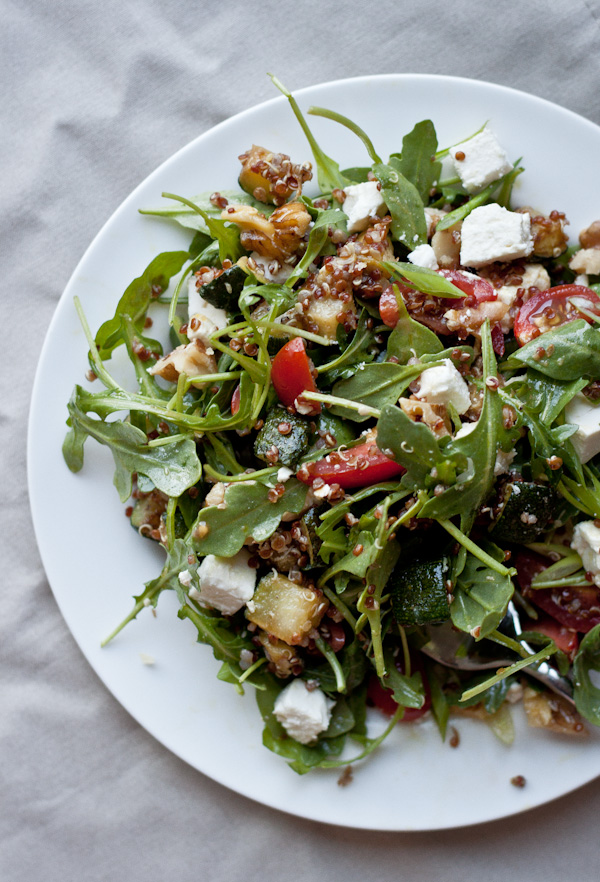 I think I've mentioned this before, but restaurants are my go-to source for cooking inspiration. Especially when it comes to combining foods and flavors, or simply looking at an ingredient in a new light.
Sometimes I try to recreate the same dish, while other times, I take the idea and do my own take on it.  That isn't to say that I don't fail miserably sometimes…
Because I do.  A lot.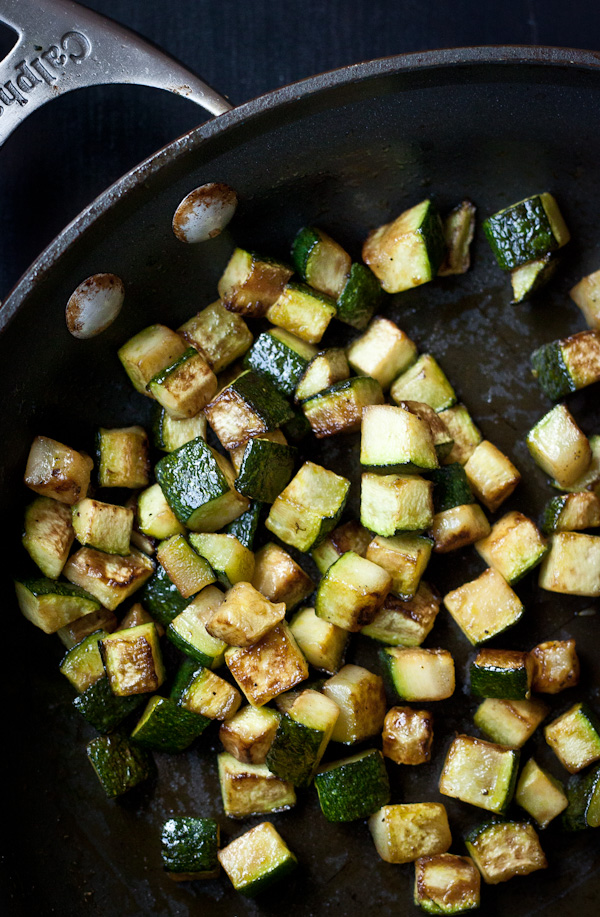 It took me freaking years, and a ton of Korean red pepper powder,to figure out this one.  And I'm still attempting (after several failures) to make my own version of this white truffle carbonara pasta we had in Italy not too long ago (not sure if I'll ever be satisfied with that one)…
But. for some reason or other, nothing quite motivates me to get in the kitchen to start cooking more than a good meal out.  And this red quinoa arugula salad is a prime example of that.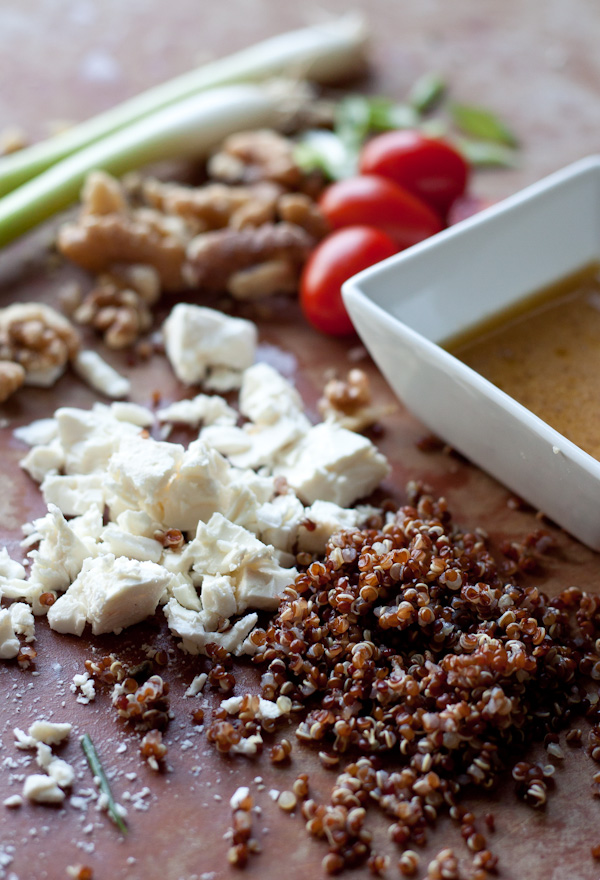 This dish was actually inspired by a roasted carrot and beet quinoa arugula salad that I had out at dinner a few weeks ago.  It got me thinking…why had I never added quinoa to a regular salad?  I don't mean a normal grain based salad, but a leafy green salad.
So, as is often the case when this happens, I got in the kitchen and made my own version.  A more summer-y version complete with pan-sauteed zucchini, lemon zest, walnuts, green onions, cherry tomatoes and feta cheese.
The cooked quinoa lightly coats the arugula, without weighing it down, and adds great texture (especially red quinoa, which tends to be a bit heartier) and color.  Plus, it is super healthy and simple to put together.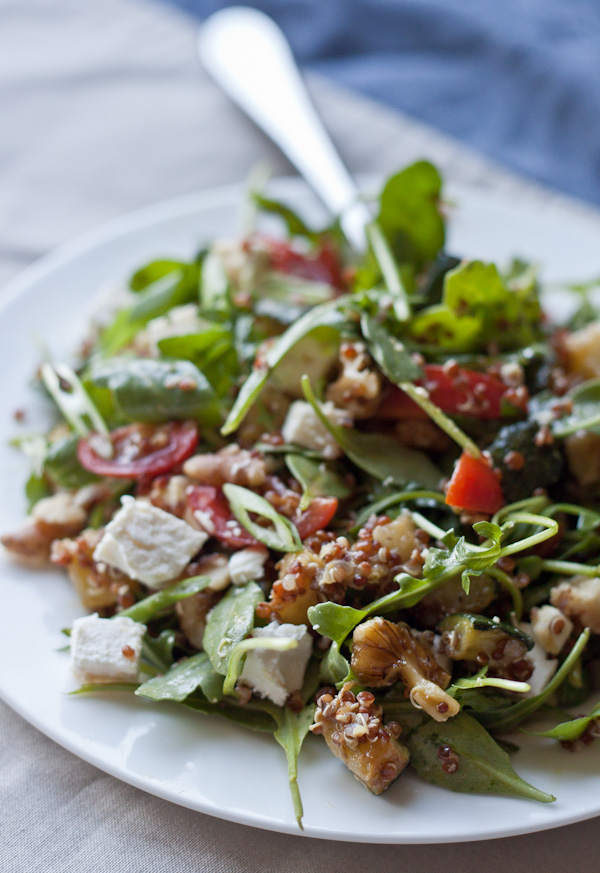 While this salad would work equally well as a side, it has all the ingredients to make it a satisfying and filling all-in-one meal.  Protein (quinoa!), veggies, healthy fats, you name it—it's all in there.
Enjoy!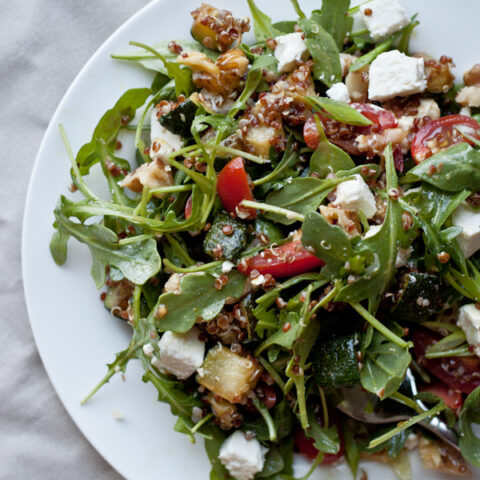 Red Quinoa Arugula Salad
Yield: 2 Servings
Prep Time: 10 minutes
Cook Time: 20 minutes
Total Time: 30 minutes
Ingredients
Salad Dressing:
2 tablespoons + 1 teaspoon extra virgin olive oil
1 tablespoons red wine vinegar
1 tablespoon fresh lemon juice
1 teaspoon Dijon mustard
1/4 teaspoon kosher salt
freshly ground black pepper
Salad:
1 large zucchini, cut into 1/2 inch cubes
1/2 cup cooked red quinoa (if you don't have any prepared, follow instructions below)
1/2 cup cherry tomatoes, halved
1/2 cup walnuts, roughly chopped
1/2 cup feta cheese, cut into small cubes
2 green onion, thinly sliced on diagonal
zest of half a lemon
3 cups baby arugula
Instructions
Prepare Dressing: Combine ingredients in small jar or container–and shake until well combined. Set aside.
Assemble Salad: Combine 1/4 cup dry red quinoa, 1/2 cup water, and several pinches of salt in small saucepan. Bring to a boil. Turn down heat to low simmer, cover, and cook for 15-20 minutes. Remove cooked quinoa to another bowl to cool down completely.
Heat olive oil in large saute pan over medium-high heat. Add zucchini and saute until golden brown on all sides. Set aside to cool completely.
Once zucchini and quinoa have cooled, combine these ingredients with the cherry tomatoes, walnuts, green onions, and lemon zest in a large bowl. Season with salt and pepper and lightly dress.
Add arugula leaves and gently toss until until everything is well incorporated–adding more dressing if necessary. Season with salt and pepper. Add feta cheese and serve immediately.
Nutrition Information:
Yield: 2
Serving Size: 1
Amount Per Serving:
Calories: 387
Total Fat: 29g
Saturated Fat: 8g
Trans Fat: 0g
Unsaturated Fat: 20g
Cholesterol: 33mg
Sodium: 695mg
Carbohydrates: 24g
Fiber: 6g
Sugar: 6g
Protein: 14g
A Beautiful Plate provides nutritional information, but these figures should be considered estimates, as they are not calculated by a registered dietician.
This post contains some affiliate links, which means that I make a small commission off items you purchase at no additional cost to you. Please read my
disclosure policy
for more information.