Roasted Carrot Orange Muffins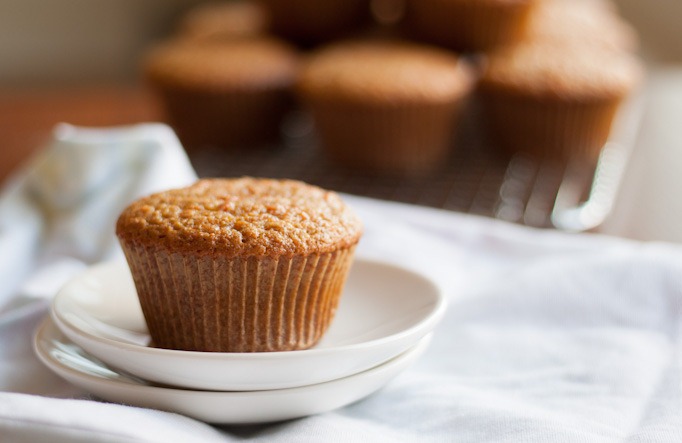 This is the story of a girl who paid a visit to a little store named Costco and ended up bringing home ten pounds of organic carrots. Even though she lived in a household of just two people, the girl convinced herself that not a single one would go to waste!
It was an ambitious task. The girl used some in this Butternut Squash Carrot Soup, but barely made a dent in the bag.
Carrot cake, homemade stock, and lots of other ideas came to mind, but she wanted to try something a bit different. So one day she decided to roast a few for lunch.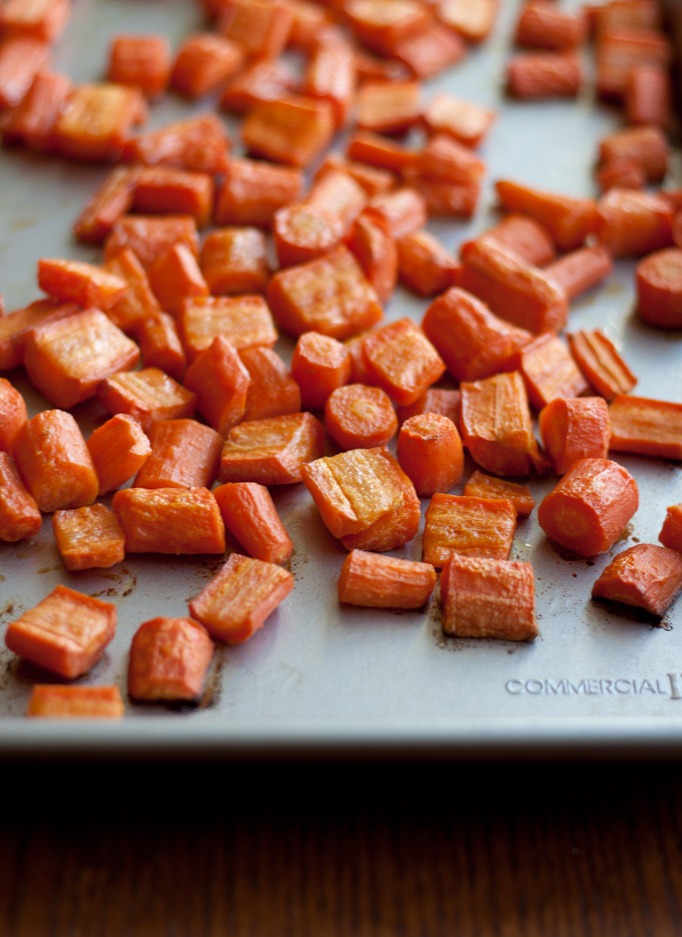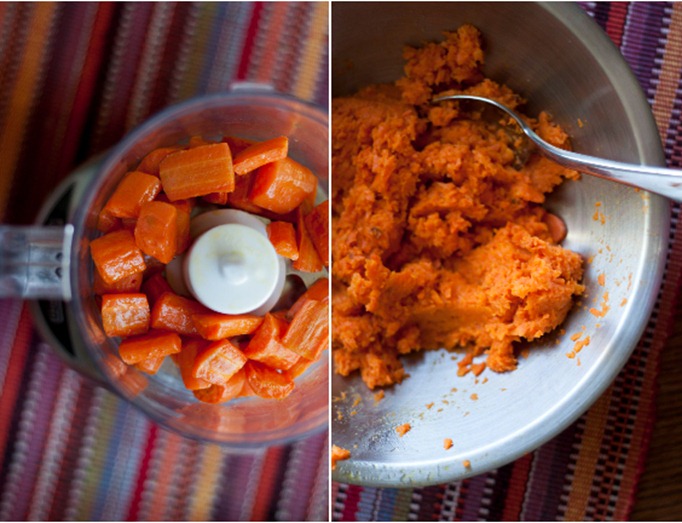 Instead of eating them, she decided the next best thing would be to puree them in a food processor, add freshly squeezed orange juice and use the puree for homemade muffins. They turned out great!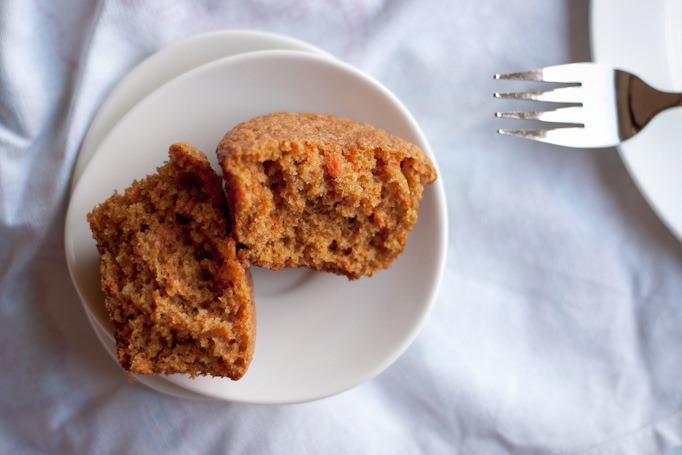 Note: I realize that roasting carrots for muffins seems a bit time-intensive and some of you might be wondering if you can simply substitute grated, fresh carrot. Unfortunately, I don't think a straight substitution will work (moisture and volume differences, most likely).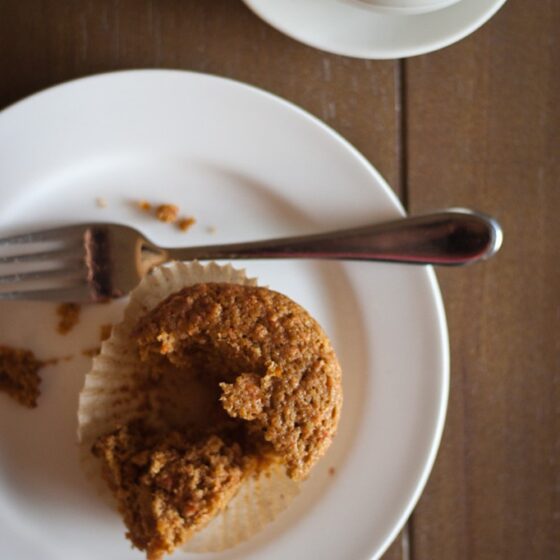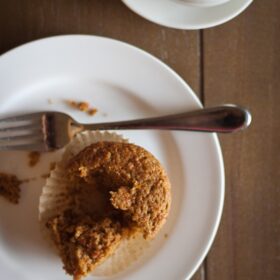 Roasted Orange Carrot Muffins
Roasted Carrot Orange Muffins. These unique muffins are made with roasted carrots and flavored with fresh orange zest!
Ingredients
Roasted Carrot Puree:
10 ounces peeled and chopped carrots roughly 7-8 medium carrots
1 tablespoons vegetable oil
3 tablespoons cold water
2 tablespoons fresh orange juice
Carrot Orange Muffins:
1 cup (140g) all-purpose unbleached flour
½ cup (70g) whole wheat flour 68 grams
1½ teaspoons ground cinnamon
1 teaspoon baking soda
½ teaspoon kosher salt
½ teaspoon ground ginger
¼ teaspoon baking powder
1 cup (200g) granulated sugar
⅓ cup (80 mL) vegetable oil
2 large eggs room temperature
⅓ cup (80 mL) whole or low fat milk
1 teaspoon pure vanilla extract
1 teaspoon fresh orange zest
1 cup (230g) roasted carrot puree see recipe above
Instructions
Prepare Roasted Carrot Puree: Preheat oven to 400°F (205°C) with a rack in the center position.

Toss the chopped carrots and vegetable oil on a half sheet pan. Roast for about 40 to 50 minutes, flipping once or twice, until carrots are very tender and lightly caramelized .

Allow the carrots to cool for 10 to 15 minutes. Add carrots to the bowl of a large food processor. Add the water and orange juice, and puree until mostly smooth. You might need to scrape the bowl down with a spatula a few times, it will be on the thick side. Allow to cool to room temperature before using.

Prepare Muffins: Preheat oven to 350°F (175°C) with a rack in the center position. Lightly grease a 12-cup muffin tin or line with paper liners. Set aside.

In medium bowl, whisk together all-purpose flour, whole wheat flour, cinnamon, baking soda, salt, ginger, and baking powder. Set aside.

In a large bowl, combine sugar, oil, and eggs. Whisk until smooth. Add the milk and vanilla extract and whisk until smooth. Add the dry ingredients to the wet ingredients and whisk together until the flour has just been absorbed. Whisk in the carrot puree.

Divide the batter evenly among the greased or lined muffin tin. Bake for 24 to 27 minutes, or until a toothpick inserted in center comes out clean. Set on a wire rack and allow the muffins to cool in the pan for about 5 minutes. Remove from the pan and allow to cool completely on a rack. Serve.
Serving: 1serving, Calories: 243kcal, Carbohydrates: 35g, Protein: 3g, Fat: 10g, Saturated Fat: 6g, Polyunsaturated Fat: 3g, Cholesterol: 32mg, Sodium: 316mg, Fiber: 1g, Sugar: 23g
This post contains affiliate links, which means that I make a small commission off items you purchase at no additional cost to you. Please read my
privacy policy
for more information.