Roasted Eggplant Soup
After making this roasted eggplant soup in culinary school, I knew I would be making it again in the near future. As you probably are aware at this point, soups are one of my favorite things to make in the kitchen.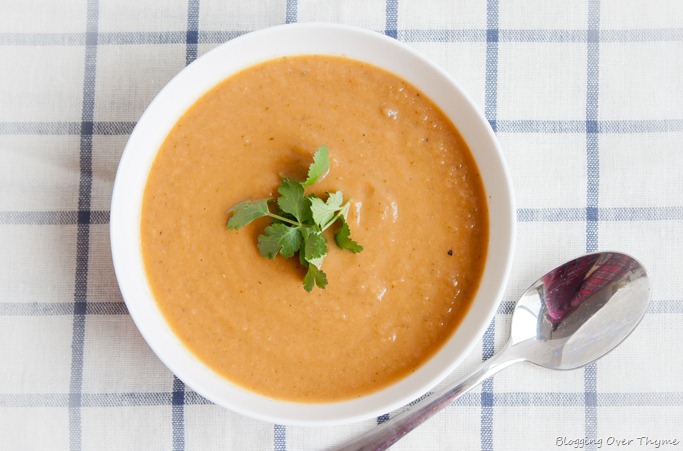 This soup is delicious. And, as an added bonus, it is a cinch to put together and is very healthy. A miracle given all the heavy cream and clarified butter we use at culinary school! It also includes one of my favorite vegetables in the world, eggplant.
While I normally prefer to cook with Japanese or Italian eggplant, as I find that they contain less seeds and are less bitter, this soup involves the normal, large variety that you can find at any grocery store. Pureeing the soup at the end eliminates the need to worry about those extra chewy seeds!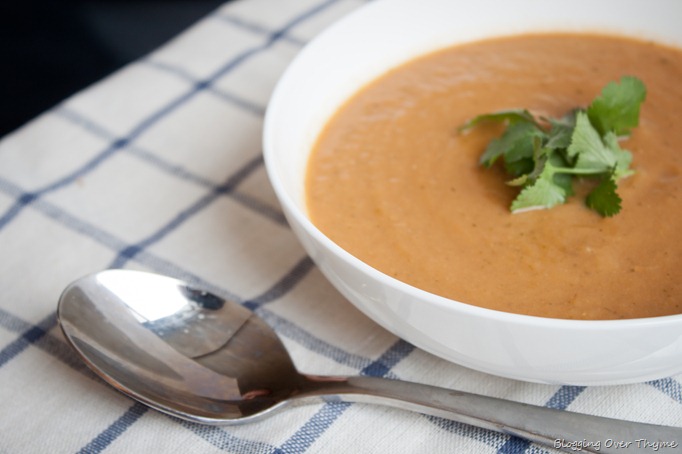 After sautéing the onions and celery, simply throw in the remaining ingredients. You don't have to worry about chopping the parsley, cilantro, or garlic, they can go in just as they are, stems and all. The ground cayenne adds an extra punch to the soup, but of course, feel free to adjust according to your own tastes and preferences.
The biggest prep required is preparing the eggplant, which simply involves cutting them lengthwise, rubbing them with olive oil and ground toasted cumin seeds (or ground cumin, if you don't have those on hand!) and roasting them in the oven for about 30 minutes. Once this is done, remove the skin and add everything into the saucepot!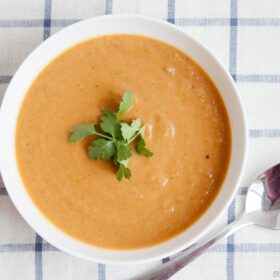 Roasted Eggplant Soup
A simple roasted eggplant soup flavored with toasted whole cumin seeds and other spices.
Ingredients
2 large eggplants sliced in half lengthwise
whole cumin seeds or ground cumin
extra virgin olive oil
1 large onion chopped
4-5 celery stalks chopped
1 quart (4 cups) low-sodium chicken stock
1 (15 oz) can diced tomatoes
¼ cup flat-leaf parsley leaves finely chopped
2-3 garlic cloves
3-4 stalks of fresh cilantro
1 sprig of fresh thyme
¼ to ½ teaspoon ground cayenne powder to taste
freshly ground black pepper
Instructions
Roast Eggplant: Preheat oven to 400°F (204°C). If using whole cumin seeds, toast until fragrant in skillet. Grind in mortar and pestle or with coffee grinder.

Place the eggplant halves on a foil-lined half sheet pan cut-side facing up. Rub the cut surface with olive oil and ground cumin seeds or, ground cumin. Note: Whole cumin seeds will have more flavor, but feel free to use whatever you have on hand.

Roast eggplant for 25 to 35 minutes, until they can easily be pierced with a fork. Using a spoon, scoop out the eggplant flesh and discard the skin. Set aside.

Prepare Soup: Heat 2 to 3 tablespoons of extra virgin olive oil in large soup pot over medium-low heat. Add onions and sweat until translucent and soft. Add chopped celery and continue to cook, stirring occasionally, until soft.

Pour in 1 to 2 cups (240 mL - 480 mL) chicken stock. Add the diced tomatoes, garlic, cilantro, parsley, thyme, and eggplant. Add just enough stock to cover the surface of the contents of the soup - you can always add more stock later to thin down, if necessary. Season with ground cayenne, kosher salt, and freshly ground black pepper.

Bring soup to a low simmer and cook for 20 to 25 minutes. Using an immersion blender or high-powered blender, blend the soup until smooth - depending on the size of your blender, you may need to do this in multiple batches. Transfer the pureed soup back into the soup pot and reheat to serve.

Season once again with salt and pepper to taste. Garnish with fresh cilantro leaves and serve.
Serving: 1serving, Calories: 111kcal, Carbohydrates: 20g, Protein: 8g, Fat: 2g, Saturated Fat: 1g, Polyunsaturated Fat: 0.5g, Monounsaturated Fat: 1g, Sodium: 82mg, Potassium: 808mg, Fiber: 8g, Sugar: 10g, Vitamin A: 440IU, Vitamin C: 13mg, Calcium: 46mg, Iron: 1mg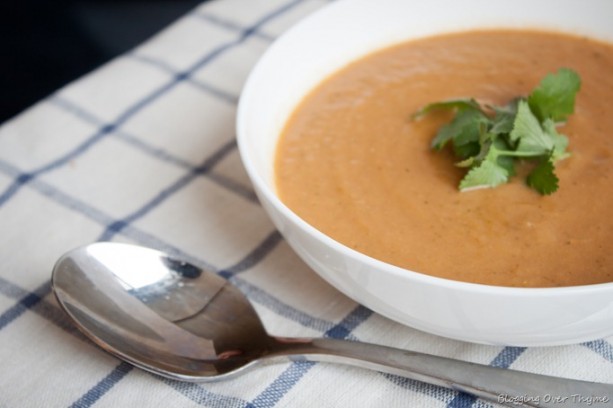 Now that my dinner is taken care of for tonight, I'm off to study for my first practical exam, which is this coming Thursday. Eek!
Hope you all had a great weekend!
This post contains affiliate links, which means that I make a small commission off items you purchase at no additional cost to you. Please read my
privacy policy
for more information.