Day 11: Blanquette de Veau & Poached Pear Tart
Week Four, day one, and we already have learned a lot.  Each day I leave class, I'm impressed by everything we accomplished in one day, despite sometimes feeling rushed during service.  Today's menu involved a bunch of new dishes and techniques.  I'll start with today's pastry and dessert, which was a lot of fun to make and was taught to us by Chef Somchet, who is from Thailand and has been away until today.  She was lots of fun and will be in charge of teaching us pastries from here on out, as well as a few Asian dishes thrown in there whenever we have extra time.
I bring you LA TARTE AUX POISES BOURDALOUE, or poached pear tart: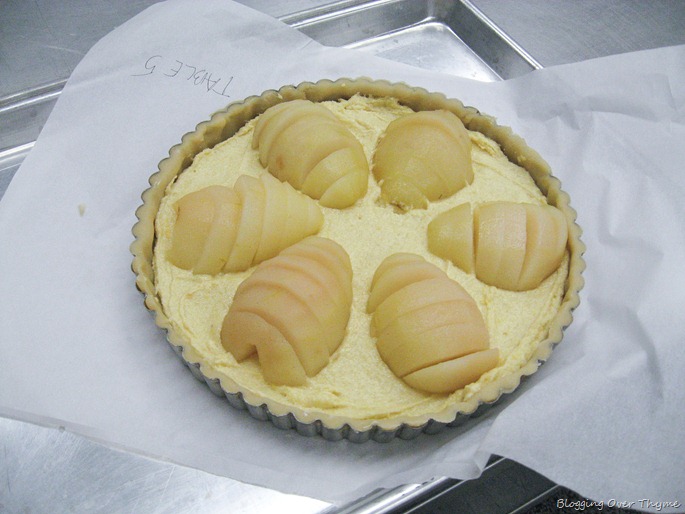 This tart was made with a pate sucree tart shell, frangipane filling, and pears, poached in simple syrup flavored with vanilla bean. 
After rolling out and forming our tart shell (the shell was not blind baked this time, because the filling requires cooking time—unlike regular pastry cream), we threw together our frangipane filling. 
Frangipane is made up of butter, sugar, almond flour, eggs ,vanilla extract, lemon zest, rum, and a tiny bit of all purpose flour, which we put together in our stand mixers. 
Meanwhile, we peeled our pears (rubbed in lemon juice to prevent oxidation), cored them, and poached them all in simple syrup flavored with half a vanilla bean at barely a simmer.  Once the pears were fork tender, we removed them and put them in a bowl over an ice bath to cool.  We then sliced them and started assembling our tart!
We filled the tart half-way with frangipane, using our offset spatula, followed by placing our poached pears in a circle.  It all bakes in the oven for roughly 45 minutes and the frangipane filling expands!  Once they were baked, we brushed it all with an apricot glaze for shine.   Pretty and delicious!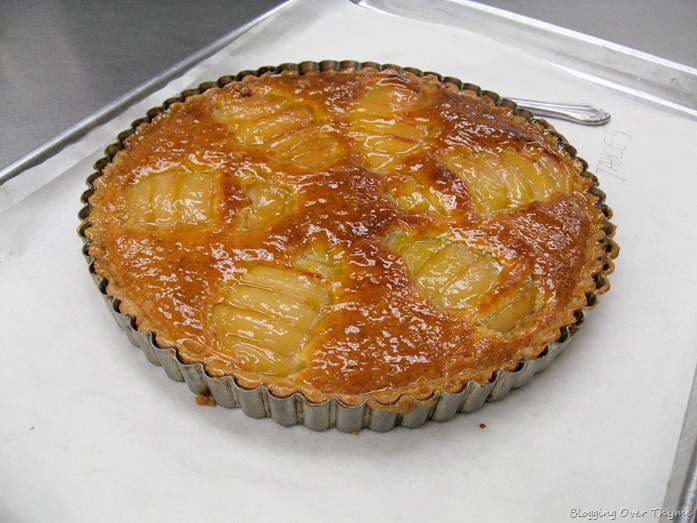 Our main dish of the day was LA BLANQUETTE DE VEAU A L'ANCIENNE AUX CHAMPIGNONS—or a veal blanquette with pearl onions and mushrooms. 
A blanquette is essentially a rich, creamy (white—'blanc') stew made with veal.  Yep, after being introduced to chicken and fish last week, we are quickly moving on to working with other proteins.  Today was my first time ever cooking veal!  
Today we used a veal neck, which is one of the toughest (and consequently, most flavorful) cuts of meat.  Therefore, it requires being cooked for a long time over low heat—to ensure that the protein doesn't shrink up and lose fat and moisture, which will make it tough.  We started out by trimming all the excess fat and silver skin (attractive name, no?) from the veal neck.  Then we cut it (against the grain) into small chunks.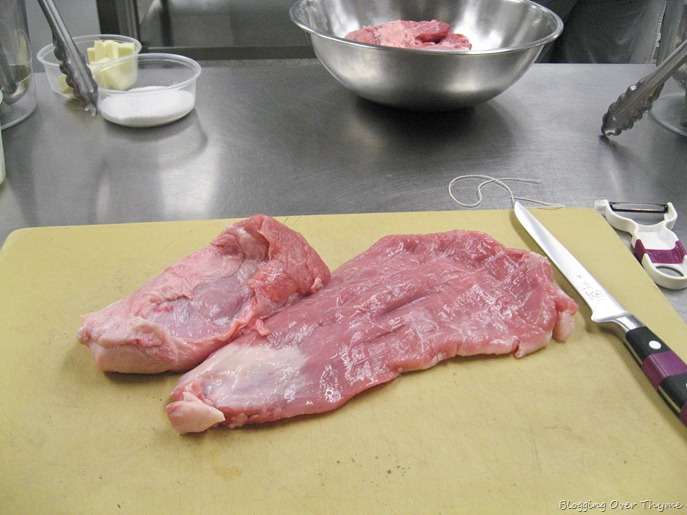 The veal was then covered with cold stock (this is a essential step—as warm stock would start to cook the veal and lock in any excess fat, which we want to remove) and slowly brought to heat—not even a simmer. 
This was followed by skimming any excess fat off the top of the soup and then adding our aromatics, which today were a onion pique (half an onion studded with cloves) and a bouqet garni, which composed of carrot, leek, celery, thyme, bay leaf, and parsley tied up with a string. 
This essentially cooks on low heat for at least an hour or two, until the veal is tender.  At that point, we strained the meat, reserving the cooking liquid and passing it through a chinois to remove any impurities.  The meat was set aside and we then thickened the liquid with roux (equal parts flour & butter, cooked on stove).  After that we added in a bit of heavy cream (surprise, surprise!) and strangely enough, an EGG YOLK—which is one of the classic ways to thicken a Blanquette de Veau. 
Once the stew sauce was all together, we threw in the meat and added in cooked pearl onions (which are a pain to peel!), and sauteed button mushrooms. 
Oh yes—and the carrot from the bouquet garni was chopped and added too!  This was all served with rice pilaf.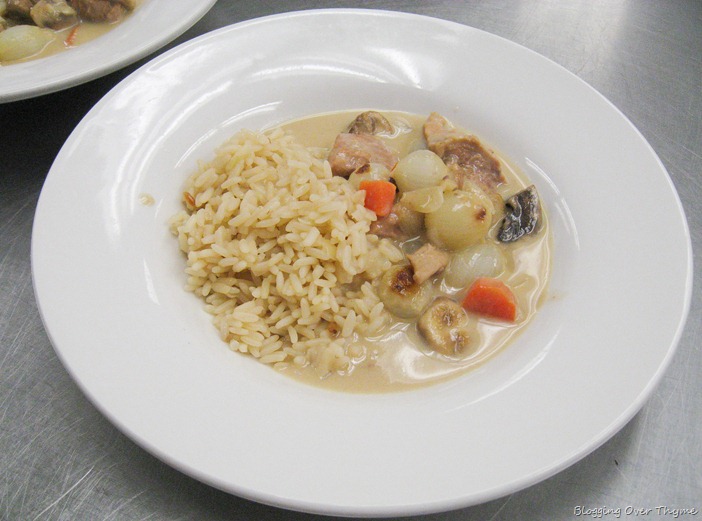 Trust me, I know this dish sounds really bizarre and weird—I mean, an egg yolk?!  But it really was quite good.  I tend to think that I won't end up liking a lot of the dishes on the morning's menu, and in the end, enjoy them.  I guess that's why they are classics! 
This was officially the day of soups and stews, because in addition to our Blanquette de Veau, we also made a LE POTAGE SAINT GERMAIN, which is a pea soup.  The 'Saint Germain' title indicates that is made with peas and is named after the region in France, where this dish originates from.
In the end, this soup was quite simple to make and pretty delicious—and I don't even like peas that much!  We started by sweating leeks and celery, adding stock, and eventually frozen peas.  For flavor and aromatics, we added a hunk of bacon (again, is this surprising?), garlic, thyme, parsley, and bay leaf.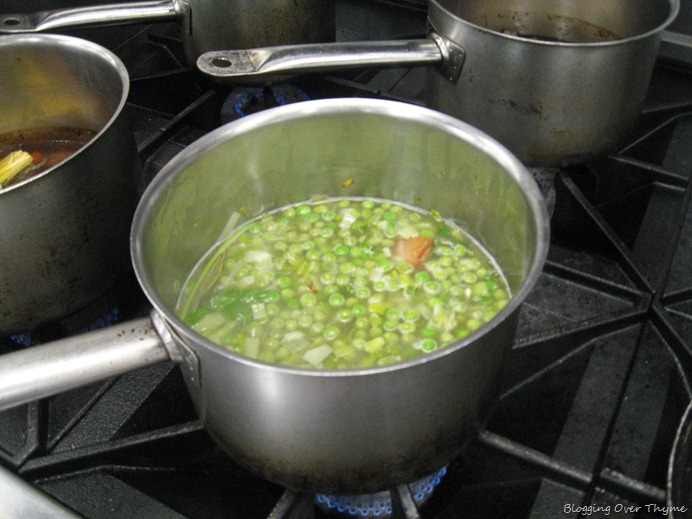 Once this simmered for a while and gained flavor, we pureed it in the blender and passed it through a chinois to make it extra smooth and thin.  A pat of butter was whisked in right before service—called monte au buerre—which makes the soup shiny, attractive, and extra tasty.
For garnish, we added in croutons, which we made in saute pan, and diced up the bacon used to flavor the soup.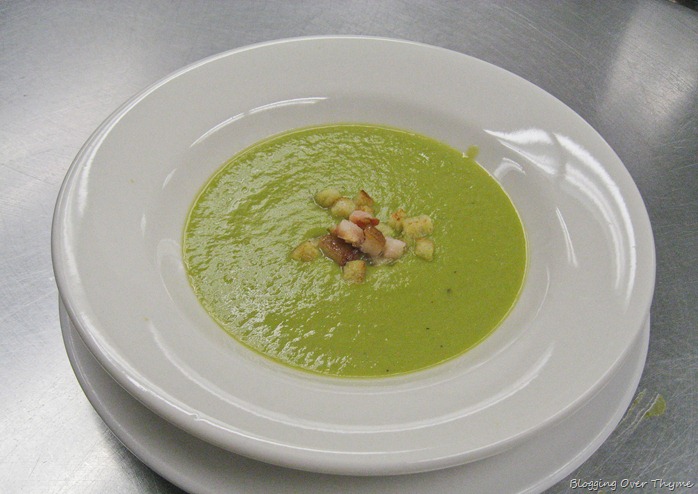 The perfect menu for a cold, winter day!  I'm so thrilled that I started this program in January, particularly because it means that I can really enjoy all these soups we are learning how to make.  I can't imagine eating these lunches in the dead of the summer!
All in all, today felt relatively relaxed, especially in comparison to our crazy menu on Friday.  Though we always end up rushing at the end to serve and plate everything, it definitely felt like we had things in control for the most part throughout the day.  Which is always a nice feeling!
Now I'm off to study for my first practical and theory exam, which is this Thursday!  We also have our recipe notebooks due, which I have yet to tell you all about.  Woops!
Happy Monday!
This post contains affiliate links, which means that I make a small commission off items you purchase at no additional cost to you. Please read my
privacy policy
for more information.