Crepes with Whipped Meyer Lemon Ricotta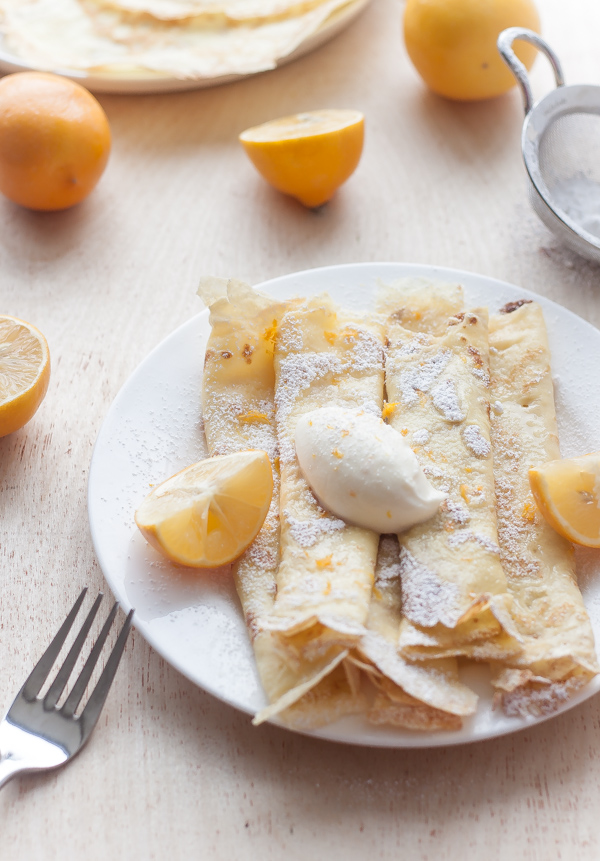 I swear I didn't mean to post so many citrus themed foods in a row, but let's go with it.  Yesterday, I mentioned a few foods that make winter worthwhile.
Well…I totally spaced and forgot to add Meyer lemons to the list.  How rude of me.  Hopefully these crepes will help make up for my indiscretion!  Also, have I really never posted crepes on the blog before?  Kind of in shock about this.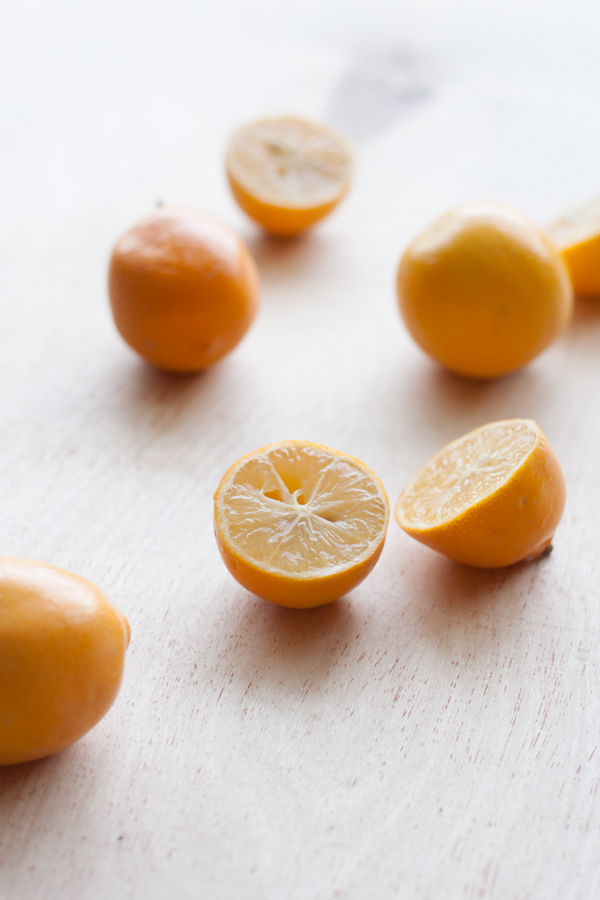 Anyway, I've officially decided to classify these crepes as breakfast food.  They could also work well as a light dessert.  Either way, crepes with powdered sugar and lemon is one of my favorite things ever.  Yes, really.  I try to force everyone I meet in life to love it as much as I do–I did this during culinary school and all of my classmates hated me for it.  Actually, they really liked the crepes.  So, whatever.  Mission accomplished.
But really.  I love this simple combination more than chocolate, ice cream, doughnuts, and practically any other dessert (breakfast?) you could think of!  Yes.  Hard to believe given the desserts that have floated around on the blog as of late, but that's the cold hard truth.
These crepes with whipped Meyer lemon ricotta are simple, classic, and uncomplicated.  But instead of literally just making crepes–and adding powdered sugar and lemon juice– I decided to do a little bit of a spin on the  whole lemon ricotta pancake concept.
So, these are effectively a deconstructed lemon ricotta pancake.  And now I sort of wish I could re-name the recipe.  Oh well.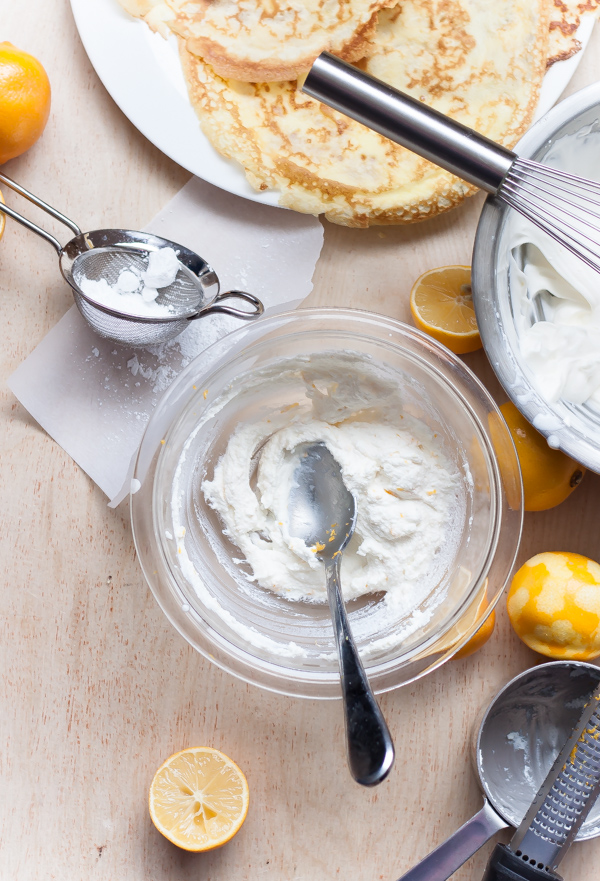 The pancakes are replaced with buttery, paper thin crepes infused with Meyer lemon zest.  A heavy dusting of powdered sugar is added on top.  More zest.  More lemon juice.
Then the best part, the whipped Meyer lemon ricotta.  A simple mixture of whipped whole fat ricotta, Meyer lemon juice, zest, and sugar–folded into whipped cream.  Oh yes.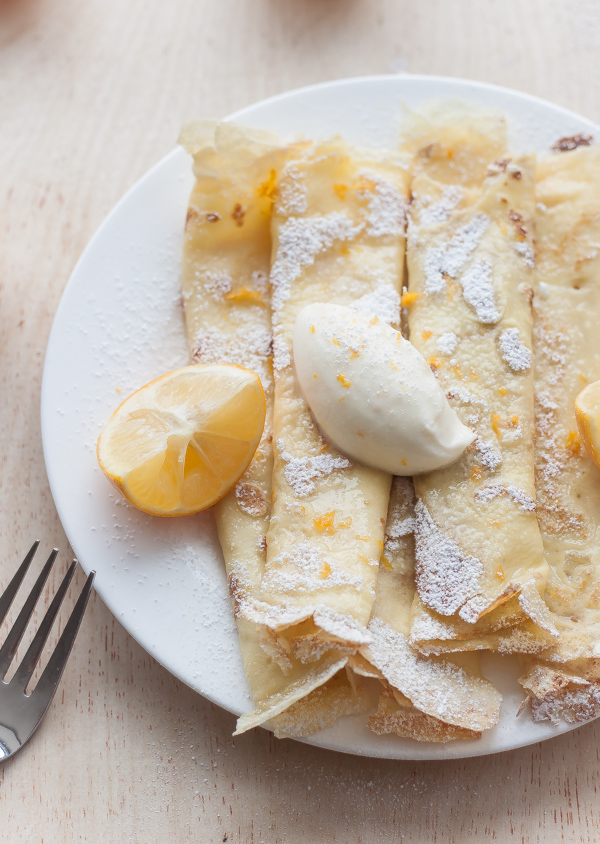 The whipped ricotta is light, creamy, and has just a touch of sweetness from the powdered sugar.  It helps add a completely new dimension and layer of creaminess to the whole dish.  Meyer lemons are fabulous for this, since they are slightly sweeter and less tart than regular lemons–but feel free to substitute them with regular lemons if you can't find them!  
And if you have the time and energy to make homemade ricotta, you are officially my hero.  Enjoy!  

Crepes with Whipped Meyer Lemon Ricotta
Yield: 4 Servings
These crepes with whipped Meyer lemon ricotta are simple, classic, and uncomplicated. A twist on lemon ricotta pancakes!
Prep Time: 20 minutes
Cook Time: 20 minutes
Total Time: 40 minutes
Ingredients
Crepe Batter:
1/3 cup all purpose flour
pinch of salt
1/4 teaspoon Meyer lemon zest, finely chopped
2 whole eggs
1 egg yolk
3/4 cup whole milk
1 teaspoon clarified butter, melted (plus more for cooking)
Whipped Meyer Lemon Ricotta Topping:
1/2 cup whole milk ricotta cheese
1 tablespoon powdered sugar
3/4 teaspoon lemon juice
zest of 1 Meyer lemon
1/4 cup cold heavy cream
Garnish:
Meyer lemon zest & wedges
powdered sugar
Instructions
Crepe Batter: Whisk the flour, salt, and lemon zest in a medium bowl. Add the eggs and egg yolk and whisk until smooth. Slowly pour in the milk, whisking continuously until all of the ingredients have been incorporated. Whisk in the melted clarified butter.
Cover the bowl with plastic wrap and rest the batter in the refrigerator for at least 30 minutes (or alternatively, overnight or up to 48 hours in advance of when you are preparing the dish).
Prepare the Whipped Meyer Lemon Ricotta Topping (see below): Heat clarified butter in a small non-stick pan over medium heat. Once butter begins to sizzle just slightly, add a small ladle of crepe batter. Working quickly, tilt the pan repeatedly to swirl the batter and create as thin a layer as possible. Allow crepe to cook until edges just begin to turn golden brown (roughly 2-3 minutes)–adjusting the heat if necessary. Using a small offset spatula and your hands, flip the crepe. Cook briefly on the other side until golden brown.
As you work, place the crepes between layers of parchment paper on a small baking sheet and keep warm in a 200 degree Fahrenheit oven.
Whipped Ricotta Topping: Combine the ricotta, zest, lemon juice, and powdered sugar in the bowl of a mini food processor. Process for 10 to 15 seconds until smooth. Set aside.
In a separate bowl, whip the cream until it reaches soft peaks. Fold the whipped cream and ricotta mixture together. Set aside.
Assembly: Dust each warm crepe layer with powdered sugar and sprinkle lightly with lemon juice. Roll loosely. Top with a dollop of whipped Meyer lemon ricotta. Garnish with additional zest and powdered sugar, as desired. Serve with lemon wedges.
Notes
Tips for Success:
Crepe batter can be prepared up to 48 hours in advance.
Nutrition Information:
Yield: 4
Serving Size: 1
Amount Per Serving:
Calories: 359
Total Fat: 16g
Saturated Fat: 9g
Trans Fat: 0g
Unsaturated Fat: 6g
Cholesterol: 179mg
Sodium: 122mg
Carbohydrates: 46g
Fiber: 1g
Sugar: 35g
Protein: 10g