Roasted Shiitake and Asian Pear Salad with Miso Sesame Vinaigrette
Roasted shiitake mushrooms and thinly sliced Asian pears are tossed with sturdy salad greens and a homemade miso sesame vinaigrette.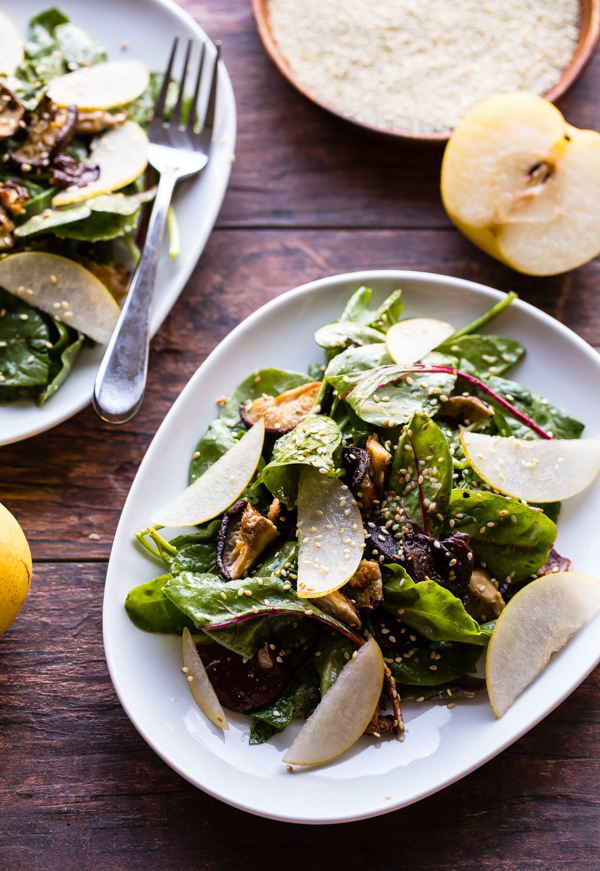 This is the second salad recipe (in a row, I might add) that has contained fruit! Who am I? Seriously though, this is new territory for me. In the past, I've always declared, with gusto, that I hate fruit in salad.
Hate! In other words, I'm a stubborn 5-year-old at heart.
But within the last few years, I've become a closeted fruit-in-my-salad person. Does that make any sense? I'm definitely more of a savory than sweet gal, despite the plethora of dessert recipes on the blog, but I am more and more drawn to the idea.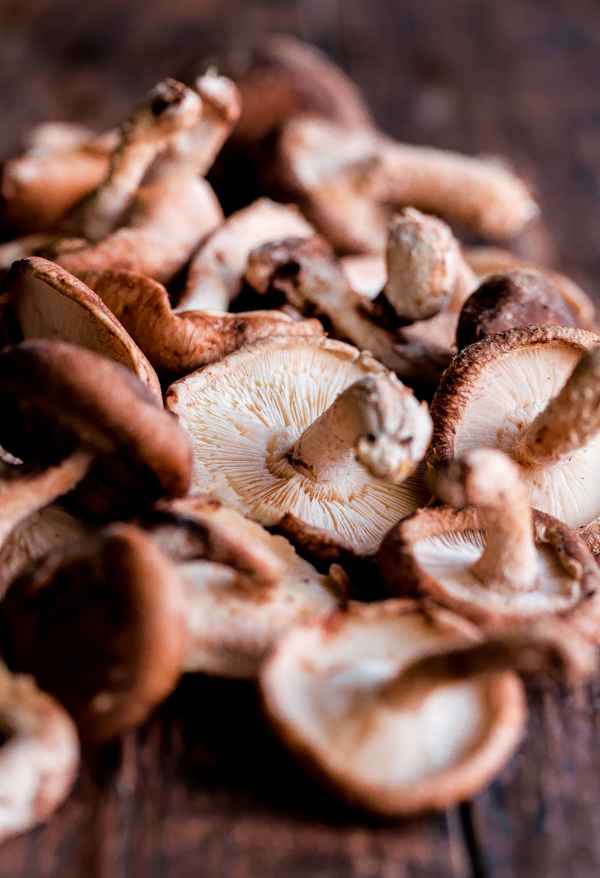 I think it was a bad experience with a horrible raspberry vinaigrette that scarred me for life. The idea of combining fruit with anything savory was not appealing to me at all.
Either that or it was my grandmother's Mexican Chicken, which she likes to top with sliced (wayyyyy too ripe) bananas. She calls it Mexican Chicken, but there is no way that dish is Mexican. She's very old-school British and pronounces quesadillas, "case-a-dill-ahs." Enough said.
And don't worry, she has sworn off the internet for life, so there is no chance she will be reading this. Or, at least, I hope not.
I should probably stop talking now and just tell you about this salad…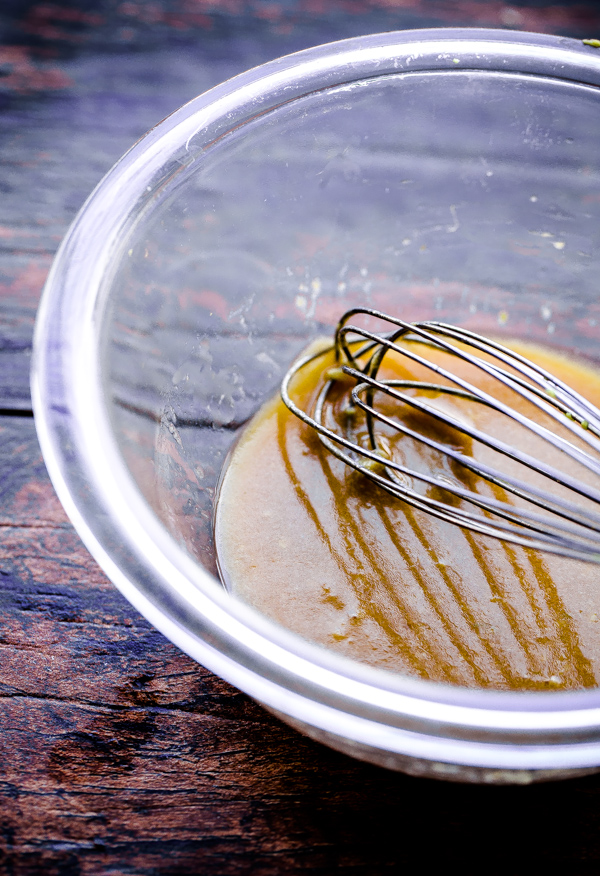 So, obviously fruit is involved! I already told you that part.
But my favorite, favorite thing about this salad is the miso-sesame vinaigrette. I only started experimenting with miso paste a few years ago, but I just love it. It is salty, slightly sweet, yet distinctive, and definitely has that whole umami thing going on.
There are many different types of miso, but this salad uses the white miso paste. Miso paste is fermented grain (usually rice) that is mixed with cooked soybeans. Basically, the darker in color the miso, the stronger the flavor. White miso is perfect for more delicate dishes like salads and vinaigrettes because it adds a lot of flavor, but isn't so strong that it completely overpowers the dish.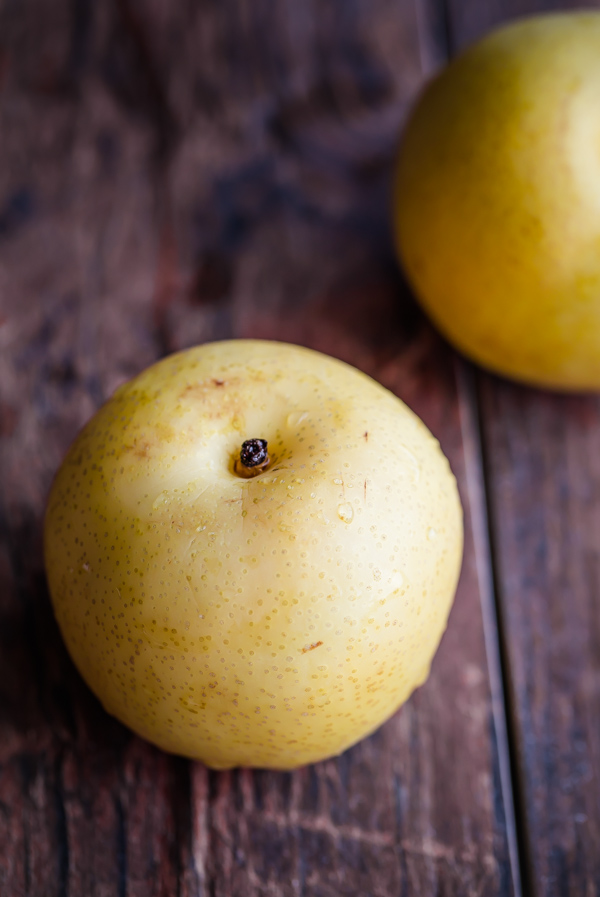 I combined the white miso paste with toasted sesame oil (I could put that stuff on everything!), rice vinegar, and some freshly grated ginger to make the vinaigrette. Heaven. I kept dipping my finger into the bowl.
It is definitely good enough on its own to have as an everyday vinaigrette, even with basic greens, but even better if you pair it with warm, roasted shiitake mushrooms, toasted sesame seeds, and some crisp, crunchy, and slightly sweet Asian pear slices.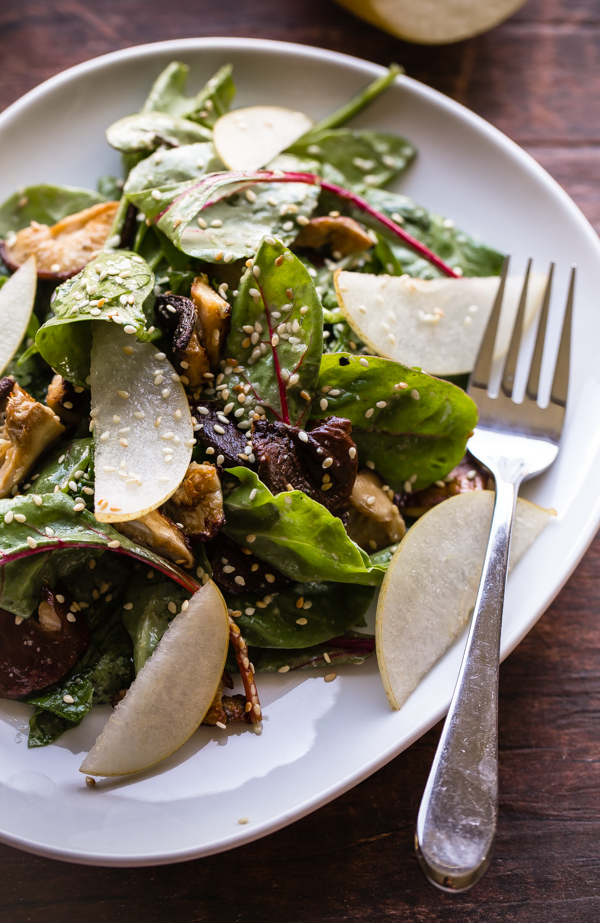 Without sounding like a Trader Joe's advertisement, I also highly recommend trying this salad with their 'Power of the Greens' mix, which is made up of slightly sturdier baby greens like kale and chard!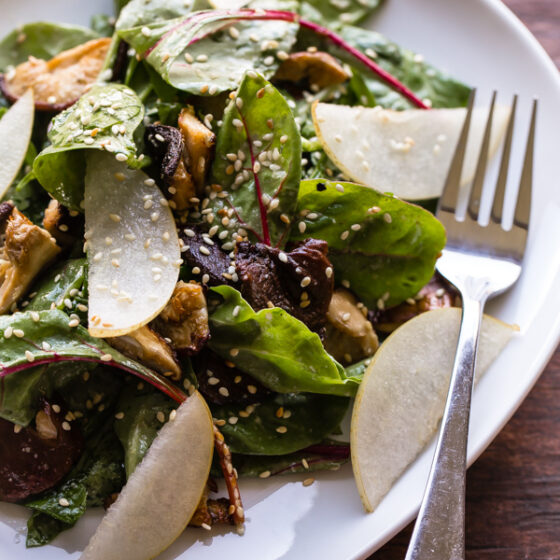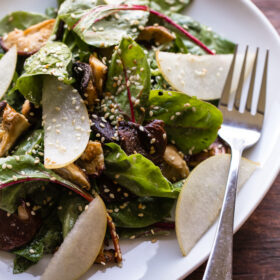 Roasted Shiitake and Asian Pear Salad with Miso-Sesame Vinaigrette
Roasted shiitake mushrooms and thinly sliced Asian pears are tossed with sturdy salad greens and a homemade miso sesame vinaigrette.
Ingredients
Roasted Mushrooms:
8 ounces shiitake mushrooms stems trimmed and tops quartered
2 tablespoons (30 mL) toasted sesame oil
freshly ground black pepper
Miso-Sesame Vinaigrette:
1 tablespoon white miso paste
2 tablespoons (30 mL) rice vinegar
2 tablespoons (30 mL) toasted sesame oil
1 tablespoon (15 mL) grapeseed or neutral oil
¾ teaspoon finely grated peeled ginger root
freshly ground black pepper
Salad:
5-6 ounces sturdy spring greens mix
1½ tablespoons toasted sesame seeds
½ Asian pear cored and thinly sliced with a mandolin
Instructions
Roasted the Shiitake Mushrooms: Preheat the oven to 425°F (220°C) with a rack in the center position. Place the stemmed and quartered shiitake mushrooms on a half sheet pan and toss with two tablespoons of sesame oil and a sprinkling of kosher salt and black pepper. Roast for 12 to 15 minutes,  flipping halfway, until they are lightly caramelized. Set aside to cool while you prepare the remaining ingredients.

Prepare the Vinaigrette: Combine the vinaigrette ingredients in a small jar. Shake together until mostly emulsified.

Assemble: Add the salad greens to the bowl, along with the still warm roasted shiitake mushrooms and toasted sesame seeds. Add vinaigrette dressing (you will most likely use all of it, be start sparingly) and toss. Season to taste, adding a pinch of salt if needed. Serve and top each salad with thin slices of Asian pear.
Tips for Success:
How to Toast Sesame Seeds: Heat a small skillet over medium-low heat, add the sesame seeds and cook, stirring them frequently, until lightly brown and fragrant. Remove from the heat immediately and place into a separate bowl to cool before using. 
White miso paste can be found in most supermarkets, Whole Foods, and other grocery stores in the refrigerated section. The vinaigrette can be prepared several days in advance and stored in a covered container in the fridge. Shake well before using.
Serving: 1serving, Calories: 295kcal, Carbohydrates: 19g, Protein: 7g, Fat: 23g, Saturated Fat: 3g, Polyunsaturated Fat: 19g, Sodium: 262mg, Fiber: 7g, Sugar: 5g
This post contains affiliate links, which means that I make a small commission off items you purchase at no additional cost to you. Please read my
privacy policy
for more information.