Souffle Pancake with Cinnamon Apples
Fluffy shuffle pancake topped with sautéed cinnamon apples! Fall in breakfast form.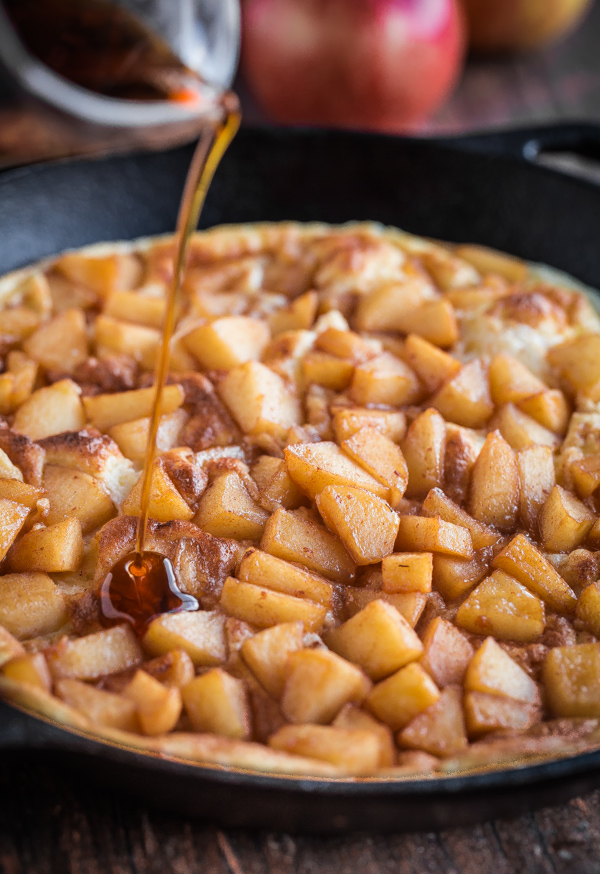 I have a confession.
That picture up there was my attempt to pour maple syrup onto the center of the pancake. The good news? I'm only about five inches off. Things could be worse. I could have poured maple syrup all over the table (been there, done that). Word to the wise: this is what happens when you're too lazy to pull out the tripod and try to awkwardly hold a camera in one hand while you pour with the other.
The sad part is that in my head, I was all like, "I totally got this. I totally poured that maple syrup in the center of the pancake."
Ten seconds later…crap. Maybe it just looks really off-center on the camera preview screen? No.  Not even close.
I think I've officially given up on photographing anything that involves the word "souffle." This souffle pancake might be the end of the road for me.
I've made one other souffle pancake on the blog before. Remember these pumpkin ones? That is my absolute favorite pumpkin pancake of all time. My oldest sister is constantly requesting those pancakes. I called them souffle at the time because they are incredibly light due to the addition of folded egg whites, but…
Today's souffle pancakes are the real deal. There is actually very little flour in this recipe (quarter cup total). The bulk of the pancake batter consists of eggs and milk. In fact, it is very similar to a Dutch baby pancake batter in some ways, but a million times lighter. Today's recipe makes one massive (eight-inch) pancake that is ridiculously and wonderfully fat and fluffy (again, my pictures do not do this pancake justice).
Just as in the pumpkin souffle pancakes, this pancake recipe calls for folded egg whites at the last minute.  The batter is then poured into a hot skillet and cooked briefly over the stove, before being transferred to the broiler.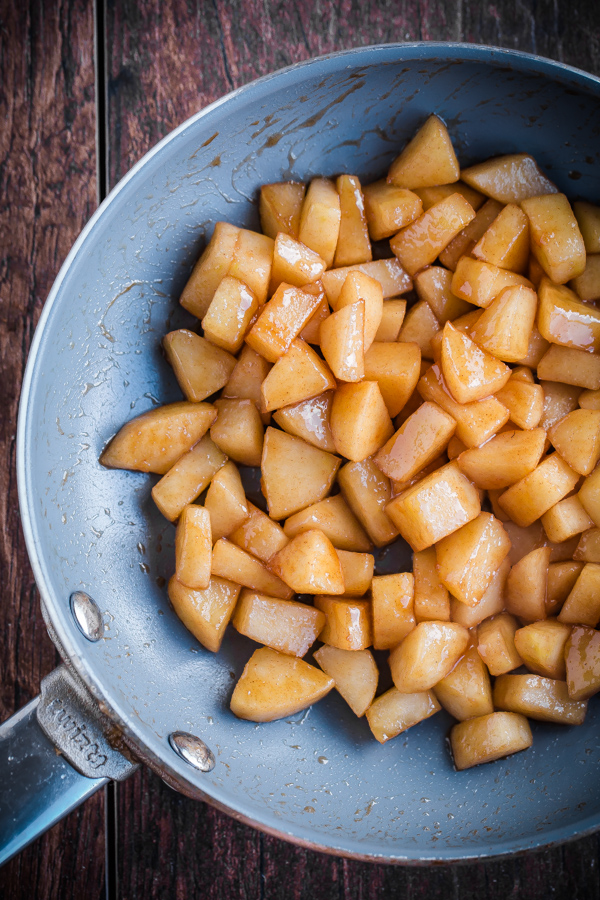 I had my first tried and true souffle pancake in Berkeley, California at a place called Bette's Oceaview Diner three years ago. In fact, I even blogged about the experience. See how fluffy? That is how fluffy these pancakes are in real life, sans blog photography.
The diner is a Berkeley institution, and one that has been around for just over thirty years. So naturally, my oldest sister, Alessandra, the family pancake fanatic, took us there immediately. Literally, it was our first stop off of the plane.
Luckily, I trust my sister (for the most part) when it comes to pancakes, and it really was one of the best pancake experiences of my life.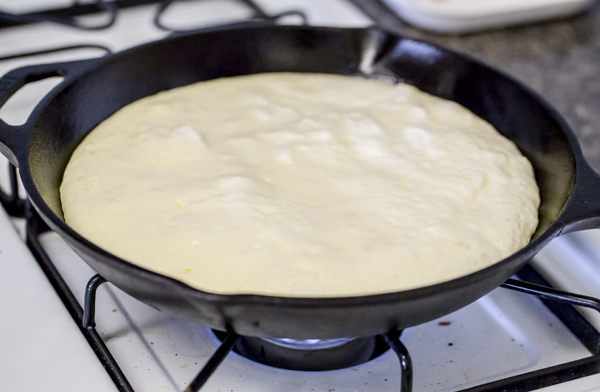 So, how did I make said pancake, three years later, in the comfort of my own kitchen? Well, Bette's sells a little Pancake Handbook brimming with their own specialty pancake recipes.
It is a teeny tiny cookbook that contains absolutely no pictures, but I adore it. It is one of my most loved cookbooks, and if I'm feeling pancake deprived, it is my go-to resource.
This souffle pancake comes straight out of their cookbook, but I added the nice fall-festive addition of cinnamon apples to make it more interesting. The apples are chopped and sauteed in a mixture of butter, brown sugar, and cinnamon over the stove top, and spread on the top of the pancake just before placing it under the broiler.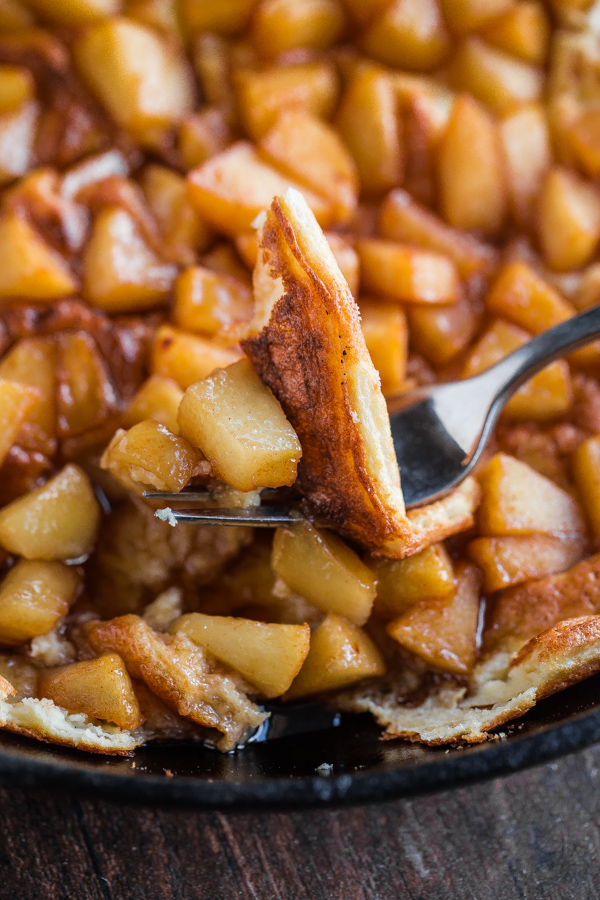 Although this pancake recipe is not complicated or hard, it does require a bit of finesse during cooking. Or, in better terms, a watchful eye. Although I've listed estimated times in the recipe, it is really important to use your own judgement for this dish and adjust as necessary, as different peoples' broilers and skillets will act differently.
If the pancake is browning faster than you would like, turn down the heat. If the pancake is finished in the broiler before the time allotted, take it out. Watch it carefully and you'll be fine!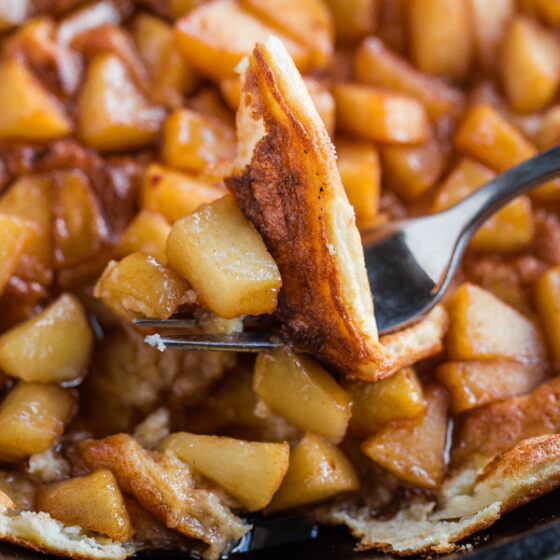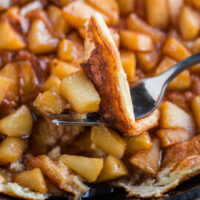 Souffle Pancake with Cinnamon Apples
Yield: 2 Servings
Fluffy shuffle pancake topped with sautéed cinnamon apples! Fall in breakfast form.
Prep Time: 15 minutes
Cook Time: 20 minutes
Total Time: 35 minutes
Ingredients
Cinnamon Apples:
1.5 tablespoons unsalted butter
1 tablespoon packed brown sugar
2 honeycrisp (or other tart) apples, peeled, cored, and chopped
1/2 teaspoon ground cinnamon
Souffle Pancake:
2 egg yolks
1/2 cup half and half (see tip in note section!)
1/4 cup all-purpose flour
1.5 tablespoons unsalted butter, melted
1/2 teaspoon granulated sugar
1/4 teaspoon kosher salt
3 egg whites
pure maple syrup, warm (for serving)
Instructions
Preheat the broiler to medium-high. Meanwhile, prepare the cinnamon apples by combining the butter and brown sugar in a small skillet. Place over medium heat and stir until the sugar dissolves and the butter begins to bubble slightly. Add the chopped apple and ground cinnamon, and stir mixture together until the apples are evenly coated with the butter-sugar mixture. Reduce heat to low and continue to saute for 2-3 minutes until the apples are slightly translucent, yet still hold their shape. Remove from the heat and allow to cool slightly while you prepare the pancake batter.
In a large bowl, beat the yolks and half and half together. Add the flour, stirring until just combined, then add the melted butter, sugar, and salt.
In the bowl of a stand mixer (or separate clean bowl), fitted with a whisk attachment, whip the egg whites until they form soft peaks. Using a spatula, gently fold the egg whites into the pancake batter.
Lightly butter a 10-inch non-stick saute pan or cast-iron skillet (if using cast-iron, make sure it is very clean, otherwise the bottom of the pancake will burn more readily) and place over high heat on the stove until it is almost smoking. Immediately add the pancake batter to the pan and decrease the heat to low and cook for an additional 4-5 minutes (watch closely, if the pancake is starting to brown too quickly on the bottom, reduce the heat or transfer to the oven ahead of time).
Once the bottom of the pancake is lightly brown and the batter has firmed slightly, top the pancake with the cinnamon apple mixture, distributing it evenly among the pan.
Place the pan 4 to 5 inches below the broiler and cook for an addition 2-4 minutes (watch carefully during this step to avoid burning), until the pancake is very fluffy and high. The center of the pancake should still be a little soft. Remove from the broiler and slide the pancake onto a warmed plate. Serve immediately with warm maple syrup.
Nutrition Information:
Yield: 2
Serving Size: 1
Amount Per Serving:
Calories: 417
Total Fat: 28g
Saturated Fat: 17g
Trans Fat: 0g
Unsaturated Fat: 11g
Cholesterol: 251mg
Sodium: 397mg
Carbohydrates: 29g
Fiber: 1g
Sugar: 15g
Protein: 12g
A Beautiful Plate provides nutritional information, but these figures should be considered estimates, as they are not calculated by a registered dietician.