Rock Hill Orchard
One of my favorite memories growing up was summer berry picking. My mom, sisters, and I would load up the station wagon and drive to our favorite farm a few hours away, spend the day picking as many berries as humanly possible, enjoy a picnic lunch outside and bring home buckets and buckets of fresh fruit.
Even though it was always a hot, sticky, and occasionally buggy affair, it was always a highlight of the summer and something I looked forward to repeating each year.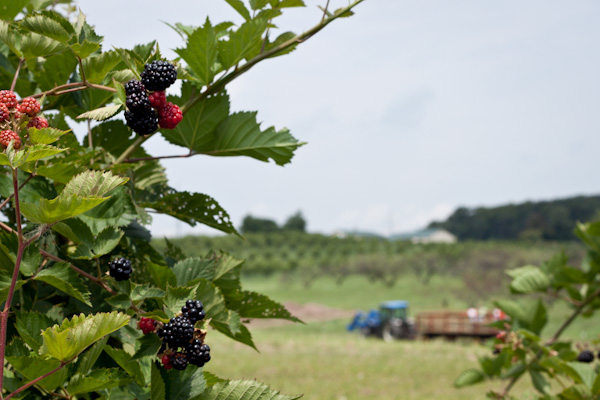 This past weekend, after enjoying a lazy Saturday breakfast at home, Connor and I decided to take a little spontaneous road trip and renew the tradition.
This time we decided to stay a bit closer to home and with a little bit of research, stumbled upon Rock Hill Orchard, a pick-your-own fruit and vegetable farm, located just 40 miles outside of DC.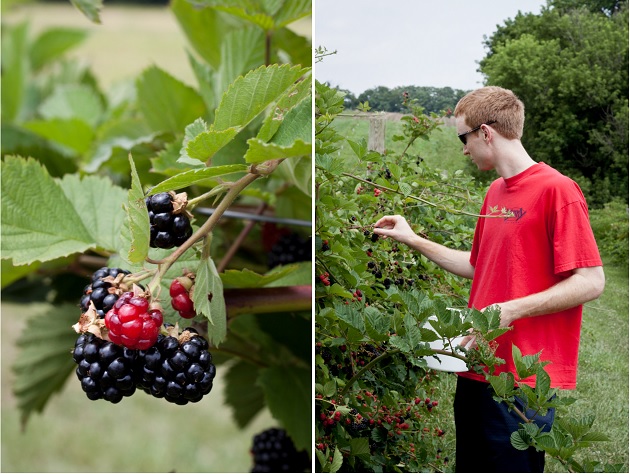 Once we arrived, we were greeted by a friendly member of the farm staff, who strongly recommended us starting out with the blackberry bushes.
And at just $2.50 a pound, Connor and I decided to grab two large buckets and go to town…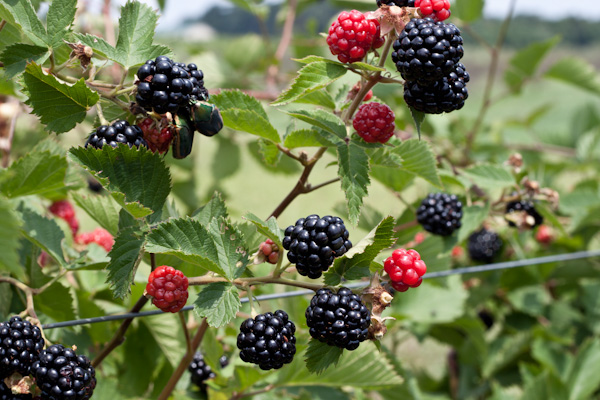 I've definitely gone berry picking before where you have to sort of "search" for the perfect berries and the entire process requires some patience and diligence. This was not that kind of situation.
We must have just happened to pick the perfect weekend to do this, because there were tons and tons of gorgeous, plump, juicy blackberries just waiting to be picked and devoured. Unlike store-bought (and occasionally, farmer's market) blackberries , these were incredibly ripe, warm-from-the-sun, and perfectly sweet. I can honestly say that they were/are (technically, I'm still eating them) the best blackberries I've ever had. Period.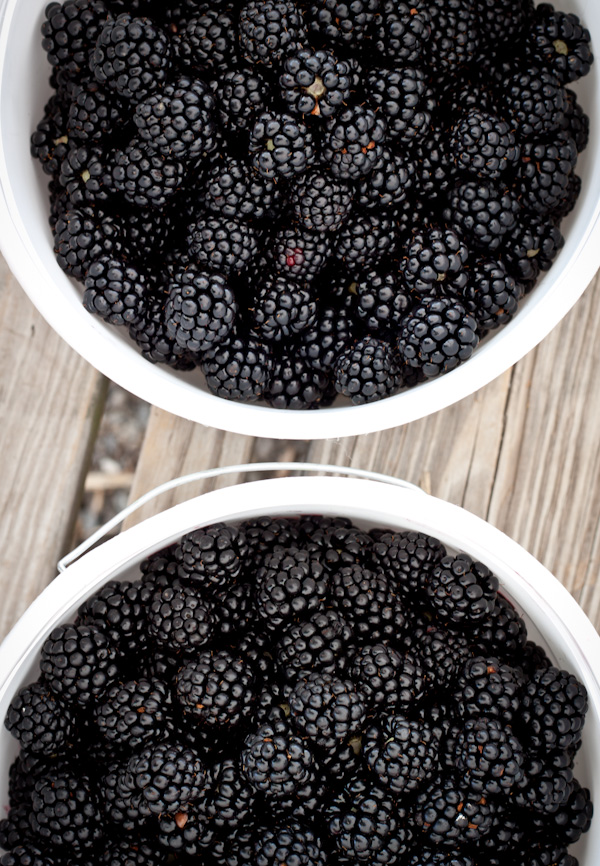 Despite eating quite a few during the process, the two of us were able to completely fill up our buckets within just 30 minutes. At that point, I still didn't have a plan for how we were going to actually consume all of them, but that was the last of my worries. I just kept telling Connor to pick more…
In the end, we picked more than 10 pounds!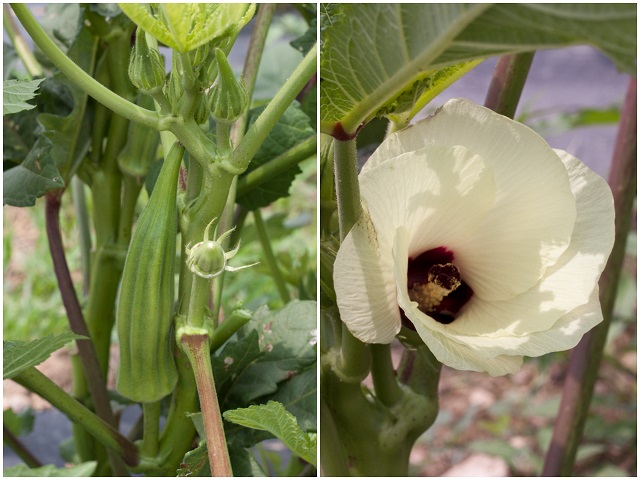 In addition to blackberries, the farm also had some other pick-your-own veggies, including kale, heirloom tomatoes, Japanese eggplant, fresh herbs, and okra. There is something so satisfying about picking your own food!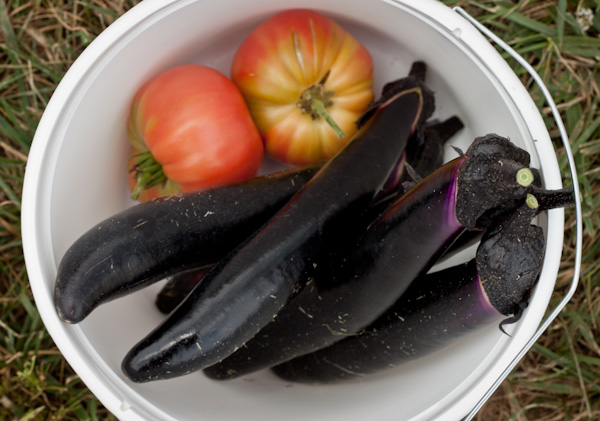 We also had the opportunity to take a short (very bumpy) hay ride and visit the farm's new dairy facilities. Rock Hill Orchard is in the process of starting a Guernsey cow dairy creamery–and hopefully will be able to sell their own pasture-grazed milk and, eventually, homemade cheeses very soon.
For being such a small operation, the farm has amazing facilities and actually boasts the only "voluntary" robotic milking machinery in all of North America. The cows decide when they want to get milked and come and go based on their own choosing–pretty amazing. There were also a few baby calves as well and I was able to snag a few pictures of them! Too. cute.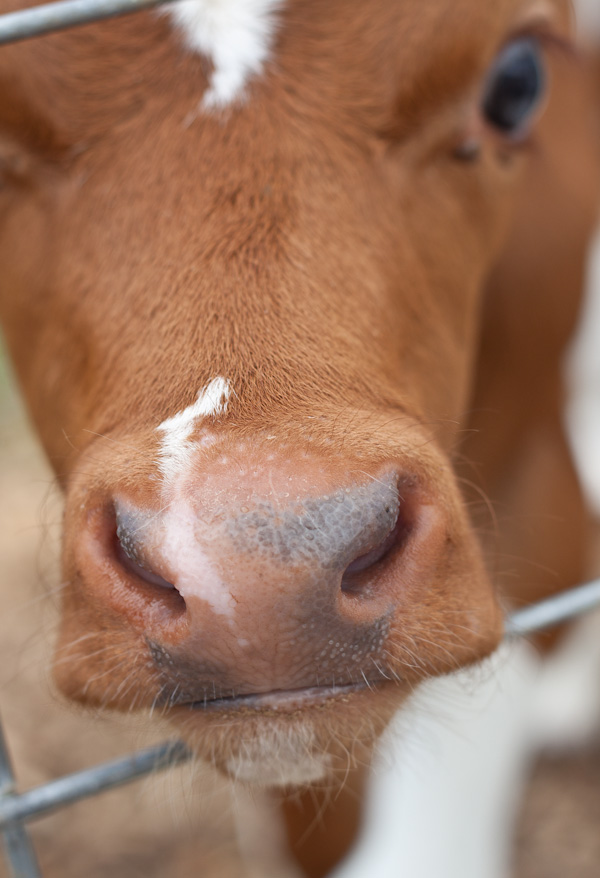 After gushing over the baby cows, we headed over to the "pick-your-own" flower area, where Connor patiently waited as I grabbed some complimentary cutters and filled up a large quart-sized deli cup with as many zinnias as possible…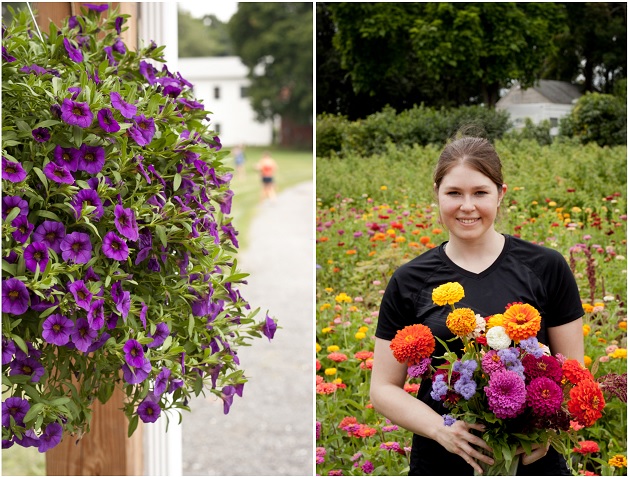 And trust me, I was determined to take full advantage of the deal. Can you believe that all of this was only $7.50?! Amazing.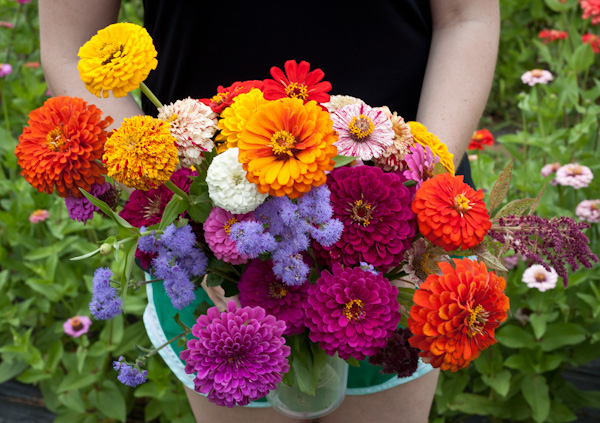 Overall, it was a really fun afternoon and definitely worth the short drive! We are already planning on going at least once during the fall, and I can't help but want to return quickly and stock pile as many fresh berries as I can before the end of the summer.
Stay tuned for another blackberry recipe later this week! –> There are only so many I can stuff into my face straight from the fridge.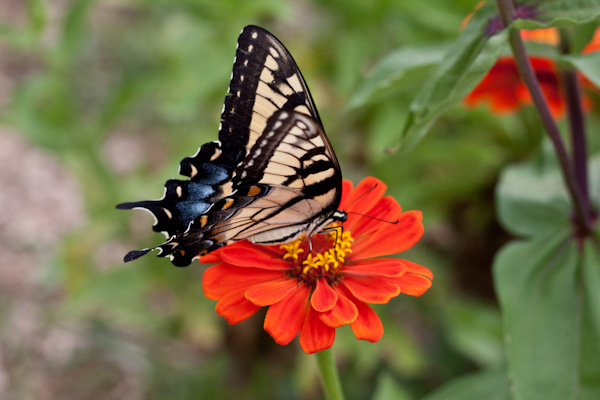 This post contains affiliate links, which means that I make a small commission off items you purchase at no additional cost to you. Please read my
privacy policy
for more information.