Seared Sockeye Salmon with Green Chile Adobo Sauce and Frisée Salad
Crispy seared sockeye salmon with green chile adobo sauce and a simple frisée salad. This elegant, healthy main course can be prepared in less than 45 minutes!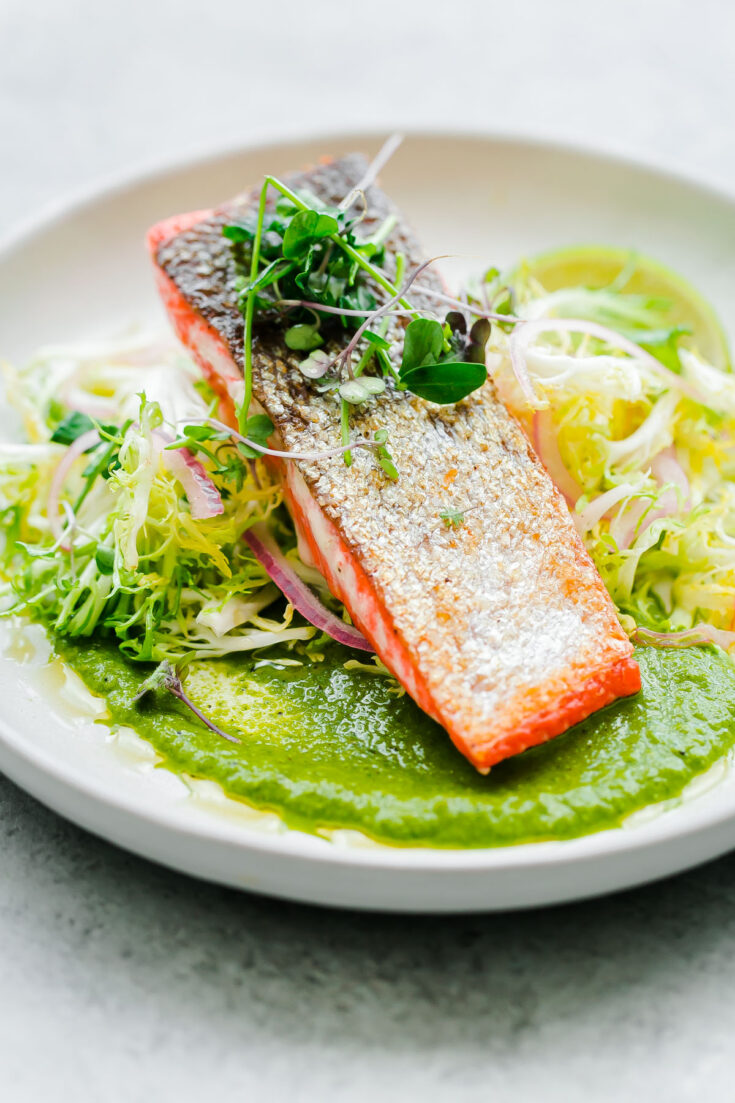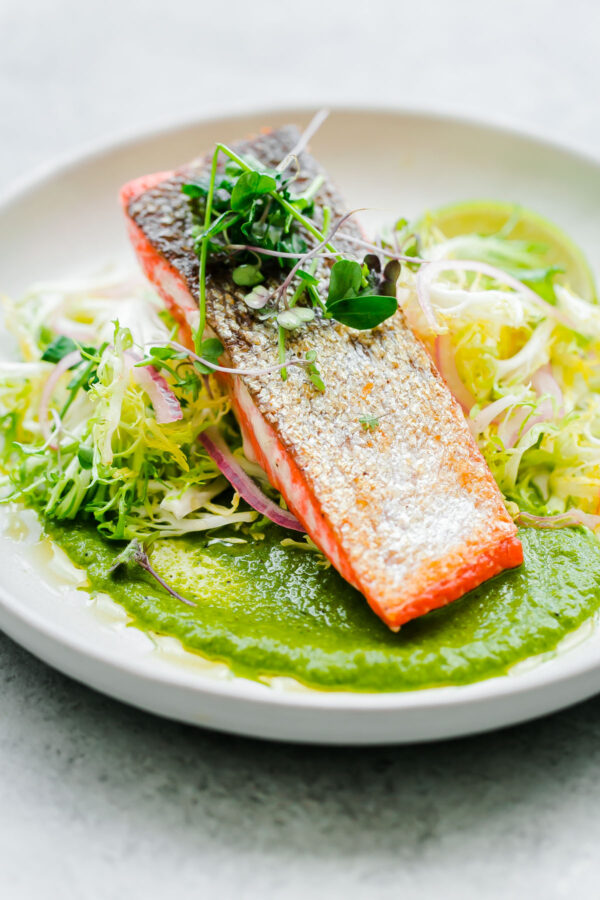 Why, hello! This seared sockeye salmon recipe might be my most favorite recipe to grace the blog in months. In fact, it might be one of my top ten favorite recipes ever. It incorporates that incredible green chile adobo sauce recipe from earlier this week.
Before I go into detail and attempt to convince you to make this dish as soon as possible (prepare yourselves!), I have to squash any preconceptions for today's recipe. This dish looks a bit fancy. Perhaps even a little high-maintenance? I feel you. It is not. It is all about the plating!
It is one of the easiest, fastest main course recipes on this blog. I repeat, this dish comes together in less than 45 minutes! It is 100% feasible to prepare this recipe on even the busiest of weekdays (in fact, it can take less than 20 minutes if you prepare the adobo sauce in advance). It is the type of dish that you'll want to share and enjoy with loved ones, but also the type of recipe that can easily be scaled down to just one or two servings.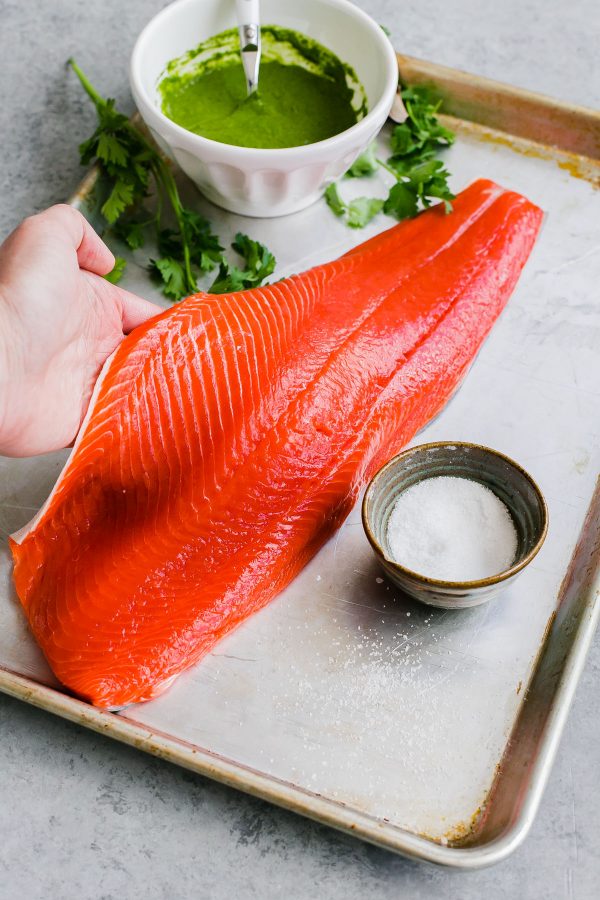 Whenever you're making simple recipes with minimal ingredients, it is really important to seek out the best-quality ingredients that you can get your hands on.
This dish is all about the salmon, so I implore you to seek out the best of the best. Luckily, the summer months are the best months of the year to get your hands on wild Alaskan salmon. I was incredibly fortunate to be on the receiving end of three pounds of the most incredible Copper River wild Alaskan sockeye salmon just over a week ago. It had been caught just hours before it shipped.
It was the most beautiful, vibrant, and delicious salmon that I've ever had in my entire life! So beautiful, I almost cried. Seriously. [Nerd alert.]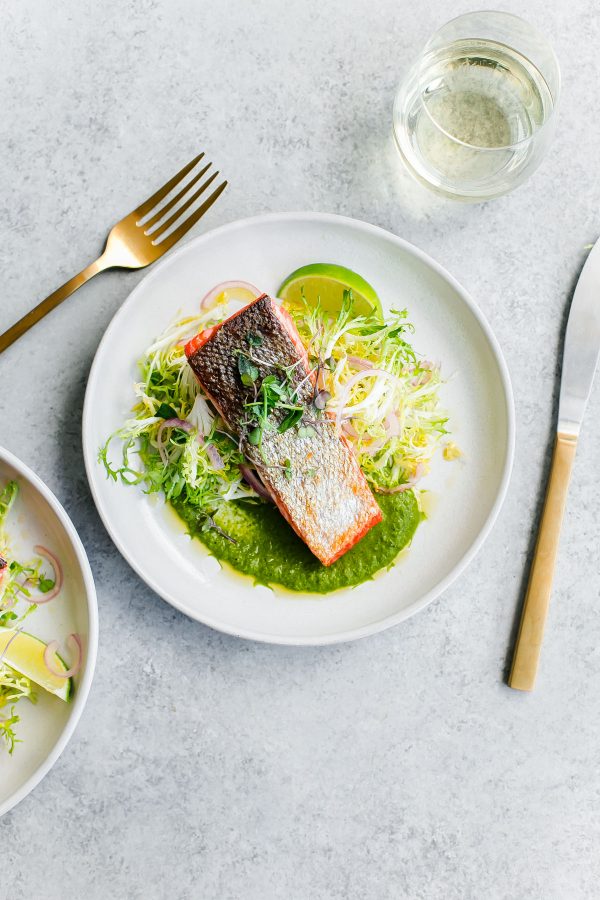 That beautiful piece of sockeye salmon deserved only the best. The herby, citrus-y green chile adobo sauce complimented the fish so well, and didn't overpower it one bit. The addition of a crisp, lightly bitter frisée salad (tossed with sliced red onions, olive oil, and lime juice) added wonderful texture and freshness.
It is a light, healthy, yet very filling main course that is perfect for the summer months. The actual fillets of sockeye salmon are prepared very simply. Patted dry, seasoned with salt and pepper, and pan-seared in a non-stick skillet. Whenever you're searing salmon, it is best to sear it skin-side down in the pan and cook it almost entirely on this one side.
The salmon skin acts as a heat barrier, and you'll be left with the crispiest, most delicious salmon skin ever – it is a crime not to eat crispy salmon skin. [Always remember to serve it crispy, skin-side up – it's elegant and keeps the skin crispy!]
I also implore you to cook your salmon to around 120-130 degrees Fahrenheit – or medium rare, if possible! You want the salmon to be slightly opaque in the center. The difference in texture, flavor, and overall enjoyment between medium-rare and overcooked salmon is night and day – and this is particularly important for leaner salmon cuts, particularly sockeye.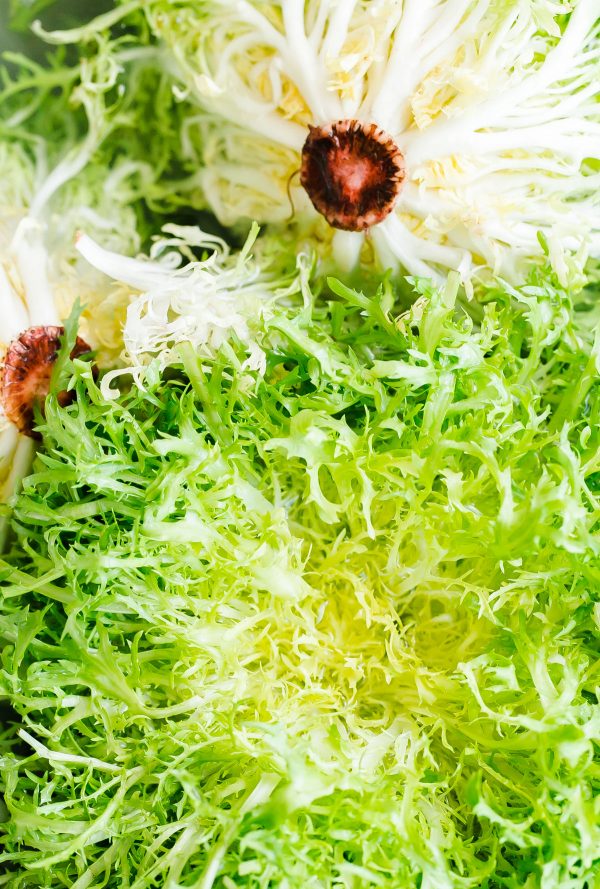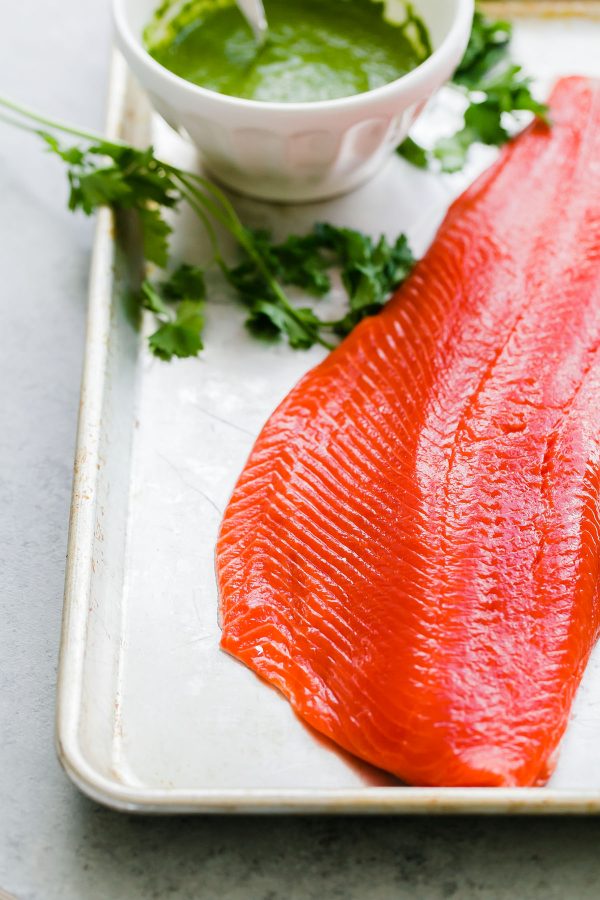 Copper River sockeye (sometimes referred to as 'red salmon' due to its color) has the longest fishing season of all wild salmon species, and is harvested between the months of May through July. Wild salmon travel more than 300 miles from the ocean to their spawning grounds, and this long, long journey (which requires extra energy stores) contributes to their amazing flavor, texture, and health benefits.
If you've never had the opportunity to try fresh, wild Alaskan salmon, I encourage you to visit your local fish monger and seek it out. If you can't find it, ask/make a polite request/demand that your supermarket offer it.
You'd be surprised how receptive fish markets and grocery stores are to customer requests!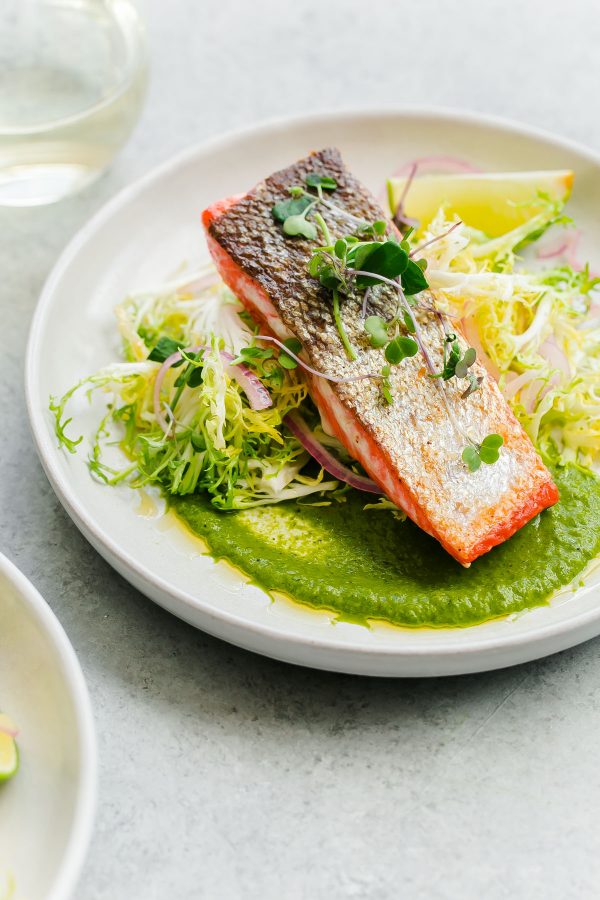 I'm thrilled to share that I'll be working with Copper River in 2016 to bring you delicious recipes for wild, natural sustainably-caught salmon. Sourcing and purchasing sustainable seafood is a topic/cause that I'm incredibly passionate about, and I feel honored to have the opportunity to work closely with such a wonderful organization.
In the meantime, please, oh please, make this recipe. I can't wait to hear what you think!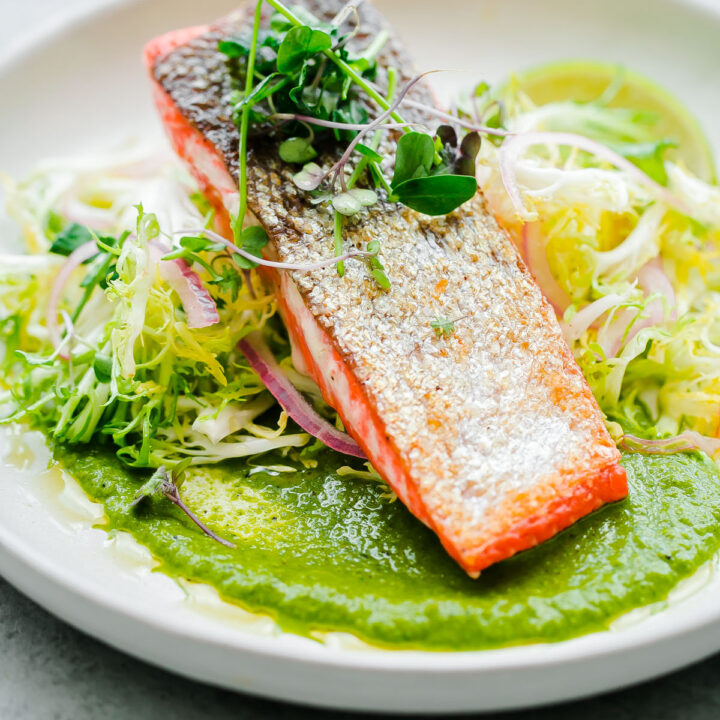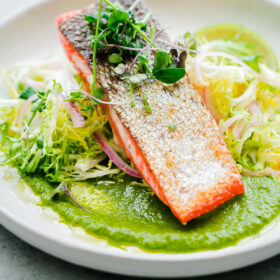 Seared Sockeye Salmon with Green Adobo Sauce and Frisée Salad
Crispy seared sockeye salmon with green chile adobo sauce and a simple frisée salad. This elegant, healthy main course can be prepared in less than 45 minutes!
Ingredients
Frisée Salad:
2 heads of frisée curly endive
¼ small red onion very thinly sliced
extra virgin olive oil for drizzling
½ juicy lime for squeezing
kosher salt
freshly ground black pepper
Salmon and Assembly:
1 batch green chile adobo sauce for serving
4 (6-oz) skin-on wild Alaskan sockeye salmon fillets
kosher salt
freshly ground black pepper
avocado oil or other high smoke-point oil, for cooking
fresh micro greens for garnishing (optional)
lime wedges for serving
Instructions
For the Salad: Fill a large, wide mixing bowl with ice and cold water. Submerge the heads of frisée, stem side up, in the ice water. Gently shake the frisée in the water, holding the stems with one hand to clean (any dirt or sand should sink to the bottom of the bowl). Allow the frisée to sit in the ice bath for 10 to 15 minutes while you prepare the remaining salad ingredients and salmon. The cold ice water will refresh and re-crisp the leaves of the frisée.

Remove the frisée from the ice bath. Shave and discard any very dark green frisée leaves with a chef's knife. Remove the stem of the frisée and gently break the frisée into small pieces. Spin dry in a salad spinner and place in a clean, medium mixing bowl. Add the red onion to the bowl and set aside.

Just before serving, drizzle the salad with extra virgin olive oil, freshly squeezed lime juice, and toss gently until lightly dressed. Season to taste with kosher salt and pepper, and toss again.

For the Salmon and Assembly: Pat the salmon fillets dry (on both sides) with paper towels, and season with kosher salt. Preheat a large stainless steel skillet set over medium-high heat, and add 1 to 2 tablespoons of avocado oil (or another high smoke-point cooking oil). Once the oil is shimmering, gently place the salmon fillets, skin-side down, in the skillet away from you and cook until the skin has rendered and is crispy, about 5 to 6 minutes (time will vary depending on the thickness of your salmon fillets). In the first few minutes of cooking, press the fillets down in the pan with a heatproof spatula – this will prevent the salmon skin from curling as it cooks.

Flip the salmon fillets and continue cooking until the flesh is slightly opaque in the center, and an instant thermometer inserted in center of fillets reads between 120°F – 130°F. Sockeye salmon dries out more easily than other varieties of wild salmon, and is best served medium-rare. Transfer the salmon to a paper-towel lined plate and allow to rest as you assemble the plates.

Place a large spoonful of green chile adobo sauce onto the edge of each plate. Using the tip of the back of a spoon, press into the middle of the sauce and drag the spoon out in an arc to create a 'swoosh' pattern. Distribute the salad onto the plates and top with a salmon fillet, placing crispy skin side up. Garnish with micro greens (optional) and serve with lime wedges for squeezing.
Tips for Success:
Copper River wild sockeye salmon is harvested between the months of May and August, and is available seasonally at Whole Foods and other quality fish retailers. Search and find local retailers close to you by clicking here.
If you are looking to bulk this recipe up, I highly recommend adding chunks of fresh, ripe avocado to the frisée salad before tossing.
Prepare the green chile adobo sauce in advance to reduce prep time, and don't forget to serve the salmon crispy skin-side up!
Serving: 1serving, Calories: 251kcal, Carbohydrates: 12g, Protein: 15g, Fat: 17g, Saturated Fat: 3g, Polyunsaturated Fat: 13g, Cholesterol: 36mg, Sodium: 459mg, Fiber: 5g, Sugar: 2g
Copper River provided me with the gorgeous fresh, wild sockeye salmon used in this recipe. I'm proud to partner with them in 2016 and help spread awareness for wild, sustainably-caught salmon!
This post contains affiliate links, which means that I make a small commission off items you purchase at no additional cost to you. Please read my
privacy policy
for more information.