Seared Sockeye Salmon with Green Chile Adobo Sauce and Frisée Salad
Crispy seared sockeye salmon with green chile adobo sauce and a simple frisée salad. This elegant, healthy main course can be prepared in less than 45 minutes!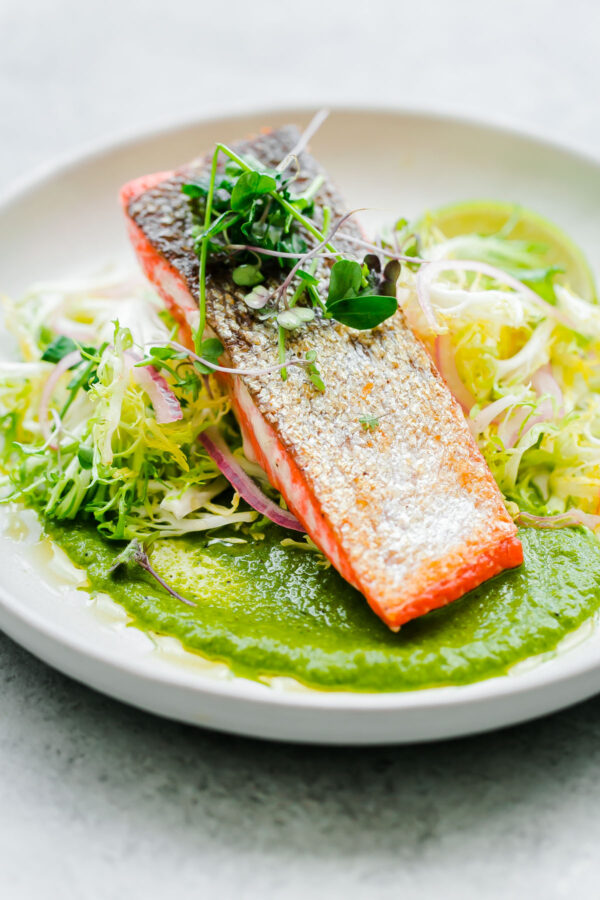 Why, hello! This seared sockeye salmon recipe might be my most favorite recipe to grace the blog in months. In fact, it might be one of my top ten favorite recipes ever. It incorporates that incredible green chile adobo sauce recipe from earlier this week.
Before I go into detail and attempt to convince you to make this dish as soon as possible (prepare yourselves!), I have to squash any preconceptions for today's recipe. This dish looks a bit fancy. Perhaps even a little high-maintenance? I feel you. It is not. It is all about the plating!
It is one of the easiest, fastest main course recipes on this blog. I repeat, this dish comes together in less than 45 minutes! It is 100% feasible to prepare this recipe on even the busiest of weekdays (in fact, it can take less than 20 minutes if you prepare the adobo sauce in advance). It is the type of dish that you'll want to share and enjoy with loved ones, but also the type of recipe that can easily be scaled down to just one or two servings.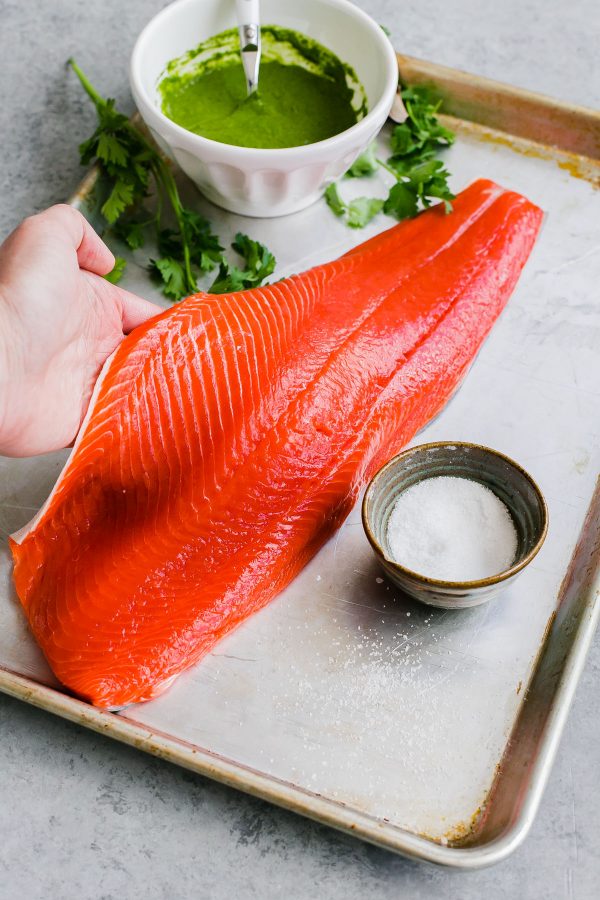 Whenever you're making simple recipes with minimal ingredients, it is really important to seek out the best-quality ingredients that you can get your hands on.
This dish is all about the salmon, so I implore you to seek out the best of the best. Luckily, the summer months are the best months of the year to get your hands on wild Alaskan salmon. I was incredibly fortunate to be on the receiving end of three pounds of the most incredible Copper River wild Alaskan sockeye salmon just over a week ago. It had been caught just hours before it shipped.
It was the most beautiful, vibrant, and delicious salmon that I've ever had in my entire life! So beautiful, I almost cried. Seriously. [Nerd alert.]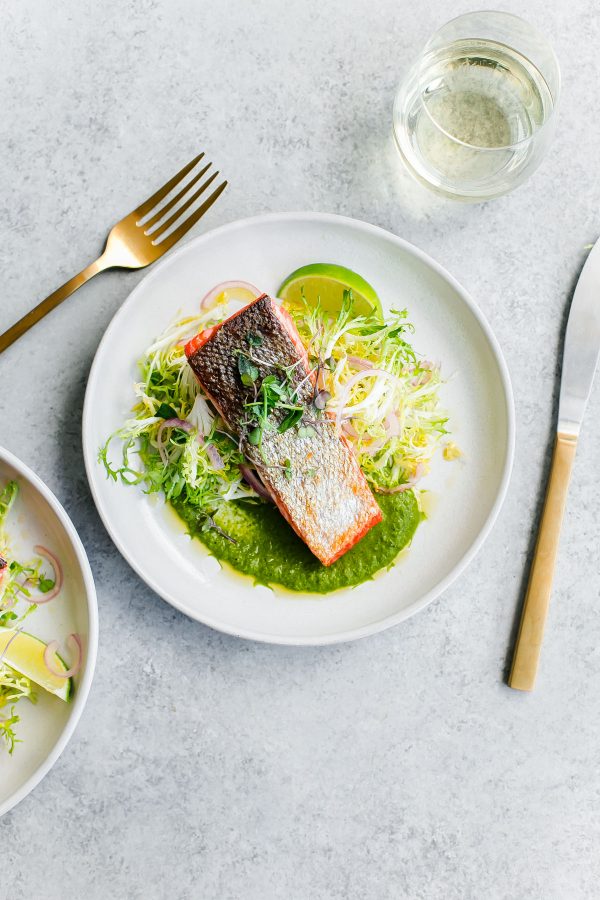 That beautiful piece of sockeye salmon deserved only the best. The herby, citrus-y green chile adobo sauce complimented the fish so well, and didn't overpower it one bit. The addition of a crisp, lightly bitter frisée salad (tossed with sliced red onions, olive oil, and lime juice) added wonderful texture and freshness.
It is a light, healthy, yet very filling main course that is perfect for the summer months. The actual fillets of sockeye salmon are prepared very simply. Patted dry, seasoned with salt and pepper, and pan-seared in a non-stick skillet. Whenever you're searing salmon, it is best to sear it skin-side down in the pan and cook it almost entirely on this one side.
The salmon skin acts as a heat barrier, and you'll be left with the crispiest, most delicious salmon skin ever – it is a crime not to eat crispy salmon skin. [Always remember to serve it crispy, skin-side up – it's elegant and keeps the skin crispy!]
I also implore you to cook your salmon to around 120-130 degrees Fahrenheit – or medium rare, if possible! You want the salmon to be slightly opaque in the center. The difference in texture, flavor, and overall enjoyment between medium-rare and overcooked salmon is night and day – and this is particularly important for leaner salmon cuts, particularly sockeye.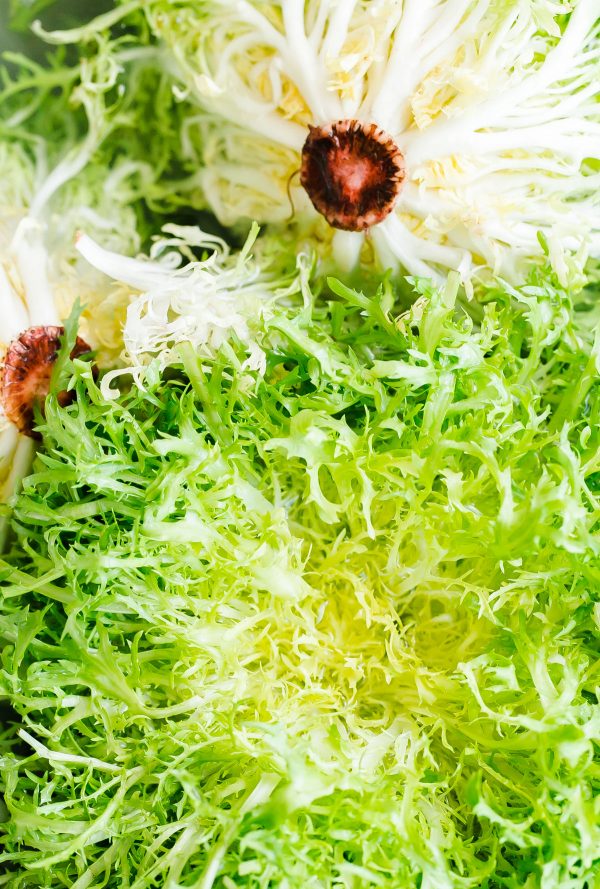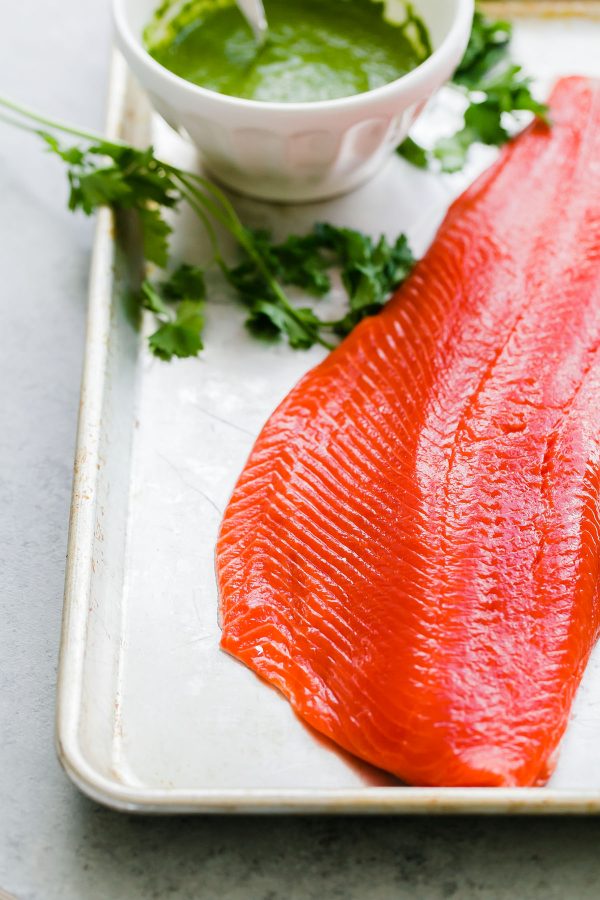 Copper River sockeye (sometimes referred to as 'red salmon' due to its color) has the longest fishing season of all wild salmon species, and is harvested between the months of May through July. Wild salmon travel more than 300 miles from the ocean to their spawning grounds, and this long, long journey (which requires extra energy stores) contributes to their amazing flavor, texture, and health benefits.
If you've never had the opportunity to try fresh, wild Alaskan salmon, I encourage you to visit your local fish monger and seek it out. If you can't find it, ask/make a polite request/demand that your supermarket offer it.
You'd be surprised how receptive fish markets and grocery stores are to customer requests!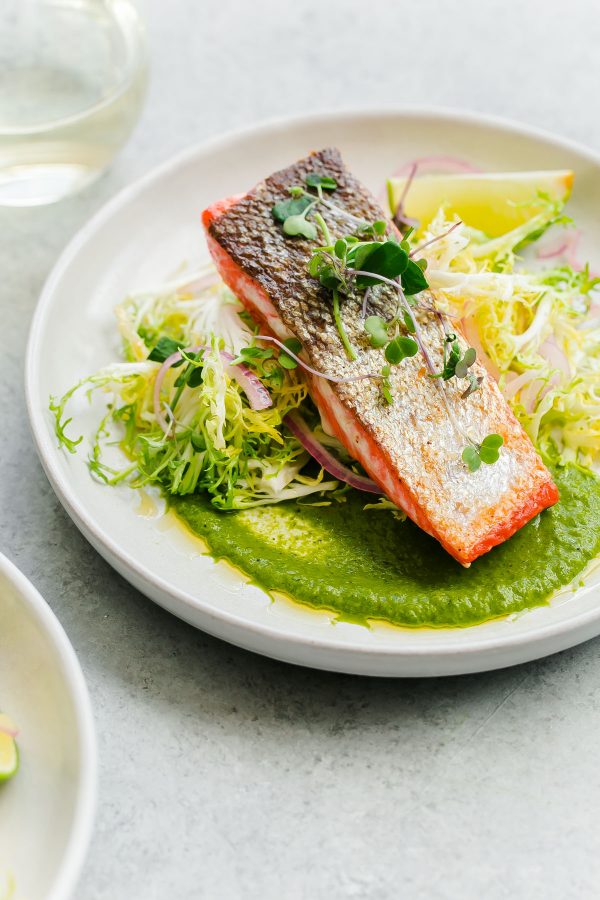 I'm thrilled to share that I'll be working with Copper River in 2016 to bring you delicious recipes for wild, natural sustainably-caught salmon. Sourcing and purchasing sustainable seafood is a topic/cause that I'm incredibly passionate about, and I feel honored to have the opportunity to work closely with such a wonderful organization.
In the meantime, please, oh please, make this recipe. I can't wait to hear what you think!
Copper River provided me with the gorgeous fresh, wild sockeye salmon used in this recipe. I'm proud to partner with them in 2016 and help spread awareness for wild, sustainably-caught salmon!