Homemade Green Chile Adobo Sauce. This spicy, zesty, herb-filled adobo sauce is a flavor-packed accompaniment to grilled seafood, meat, or vegetables!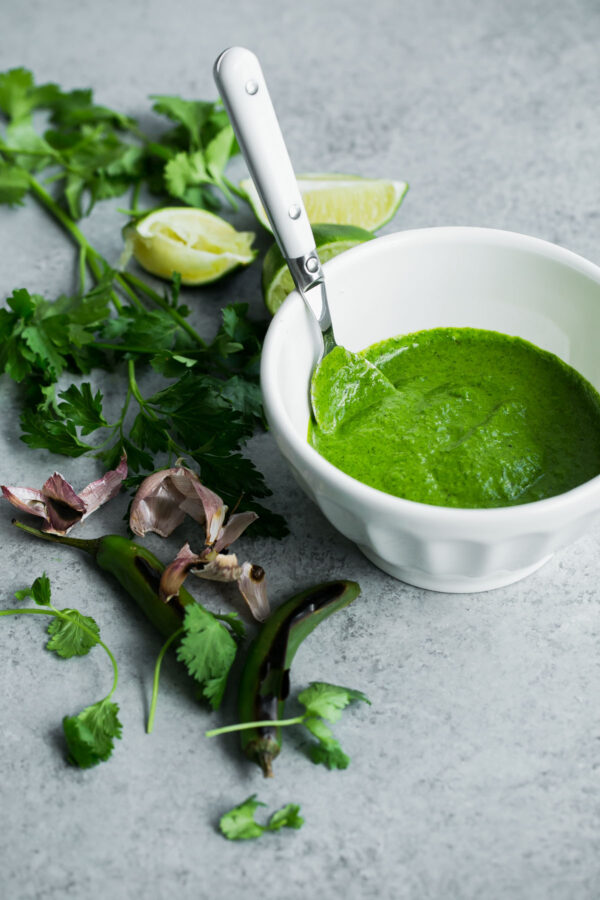 I have several requests of you today.
First, buy the ingredients for today's green chile adobo sauce as soon as humanly possible. Second, prepare this sauce and use it on everything this summer. Grilled meats, seafood, vegetables and side dishes, vegetarian dishes, you name it.
This spicy, zesty, vibrant herb-filled green sauce goes well with everything, and is perhaps my most favorite recipe to grace this blog in a while. We've been pouring, drizzling, marinating (yes, it can be used for that too!) it with/on everything lately – and we don't plan on stopping anytime soon. It is so versatile, and I already know that it will become one of those recipes that we make over and over and over again. I think you will too!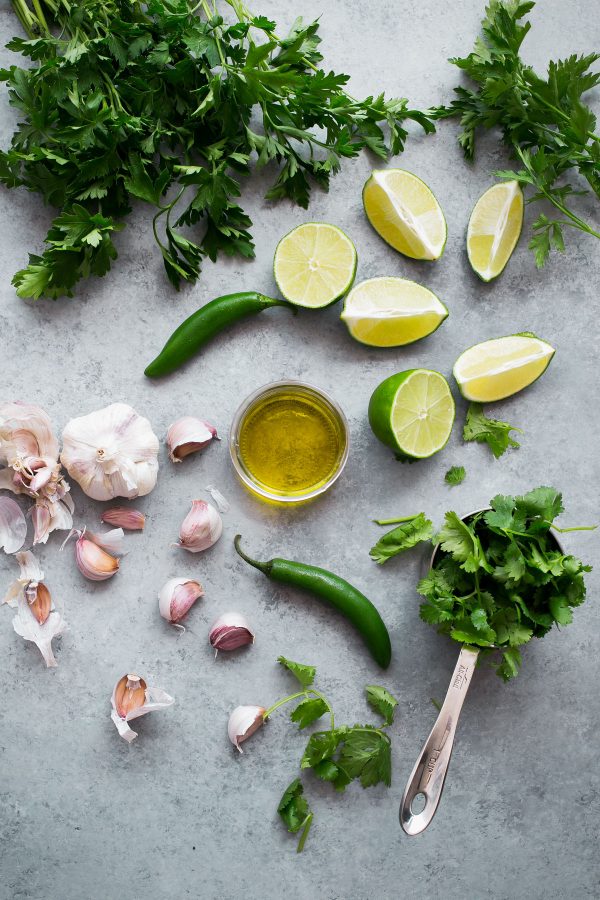 This green chile adobo sauce contains very few ingredients, but all the right ones. [If you're a cilantro hater, you might not agree with that statement. If you love cilantro, you will adore this sauce.]
Roasted serrano chiles, roasted garlic cloves, lots and lots of fresh lime juice, fresh parsley, fresh cilantro, olive oil, and salt. That's it.
The best part? The fresh serrano chiles and garlic cloves are roasted in a dry skillet on the stove. No need to preheat the oven or do any of that time-consuming business. You can dry roast the peppers and garlic together in 15 minutes. They become charred and slightly smoky, and lend incredible flavor to this sauce.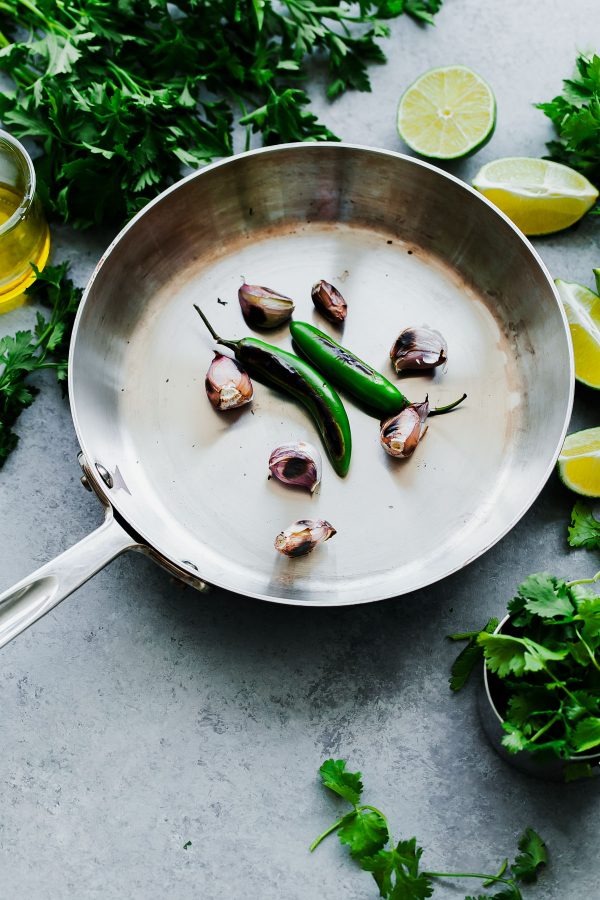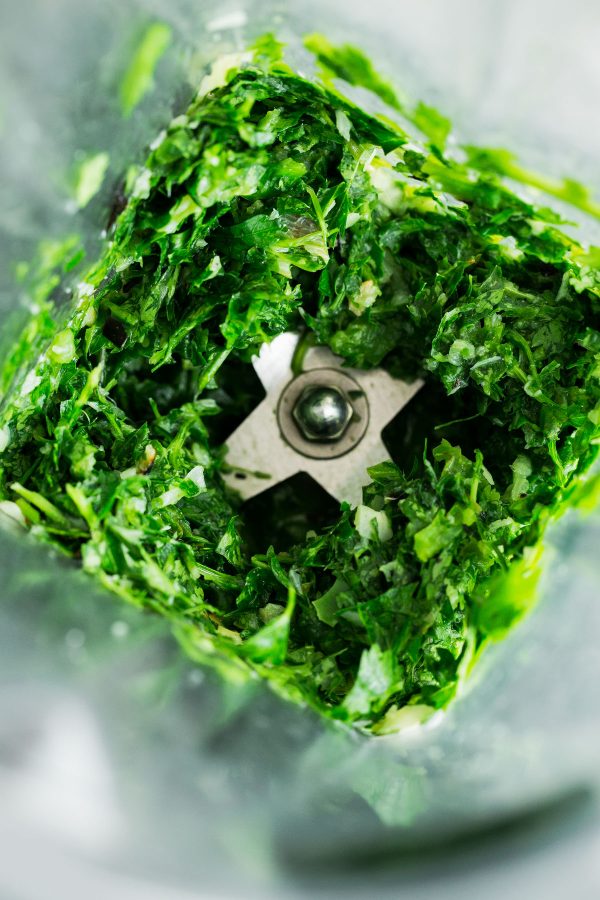 As many of you know, I get a ton of inspiration for this blog from restaurants. I'll often try a dish at a restaurant, and figure out a way to either incorporate a new ingredient, method, or flavor on this blog in some way. Occasionally, I'll try to recreate something for you. It doesn't always go smoothly. Sometimes I'll figure it out and be really proud of the result (this guacamole greens salad is one example!), but I've had far more failures than successes.
I first tried this green chile adobo sauce at Rick Bayless's new Lena Brava restaurant in Chicago and knew that I had to recreate it as soon as possible. It was served as a garnish sauce to fresh, raw oysters, but was so addictively delicious that we ended up eating most of it straight out of the bowl.
With the taste analysis of a mad scientist (and a brief, inquisitive question to our waiter), I was able to figure out the gist of it. A few trial laters, I was able to quickly recreate it at home a few days later. Aaah, the slightly spicy, zesty taste of success!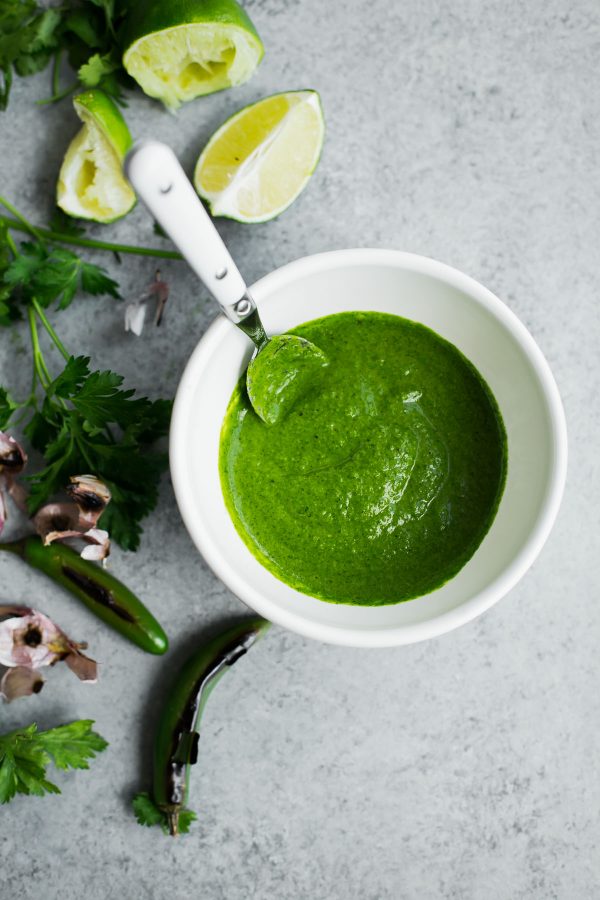 Seriously though, please make this sauce as soon as possible. I can't wait to hear what you think! Also, check back on Friday for an incredibly delicious, easy main course recipe (one of my proudest!) using it.
In the meantime, pour, drizzle, spoon this on top of everything. EVERYTHING.
Products Used for this recipe:
(may include affiliate links)