Shaved Fennel, Orange, & Pecorino Salad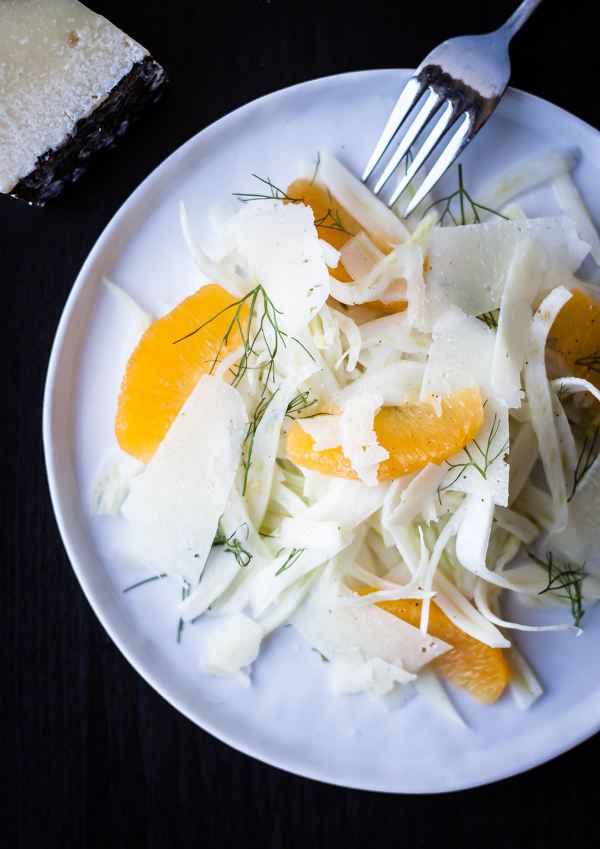 Um, I'm fairly confident that this salad barely qualifies as a recipe.  I'm not sure, you be the one to judge.  But I'm sharing it nonetheless.
It is light, bright, and healthy.  It's a farewell to winter fruits and vegetables, but an ode to spring all at the same time.  I mean, its going to be above 60 degrees today, the sun is still shining when I get home from work, and I turned on my car air conditioning system for the first time in months over the weekend.
Wohhhhh.  This is big.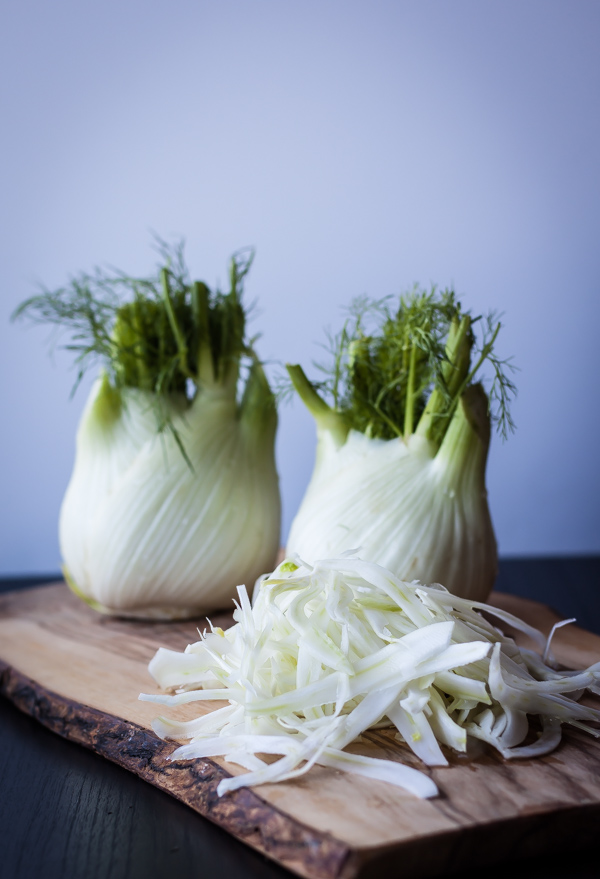 Don't worry.  I'm sure I'll be complaining that it is too hot soon enough.  Because let's face it, there is basically only a two week span out of the entire year where I feel truly comfortable and content.
Give me all the 60-70 degree days in the world!  I can wear absolutely anything and be comfortable.  Now that is pure bliss.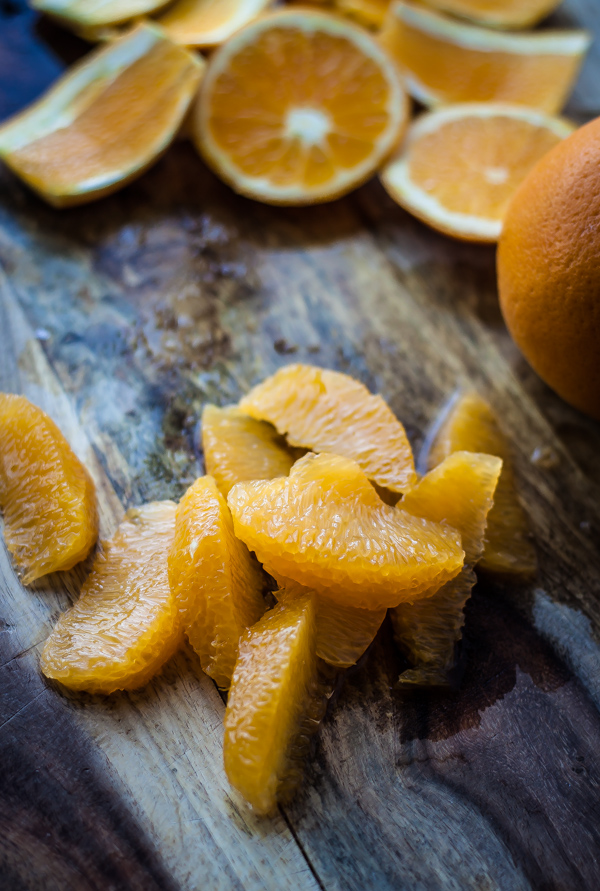 Sort of like this salad.
This past summer, I became infatuated with grilled fennel.  But even more recently, I've fallen in love with it in its most delicate form.  Raw and shaved thinly.  It is delicate, yet crisp and has the loveliest anise flavor without being at all overpowering.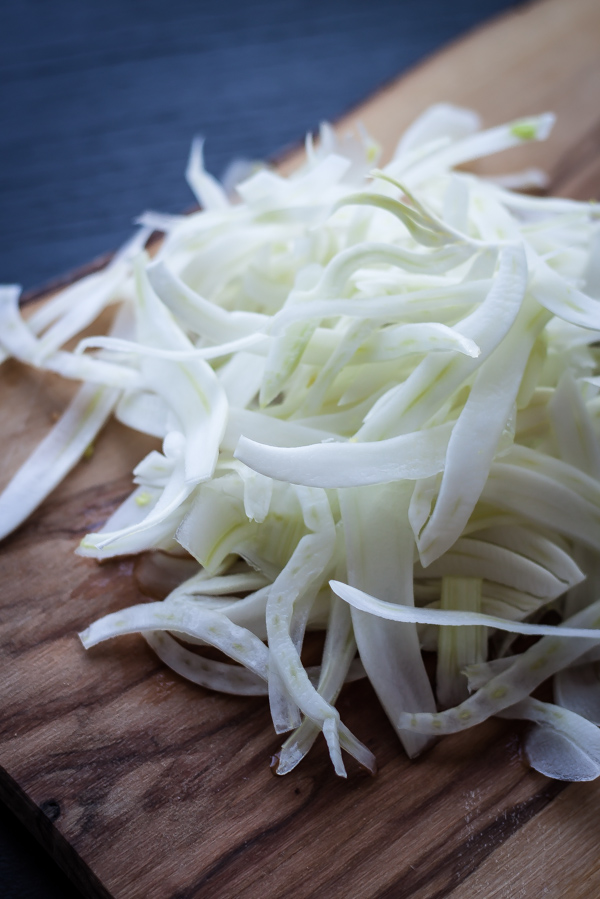 As easy as salads appear in theory, sometimes they can pose a challenge.  Especially when you want to prep all of the ingredients ahead of time and not have the ingredients wilt and wither away in the process.  For example, raw fennel does not retain its wonderful crunch and crispness very long after it is sliced.
This is when ice cold water becomes your best friend. Don't ever underestimate the power of ice water.  Since this salad is all about texture, crispness, and crunch,  I like to soak the shaved fennel in ice water for at least 5 to 10 minutes before serving this salad.   You can also try this trick with radishes, frisee, carrots, etc.  It makes the world of difference, I promise.
[On that note, don't forget to dry or pat down the fennel thoroughly afterwards.]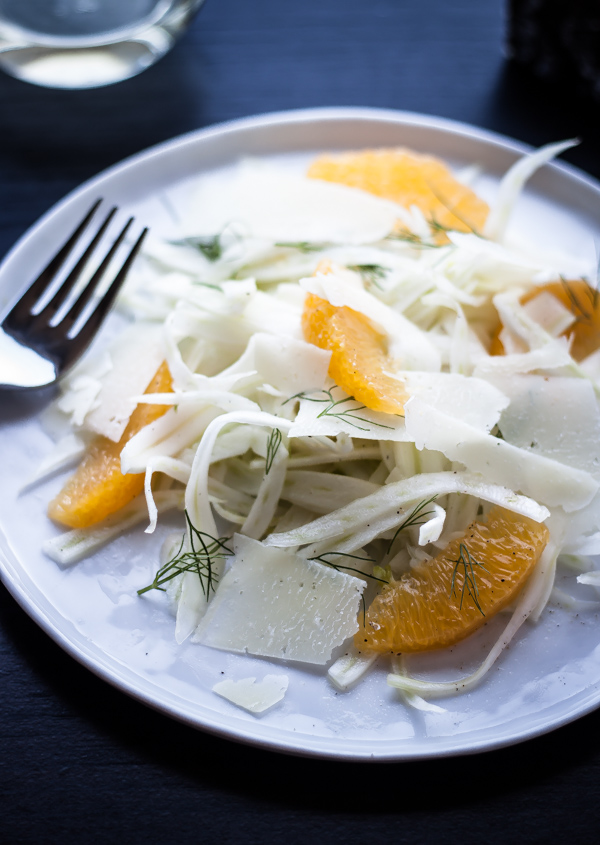 The next step is to toss the shaved fennel with lemon juice and olive oil, before adding orange segments and shaved pecorino cheese.  The funky, peppery, salty pecorino, sweet oranges, and crisp fennel work so well together.
It's the kind of salad that will make you feel a lot better after taste-testing far too many cupcakes.  And that's always a good thing.
"Recipe" below…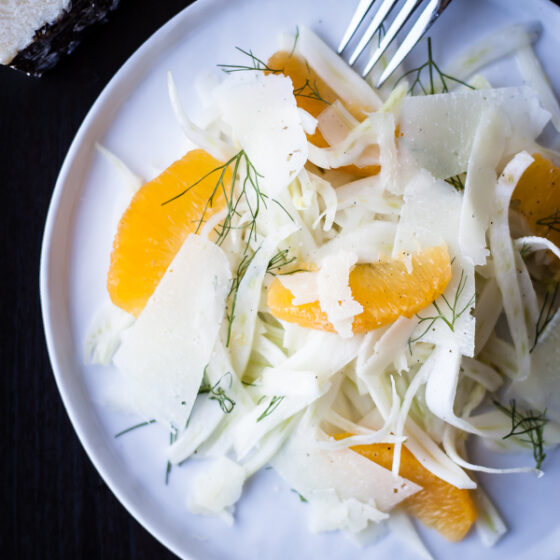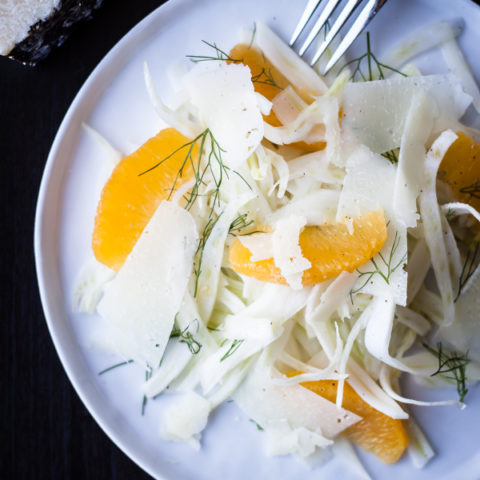 Shaved Fennel, Orange, and Pecorino Salad
Yield: 2 Servings
Prep Time: 10 minutes
Additional Time: 5 minutes
Total Time: 15 minutes
Ingredients
1 large fennel bulb
1 navel orange
2 tablespoons lemon juice
1.5 tablespoons extra virgin olive oil
freshly ground pepper
kosher salt
pecorino cheese, shaved
fennel fronds, for garnish
Instructions
Trim the tops of the fennel bulb. Quarter lengthwise. Remove the fennel heart. Using a mandolin, shave the fennel thinly (roughly 2 mm thickness). Place shaved fennel in a large bowl of ice water for 5 to 10 minutes, while you prepare the rest of the ingredients.
Trim the ends of the orange. Using a sharp pairing knife and using the edges of the orange as your guide, remove the peel of the orange. Be sure to remove all of the white pith.
Using the knife, carefully segment the orange by slicing between the membrane and the fruit. Set the orange segments aside.
Place the lemon juice in a small bowl. Slowly pour in the olive oil, whisking to emulsify. Season with salt and pepper.
Remove the shaved fennel from ice water. Pat dry with paper towels (or alternatively, carefully dry in a salad spinner). Toss the fennel with the dressing. Plate and top with orange segments and shaved pecorino cheese.
Garnish with fennel fronds. Serve immediately.
Nutrition Information:
Yield: 2
Serving Size: 1
Amount Per Serving:
Calories: 211
Total Fat: 14g
Saturated Fat: 4g
Trans Fat: 0g
Unsaturated Fat: 10g
Cholesterol: 15mg
Sodium: 544mg
Carbohydrates: 17g
Fiber: 5g
Sugar: 10g
Protein: 6g
A Beautiful Plate provides nutritional information, but these figures should be considered estimates, as they are not calculated by a registered dietician.