Potato Kielbasa Breakfast Hash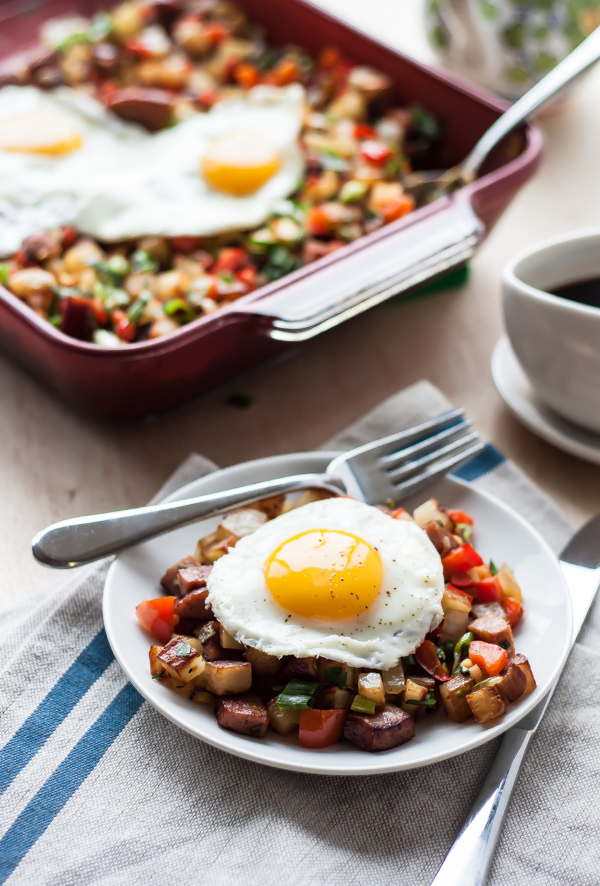 Potato kielbasa breakfast hash.
Otherwise known as the breakfast of champions. But seriously, I wish so badly that I could be eating this for breakfast today. If only I could make all of my recipes on the same day that I tell you all about them.
That would be fun. Sort of. Maybe.
Back to the hash. Oh yes, this hash!
Thank goodness I live with a human garbage disposal named Connor, because it's dangerous for me to be around hash. Trust me, I have a big appetite and can put down almost as much food as him (especially when pasta is involved), but his stomach is never full! It's the weirdest thing. It is also incredibly convenient, because even on days when I'm making up to three or four different dishes back to back, he is always more than willing to eat more. Always, more!
In fact, he's usually circling like a vulture as I take photographs.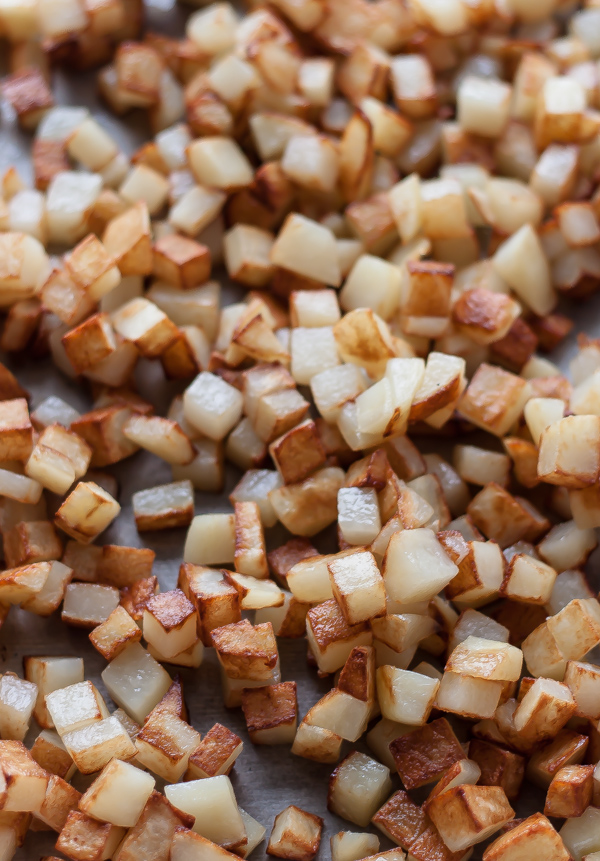 And more often than not, he comes back to eat multiple helpings worth. Those meringues that I shared on Monday?
Connor ate three in a row. I warned him–and even though he admitted that his stomach hurt a little bit, he was back in the kitchen about twenty minutes later already getting another snack. WHAT?! How is that physically possible?
His stomach is an enigma.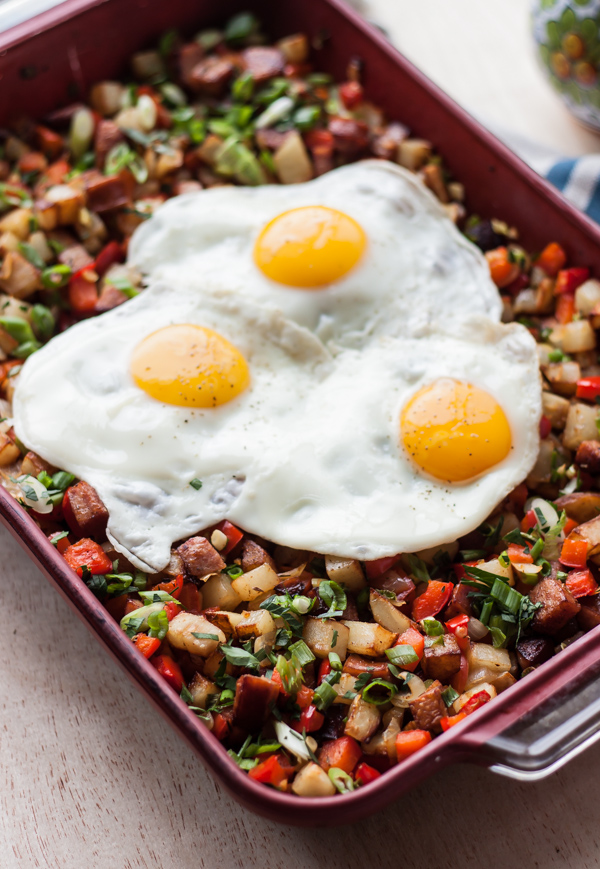 Anyway, I'm getting off track.
The point is….that this hash is very good. And there is a lot of good stuff in it! It's been a while since my last Throwback Thursday post (mostly because I had so many other recipes that I wanted to share!). This particular one was found in a September 1994 issue of Bon Appetit magazine.
The original recipe made a massive quantity–and called for andouille sausage, as well as store-bought Creole seasoning.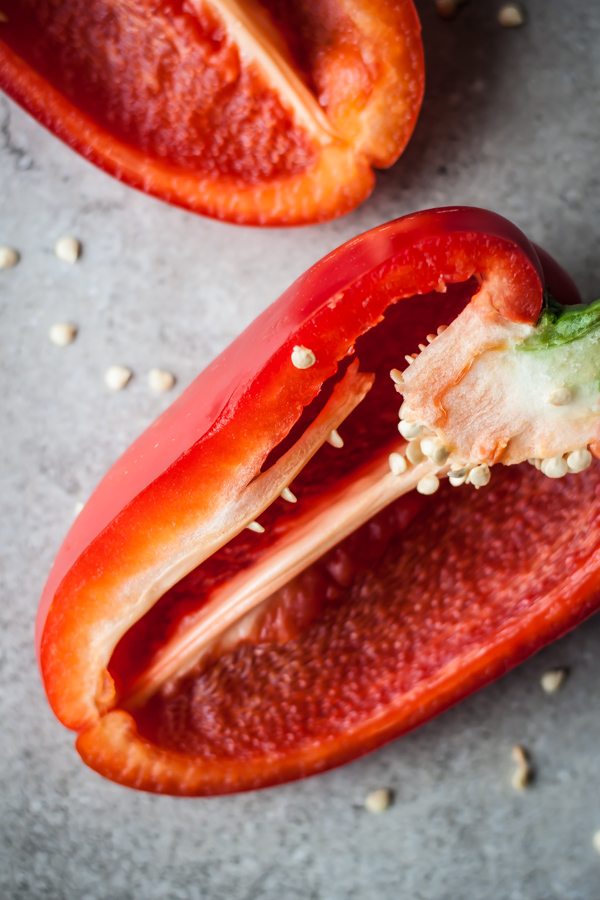 I substituted with kielbasa, another (non-spicy, Polish) smoked sausage, because my local store happened to be out of andouille (lame), swapped out green peppers for red, and upped the Creole seasoning to make up for it. I also simplified the quantities and ratios of all of the ingredients–just to make things more easy and straight-forward. It's hash. Not rocket science.
Instead of using store-bought seasoning, I used homemade creole seasoning.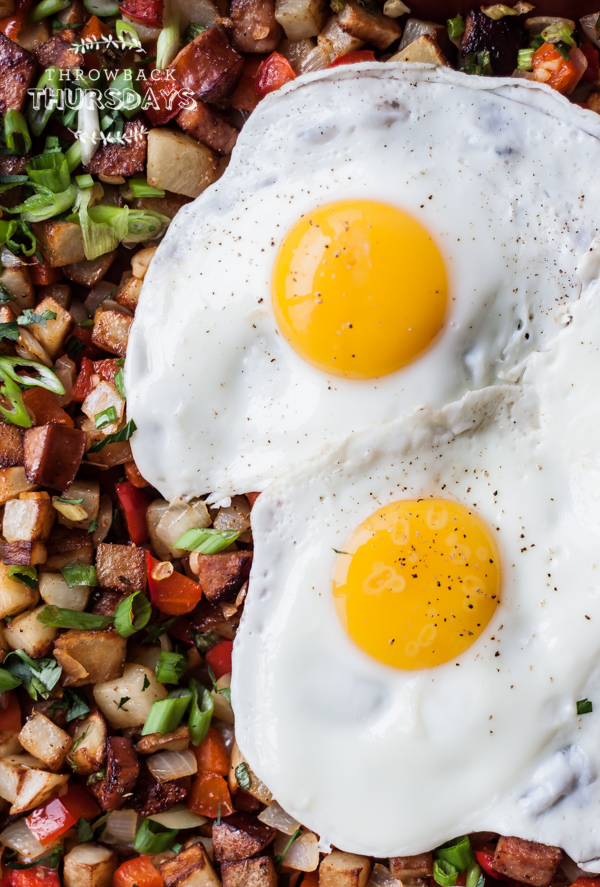 Like most hashes, the base of this dish is russet potatoes. But there is almost an equal amount of sautéed red pepper, onions, green onions, and of course, kielbasa sausage mixed in. All of the ingredients are cooked and sautéed over the stovetop (in various stages) before being combined together and baked together in the oven for about 15 to 20 minutes.
While you're waiting for the hash to get crispy and golden brown, fry as many sunny side eggs as you would like. Turn on the oven light and watch anxiously–and then take a page out of Connor's book and go to town!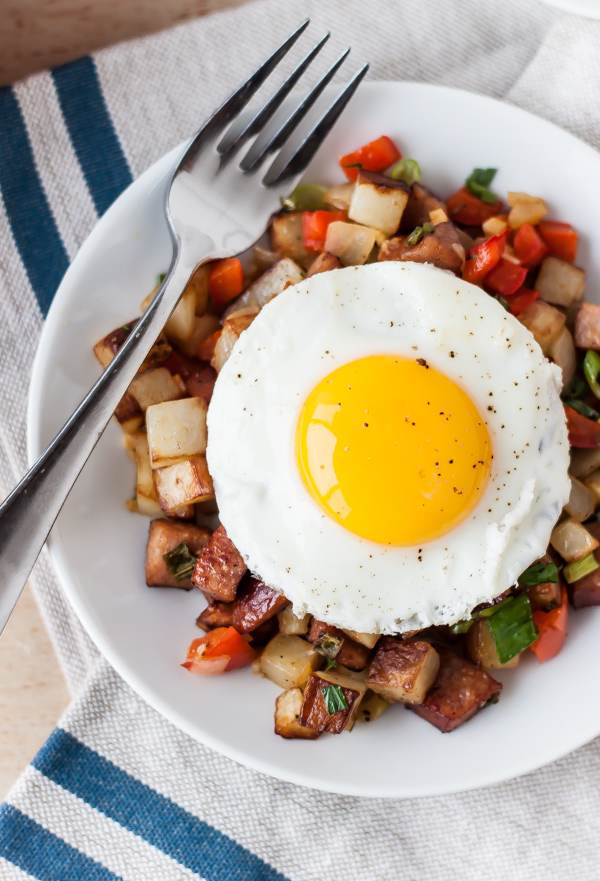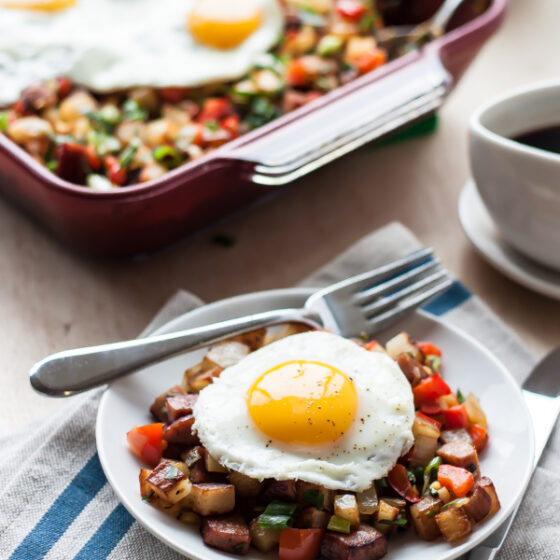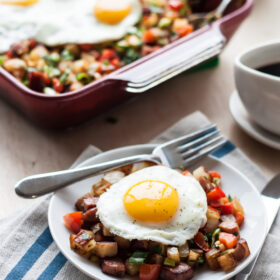 Potato Kielbasa Breakfast Hash
This delicious potato hash combines crispy russet potatoes, kielbasa sausage, bell pepper, onions, and spices to produce a restaurant-worthy breakfast. Top with over easy eggs!
Ingredients
Creole Seasoning (Makes ⅓ Cup):
1 tablespoon ground paprika
1 tablespoon Diamond Crystal kosher salt
1 tablespoon garlic powder
1½ teaspoons ground black pepper
1½ teaspoons onion powder
1½ teaspoons ground cayenne pepper
1½ teaspoons dried oregano
1½ teaspoons dried thyme
Potato Kielbasa Breakfast Hash:
1½ lbs russet potatoes
3-4 tablespoons vegetable or avocado oil
½ lb kielbasa smoked sausage cut into ½-inch dice (or substitute with andouille for a spicier version)
1 medium onion diced (roughly 1 cup)
1 large red bell pepper diced ( roughly 1 cup)
4 large garlic cloves finely chopped
½ cup finely sliced green onions
1½ teaspoons homemade Creole seasoning see above (or use store-bought, but be cautious of salt quantity)
kosher salt
freshly ground black pepper
For Serving:
fried or over easy eggs roughly 1-2 per person
Instructions
Creole Seasoning: Combine all of the ingredients a bowl. Stir and store in an airtight container for up to 6 months or a year.

Prepare Hash: Preheat the oven to 450° F (232°C).  Set aside a large 9 x 13-inch baking dish.

Peel the russet potatoes and cut lengthwise into ½-inch thick slices. Dice the slices to produce ½-inch cubes. Place the chopped potato in a clean kitchen towel or pat with paper towels to remove excess moisture and starch.

Heat half of the oil in a large non-stick skillet over high heat. Sauté half of the diced potato, tossing frequently, until golden brown on all sides. Season with salt and pepper and place in the baking dish. Repeat with remaining potatoes. In the same skillet, sauté the sausage over medium-high heat for 2 to 3 minutes or until caramelized. Transfer to the potato mixture.

Using the same skillet, sauté the onion, pepper, and garlic over medium heat using the remaining tablespoon of oil. Stir occasionally and cook for 3 to 4 minutes, or until vegetables begin to soften and become translucent. Add to the baking dish with the sautéed potatoes.

Add the green onions and Creole seasoning to the baking pan, and toss all of the ingredients together. Season mixture to taste with salt and pepper.

Bake for 15 to 20 minutes or until heated through and crispy. As the hash is finishing cooking, fry or cook eggs over easy for serving. Remove the hash from the oven and top with fried eggs. Serve immediately.
Hash recipe adapted from September 1994 issue of Bon Appetit. Creole seasoning recipe from
here
.
Serving: 1serving, Calories: 605kcal, Carbohydrates: 51g, Protein: 17g, Fat: 38g, Saturated Fat: 9g, Polyunsaturated Fat: 27g, Cholesterol: 98mg, Sodium: 2936mg, Fiber: 7g, Sugar: 6g
This post contains affiliate links, which means that I make a small commission off items you purchase at no additional cost to you. Please read my
privacy policy
for more information.