Shaved Vegetable Arugula Salad with Parmesan
Late spring and summer are the seasons for big salads. You'll want to make this one over and over again. It is so simple and satisfying, but has a few additions that take it from good to great with very little effort. You can also use the base recipe as a springboard for your own riff or variation off the original.
The inspiration for this shaved vegetable arugula salad recipe came-to-be after a visit to the outdoor farmer's market in Lincoln Park this past weekend. Every stall was packed with beautiful greens, local asparagus, radishes, mushrooms, and late harvest carrots.
I literally went home and developed this arugula salad recipe (with a few quick additions from the store) that very same day and had to share it with you as soon as possible.
You know those dinner parties where you're put in charge of bringing the salad? And you want to keep it simple, but make it a bit more special? Well, this salad is the perfect choice for those types of situations. It would make a beautiful side salad (or main course, with some added protein!) for any get-together!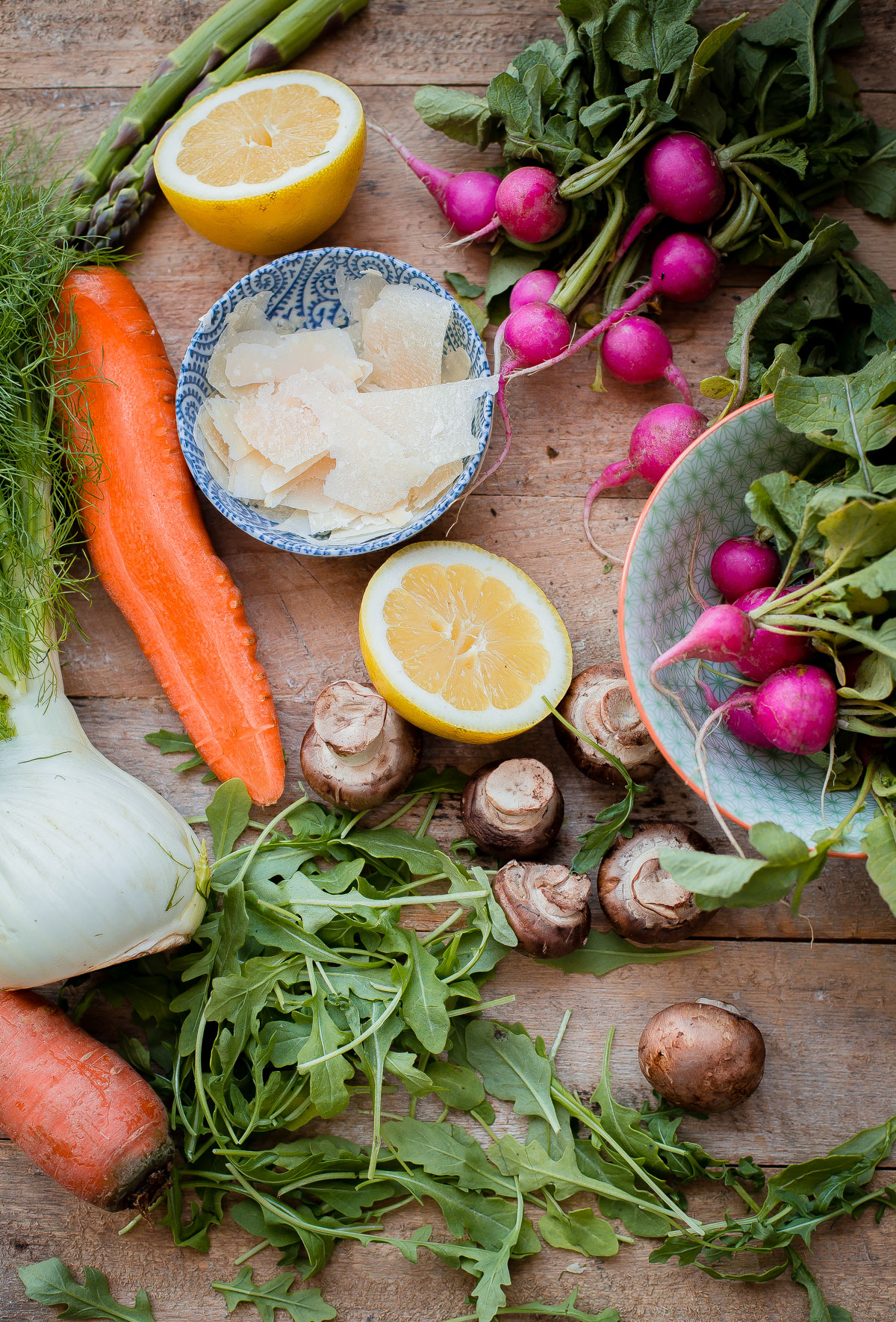 My starting point for this salad was a classic arugula salad tossed with lemon juice, olive oil, and shaved parmesan. It happens to be one of my favorite go-to salads, because it is so simple, yet so satisfying and delicious.
You've got peppery arugula leaves, salty parmigiano-reggiano cheese, and bright acidity from the lemon. I took those basics and added texture, color, and more flavor with the following additions:
asparagus
fennel (and reserved fennel fronds)
baby bella/crimini mushrooms
carrot
radishes (pink, red, or any other variety will work)
I happened to find lemony, red-veined sorrel at my farmer's market, which I added for both flavor and color.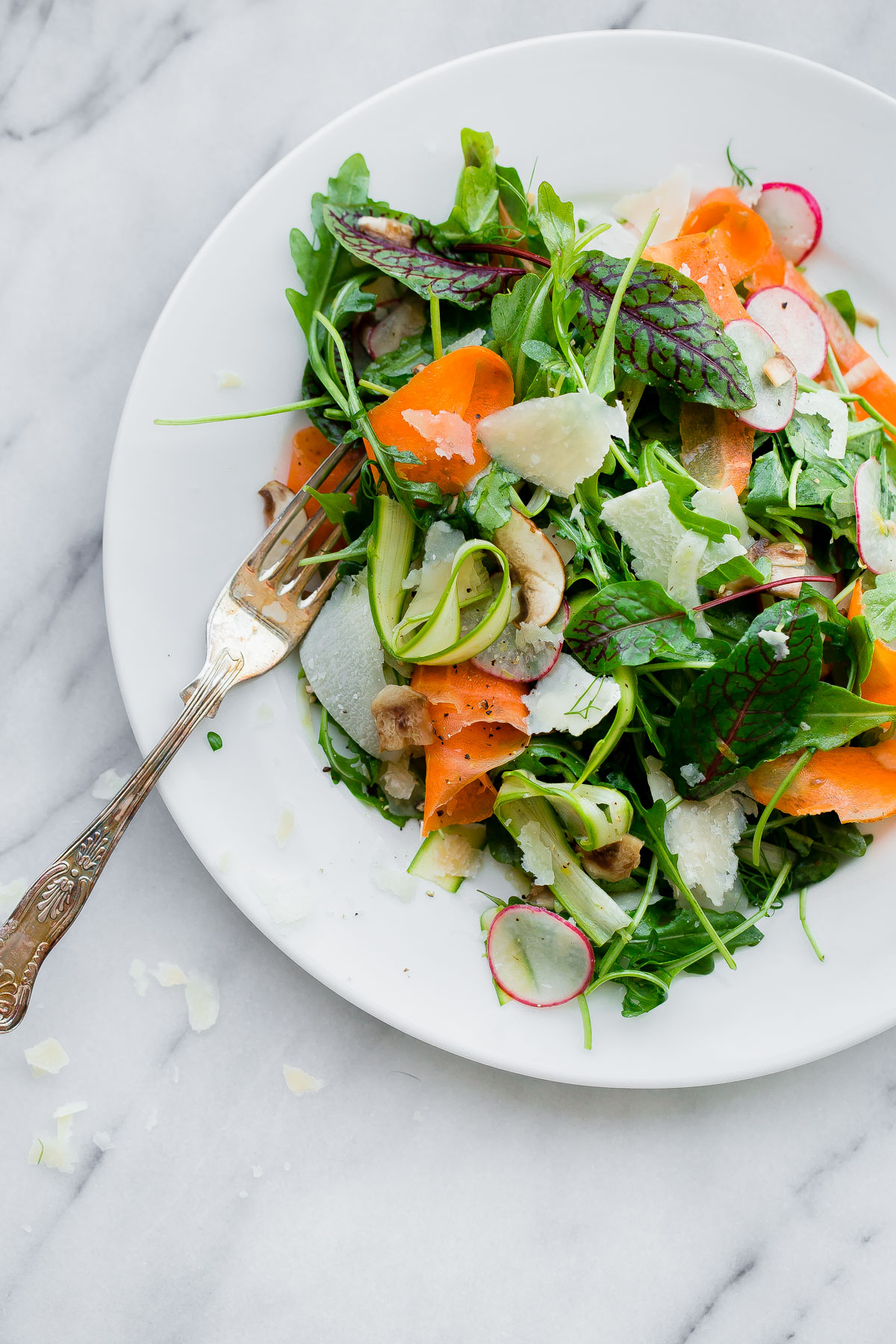 If you're not a fan of one of the ingredients listed above, you can certainly leave it out and substitute it with another personal favorite or other vegetables as they come into season. Fennel and radish add distinctive flavors to this salad, so be sure to include those if available.
The key to making a light, texturally and visually, green salad filled with vegetables is to shave the vegetables very thinly. 
As the recipe name suggests, all of the vegetables are shaved extremely thinly with a vegetable peeler (this one is my personal favorite) or mandolin (my favorite brand is Benriner).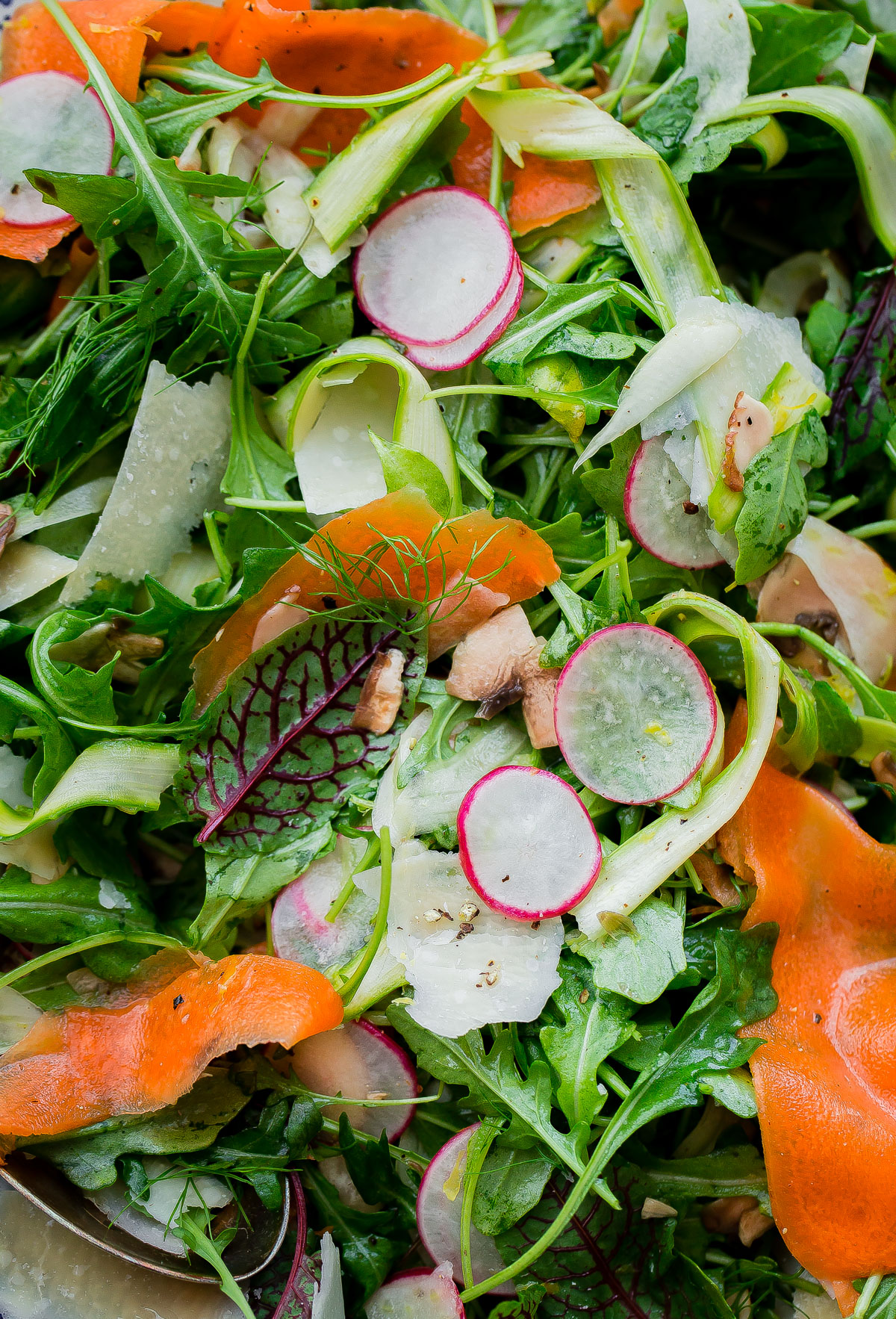 The carrot and asparagus stalks are peeled into ribbons. The fennel, radishes, and mushrooms are sliced paper thin with a mandolin. Since all the vegetables are in lightweight, shaved form, it allows the salad to be easily tossed (and not crushed) with lemon juice and olive oil.
Shaving the vegetables allows you to get every single ingredient in each forkful. 
Since many of these shaved vegetables have a high water content, it is really important to season this salad well with salt and freshly cracked black pepper. If the salad tastes at all flat, don't hesitate to add another pinchful or two of salt or another squeeze of lemon juice!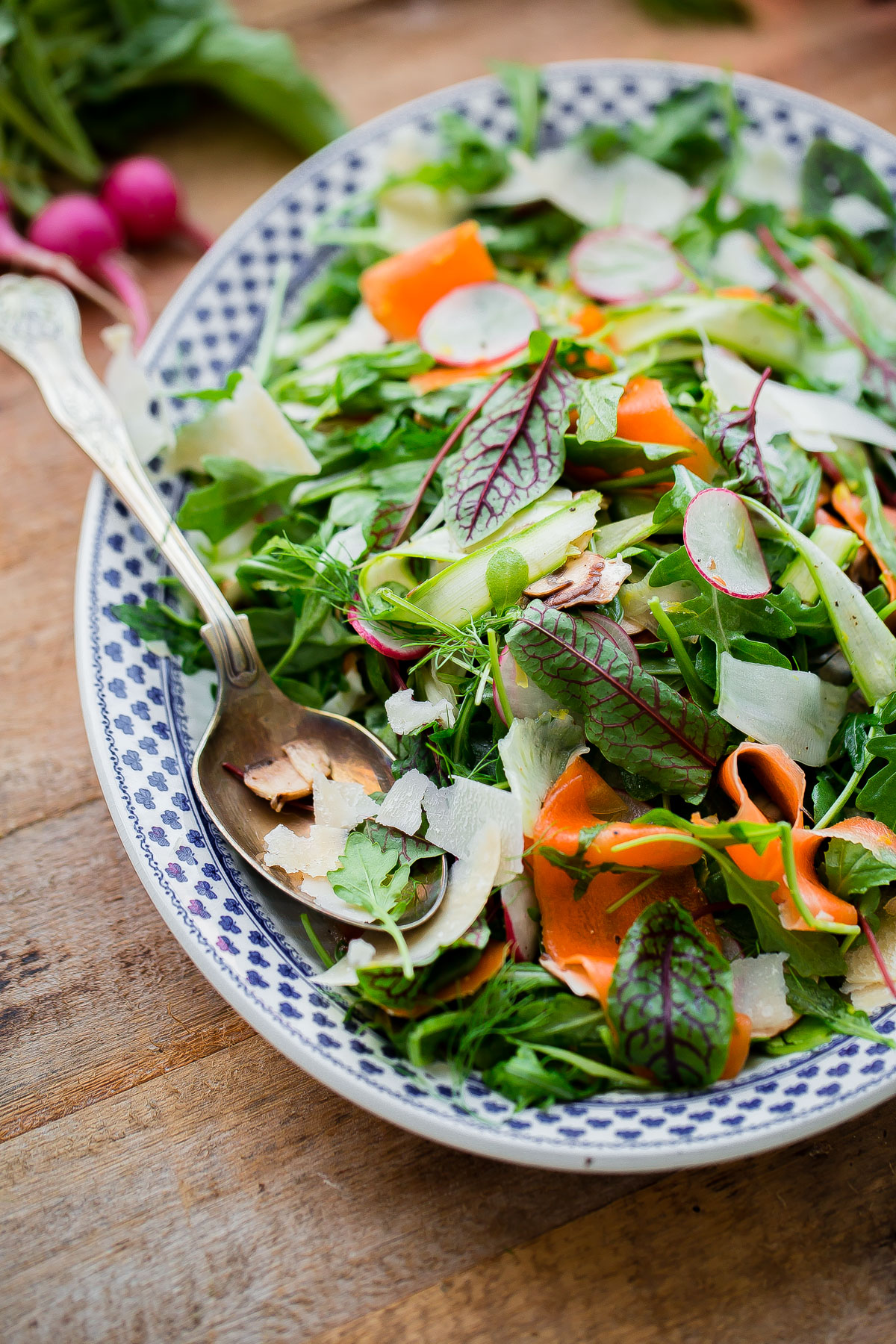 My best advice at producing simple, great-tasting green salads? Start with the best of the best ingredients (eg. I'd rather use local greens from the farmer's market, than organic greens flown halfway around the world).
They'll do most of the work for you!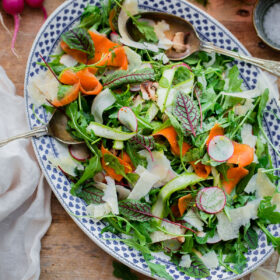 Shaved Vegetable Arugula Salad
Ingredients:
zest of 1/2 lemon
1 tablespoon + 1 teaspoon fresh squeezed lemon juice
1 tablespoon extra virgin olive oil
1/4 teaspoon kosher salt, plus more for tasting
1/4 teaspoon freshly cracked black pepper
1 cup (1.5 ounces) shaved carrot ribbons (roughly 1/2 large carrot, scrubbed, and peeled lengthwise into thin ribbons with a vegetable peeler)
2-3 thick asparagus stalks (tough ends snapped and discarded), peeled lengthwise into thin ribbons with a vegetable peeler
1/2 small fennel bulb, trimmed, and very thinly sliced with a mandoline (fronds reserved for garnishing)
1 cup (2.5 ounces) baby bella/crimini mushrooms, stems trimmed, and very thinly sliced lengthwise with a mandoline
4 (2 – 3 ounces) pink or red radishes, trimmed, and very thinly sliced with a mandoline
1 (5 ounce package, roughly 5 cups) baby arugula
1 – 2 ounces shaved parmigiano-reggiano cheese
optional garnishes: fennel fronds, red sorrel, and Maldon or other flaky finishing salt
Directions:
In a large mixing bowl or salad bowl, whisk together lemon zest, lemon juice, extra virgin olive oil, kosher salt, and black pepper until well combined.
Add the carrot ribbons, shaved asparagus, sliced fennel, sliced mushrooms, and sliced radishes. Gently toss the vegetables with the lemon vinaigrette until evenly coated. Add the baby arugula and toss gently together with the vegetables. Season the salad to taste with salt and pepper (if the salad tastes at all flat, be sure to add an extra pinch or two of salt and perhaps an additional squeeze of lemon juice).
Add the parmigiano-reggiano shavings and toss once or twice. Serve on a large platter or on individual salad plates. Garnish with fennel fronds, red sorrel (if available or using), and a small pinch of Maldon or other flaky finishing salt. Serve immediately.
All images and text ©
.