Carrot Cake Breakfast Cookies
A delicious wholesome carrot cake breakfast cookie that is made with whole grains, naturally sweetened, and packed with healthy fats and fiber.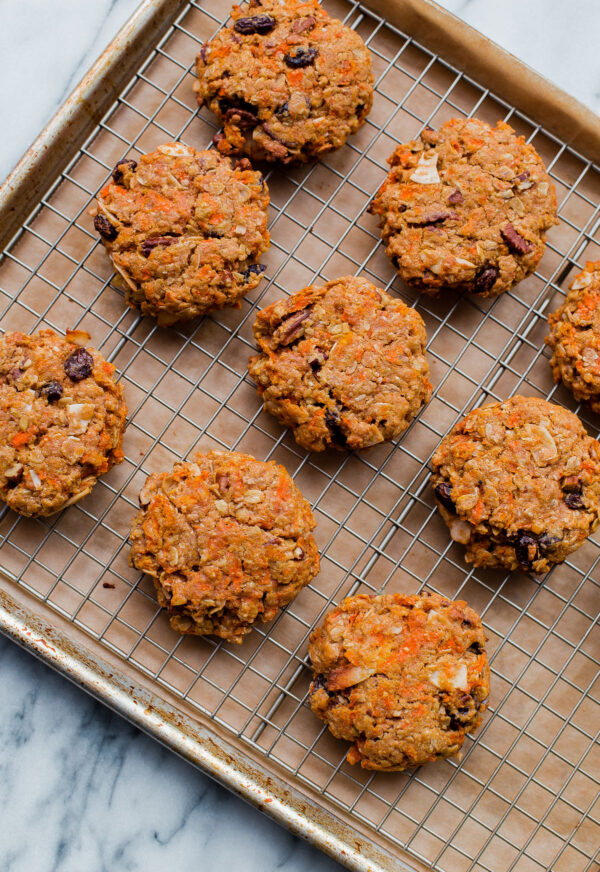 Carrot Cake Breakfast Cookies
Carrot. Cake. Breakfast. Cookies. All of these words make me extremely happy.
Now combine them into one delicious (healthful and naturally sweetened) breakfast baked good? I'm practically jumping for joy!
I bring you carrot cake breakfast cookies. Aka. your new favorite way to breakfast.
This fabulous recipe hails from Kathryne's (of Cookie and Kate) new cookbook Love Real Food. I've been dying to share this book with you ever since it graced my doorstep last week. But I've actually been looking forward to it for much longer than that!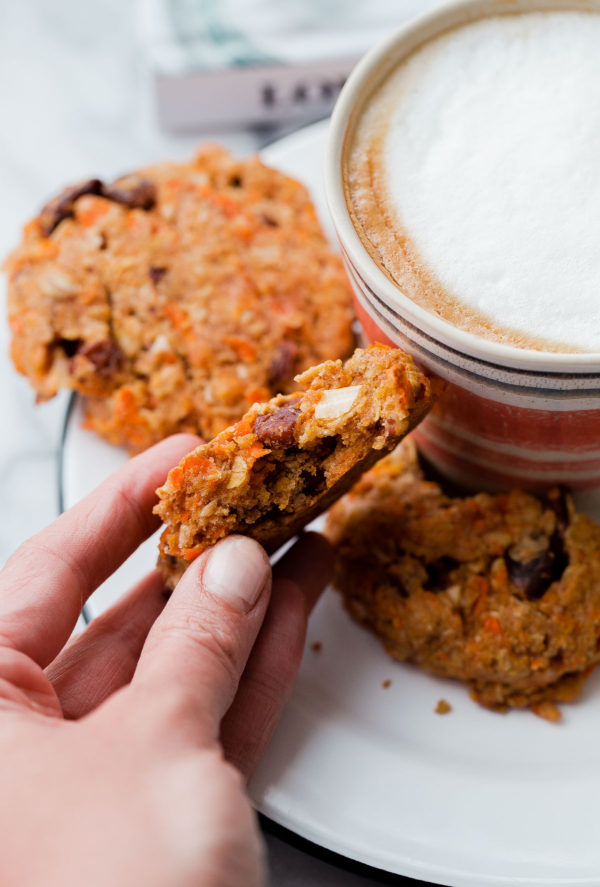 Kathryne and I met in person a year and half ago at a retreat in Utah (and a few months later in Chicago), and she's just as down-to-earth, thoughtful, and passionate in person as she comes across on the screen. She poured her heart and soul – as well as a great deal of sweat and hard work – into this cookbook and it shows. I'm happy to call her a friend.
If you're a fan of Kathryne's blog (and I'm sure many of you already are!), love approachable vegetarian recipes, or are simply looking to incorporate more plant-based meals into your weekly routine, I can strongly say that this cookbook will become one of your go-to resources in the kitchen.
It's one of my favorite cookbooks in a long time. It's filled with over 100 wholesome well-tested recipes that you can easily and realistically incorporate into your daily routine.


Kathryne is a stickler (in the best possible way!) for natural sweeteners (honey, maple syrup, or coconut sugar), whole grains, and whole foods.
Real food that, first and foremost, tastes fabulous and also makes you feel good. I mean, what's not to like, right?
As an added bonus, all of the recipes in the book include fun variation ideas, tips, and helpful notes. If Kate has found a way to make something gluten-free, dairy free, vegan, egg free, nut free, or soy free – she'll tell you how to do it (and has tested it many times to be sure of the results).
While the book is filled with countless savory recipes, I couldn't help but turn back to these carrot cake breakfast cookies. For starters, I adore carrot cake in all forms (case and point: these carrot cake scones). Secondly, I already had all of the ingredients on hand. [You most likely do too!]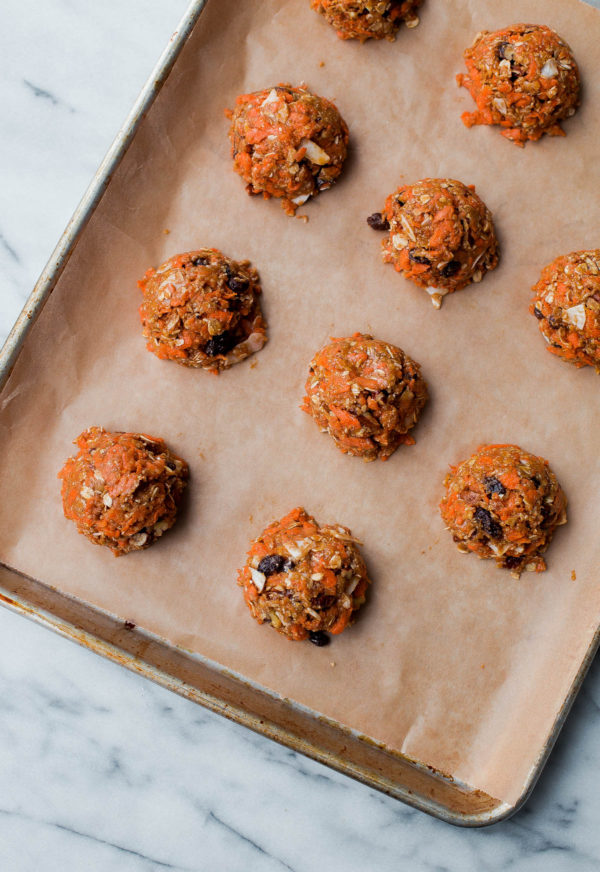 Why You'll Love This Carrot Cake Breakfast Cookie Recipe:
This recipe was my first foray into the breakfast cookie world and I'm very happy about it. As Kathryne states, these large breakfast cookies taste like carrot cake and are as hearty as a bran muffin. The texture is fairly soft and cake-like.
I know many argue that carrot cake is all about the frosting, but this breakfast cookie proves them wrong. These are made with a combination of quick-cooking oats and white (or regular) whole wheat flour, packed with grated carrot and raisins, healthy fats (pecans/walnuts and coconut oil), and lightly sweetened with honey or maple syrup.
These breakfast cookies make a fabulous breakfast on-the-go, and take very little time to prepare. They could easily be made after dinner one night or on the weekend as an easy prep item for the week ahead. They also work as an afternoon snacking and would be great for travel.
I have a strong feeling that kids would love these too! Cookies for breakfast? It's an easy sell that you can feel really good about.


If you are have dietary preferences or requirements, be sure to check the recipe notes below on how to make these breakfast cookies gluten-free, vegan, or nut free.
I also included Kathryne's flavor variation ideas (these can also be prepared with grated apple or zucchini) and method for further reducing the sugar and fat content, if desired.
While I followed the original recipe to the word, I added some unsweetened coconut flakes (simply because I enjoy their texture and had some on hand already!) – reflected in the recipe below, but completely optional. I also included my own gram measurements for fellow scale-lovers.
Don't forget to get your hands on a copy of Love Real Food. You'll absolutely love it! Congratulations Kathryne!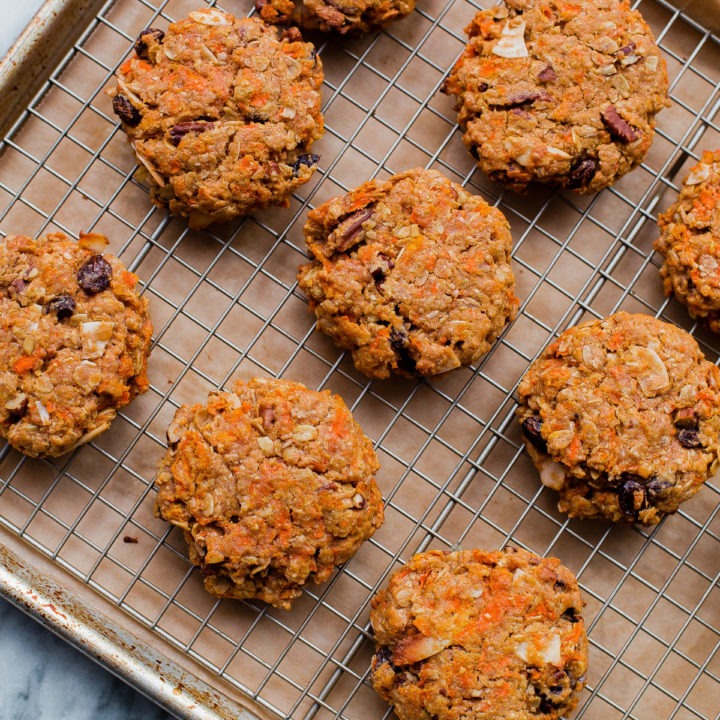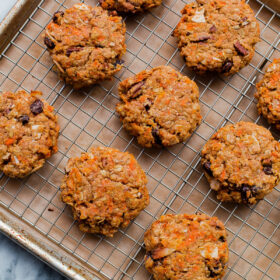 Carrot Cake Breakfast Cookies
These hearty carrot cake breakfast cookies, from Love Real Food by Kathryne Taylor, are refined sugar free, whole grain, and taste like a healthy version of carrot cake. Enjoy them for breakfast or afternoon snack!
Ingredients
1 cup (90 g) quick-cooking oats
1 cup (144 g) white whole wheat or regular whole wheat flour
1 teaspoon baking powder
1 teaspoon ground cinnamon
½ teaspoon fine sea salt
¼ teaspoon ground ginger
1½ cups (175 g) peeled, grated carrots (about ½ lb)
1 cup (125 g) roughly chopped raw pecans or walnuts
¼ cup (40 g) raisins, preferably golden
¼ cup (20 g) unsweetened coconut flakes optional add-in
½ cup (170 g) honey or maple syrup
½ cup (100 g) melted coconut oil
Instructions
Preheat the oven to 375°F (190°C) with a rack in the center position. Line a large rimmed baking sheet with parchment paper or silicone baking sheet.

In a large bowl, combine the oats, flour, baking powder, cinnamon, salt, and ginger. Whisk to blend. Add the carrots, pecans, and raisins and stir to combine.

In a medium bowl, combine the honey and coconut oil. Whisk until blended. Pour the liquid mixture into the flour mixture and stir just until combined. The dough might be rather wet, but don't worry.

Drop ¼-cup scoops of dough (an ice cream scoop with a wire scraper is perfect for this) onto the prepared baking sheet, leaving several inches of space around each one. Us the palm of your hand to gently flatten each cookie to about ¾-inch thick.

Bake until the cookies are golden and firm around the edges, 15 to 17 minutes. Cool the cookies on the baking sheet on a cooling rack for 10 minutes, then carefully transfer the cookies to the rack to cool completely (otherwise, the bottoms can brown too much).

Storage: Leftover breakfast cookies will keep, covered, at room temperature for up to 2 days, in the refrigerator for up to 5 days, and in the freezer for up to 3 months.
How to Adapt These Breakfast Cookies:
Make gluten-free: substitute 1¼ cups oat flour for the wheat flour. Be sure to use certified gluten-free oats and oat flour.
Make vegan: use maple syrup instead of honey
Nut free: replace the nuts with ⅔ cup pepitas (hulled pumpkin seeds) or omit them altogether
Recipe reprinted (with small adaptations) with permission from Love Real Food by Kathryne Taylor. 
Serving: 1serving, Calories: 142kcal, Carbohydrates: 27g, Protein: 5g, Fat: 2g, Saturated Fat: 1g, Polyunsaturated Fat: 1g, Sodium: 163mg, Fiber: 4g, Sugar: 2g
This post contains affiliate links, which means that I make a small commission off items you purchase at no additional cost to you. Please read my
privacy policy
for more information.