Silver Dollar Pancakes and Blackberry Syrup
This post contains affiliate links.
 *To read more about what inspired me to start this new (weekly!) blog series, click here!*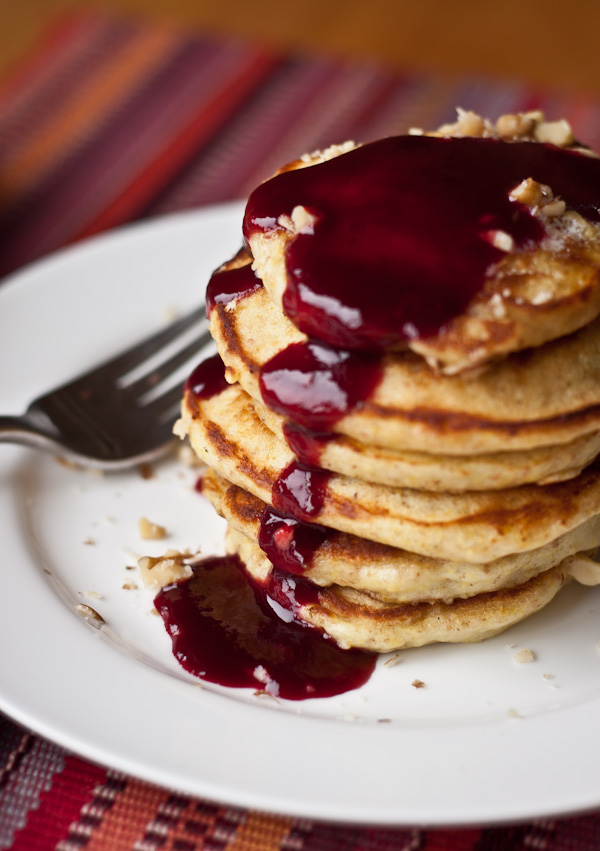 Confession?  I've been on huge pancake kick lately.  Don't get me wrong, I've always loved pancakes.  But for some reason or another, I've been craving them non-stop lately.
Buttermilk has become a weekly addition to my grocery list and I've been whipping up a batch every weekend for the past month.  So, with that said, I admit that I sort of had an agenda when it came to this week's 'Throwback Thursday' recipe post.
And that agenda involved pancakes.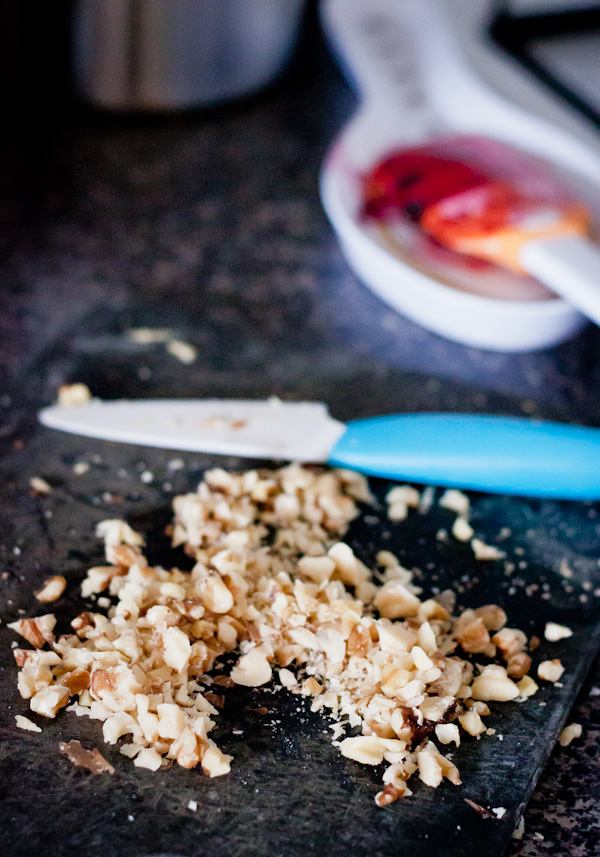 Sounded pretty straight-forward and easy to me.  After all, I was sure there would be all sorts of recipes to choose from once I started looking.
Well, apparently pancakes were not all that popular twenty years ago, because I struggled to find one dang recipe in all of those old magazine issues.
It was a sad, sad decade for pancakes.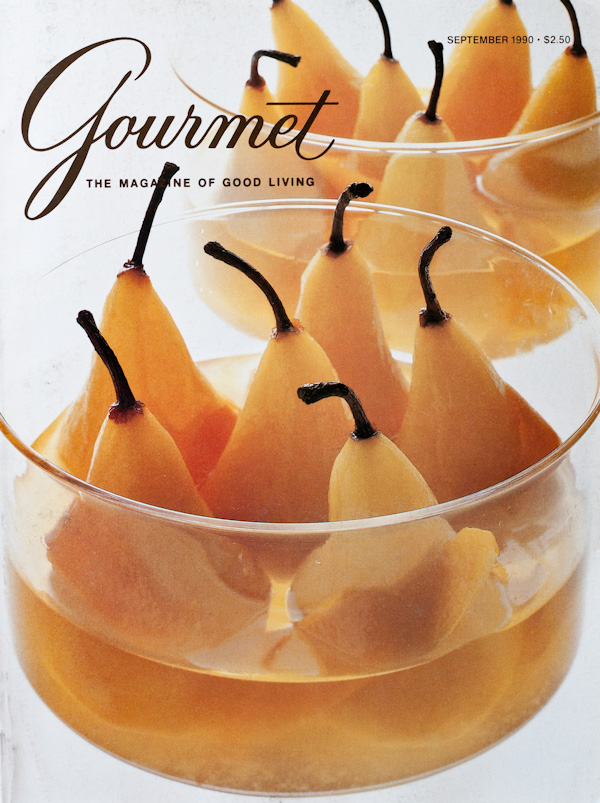 Luckily, while flipping through a September (1990) Gourmet issue, I happened to come across an article entitled, A Rooftop Breakfast, complete with recipes for a mango-papaya smoothie, fruit compote, and….
Walnut and wheat germ silver dollar pancakes topped with homemade blackberry syrup–all meant to be enjoyed on a urban rooftop terrace overlooking hustle and bustle of city life below.
Pancake jackpot!  Minus the rooftop terrace part (which sort of sounds equally as nice)…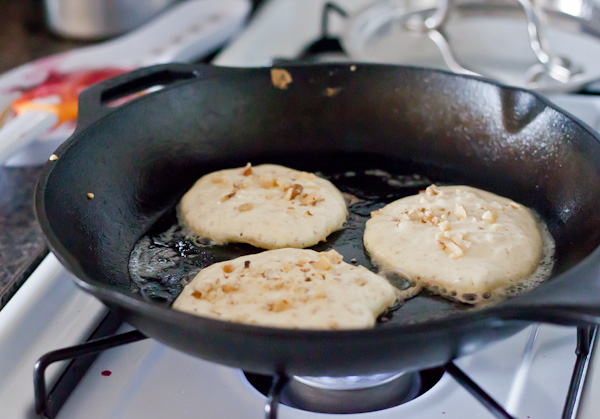 Unfortunately, the pancake recipe was not that fabulous (possibly due to the omission of baking powder or the method, which called for using a blender to make the batter–silly and, in my opinion, risks over-working the batter).  Chewy and not very tasty.
So instead of sharing a so-so original recipe with you all, I simply took the idea and used it by adapting my existing favorite pancake recipe.  It made all the difference in the world and the resulting pancakes were light and fluffy!
The addition of chopped walnuts adds great texture and while the wheat germ is inconsequential to the recipe as whole (and completely optional), it does add an element of interest and appeal, as well as slight nutritional boost.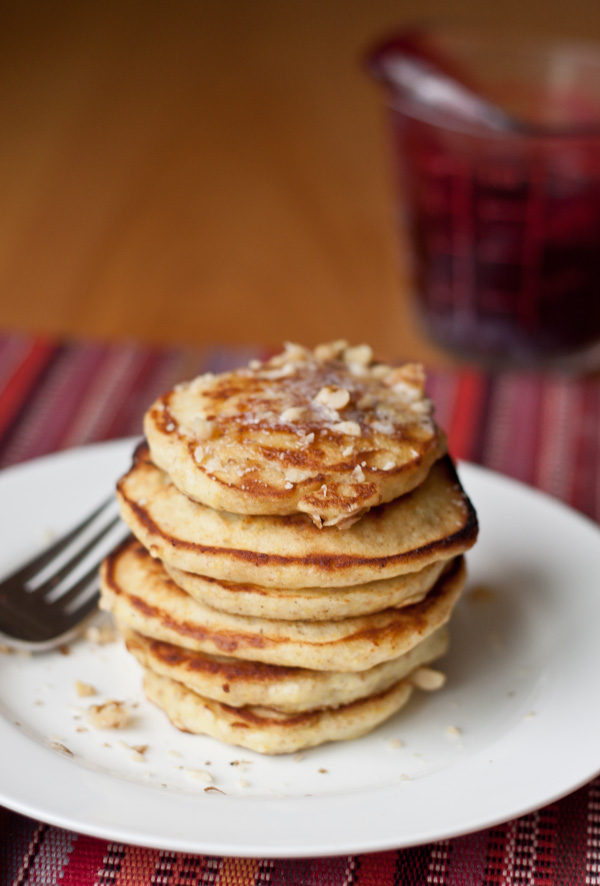 Despite not having the best of luck with the pancakes, the accompanying recipe for homemade blackberry syrup was a great success, not to mention a welcome departure from my standard (and equally as wonderful) douse of maple syrup.   
Plus, you can't beat that color.  Now I just need to find myself a nice rooftop terrace…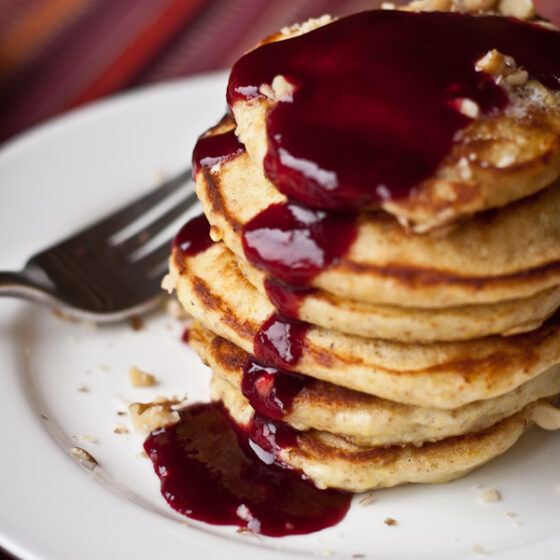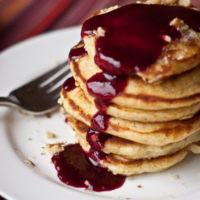 Walnut Wheatgerm Silver Dollar Pancakes with Homemade Blackberry Syrup
Yield: 4 Servings; 1 Cup Syrup
Prep Time: 20 minutes
Cook Time: 20 minutes
Additional Time: 5 minutes
Total Time: 45 minutes
Ingredients
Blackberry Syrup:
2 cups fresh (or frozen) blackberries
1/4 cup + 2 tablespoons granulated sugar
peeled zest of one lemon
Pancakes:
1 cup all-purpose flour
3 tablespoons wheat germ
1 tablespoon granulated sugar
1 teaspoon baking powder
1/2 teaspoon baking soda
1/4 teaspoon kosher salt
1 egg
1 cup buttermilk
1/4 cup milk
1 tablespoon unsalted butter, melted and cooled (plus more for cooking)
walnuts, chopped roughly
Instructions
Prepare the Syrup: Combine the blackberries and 1/2 cup of water in a saucepan. Bring to a boil and simmer, covered, for 10 minutes. Puree the fruit in a blender until completely smooth and pass through a fine-meshed sieve into a separate bowl. Set aside.
In a clean pan, combine the sugar, zest, and 1 cup of water and bring to a boil, stirring until the sugar has completely dissolved. Continue to boil the sugar, without stirring, until a candy thermometer reads 220 degrees Fahrenheit. Carefully remove the lemon zest, and add the blackberry puree to the pan. Boil the syrup until the temperature again reaches 210 degrees Fahrenheit. Allow the syrup to cool slightly while you prepare the pancakes.
Pancakes: In a medium bowl, whisk together the flour, wheat germ, granulated sugar, baking powder, baking soda, and salt until well combined. In a separate small bowl, whisk together the buttermilk, milk, and cooled melted butter. Pour the wet ingredients into the dry flour mixture, and stir until just combined. Allow the batter to sit for 10 minutes.
Heat a tab of butter in large non-stick (or cast-iron) skillet over medium heat. Once the butter begins to sizzle, spoon the batter onto the pan–forming 1.5 – 2 inch silver dollar pancakes. Avoid over-crowding the pan. Sprinkle walnuts evenly on top of each of the pancakes.
Once bubbles begin to form on the tops of the pancakes, flip them carefully and continue to cook on other side until lightly brown. Adjust heat if necessary. Serve pancakes immediately with the warm blackberry syrup.
Notes
Blackberry syrup recipe adapted from September 1990 Issue of Gourmet Magazine.
Nutrition Information:
Yield: 4
Serving Size: 1
Amount Per Serving:
Calories: 264
Total Fat: 7g
Saturated Fat: 3g
Trans Fat: 0g
Unsaturated Fat: 4g
Cholesterol: 58mg
Sodium: 556mg
Carbohydrates: 42g
Fiber: 2g
Sugar: 13g
Protein: 9g
A Beautiful Plate provides nutritional information, but these figures should be considered estimates, as they are not calculated by a registered dietician.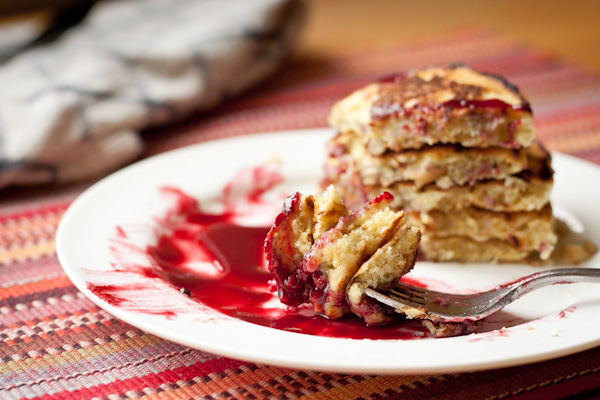 For more, check out the latest Throwback Thursday posts…
This post contains some affiliate links, which means that I make a small commission off items you purchase at no additional cost to you. Please read my
disclosure policy
for more information.