Tomato Zucchini Tart
A beautiful, elegant, and surprisingly simple layered tomato zucchini tart for summer.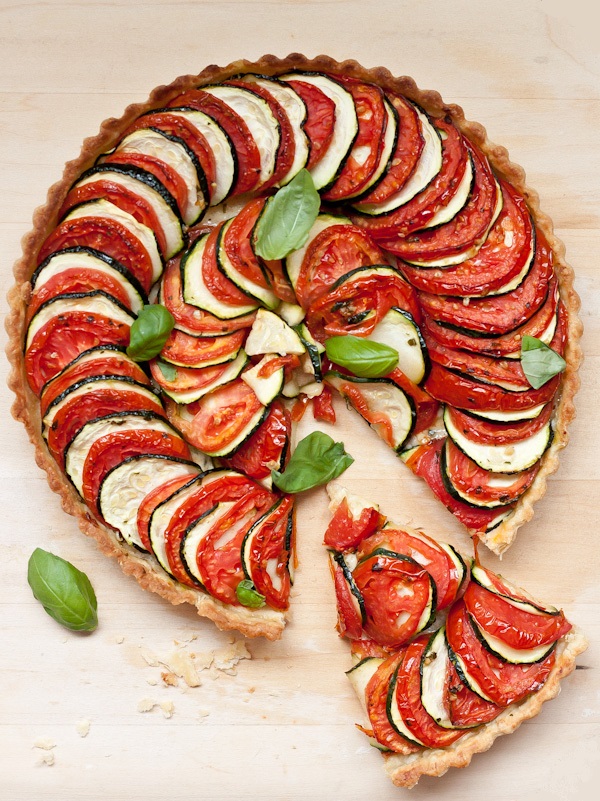 This past weekend, I had a plan. And that plan involved making this fancy tomato zucchini tart. I promise, it's not nearly as fancy as it looks–it is actually pretty straight-forward.
In other words, it's deceptively fancy-looking. And that is my absolute favorite type of food.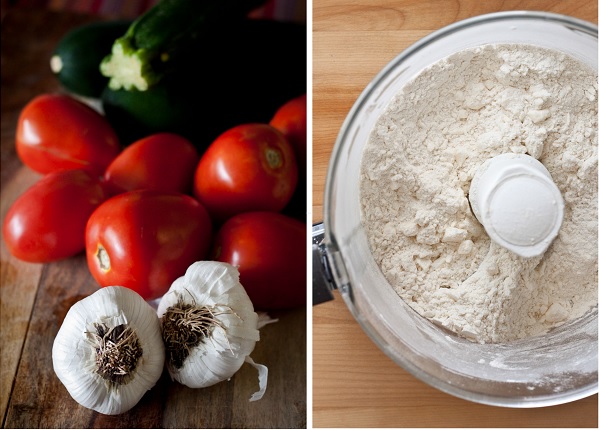 I made this dish for the first time in culinary school nearly a year and a half ago (how could it have possibly been that long ago?!). Despite making a zillion other dishes during those six months of my life, this dish continues to be one of my absolute favorites.
Since that time, I've been meaning to recreate it and share a version on the blog, but somehow along the way, I got distracted and forgot all about it. Life does that sometimes.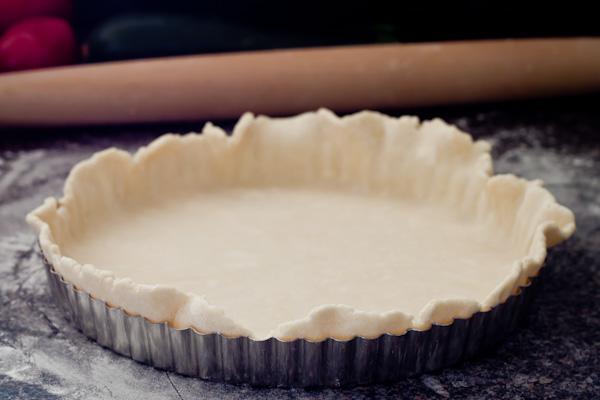 Fortunately, this past Saturday morning, I happened to come across this post and within hours, was walking out the door and heading to the store to grab all of the ingredients.
In all honesty, the most time consuming part of this dish is preparing and blind-baking the crust–a basic pate brisee dough–which you can make by hand or quickly in your food processor.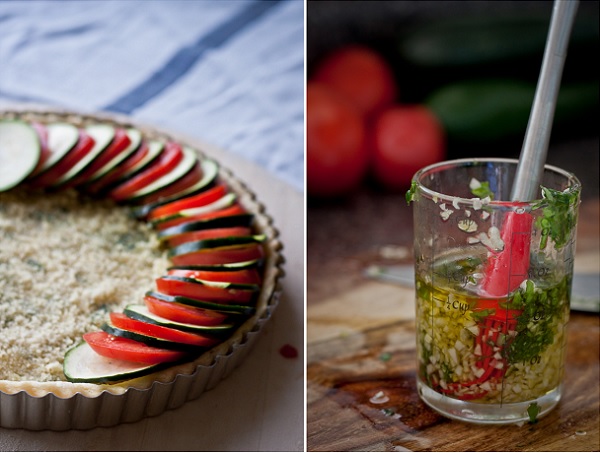 Other than that, it is a very simple dish to put together, because all the filling ingredients are raw. Once you have sliced the zucchini and tomatoes, it's simply a matter of alternating the layers in circles…
Start on the outer edges and work your way around. To make the layering process a bit easier, try to buy zucchini and tomatoes with a similar size diameter. Remember not to take yourself too seriously and have fun!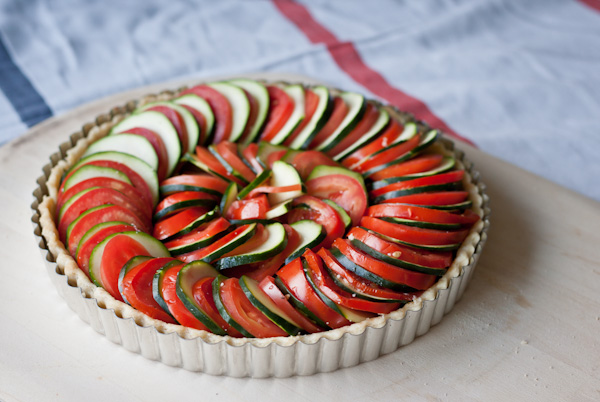 Brush with oil, sprinkle with sea salt and pepper, throw it in the oven, set a timer, and allow it to do its thing. If you're impatient like me, feel free to flip on the oven light and stare at it a few times in anticipation.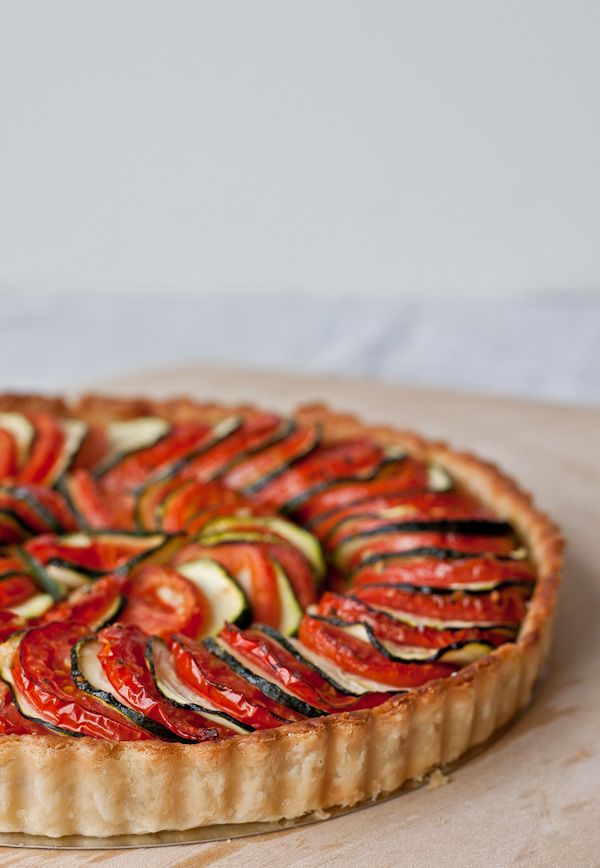 I really do love this tomato zucchini tart for so many reasons. Not only is it incredibly delicate and light, but it really is all about the filling–fresh zucchini, ripe plum tomatoes, fresh basil, garlic, olive oil, and freshly grated Parmesan cheese.
It truly is summer on a plate. Enjoy!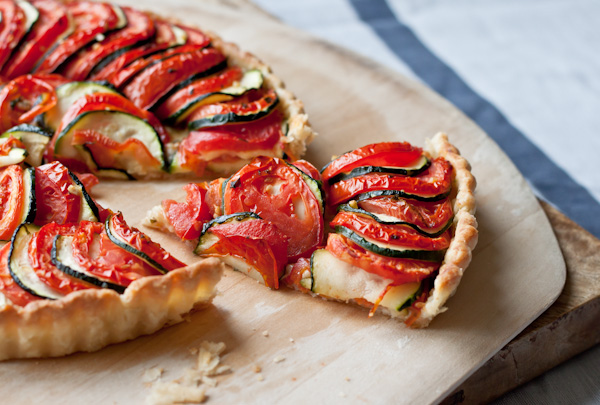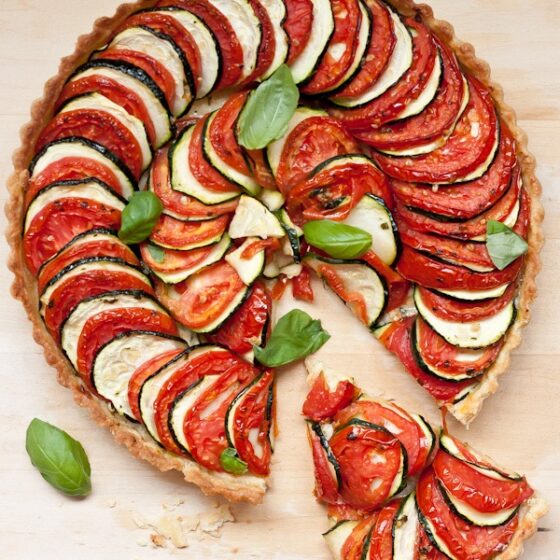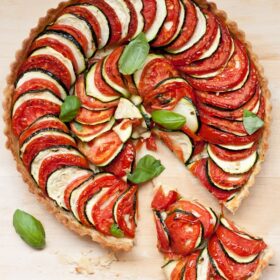 Tomato Zucchini Tart
A beautiful, elegant, and surprisingly simple layered tomato zucchini tart for summer. Tip: Try to buy tomatoes and zucchinis that are similar size in diameter, as it will make the layering process much easier and result in a more attractive looking tart.
Ingredients
Pate Brisee Dough:
1¼ cups (150 g) unbleached all-purpose flour
½ teaspoon Diamond Crystal kosher salt
½ cup (4 oz; 115 g) cold unsalted butter cut into small cubes
2-4 tablespoons ice water
Tomato Zucchini Filling:
¼ cup (60 mL) extra virgin olive oil
¼ cup packed basil leaves, finely chopped plus leaves for garnishing
3 garlic cloves finely minced (1 tablespoon)
kosher salt
freshly ground black pepper
⅓ cup grated parmesan cheese
1 lb fresh Roma or plum tomatoes
1 lb fresh zucchini
flaky salt for finishing
Instructions
Prepare and Chill Tart Dough: Combine the flour and salt in bowl of a food processor. Meanwhile, cut up cold butter into cubes and place in separate bowl. Place both bowls in freezer for 10 to 15 minutes to chill.

Remove the butter and flour mixture from freezer. Add chilled butter to the flour mixture, and using the blade attachment, pulse several times or until the butter is roughly the size of peas and distributed evenly throughout the flour mixture.

Add 2 tablespoons of ice water and pulse several times. Continue to add water (pulsing a few times) until dough just comes together. Depending on moisture and humidity levels, the amount of water that you may need will change.

Remove dough to a lightly floured countertop and press together with hands. Press into a thick disc, cover tightly in plastic wrap, and allow to chill in fridge for at least 1 to 2 hours (or prepare the day before and chill overnight).

Blind Bake Tart Dough: Preheat oven to 400°F (204°C) with a rack in the center position. Set aside a 10-inch tart pan with a removable bottom.

After dough has chilled, remove the dough from fridge and allow to sit for 10 to 15 minutes. Lightly flour a work surface and using rolling pin, roll the dough into a 12 to 13-inch diameter disc, rotating the dough continuously as you go to prevent sticking. Gently fold into quarters and transfer to the tart pan. Carefully press the dough into the sides and corners, without stretching, and roll the rolling pin over top of the pan to trim and remove excess dough. Cover the surface with plastic wrap and allow the dough to chill in the refrigerator for another 15 to 20 minutes.

Remove and line tart dough with foil or parchment paper and fill with pie weights or dried beans. Bake for 20 minutes. Remove the beans and parchment and if bottom still does not look completely dry, bake for an additional 5 to 10 minutes, checking regularly. Allow crust to cool on rack while you prepare the filling ingredients.

Prepare Filling and Assemble Tart: Combine the minced garlic, finely chopped basil, and olive oil in a small bowl. Season with kosher salt and pepper. Using a mandolin (or sharp knife), slice the zucchini into ⅛-inch round slices and lightly season with salt. Using serrated knife, slice the tomatoes into ¼-inch slices, season lightly on both sides with salt, and place on a layer of paper towels to soak up any excess moisture. Set aside.

Brush tart shell lightly with basil-garlic oil (there should be leftovers for brushing the vegetables) and distribute the parmesan cheese evenly on top of the oil mixture. Blot the zucchini and tomato slices once again to absorb any excess moisture.

Starting on the outside edge, layer the zucchini and tomato slices alternately in a circular pattern. Be sure to tightly layer them against each other (as they will shrink once baked). Try to leave the bigger slices for the outside and small slices for the inner circles. Continue until the entire tart shell is filled - you should have two circular rings and can chop up various small pieces of vegetables to fill any center empty space.

Brush the vegetables generously with remaining basil-garlic oil and season very lightly with salt and pepper. Bake at 400°F (204°C) for 30 to 45 minutes, or until the tomatoes and zucchini are soft and lightly caramelized. Optional (but recommended): Place under the oven broil for 2 to 3 minutes to finish. Watch carefully during this step to avoid burning the crust or vegetables.

Serve the tart warm or preferably at room temperature. Garnish with basil leaves and a sprinkle of flaky salt, such as Maldon.
Tips for Success:
Try to buy tomatoes and zucchinis that are similar in diameter–as it will make the layering process much easier and result in a more attractive looking dish.
Serving: 1serving, Calories: 271kcal, Carbohydrates: 20g, Protein: 5g, Fat: 20g, Saturated Fat: 9g, Polyunsaturated Fat: 10g, Cholesterol: 34mg, Sodium: 287mg, Fiber: 2g, Sugar: 3g
This post contains affiliate links, which means that I make a small commission off items you purchase at no additional cost to you. Please read my
privacy policy
for more information.