Tidbits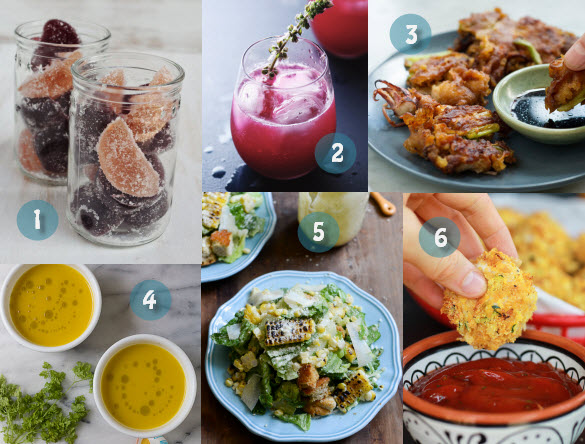 1)  Homemade gummies.  This could be very dangerous for me.  I have absolutely no control when it comes to gummy anything.  (via A Beautiful Mess) 
2)  These blueberry basil vodka gimlets.  Have you ever seen such a beautiful cocktail?  (via A Tart Tart)
3)  Two of my favorite things, scallion pancakes + fried squid, merged into one amazing dish.  (via NY Times Dining Section)
4)  Yellow peppers, madras curry, goat cheese (!), and leeks.  I already know that I will love this soup. (via A Cozy Kitchen)
5)  Have I ever mentioned that I was obsessed (seriously, ask my family) with Caesar salads when I was younger?   I was always looking for the next best Caesar salad at each restaurant we visited (I was very particular, so I rarely approved of them).  So, when I saw Jessica's version, it was love at first sight. (via How Sweet It Is)
6)  How classy are these chicken nuggets?  I'm going to start adding shredded zucchini to everything I bread from now on. (via Half Baked Harvest)
On a side note, Connor's parents treated us to tickets to see the Book of Mormon musical this past weekend.  Umm, possibly my new favorite musical ever?  I bought the soundtrack this morning and have already listened to at least ten times.  In other words, go see it!
This post contains affiliate links, which means that I make a small commission off items you purchase at no additional cost to you. Please read my
privacy policy
for more information.